The Film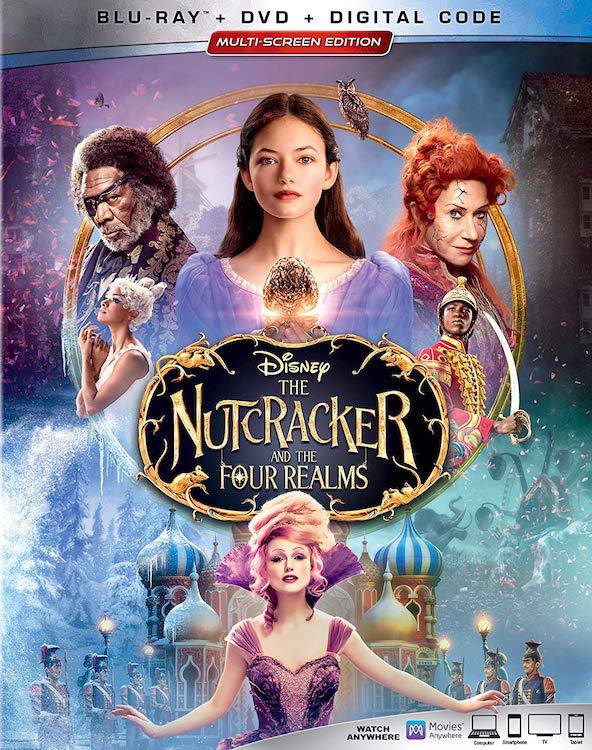 First of all, I am completely the wrong audience for this film, so Disney, please take note and do not send me anymore of your product. I am sure that there are reviewers with children that would swoon upon receiving this in the mail, but I broodingly placed it at the bottom of my stack. Secondly, I despise musicals and other non-realistic forms of entertainment. If someone would have bothered to peruse my numerous reviews on the site, they would have quickly picked up that I am not part of their desired demographics. This being said, I will try to restrain my wrath while having to actually partake in this task and I will struggle to remain neutral while I try to review this film in a civilized manner.

It has been many years since my grandmother took me to the theater to see the Disney classic theatrical re-release of "Bambi" (1942). I am sure that she had good intentions and only wanted me to be entertained, but it proved to be a downright harrowing experience that resulted in me getting separated from her and subsequently getting lost in the swarming mass of people as they exited the premises. Thankfully I had been educated in how to find my way back home and I knew my address and phone number, so I walked into a nearby coffee shop and calmly told the counter man that I was lost and that could he please call me a cab so that I could go home. I must have been only 5 or 6 years old, but I never forgot that experience. So thanks Uncle Walt for the early exercise in responsibility and being wise enough to know what to do in just such a situation. As far as "Bambi" was concerned, I regarded it as a frightful film that was more terrorizing than entertaining and I was not a fan in the least.

"The Nutcracker and the Four Realms" begins with an owl eyed view flying through Victorian London at Christmas time, courtesy of many CGI animators, and of course since this is a Disney production, all is well in the world and there are no views of gin soaked citizens or ladies of the night working the curbs. We are immediately introduced to our heroine, 14-year-old Clara (McKenzie Foy), a bright and clever tom boy sort that is a lover of physics and gadgetry. Clara and her brother Fritz (Tom Sweet) are in the family attic and they essentially have built a better mousetrap with a sort of Rube Goldberg type set up. The mouse is captured only to be set free again because at that inopportune moment, Cook (Meera Syal) raises a lid to the attic, looking for the children. This introduction to our main character allows a number of traits to be established quickly and easily: Clara is enchanted by the laws of physics, she is fond of things that involve intermeshing cogs and levers (thus laying down a steampunk motif that we will see more of as the film progresses), she is headstrong and not a girly girl. Cook informs the children that father, Mr. Stahlbaum (Matthew Macfadyen) he of the stiff upper lip school of father's, is getting impatient waiting for them to accompany him and good sister Louise (Ellie Bamber) to their Godfather Drosselmeyer's (an eye patched wearing Morgan Freeman) house for a holiday gala. But hold on now, Clara is still experiencing a deep sadness over the death of their mother and why can't unemotional father understand that? The themes of loss and sadness are lightly invoked here, but nothing too deep to cause peril to younger viewers. The rest of the family is pretty much looking forward to a good time and moving on with their lives. I mean, there are gifts to unwrap and who doesn't like that? Plus there's a swank ball to attend with dancing and who knows what delights Drosselmeyer will have in store as well. But first, father announces, that there are gifts to open from your deceased mother. No, he doesn't put it that way but he might as well have because he too is not yet done grieving either. The gifts are distributed to the children and Clara receives a type of music box Fabergé egg with a cryptic note that reads "All you need is inside." Clara is not too impressed because mother forgot to include the key to the egg and she cannot un-open it. Tucking it into her dress, Clara brings it along to see if her Godfather Drosselmeyer can unlock it; it turns out that Drosselmeyer is a bit of a tinkerer and he certainly knows more about the gift than he is willing to disclose.

The family rides over to Drosselmeyer's mansion where they are announced to the other guests and a ballroom of fancy dancing couples who are waltzing in time to Tchaikovsky's latest piece of music. The host is nowhere in sight and so Clara, being the bold headstrong type, makes a bee line to the man's immense laboratory in the basement of the house. "Pin tumblers" turn out to be a stumbling block for the ingenuity of our heroine, but she manages to figure out how to fix Drosselmeyer's latest invention with a few tools (to which I think that the Godfather was playing dumb). Drosselmeyer reveals that he is all too familiar with the metal egg and that indeed he was the creator of the device and that he used it to win over Clara's late mother's confidence. Before we can lag any longer Drosselmeyer sends Clara out into his massive house to follow a string that leads her through a type of portal into an enchanted land that is effectively based on the 1816 story "The Nutcracker and the Mouse King" by Germany's E.T.A. Hoffmann; hence the cumbersome title to the film. Yes, Clara has entered the kingdom of the Four Realms and it is from here that the rest of the tale lies. Do you recall that earlier scene with Clara attempting to capture a charming mouse? Well guess who is going to play a much larger and important role in the film? Yes, a rodent is one of the main characters in the upcoming plot.

Clara finds herself in the Christmas tree forest and there she encounters a glum nutcracker named Captain Philip Hoffman (Jayden Fowora-Knight) guarding a bridge. It is also revealed that she is the daughter of the Queen that rules the kingdom; however her majesty has not been seen lately. Clara is in search of the key to open her metal egg, but a pesky mouse named The Mouse King (Lil Buck) has absconded and escaped with the precious key. The duo make their way to the Queen's palace where Clara meets the rulers of the four realms: flowers, snowflakes, sweets and amusements. Sugar Plum (Keira Knightley) offers Clara her friendship and the two join forces to save the kingdom together. Mother Ginger (Helen Mirren) is the leader of the amusement realm but she has been banned for misbehavior. Her kingdom is located in the forest and looks like a run-down amusement park complete with various rides in disarray. I was hoping that more action would take place here because I really liked the vibe of a semi-haunted amusement park but that did not happen. Mother Ginger's henchmen are these bizarre bouncing clowns called polichinelles and all I could think of was John Wayne Gacy capering in his clown disguise as Pogo. The directors were really invoking an "Alice in Wonderland" (2010) vibe ala Tim Burton's version of the film, with everything being larger than life and blending animated CGI special effects with live action, plus a good measure of C.S. Lewis' Kingdom of Narnia thrown in to the mix. A heady blend of exquisite costumes and graphics that still fails to capture the sense of imagination that is necessary to convey this type of story.

I really must comment on the use of costuming throughout the production because it is very impressive with the appropriate style of dress for the time period, but pumped up to fantastic levels. Mother Ginger's apparel is that of a ringmaster of sorts; Hawthorne (Eugenio Derbez) is a colorful character made up of blossoms; Shiver (Richard E. Grant) is winter wonderland on display complete with icicles and an a shining coating; Sugar Plum's hair is made of cotton candy and her costume is an intricate feminine vision of beauty. I really liked the attention paid to the details of the costumes that were on display here, from the soldier's uniforms to Clara's gowns and dress. Everyone looked like they belonged in a fantastic hidden realm.

Not one, but two directors were employed to bring this vision to the screen with Lasse Hallström doing the bulk of the shooting in 2016 and 2017 and then Joe Johnston was brought in to direct a month of reshoots scripted by Academy Award Winner Tom McCarthy. Some online digging states that the film had a production budget of $132.9 million dollars which would be enough to run some lesser third world counties for a while. That is a lot of candy floss! For all this money, one would have expected the film to be a holiday classic, but something is missing that just leaves the audience with a sour taste in its mouth. Big dollars spent doesn't always mean an excellent product as this film will attest.

Overall the film may delight younger audiences with its mix of ballet and classical music, but adults may wonder why the story boils down to sweet goodness triumphing over evil and greed with its ho- hum conclusion to the entire story. My advice is to make this a rental if you are jonesing for a post-holiday film fest.

Video


Presented in the film's original theatrical ratio of 1.85:1 mastered in HD 1080p 24/fps using AVC MPEG-4 compression, reportedly shot on film and finished at 2K, the film is a beautiful accomplishment of live action and digital reproduction. Sadly the overall film suffers from too much visual punch and not enough actual storytelling. The Blu-Ray disc is the way to view this film and there are plenty of details to absorb. Skin colors are exact and blacks are glossy.

Audio


Four audio tracks are present in English DTS-HD Master Audio 7.1 surround, French Dolby Digital 5.1 surround, Spanish Dolby Digital 5.1 surround, and an English Audio Descriptive Dolby Digital 2.0 surround. The English 7.1 audio track is very good, especially in the early dance scenes and later in the battle with Sugar Plum, with sound coming from all the speakers in the room. Dialogue is handled by the front speaker easily and all the dialogue is clear and distinguishable. I enjoyed the scenes where the soundtrack was prominent and the music is very good sounding. Optional subtitles are included in English for the hearing impaired, French, and Spanish.

Extras


the extras include the basic behind-the-scenes featurette, two music videos, and deleted scenes. Included are also a DVD copy and a digital copy version of the film.

DISC ONE: BLU-RAY

"On Pointe: A Conversation with Misty Copeland" (4:36) featurette is a brief interview with the dancer regarding her role in the film. .

"Unwrapping The Nutcracker and the Four Realms" (7:08) featurette are interviews with members of the cast and crew of the film speaking about the costumes and the make-up involved.

Deleted scenes (14:04) include:
- "The Stahlbaums Arrive"
- "Follow Your Ribbon"
- "Clara Asks About Her Mother"
- "Left, Left, Left, Left, Left"
- "Out With the Old"

"Fall on Me" music video (4:23), by Andrea Bocelli featuring Matteo Bocelli.

"The Nutcracker Suite" (4:05) is a music video by Lang Lang.

DISC TWO: DVD

This is a DVD copy of the film.

Included in the case is a code for a digital copy version of the film.

Packaging


Comes packaged in a 2-disc Blu-ray case in a cardboard slip-cover with embossed print.

Overall


An uninspired take on an early 19th Century story. It does however have a gorgeous look to it, but laden with a weak plot line, the film does not inspire viewers. Costuming designed by Jenny Beavan and the production design by Guy Hendrix Dyas deserve an Oscar nod, but the rest of the film is drags from its hamstrung plot line.
| | | | | |
| --- | --- | --- | --- | --- |
| The Film: C- | Video: A | Audio: A | Extras: B+ | Overall: B- |