Best Of Comedy Central Presents: Uncensored (The)
R1 - America - Paramount Home Entertainment
Review written by and copyright: Noor Razzak (16th March 2008).
The Show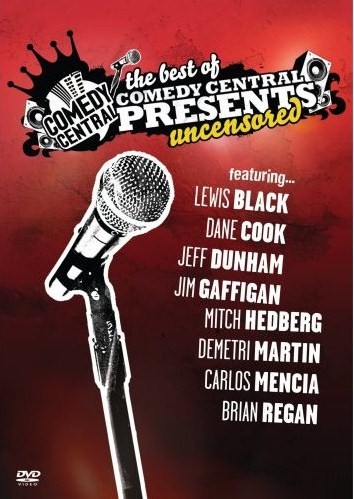 Much like the HBO special, the ďComedy Central PresentsĒ specials have spotlighted the latest and most successful batch of comedians currently doing the circuit, in the past there have been countless acts that were awarded their own half-hour TV special knocking out the jokes in which theyíve spent the last year or so polishing.
Comedy Central has been great at exposing new and hilarious acts to the mainstream, acts like Lewis Black, Mitch Hedberg and Demetri Martin among many others but theyíve also been guilty of perpetuating uninspired comics that are nowhere near as brilliant as their predecessors. Comics like Dane Cook who seem to feed off of energy rather than crafting actually funny jokes or Carlos Mencia who is just terrible, both as a stand-up performer and on his own Comedy central sketch show. But then again comedy like all art is subjective, but one thing is for sure thereís plenty of fun to be had with this latest release from Paramount, compiling eight of the most popular half-hour specials on one disc. Some will have you in hysterics, other will insight chuckles while a few will leave you wondering how they got to this level in their career.
Some of these special have been seen many times either on TV, countless segments seen on youtube and also have appeared on the performersí other DVD releases. But if you have a short attention span and want to be able to watch a commercial half-hour comedy show then this DVD is for you, plus its uncensored, which means you can hear Lewis Black say fuck without that annoying bleeping that they dub over during the original broadcasts.
The performers here will suit many different tastes, I suppose this is like a sample box of chocolates, youíll get a taste of different comedians from the angry Lewis Black who pokes fun at the things that annoy him in life to Mitch Hedberg who crafts simple one-liner jokes that are about as genius as they come. To replicate them in written form wonít do them justice. Youíll find the hyper comedy of Dane Cook here in one his better performances (although I canít say Iím a fan of work, I find his comedy a bit lacking and prefer more challenging comedians that continue to push boundaries rather than simply create within them). Jim Gaffigan was a pleasure to watch although nothing of his really floored me, but it was funny. Demetri Martin has always been a favorite for many years, his boyish-cutesy style wins over many people and his material is genuinely brilliant, especially when he brings out the large pad. Ventriloquist Jeff Dunham and Brian Regan do a reasonable job of garnering laughter but I found their stuff a bit hit and miss and only really laughing about half of their material. Iím sure others will disagree.
The best thing about this release is that it does offer up nice variety of shows for audiences, Iím not sure if itís a worthy purchase for the casual stand-up comedy viewer, certainly itís worth a rental and die-hard fans may have already seen these special many times over but at the right price this could make a nice addition to your DVD collection.

Video


These special are all crammed on a single disc in their original 1.33:1 full screen broadcast ratio. The average quality is very good, with clean and dirt free transfers, the images are generally sharp but I spotted some minor compression artefacts. These are at best broadcast quality and no better, which does leave some room for improvement but no something that's necessary at this time.

Audio


Each episode includes a single English Dolby Digital 2.0 stereo track, I'm sure these are the original broadcast soundtracks. These are stand-up specials which focus heavily on dialogue rather than anything else, as a result these stereo tracks do the job fine and present these episodes in a suitable quality.
This disc does not feature any optional subtitles.

Extras


Paramount has included only some quickies clips and bonus trailers as extras on this release, below is a closer look at these supplements.

A series of 4 Comedy Central quickies is included, these are highlights from other shows on the Network and include:

- "The Colbert Report: Breasts" which runs for 1 minute 27 seconds.
- "Lil' Bush: Lil' Kim Jong-il" which runs for 2 minutes 38 seconds.
- "The Sarah Silverman Program: Date with God" which runs for 2 minutes 39 seconds.
- "South Park: Leprechaun" which runs for 2 minutes 34 seconds.

Rounding out the extras are a collection of bonus trailers, these play prior to the main menu but can also be accessed via the menu, they are for:

- "Demetri Martin. Person." which runs for 32 seconds.
- "Carlos Mencia: No Strings Attached" which runs for 31 seconds.
- "Brian Regan: Standing Up" which runs for 32 seconds.

Overall



| | | | | |
| --- | --- | --- | --- | --- |
| The Show: B | Video: B- | Audio: B- | Extras: D- | Overall: C+ |

---
DVD Compare is a participant in the Amazon Services LLC Associates Program and the Amazon Europe S.a.r.l. Associates Programme, an affiliate advertising program designed to provide a means for sites to earn advertising fees by advertising and linking to amazon.co.uk, amazon.com, amazon.ca, amazon.fr, and amazon.de.