The Show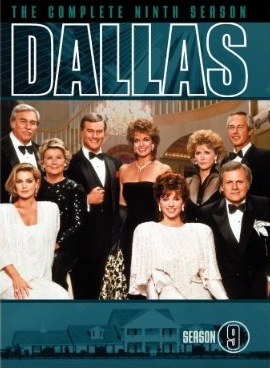 There are some moments of television that rise to such a cultural phenomenon, you can know the spoilers, major scenes or major plot points without having ever watched the show. In its first season "Dallas" (1978) made it's name on the second season finale 'Who Shot JR?' cliffhanger. I've heard or seen that phrase dozens of times before, even though the episodes aired nearly 7 years before I was born. The shower scene finale of "Dallas: The Complete Ninth Season" (1985) has also invaded the pop culture mindset, especially through shows like "Family Guy" (1999) where I first saw the shower scene parodied.

The Ninth Season of "Dallas" begins with the death of Bobby Ewing (Patrick Duffy) as a result of being hit by a car in the 8th season cliffhanger and his funeral and the whole family reunited in Dallas for the burial. Drama ensues over the course of the season as JR (Larry Hagman) has conflicts over the future of Ewing Oil, a rodeo turns sour and causes problems for the family, nearly everyone is near having an affair, has an affair, or is in danger of having an affair. The season culminates with Angelica Nero (Barbara Carrera) trying to kill both remaining Ewing brothers before Pam (Victoria Principal) wakes up to find Bobby in the shower and the whole season was a dream.

"Dallas" set the standard for prime time soap operas, needless character drama, dramatic (at times unexplainable or confusing, but always very dramatic) plot twists, and social drama. Lots of drama. The season ending cliff hangers that started the phenomenon popularized their use on television, making it fashionable and acceptable for a TV show to leave the audience hanging at the end of one season, hungry for the next. The ratings conflict with fellow prime-time soap "Dynasty" (1981) made a battle for the attention span of the United States, both shows representing the mythological dream of wealth and prosperity for all the aspiring yuppies during Ronald Reagan's regime.

However, despite all of this cultural significance, the show itself didn't really appeal to me. The drama is corny and over the top, exactly as it's supposed to be, but I could not get in to any of it. I can easily recognize how it set a lot of standards, especially in terms of using generic plot devices in prime time TV and creating the dramatic cliffhanger. Despite all this pomp and circumstance, this guilty pleasure doesn't resonate at all, but maybe it's not supposed to. There are great moments of comedy during some of the episodes where everything gets far too dramatic for its own good, but this isn't enough to get me to want to see more.

Overall, this set is good for the collector and/or "Dallas" fans who want to see the dream season. For those of us who weren't around for the cultural phenomenon, the jokes derived from the show don't fall in to the "you had to see it" category, Patrick Duffy walking out of the shower at the end of "Family Guy" is just as funny, maybe funnier, without having ever seen an episode of "Dallas."

Here's a listing of the 31 episodes from this ninth season contained on the four double-sided disc set:

Ep. 1 – "The Family Ewing"
Ep, 2 – "Rock Bottom"
Ep. 3 – "Those Eyes"
Ep. 4 – "Resurrection"
Ep. 5 – "Saving Grace"
Ep. 6 – "Mothers"
Ep. 7 – "The Wind of Change"
Ep. 8 – "Quandary"
Ep. 9 – "Close Encounters"
Ep. 10 – "Suffer the Little Children"
Ep. 11 – "The Prize"
Ep. 12 – "En Passant"
Ep. 13 – "Goodbye, Farewell and Amen"
Ep. 14 – "Curiosity Killed the Cat"
Ep. 15 – "The Missing Link"
Ep. 16 – "Twenty-Four Hours"
Ep. 17 – "The Deadly Game"
Ep. 18 – "Blame it on Bogota"
Ep. 19 – "Shadow Games"
Ep. 20 – "Missing"
Ep. 21 – "Dire Straits"
Ep. 22 – "Overture"
Ep. 23 – "Sitting Ducks"
Ep. 24 – "Masquerade"
Ep. 25 – "Just Desserts"
Ep. 26 – "Nothing's Ever Perfect"
Ep. 27 – "J.R. Rising"
Ep. 28 – "Serendipity"
Ep. 29 – "Thrice in a Lifetime"
Ep. 30 – "Hello, Goodbye, Hello"
Ep. 31 – "Blast from the Past"

Video


Presented in 1.33:1 fullscreen format as it originally aired, "Dallas" appears almost as it likely would have in the 1980's, but there could be more done to help hold up the quality of the episodes. Intermittently there are artifacts, grain and other elements that could be cleaned up for the DVD transfer the result is fairly grainy and has some pops in the video. I understand they aren't trying to digitally re-master the series, but more could have been done.

Audio


The audio is presented in English Dolby Digital 1.0 Mono and it could use some improvement. Everything is audible, all the dialogue, drama, explosions and showers are there, but they don't really stand out or feel crisp in the least. Again, this is a case of something more could be done that seems to indicate a lazy transfer to DVD.
There are no optional subtitles available for these episodes.

Extras


The only bonus feature is located on final disc, the featurette "The Seasons of Change" runs for 14 minutes and 46 seconds and covers mostly the cultural impact and representation of "Dallas", featuring discussions from producers, critics and academics over the depiction of 1980's United States culture. An interesting special feature, especially for anyone who wasn't around to watch Dallas at the time; there could be more, but this short and sweet featurette is actually very good.

Overall


"Dallas: The Complete Ninth Season" spans 4 double sided discs packaged in two double sided slim keep cases, housed in a cardboard sleeve.

| | | | | |
| --- | --- | --- | --- | --- |
| The Show: D+ | Video: C | Audio: C | Extras: B+ | Overall: C+ |