The Film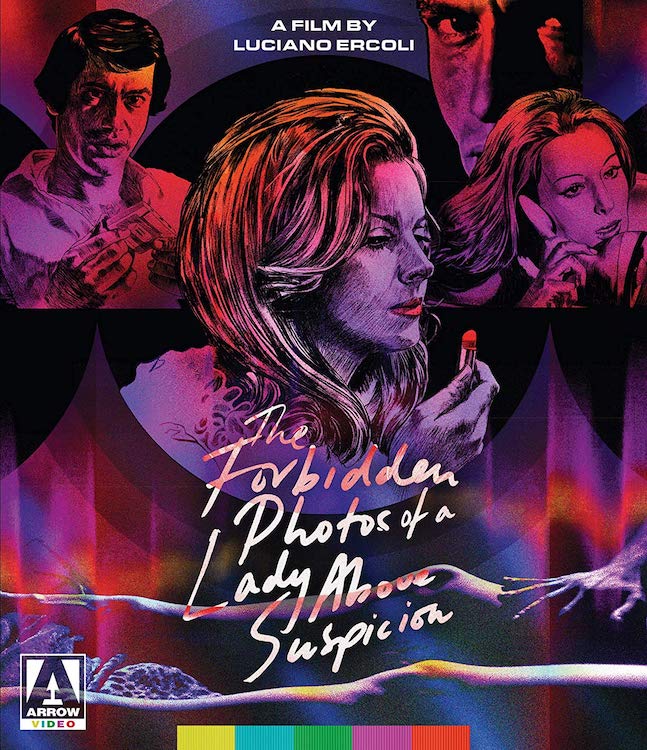 This film is a predecessor to the slew of Gialloís that would soon bum rush the box offices of American theaters, many with higher body counts and more nudity, but this could be considered the great grand-daddy of the genre, with its unusual screenplay by Ernesto Gastaidi and Mahnahťn Velasco and a grand soundtrack by master composer Ennio Morricone. Perhaps lacking in the blood and gore department, this film focuses more on a psychological plot line where the less is more philosophy applies. In fact, as I watched this film, I was constantly reminded of various classic film noirs that ventured into similar territory. An excellent variation of this film is the 1944 film "Gaslight" starring Ingrid Bergman and Charles Boyer as the husband that schemes to make his wife doubt her own sanity in order to cover up his own criminal activities. The name of the classic film has actually become known as a verb; i.e. "Gaslighting" is a form of psychological manipulation to confuse an individual and make them doubt their own sanity and perceptions. In the 1944 film Boyer makes Bergman the victim of his dastardly ways by lies and deception until she is thoroughly convinced that she is slowly losing her mind and ultimately will descend into madness.

This film marked Luciano Ercoliís debut as a director but it was hardly his first experience in filmmaking as he had scored a home run as a producer on two Spaghetti Westerns - "A Pistol for Ringo" (1965) and its sequel "The Return of Ringo" (1965) but he wanted to try his hand at something different and this film was the result. For a debut product, Ercoliís film is highly unusual in there are no amateurish mistakes made; the entire production is first class and Ercoliís use of camera angles and his mise-en-scŤne is perfect with the restrained use of nudity only allowing the viewerís imagination to work overtime. The film refuses to pander to the lowest common denominator and Ercoliís approach to suspense is more aligned with Alfred Hitchcockís than say Dario Argentoís or Lucio Fulciís.

At the beginning we are introduced to the lead character Minou (Dagmar Lassander) as she relaxes in a hot bath; her thoughts are overheard on the soundtrack as she is once again left alone because her husband is away on business. She vows to stop the drinking and the pill popping but nonetheless indulges prior to taking an afternoon nap. Minou heads down to the water to get her thoughts together and there she is accosted by a man on a motorcycle (Simůn Andreu) who attacks her and cuts off her clothing with a sword cane. The stranger violates the woman in an odd scene, the combination of violence and submission is a heady cocktail, but before the man leaves her, he tells her that her beloved husband is a murderer. Minou is puzzled by the manís comments and it floods her mind. Later visiting with her best friend, Dominique (Nieves Navarro), and it is from her that she learns that a former business partner of her husbandís Peter (Pier Paolo Capponi) has died mysteriously after he has lent him a substantial amount of money. Dominique is portrayed as being the foil to Minouís character; barely dressed and entirely liberated, with a long string of men lining up at her door. Isnít it interesting that this line should include Mr. Busy All the Time, Peter? Nieves Navarro is perfectly cast in the role of the swinging best friend however she was the real life girlfriend of the director at the time this was made. Usually that is a boneheaded move but in this case, it speaks volumes. Navarro, she of many wigs that alter her appearance, is perfectly suited for her role. A walking sexpot, the woman is a moving violation, all curves and rampant desires. She shows her friend some pornographic photos from Denmark and to her surprise, up pops her attacker captured in his splendor. What is our heroine to do but steal the photo and debate whether to disclose her close encounter with the blackmailer to Peter?

The blackmailer is thoroughly focused on his victim and he continues to manipulate Minouís emotions by calling her on the telephone and playing a recording of her husband confessing his crime to an unknown audience. Minou sells her jewelry to come up with some quick cash and she schedules a clandestine meeting at his shadowy apartment. The blackmailer clearly is not interested in Minouís money but he does demand something else in exchange for the recording: he wants to sleep with her and then he will stop tormenting her. It is clear that Minou futilely tries to rebuff the strangerís advances, but he restrains her, and then she is finally his. Minouís tentative grasp on sanity is being severely challenged; she wants to remain a faithful wife to her husband, but she is conflicted. How far does she need to go to prove her worth to her husband? And it certainly seems that Peter is guilty of some type of crime, but how is Minou to explain this entire mess to her man? The blackmailer sure knows how to pick them as Minou appears to be the prefect victim: gullible, wracked with guilt, and susceptible to the blackmailerís haughty desires.

My only complaint with the film is that it seems to move at a glacial pace with a lot of extra padding inserted into the script. For a Giallo, there is very little overt violence but the emphasis is on the psychological aspect and until the concluding ten minutes, then all questions are answered and we finally find out who the real menace is.

Props must be paid to the handsomely designed sets by Claudio Giambanco and Juan Alberto Soler; the apartment where the blackmailer violates Minou is wonderfully laid out with funky wall hangings and other decorative items. The score by maestro Ennio Morricone is superb and it was conducted by the talented Bruno Nicolai. Moreover this film is a remarkable time capsule of the times, with the womanís fashions being incredible, complete with plenty of flowing tresses. This film is a must have for all Giallo fans and lovers of lesser known Italian cinema.

Video


Presented in the film's original theatrical ratio of 2.35:1 widescreen mastered in HD 1080p 24/fps using AVC MPEG-4 compression. The source material is very good and the entire movie shines. The moodiness of the screenplay is reflected in the various scenes of Minou and her stages of undress.

Audio


Two audio tracks are included, the dubbed English LPCM 1.0 mono and the original Italian LPCM 1.0 mono track. The audio track is limited considering it's a mono release, but the score is balanced and interesting. Optional subtitles are included in English (for the Italian track) and English for the hearing impaired (for the English track).

Extras


A full length audio commentary track by Kat Ellinger, author and editor-in-chief of Diabolique Magazine is insightful with plenty of facts and sheds light on why this film is important to fans.

"Private Pictures" documentary (44:15) is a newly edited series of interviews featuring archival interview clips with actress Nieves Navarro, the director Luciano Ercoli, and the screenwriter Ernesto Gastaidi.

"The Forbidden Soundtrack of the Big Three" featurette (47:05), is an appreciation by record collector Lonely Jon that focuses on the music used in the film and in Gialloís in particular.

"The Forbidden Lady" is a Q&A featurette (44:03) with the lead actress Dagmar Lassander while at the 2016 Festival of Fantastic Films.

The disc also includes the film's original Italian theatrical trailer (3:13) and the English theatrical trailer (3:13) for the film.

Image Gallery (1:30) behind the scenes stills from the production.

Packaging


Comes housed in a transparent Blu-ray case.

Overall


Arrow really has done an excellent job with this film and this easily has to be the best condition that film has been seen under. The colors pop throughout, scenes both inside and out are crystal clear, and the filmís grain is barely noticeable.
| | | | | |
| --- | --- | --- | --- | --- |
| The Film: A | Video: A | Audio: A | Extras: A | Overall: A |