The Film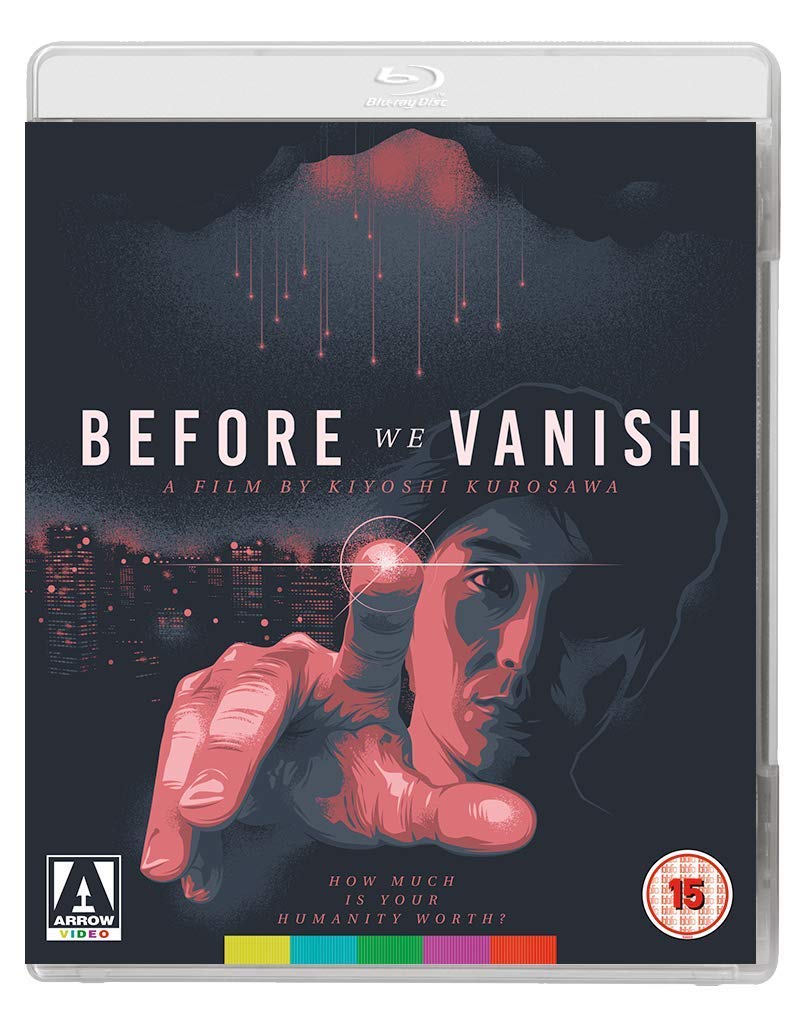 Before We Vanish (Kurosawa Kiyoshi, 2017)

Synopsis: An adolescent girl, Tachibana Akira (Tsunematsu Yuri) returns home to her family, who live near a US military base. A mysterious flash of light is followed by the revelation that Akira's family are dead, their bloodied bodies scattered across the ground floor of the house. Akira reacts strangely, licking blood off her fingers, before wandering away from the house. She heads down the road, walking along the centre line, causing a lorry to crash.

Elsewhere, Kase Shinji (Matsuda Ryuhei) has been discovered wandering the streets in a dazed state. To the frustration of Shinji's wife Narumi (Nagasawa Masami), from whom he is separated owing to an affair he conducted with an office girl, Shinji looks at the world as if he were a newborn child, finding mystery in everything. The previously coarse Shinji has also suddenly developed impeccable manners.

Reporter Sakurai (Hasegawa Hiroki) is asked to cover the murders of Akira's family members. Outside the Tachibana house, Sakurai meets a strange young man, Amano (Takasugi Mahiro), who asks Sakurai to be his 'guide'. Like Sakurai, Amano wishes to find Akira. 'Can you keep a secret?', Amano asks Sakurai conspiratorially, 'We're invading Earth!'

Akira, Shinji and Amano are part of an alien reconnaissance team, sent in advance of a planned invasion of Earth. They have taken human bodies as their 'hosts', and each of them must also acquire a willing 'guide'; as recompense, these guides will be saved from annihilation when the inevitable invasion takes place. The aliens must take from humans, other than their 'guides', human concepts such as love, family and possession. However, when they do so, these humans 'lose' the concepts that the alien invaders have taken from them. Shinji takes from Narumi's sister Asumi (Maeda Atsuko) the concept of 'family'. Meanwhile, Amano takes from a young man, Maruo (Mitsushima Sinnosuke) the concept of 'possession', and as a consequence Maruo is later seen lecturing a crowd on the evils of greed and territorialism.


Akira, Shinji and Amano must come together to communicate their findings with one another, before building a communicator to signal the rest of their kind. Once this is done, the invasion will begin.

Critique: Adapted from a stageplay by Maekawa Tomohiro, Before We Vanish continues the vein of quietly uncanny happenings that permutate throughout the work of director Kurosawa Kiyoshi. Like many of Kurosawa's other films, Before We Vanish takes a predominantly urban setting (with a memorable journey into a rural space towards the climax of the film) and populates it with a subtle sense of menace, disturbing the everyday with the suggestion that our friends and loved ones may not be who they appear to be. This is far from a new or original premise, of course, and has been explored in numerous examples of science-fiction – from John W Campbell Jr's 1938 novella 'Who Goes There?' to Jack Finney's The Body Snatchers (1955) and Robert Heinlein's The Puppet Masters (1951), not to mention film versions of these stories: Invasion of the Body Snatchers (Don Siegel, 1956/Philip Kaufman, 1978), The Thing (John Carpenter, 1982), etc.


Kurosawa complicates this well-worn formula, however, by suggesting that what the aliens take from us, in the form of concepts, may be to our benefit: when Shinji takes the concept of 'possession' from Maruo, for example, we see Maruo evolve into a more selfless person, delivering an impassioned speech to an audience about the manner in which greed and territorialism lead to wars and conflict. 'I'm a changed person', Maruo tells Shinji, 'Meeting you cleared my mind. I totally let go of my old self. And that made me realise we shouldn't go to war, for any reason'. On the other hand, the aliens take from humans concepts which enrich them and make them more 'human' (for want of a better word): the concept of 'family', for example, or 'love'. As a result, Narumi finds the 'new' Shinji much more sympatico than the husband from which she has been alienated and from whom she is separated – to the extent that she willingly spends time with him and seeks to protect him. 'Will you guide me?', Shinji asks Narumi, 'There's a lot I don't know and I can barely walk alone'. Initially resistant to his plea for help, Narumi quickly warms to the 'new' Shinji. Likewise, Narumi's overbearing boss is changed irrevocably when Shinji visits her place of employment and takes from him the concept of 'work'. 'You've been a prisoner of it, at home too', Shinji tells Narumi in relation to the concept of work, 'It's all his fault. So I took his concept of work'. Narumi's boss is last seen playing in the open plan office like a toddler, making paper planes out of blueprints and throwing them to the employees, who join in gleefully. 'Maybe he wanted to be freed from his concept of work', Shinji suggests.


Initially, the characters respond to the aliens' suggestion that they are not human with incredulity. When Amano tells Sakurai that 'We're invading Earth', Sakurai responds by dryly asking, 'Oh, so you're an alien?' In response, Amano nods, but at this stage, of course, Sakurai thinks this strange man is simply an eccentric. However, when Sakurai witnesses Amano taking concepts from other humans, Sakurai begins to believe this strange young man's story. Initially, on their first encounter, Sakurai believes Amano simply to be a wayward youth who needs to return home. The reporter drives the boy to Amano's home address, but inside the house he finds Amano's parents in a near-catatonic state. 'What did you do?', Sakurai asks the young man, believing that Amano has drugged his family. 'I took a lot from them', Amano replies, adding, 'Don't worry: I wouldn't take from a guide'. Amano explains, 'We're collecting concepts [….] Humans rely on words, right? That makes it tricky. There are so many words. We want the comprehension within concepts. That's what we take [….] And when we do that, it has an interesting side effect. When we learn something, they lose their concept of it'.

Where the aliens cause the deaths of humans, this seems engineered more out of curiousity than malice. When in the film's opening sequence, Akira kills her family (an act signalled simply by a flash of light), she surveys the bloody aftermath with utter detachment, licking the blood of her kin from her fingers. Later, Akira kills two policemen with the same sense of dissociation, when they discover Akira, Amano and Sakurai's temporary hideout. Afterwards, Sakurai tries to impress onto Akira the moral weight of her actions, something which she finds utterly incomprehensible. Death is an alien concept to the invaders: reflecting on one of her previous host bodies, an elderly man, Akira tells Sakurai that 'I pulled my guts out for a look, and my body gradually stopped moving'. 'Our objective is invasion', Amano tells Sakurai. But the invasion is a quiet one, devoid of overt violence and consisting of performance/masquerade and the building of consensus. Ultimately, as Amano suggests to Sakurai, the invasion is simply hastening the inevitable: 'You're a run of the mill species', Amano says to the reporter, 'You think you rule your planet [….] Even if we didn't invade, you'd die out in a hundred years'.





Video


Taking up a little under 31Gb of space on a dual-layered Blu-ray disc, Before We Vanish is presented in 1080p using the AVC codec. The film has a running time of 130:08 mins.

Shot digitally, on the Arri Alexa XT Plus, Before We Vanish is presented in its intended aspect ratio of 2.40:1. The film's digital photography is by Kurosawa's frequent collaborator, Ashizawa Akiko. Detail is good, the image exhibiting a sense of depth. Contrast seems slightly 'flat' but this is most likely intentional and is certainly something that seems to be shared by the other films on which Kurosawa and Ashizawa have worked together. Colours are rich and consistent throughout the picture. There are no glaring issues with the encode. As a compressed presentation of a digitally-shot feature, this is pleasing enough.




Some full-sized screengrabs are included at the bottom of this review. Please click to enlarge them.


Audio


There are two audio options: a DTS-HD Master Audio 7.1 track and a LPCM 2.0 stereo track. (Both are in Japanese and accompanied by optional English subtitles.) The film's sound mix is low-key and avoids being 'showy', except for an action sequence towards the film's climax, which is delivered with slightly more verve on the 7.1 track, thanks to the added sound separation. However, for the most part the LPCM 2.0 track seems a little more rich and fully-rounded. (Both tracks are incorrectly labelled as 'English' on the on-disc menu.) The English subtitles are easy to read and free from errors.

Extras



The disc includes:
- 'The Making of Before We Vanish' (53:42). This indepth 'making of' documentary looks at the origins and production of the film, reflecting on its relationship with the stage play by Maekawa Tomohiro. Plenty of onset footage is included, alongside 'talking head'-style interviews with Kurosawa and various cast members. We see Kurosawa in action, learning something about his process as a director. The show is in Japanese, with optional English subtitles provided.

- 'Inside the Story' (9:09). This short promotional piece would seem to have been made for Japanese television and features interviews with the cast and crew; many of these are repeated from the longer 'making of' documentary also included on this disc. The film is described as 'Kurosawa's War of the Worlds'. Japanese, with optional English subtitles.

- 'inside the Characters' (9:08). Another short promotional piece presumably assembled for Japanese television, this follows the structure of the 'Inside the Story' piece, again repeating some of the interviews from the longer 'making of' documentary, but this time focusing on the characters and elements of performance. Japanese, with optional English subtitles.

- 'Looking Back' (22:22). Made after the film was completed, this piece features the principal cast reflecting on the production of the film and discussing Kurosawa's approach to making the picture. Japanese, with optional English subtitles.


- 'Screening Events':

Cannes Film Festival (19:57). Kurosawa, Hasegawa Haroki and Matsuda Ryuhei are interviewed in Cannes at the time of the film's premiere in 2017. Kurosawa talks about his feelings vis-à-vis the Cannes Film Festival, admitting that 'it's quite scary'. Red carpet footage, and footage from the screening is shown, alongside an on-stage introduction to the film by Kurosawa and the lead actors. Japanese and French, with optional English subtitles.

Marunouchi Piccadilly (14:31). In this piece, Kurosawa, Maekawa Tomohiro and members of the cast are interviewed onstage after the film's Japanese premiere in 2017. They talk about some of the challenges faced whilst making the film – such as how to play an alien convincingly. Japanese, with optional English subtitles.

Futago Tamayana (6:30). Kurosawa and principal members of the cast are interviewed after a screening of the film in Tokyo, 2017. Japanese, with optional English subtitles.

Shinjuki Piccadilly #1 (10:37). Kurosawa and the key members of the cast speak onstage after another 2017 screening of the film in Japan, offering some anecdotes of the production, Matsuda revealing that when he first met Kurosawa about the role, Kurosawa said he would be playing a '"Kurt Russell" type of character' – presumably in reference to the types of roles that Russell played in John Carpenter's films during the 1980s (Big Trouble in Little China, The Thing, Escape from New York). Japanese, with optional English subtitles.

Shinjuki Piccadilly #2 (13:06). Another onstage Q&A featuring Kurosawa and Nagasawa Masami. They discuss the process of making a film, Nagasawa suggesting that as an actor, a shoot can go by incredibly quickly. They discuss the rehearsal process and elements of performance. Japanese, with optional English subtitles.

- Trailer (1:03)


Overall



As in his other films, Kurosawa manages to mix the light and the dark, developing a sense of tragedy and humanity in peril whilst also demonstrating a lighter touch. For example, Amano and Sakurai 'recover' Akira from police custody, and Sakurai witnesses Amano and Akira taking the concept of 'self' and 'other' from a detective, with the result that the detective, when he comes to, asserts, 'You're all me now'. This moment, which has subtly sinister potential, is played for laughs, underscored by circus music.

Rather than human identity being absorbed or taken over by the alien intruder, the 'hosts' seem to evolve into a hybrid identity, retaining an element of their humanity whilst integrating with the alien 'parasite'. 'Has Shinji become a part of me, or have I become a part of Shinji?', Shinji asks Narumi, 'Either way, I'm okay with it. I can make a fresh start with you'. Before We Vanish offers an interesting and philosophical take on a tried and true formula. Perhaps a little overlong, with an action setpiece towards the denouement that comes out of left field and is like nothing else in the picture, the film nevertheless continues Kurosawa's exploration of the quietly uncanny terrain he has forged in his earlier films.

Arrow's Blu-ray presentation of this digitally-shot feature is pleasing, although the film itself is not inspirationally photographed, and the main feature is supported by a good array of contextual material.


Please click to enlarge: