The Film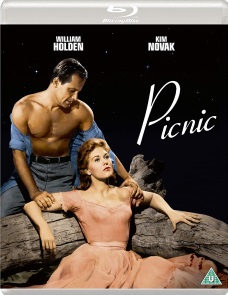 Oscar (Best Art Direction-Set Decoration, Color): William Flannery, Jo Mielziner, and Robert Priestley (winner), Best Film Editing: Charles Nelson and William A. Lyon (winner), Best Picture: Fred Kohlmar (nominated), Best Actor in a Supporting Role: Arthur O'Connell (nominated), Best Director: Joshua Logan (nominated), Best Music, Scoring of a Dramatic or Comedy Picture: George Duning (nominated) - Academy Awards, 1956
Golden Globe (Best Director): Joshua Logan (winner) - Golden Globes, 1956
BAFTA Film Award (Best Film from Any Source): USA (nominated), Best Foreign Actor: William Holden (nominated), Best Foreign Actress: Kim Novak (nominated), and Most Promising Newcomer to Film: Susan Strasberg (nominated) - BAFTA Awards, 1957

On Labor Day 1955, Hal Carter (Sunset Blvd.'s William Holden) – fresh from a failed acting career in Hollywood and being rolled by a pair of female motorists – arrives in a small Kansas town by freight car. He appeals to elderly Mrs. Potts (Don't Bother to Knock's Verna Felton) for some odd job work in order to clean up before going to see a man about a job, catching the disapproving eye of schoolteacher Rosemary Sydney (His Girl Friday's Rosalind Russell) and the veiled appreciation of Madge Owens (Vertigo's Kim Novak), daughter of Rosemary's landlady Flo (Peyton Place's Betty Field). Madge is being fitted for her dress for the Labor Day picnic as a contender for the Queen of Neewollah ("Halloween" spelled backwards) pageant, being nagged by her mother to get in good with potential fiancé Alan Benson (Charly's Cliff Robertson) – son of the town's grain mill king (The Incredible Shrinking Man's Raymond Bailey) – and teased by her bookish younger sister Millie (Scream of Fear's Susan Strasberg) who is as jealous of Madge's beauty as Madge is of her mother's fostering of her younger sister's intellectual qualities while seeming eager to marry her off. Alan is at first pleased to see old fraternity buddy Hal until it becomes apparent that the job he so casually inquired about is what Hal imagines is of the executive variety and disdaining the idea of starting at the bottom as a grain scooper (as Alan's father had made him in order to get to know the business from top to bottom). Alan inveigles Hal into being young Millie's escort to the picnic in spite of Flo's concerns about Hal being a dropout and a drinker, and Hal sparkles in the company of women, with Mrs. Potts deciding to take a break from being cooped up with her invalid mother and joining them along with Rosemary who keeps her suitor Howard Beavens (Bus Stop's Arthur O'Connell) at arm's length. Hal's boastful and bragging performance of his hard luck story and wistful take on his failures holds the rapt attention of Millie but wears thin on Flo, Rosemary, and particularly Alan who senses an attraction between Hal and Madge; and things come to a head later that evening when the smuggled liquor flows and causes tongues and libidos to loosen.


An adaptation of the play by William Inge (Splendor in the Grass) helmed by the none-too-subtle Joshua Logan (South Pacific), Picnic is so booming and sprawling in its Cinemascope, 4-Track Stereo epic treatment of Middle America with its overwrought central performances and barnstorming supporting ones at the cost of its stars: veteran Holden and newcomer Novak. The film spends its time showing motivating the hypocritical behavior that leads to the scapegoating of Hal and then the remorse felt afterward that first time viewers are likely to find more depth in the them than the shallow-seeming star-crossed lovers; bound to sum up Madge in her line "I get so tired of just being told I'm pretty," than her mother's dismissals of her concerns or Alan's intended flattery by wanting to see if she looks "real in the moonlight" and disregarding her please to him that she is real and imperfect. While Holden was too old for the part, he is believable in his character's desperation to deceive even himself with his boasting, and his apparent awareness that anyone could have enough of him and call him out on it at any moment; however, audiences may have also had a hard time reconciling the injustice of Hal being scapegoated with his own feelings of never having been given an even break emoted to Madge during a moonlight clinch in which they quickly decide they are alike and one another's only hope for a future however fraught with uncertainty. In the end, the only characters who seem to possess genuine depth and nuance – as opposed to the audience having it hammered home by the filmmakers – are O'Connell's Howard who is the only person one of the elders who tries to take responsibility for his part in the night's bad behavior including contradicting girlfriend Rosemary, and Felton's Mrs. Potts with her superficial-seeming reason for liking Hal from the start for shaking things up, while everyone else comes off the worse for something along the lines of "what happens on Labor Day…" The supporting cast includes early appearances by The Rebel's Nick Adams and Shirley Knight (The Rain People).

Video


Not released to panned-and-scanned cassette in the United States and the United Kingdom until 1990, Picnic was better served on laserdisc in 1992 from Image Entertainment as a Pioneer Special Edition that included a letterboxed transfer and restored stereo sound; however, the non-anamorphic master was not carried over to Columbia/Tri-Star DVD in 2002 which sported Dolby Digital 2.0 Surround but a newer panned-and-scanned transfer (PAL-capable, region free viewers would have to resort to Columbia's German, French, or British DVDS for the original aspect ratio). The width of the Cinemascope image was not seen back on home video until Twilight Time's 2012 Blu-ray which was limited to three thousand copies and is now sold out. Eureka's Region B 1080p24 MPEG-4 AVC 2.55:1 widescreen Blu-ray utilizes the same master looking a bit coarse and almost out of register during the opening credits but shaping up soon after, retaining a sense of softness in the dreamy long shots while revealing texture in clothing, nature, and skin in closer shots (also revealing just how shallow the depth of field was in the longer range of the anamorphic lenses with backgrounds that flatten before falling out of focus). Colors are pleasing, particularly in the night sequences, but cinematographer James Wong Howe (Seconds) always impressed more in monochrome. Even if it is not a meticulous Technicolor restoration, it truly is better than anything that came before.

Audio


Audio options include the 4-Track Stereo mix in DTS-HD Master Audio 5.1 and LPCM 2.0 Stereo with directionality evident from the start as a freight train moves past the camera. Many dialogue scenes are centered with occasional offscreen directional voices and sounds although the soundscape is generally placid early on, picking up during the Labor Day festivities from crowd sounds to fireworks. It is not as gimmicky a mix as some but has a nice sense of breadth one does not expect from "classic" flms one expects to be monophonic. Optional English HoH subtitles are provided.

Extras


While the Twilight Time edition included an isolated score track, trailer, and booklet, Eureka includes the wonderful "Kim Novak's Hollywood Picnic" (17:14), an archival interview with the actress conducted by screenwriter and journalist Stephen Rebello in which they discuss her early modeling work and her small roles before Picnic. She recalls volatile Logan being more gentle with Strasberg not so much because she was younger but because she was trained in "The Method" while angry with her over the modifications she made to her wigs. She also recalls that Holden felt vulnerable in being required to shave his chest and self-conscious about his dancing scenes. She was also unaware of her BAFTA award win. She and Rebello also discuss how fans are rediscovering her work and seem to see her as still that young while simultaneously knowing that she must be much older in real life. The disc also includes the film's theatrical trailer (3:22). Not provided for review was the collector s booklet featuring a new essay on the film by Travis Crawford.

Overall


Picnic is ungainly and bombastic as a dramatic adaptation but gorgeous in Cinemascope, Technicolor, and 4-Track Stereo with Holden and Novak at their most attractive.