The Film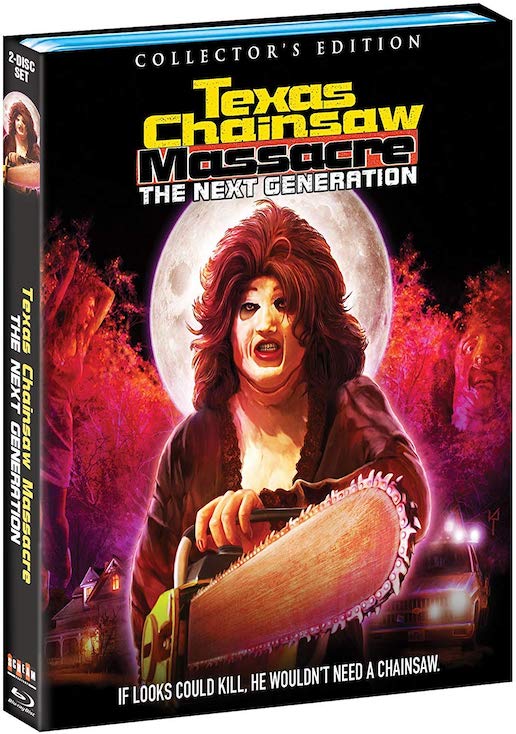 It's been a long, rough ride for fans of the "Texas Chainsaw Massacre" series. The 1974 original is forever cemented as one of horror's true greats. Its sequel, "The Texas Chainsaw Massacre 2" (1986) is a divisive film, boldly ramping up the gallows humor and veering off into camp territory. "Leatherface: The Texas Chainsaw Massacre III" (1990) is highly underrated – grisly chainsaw kills, spooky blue-tinged atmosphere, and heavy metal; what's not to love? I'll discuss the next film in the series in a moment. Following a nine-year break, the saw returned with "The Texas Chainsaw Massacre" (2003), a decent remake of Hooper's classic that got enough things right I can overlook what it clearly got wrong. "The Texas Chainsaw Massacre: The Beginning" (2006) is a nihilistic prequel to the remake and, again, I do think it's a bit underrated because it looks stunning and the FX work is remarkably gruesome. "Texas Chainsaw 3D" (2013) is a bad 90's horror movie made in the 21st century but, like Leatherface, it's charmingly stupid and you have to marvel at some of the inane decisions it makes. And then there's the other "Leatherface" (2017), a film so ineptly conceived and poorly executed it takes the crown of Worst in the Series away from the film we are discussing today…

"Texas Chainsaw Massacre: The Next Generation" (1994). Now, the only reason – and I mean ONLY reason – this isn't still the worst in the series is due to Matthew McConaughey either forgetting or not caring he agreed to star in a piece of sh*t and putting 100% into his role. That is it. Otherwise, viewers are forced to stumble through a tepid story involving high schoolers getting lost in the backwoods after prom. Yes, Renée Zellweger is one of those students. Her acting is another minor bright spot in this sh*t stew. Leatherface (Robert Jacks) – you know, the reason fans watch this series – is reduced here to a wailing wimp, running around like a buffoon and never ONCE killing a single person with his chainsaw. He basically spends the entire film in drag, screaming like a banshee. It's Leatherface by way of John Waters, which admittedly sounds like it could be cool but I assure you, in this universe, it is far from it.

After all the backwoods business is finished our remaining survivors are led back to the Sawy…er, Slaughter family household, where the expected dinnertime hijinks ensue. The main difference here is learning that the not-Sawyer Slaughter family, which includes Junior "Leatherface" Slaughter, works for a covert worldwide organization whose members dress in black and are responsible for assassination and anarchy across the globe. I wish I had just made up that sentence. The last twenty-or-so minutes of the film are nothing but characters screaming and yelling at the tops of their lungs. Over and over.

Are you here because you're excited to finally see that lengthier "The Return of the Texas Chainsaw Massacre" cut? Don't be. That title is infinitely better than the actual film contained therein. Did anyone actually think this footage, until now only available via a Canadian DVD, would be worthwhile? Like, it would add to the feature? Aside from adding more miserable minutes the footage simply extends little bits here and there – and frigging everywhere, as the quality differences will highlight – but there's nothing of true value reinstated. This is a bad film made worse. If you're eating a 6" sh*t sandwich and someone offers you a footlong don't expect a better flavor.

Video


The theatrical cut enjoys a 1.85:1 1080p 24/fps AVC MPEG-4 image that is consistent throughout, with a major upgrade over the previous DVD in terms of contrast, color, black levels, and detail. There is no denying this is a sharp image and better than anyone has seen since theaters. The problem is most of you aren't going to watch that cut. You want to see the "Unrated" version, and that cut is a composite of the theatrical cut and SD inserts. Yes, this is likely the best Scream Factory could do and I applaud their efforts. Reconstructing an original cut isn't an easy task and the work done here is commendable. The main issue is the footage doesn't flow with the HD stuff, and since there are dozens of extra bits throughout the image can go from good to bad multiple times within a single scene. The edit flows nicely; cuts aren't jarring, but the variation in footage quality makes this a give-it-some-slack experience.

Audio


There aren't too many complaints with the English DTS-HD Master Audio 2.0 surround track, aside from the fact many of the added scenes have a pervasive hiss. Outside of that, sound quality is fairly even. Dialogue is clear. The chainsaw buzz is ripping and fierce. Vilmer's bellowing howls fill a room. Subtitles are available in English SDH.

Extras


There is an audio commentary with writer/director Kim Henkel.

"The Buzz is Back" (1080p) featurette runs for 11 minutes and 42 seconds, this is an interview with director of photography Levie Isaacks.

"Marked for Death" (1080p) featurette runs for 16 minutes and 1 second, this is an interview with actor Tyler Cone.

"If Looks Could Kill" (1080p) featurette runs for 19 minutes and 3 seconds, this is an interview with special effects creator J.M. Logan.

A theatrical trailer (1080p) runs for 1 minute and 38 seconds.

Packaging


The single disc comes in a standard Blu-ray keep case. The cover art is reversible. A slip-cover featuring new art is available on first pressings.

Overall


This is now the fourth or five chance I've given this film and it manages to suck more with every viewing. I will never watch this movie again. Scream Factory has done a fine polish job on this turd but it remains just that.
| | | | | |
| --- | --- | --- | --- | --- |
| The Film: D- | Video: C | Audio: B | Extras: C | Overall: C- |