The Film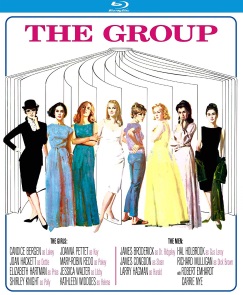 Golden Globe (Most Promising Newcomer - Female): Candice Bergen (nominated) - Golden Globes, 1967
BAFTA Film Award (Best Foreign Actress): Joan Hackett (nominated) - BAFTA Awards, 1967
Golden Berlin Bear: Sidney Lumet (nominated) - Berlin International Film Festival, 1966

South Tower's Class of 1933 is ready to take the world by storm in a "time that asks the women of America to play a role in every sphere of the nation's life," particularly the eight women known as the "Ivory Tower": snobbish Lakey (Murphy Brown's Candice Bergen), meek Dottie (Dead of Night's Joan Hackett), frail Priss (The Beguiled's Elizabeth Hartman), studious Polly (Juggernaut's Shirley Knight), ambitious Kay (Casino Royale's Joanna Pettet), faux-intellectual Libby (Play Misty for Me's Jessica Walter), wealthy Pokey (Cat Chaser's Mary-Robin Redd), and somber Helena (Petula's Kathleen Widdoes). However encouraging the messages in the graduation speech, the members of the group are all ready to write one another other off even as they embark on their own adventures. Kay is saddling herself with playwright husband Harald (Dallas' Larry Hagman), putting off her ambition of directing his plays to take a job at a department store so that they can pool their money to move into a modern apartment. Democrat Priss is soon to wed Republican pediatrician Sloan (The Gardener's James Congdon) whose strong views on child-rearing parallel his feelings about social welfare as coddling. Having grown up around animals, Pokey intends to become a veterinarian but her parents disapprove of that as much as Helena's parents do for her desire to teach children at nursery school, being sent off to Europe for vacation and returning to dabble in an art career. Polly is having difficulty in medical school and has been postponing her engagement for fear that her father's (3:10 to Yuma's Robert Emhardt) melancholia may be hereditary like the insanity in her fiancé's family. Libby goes into publishing and becomes smitten with her boss Gus Leroy (Rituals' Hal Holbrook) until she discovers that he is married with a child and is a communist party member, after which she goes from man to man, all intellectuals, believing each to be her soul mate. Frigid Dottie impulsively takes a lover in Dick Brown (Soap's Richard Mulligan, Hackett's then-husband), a dissolute friend of Harald's and ex-lover of Kay's, despite his expressed interest in Lakey who has taken off to Europe to become an artist. Discovering that she has a venereal disease, Dottie suddenly takes off to Arizona for treatment.

Adapted by Sidney Buchman (Mr. Smith Goes to Washington) from the episodic and sprawling novel by Mary McCarthy, Sidney Lumet's ensemble piece is a showcase for a number of actresses either forgotten by their early deaths, greater episodic television work, or consigned to the female equivalent of "character actors" but rather uneven as a whole. The strategic disappearance from the narrative for lengths of time of certain characters to focus on others seems to dismiss certain characters who are apparently happy in their marriages and childbirth as fulfilled (whether happy or not) in favor of the romantic entanglements of others, with Lakey's bookending appearances coming across as a punchline (although the film does allow her to twist the knife with regard to Harald's infidelity). Over the course of six years, they each find themselves on very different paths than they had set out. Kay ascends the management of the department store while her husband carouses with neighbor's wife and former non-Ivory Tower classmate Norine (Creepshow's Carrie Nye), her stress becoming entangled with nationwide fears of another world war. Polly has a long, unhappy affair with Gus who has entered psychoanalysis with his estranged wife (who may also be seeing their therapist) and then takes in her father whose diagnosis has been changed from melancholia to manic depression and seeks help and comfort from psychologist James Ridgley (Dog Day Afternoon's James Broderick) when her father's large scale projects and sudden political interests become worrying. After a couple miscarriages, Priss gives birth and is pressured by her husband not to bottle feed despite her inability to nurse the child whose incessant crying keeps her up and hinders her own recuperation. Pokey's plans to become a veterinarian fall by the wayside to several pregnancies – for which christening gifts from the group become a financial pressure – while Dottie returns from Arizona with a wealthy husband (Tootsie's George Gaynes) and children, and Lakey returns from Europe with an apparent lesbian lover in an icy Baroness (Lidia Prochnicka); their bittersweet good fortune becoming the subject of derision to distract from their own problems; but it is society and cultural norms that are seen as out of date with the ideals to which these women were taught to strive in college and which they carried out into the world. The aftermath of the tragic ending for one of these characters further demonstrates that as the others come together and discussion of funerary arrangements turning contentious over the deceased's wishes, practicalities, and fear of what others will think. The period is attractively realized by cinematographer Boris Kaufman (Baby Doll), production designer Gene Callahan (Steel Magnolias), and costume designer Anna Hill Johnstone (The Godfather), but the pacing and editing is rather listless, moving from scene to scene as if the script adaptation were a fait accompli based on producer Charles K. Feldman's alleged buying of the film rights upon publication three years earlier and the rumor that he paid his employees to buy up copies to make sure that it landed on the bestseller list. The film is ultimately more of a studio curio than an accomplished work.

Video


Released theatrically by United Artists (and to television in 1971 on NBC), The Group was pretty much forgotten about apart from its 1985 Key Video tape release, hitting DVD without fanfare from MGM as part of their Limited Edition Collection DVD-r line (a pressed disc was released in the UK from Simply Media). Kino was beat out by France's Blaq Out for the film's Blu-ray debut, but they likely feature the same master. Kino's 1080p24 MPEG-4 AVC 1.66:1 widescreen transfer has not been afforded the same amount of restoration as some of the studio's more prestigious titles despite its pedigree. The transfer has a couple rare frame tears and rare scratches at the reel changes while the colors never exactly pop (although this is as much due to the choice sof the color palette). Scenes and shots with opticals from credits and dissolves to a handful of back projection driving scenes look coarser as expected. It seems unlike that the film will get a better treatment any time soon.

Audio


The sole audio option is a DTS-HD Master Audio 2.0 encoding of the original mono soundtrack. The few rare interjections of score (always in the form of the title sequence choral piece), effects, and even some bouts of shouting and screaming all sound rather undynamic compared to other studio productions of the time. Optional English HoH subtitles are included.

Extras


The French release had a critic interview but it was not English-friendly. All Kino has is the film's theatrical trailer and trailers for other releases. This film seems like it would have been ideal for a film historian commentary track given the cast and some of the behind the scenes trivia.

Overall


Despite its budget, best-selling novel source, cast, and themes, The Group is ultimately more of a studio curio than an accomplished work.