The Film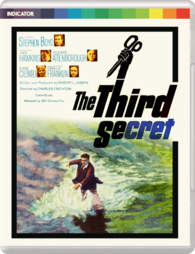 The apparent suicide of an eminent psychologist prompts his teenage daughter (Pamela Franklin - The Prime of Miss Jean Brodie, The Legend of Hell House) and one of his patients (Stephen Boyd - Ben-Hur, Fantastic Voyage) to investigate. Convinced he was murdered, the two begin a journey into the lives and twisted psychoses of the doctor's disturbed patients.

Directed by the great Charles Crichton (Dead of Night, The Lavender Hill Mob, A Fish Called Wanda), stunningly photographed by Douglas Slocombe (The Italian Job, Raiders of the Lost Ark), and starring an incredible cast which includes Jack Hawkins, Richard Attenborough, Diane Cilento and Judi Dench in one of her earliest screen roles, The Third Secret is a dark and elegant psychological thriller which has long been overlooked, but is now ripe for rediscovery.

Video


A psychiatrist (Peter Copley) who had five potentionally schizophrenic patients commits suicide. A TV presenter (Stephen Boyd) investigates along with the dead man's daughter (Pamela Franklin) both believing that it was murder. The leads are both impressive, especially Franklin who comes over as a very empathic actress who just inhabits her role totally; one of the most impressive performances from a juvenile I've seen. A shame she curtailed her career so early. Copley is one of those wonderful English character actors we just need to see more of and he always did great work.

Interesting, splendid-looking psychological thriller is also overlong, overheated and gabby; not much happens for the first hour before the histrionics begin. It has a grand cast of pros that make it worth a view which keeps interest bubbling long. A marginal, long forgotten film and it's not hard to see why. It's also predictable; I worked out the plot early on.

On to the nitty gritty!

I find that there's something magical about black and white scope films. I'm not sure what it is, but the format seems to bring out the best in cinematographers with wonderful compositions like we have here and the sparkling contrast betwixt the darkness and the light. The Third Secret is another of those wonderful looking monochrome scope efforts; in this case beautifully composed and lensed by the great Douglas Slocombe and no doubt with an eye for an assist from venerable, and supposedly lovably irascible director the great Charlie Crichton.

The use of anamorphic lens usually lens an image a very slightly softer sheen than films shot flat and this is the case here. Detail is however very pleasing with plenty of fine textures evident. Skin textures come off especially well in closeups and the image is still pleasingly sharp and very film like.

There are the usual signs of cinemascope mumps with the expected mild vertical distortion at the extreme edges of the frame and at times I thought I could detect a very slight horizontal squeeze, but that could also just be a side effect of the process. Being a Fox film means that venerable old CinemaScope is the format of choice. It's possible that the film's raw aspect ratio on the negative could be 2.55:1 ala Rasputin, the Man Monk (1965) also lensed in the Fox process and available on Blu-ray in that wider format.

Black levels are suitable velvety and rich; satisfyingly dark and no signs of unintended crush. Contrast is supportive with out having many garish moments and no signs of blown out highlights. Detail is allowed to shine in closeups, medium and long shots. Grain is fine and pleasing; a very film like image.

This master would seem to be from a negative of an interpositive; I saw not signs of print damage and the encode is typically first rate. Happily I could detect no signs of untoward digital tinkering.

Yet another stellar presentation from Powerhouse Films who have taken a fine off the shelf master and presented it on it's best behaviour.

1080/24p / MPEG-4 AVC / 2.35:1 / 102:46

Audio


English LPCM 1.0
Subtitles: English HoH

The audio is a standard mono track and I suspect it always was; Fox did create stereo tracks from some of their bigger films of the period (The Blue Max), but this being a smaller production it obviously didn't warrant it. There is some mild muffle at times but no more than you'd expect from a mono track of the era. Dialogue is crisp and clear and that's the main thing in a film as talkative and as gabby as this. The score never interferes and is used judiciously without overwhelming the drama or the sound field.

Extras


Audio Commentary with film historians Dean Brandum and Eloise Ross

Two film historians that I'm not familiar with but they cover all the expected bases and have a nice rapport with each other.

Isolated Score in LPCM 1.0

Richard Arnell's score didn't blow me away but for those for whom it worked well for, here it is in lossless mono.

"The British Entertainment History Project (BEHP) Interview with Charles Crichton: The Following is excerpted from an interview conducted by filmmaker Sidney Cole on 15 December 1988" plays an alternate audio track over the film (102:46)

"The British Entertainment History Project (BEHP) Interview with Douglas Slocombe Part One: The Early Years: The Following is excerpted from an interview conducted by filmmaker Sidney Cole on 15 December 1988" plays an alternate audio track over the film (102:46)

Two indispensable, vintage audio recordings that play as ersatz commentary tracks. Both are packed with information from two stalwarts of the industry who are both no longer with us. Both touch on their careers in depth and come over as witty men. I look forward to part two of the Slocombe chat.

"Crichton on Crichton: Third Assistant Director David Crichton on his father's film The Third Secret" featurette (7:25)

"An Unconscionable Thing: Second Assistant Director Kits Browning on The Third Secret" featurette (4:53)

"Mr Slocombe's Mattress: Focus Puller Robin Vidgeon on The Third Secret" featurette (6:30)

Three excellent, if short pieces that collectively give the viewer an understanding of the making of the film. Crichton focuses more on his dad giving us a warm portrait of the man. The others focus more directly on the production and where it stood in their careers.

"Lost Souls: Neil Sinyard on The Third Secret" featurette (21:42)

A nice celebration of this largely unsung and forgotten film.

The Third Secret Image gallery: Original Promotional Material (109 images)

Very fine HD gallery of production images.

Theatrical trailer (2:32)

Typical trailer of the period, you know the score.

32-page liner notes booklet by Robert Murphy, an archival interview with Stephen Boyd, Robert L Joseph on The Third Secret, an overview of contemporary critical responses, and film credits

As usual, worth the price of the disc by itself. Indispensable.

Overall


The film is a relic of a bygone era with a dated approach to mental illness and I found the script quite predictable, but performances, direction and cinematography are all top notch. As a disc this is a fine release with all the usual strengths we've come to expect from Powerhouse Films and their now beloved Indicator Series. Extras are typically exhaustive with the two vintage screen talks and the extensive booklet being highlights for me. Powerhouse Films are going from strength to strength and spoiling film buffs with this eclectic range and The Third Secret typifies their approach by bringing back into the fray a long forgotten piece like this.
| | | | | |
| --- | --- | --- | --- | --- |
| The Film: C+ | Video: A+ | Audio: A | Extras: A+ | Overall: A+ |