The Film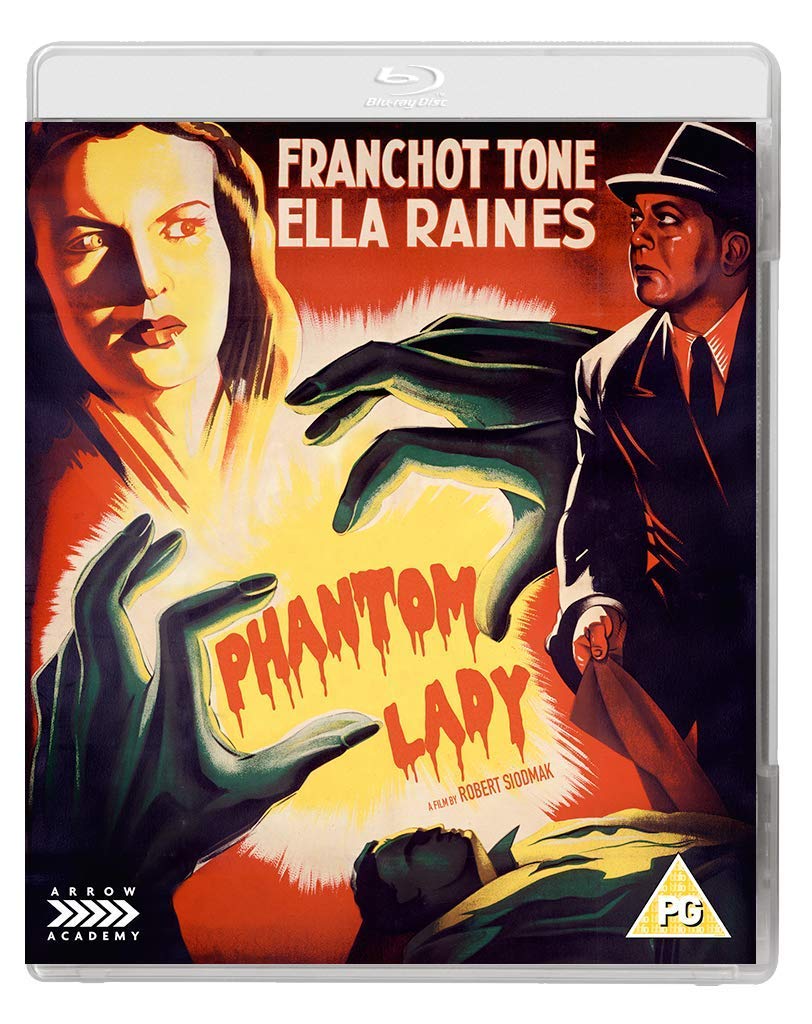 Phantom Lady (Robert Siodmak, 1944)

Synopsis: After an argument with his wife, engineer Scott Henderson (Alan Curtis) visits a local drinking establishment, where he meets a mysterious woman (Fay Helm) – later named as Ann Terry – who is wearing a distinctive hat. The woman agrees to accompany the lonely Henderson to a show, on the proviso that they do not share one another's names. At the show, Henderson's companion's hat draws the attention of singer Estela Monteiro (Aurora Miranda), who is wearing an identical, custom-made hat during her performance. Monteiro is visibly displeased at seeing a member of the audience wearing the same hat as herself.

Henderson returns home to find a crowd of policemen, led by Inspector Burgess (Thomas Gomez), in his apartment. Henderson's wife is dead: she has been strangled. Henderson, who had a tempestuous relationship with his spouse, is an immediate suspect; he is charged with the murder and ultimately found guilty of it, the judge sentencing him to death.


Henderson's employee Carol 'Kansas' Richman (Ella Raines) is, however, convinced that her boss is innocent. Carol is also motivated by an unrequited passion for Henderson. Carol vows to clear Henderson's name and save him from the executioner's grasp. She works to convince Burgess that Henderson is innocent, and she is ultimately successful in this. Burgess promises to aid Carol in identifying the real killer of Henderson's wife, something which hinges on being able to identify the mysterious woman with whom Henderson went to the performance. To this end, Carol investigates the performers, including Monteiro – who Carol reasons should remember the woman owing to the incident with the hat – and a drummer, Cliff (Elisha Cook, Jr). Carol dresses as a vamp and allows Cliff to lead her into the city's sleazy underbelly. However, just when it seems she is getting somewhere, Cliff is murdered by the same man who killed Henderson's wife.

When Carol encounters Henderson's friend Jack Marlow (Franchot Tone), a sculptor, he claims to have returned from a trip overseas. However, Jack quickly proves himself to be a particularly twisted master of deception.

Critique: Based on Cornell Woolrich's 1942 novel but making substantial changes to the plot of its source text, Robert Siodmak's Phantom Lady has become a cornerstone film noir of the mid-1940s. The picture was Siodmak's first noir, and subsequently Siodmak would become strongly associated with the noir style through films such as The Killers (1946), Cry of the City (1948) and Criss Cross (1949). Phantom Lady was also one of the first pictures to be produced by Joan Harrison, one of only three female film producers in Hollywood at the time (and the screenwriter of a number of Alfred Hitchcock's films). Working with writer Bernard Schoenfeld, Harrison oversaw a number of changes to the narrative of Cornell Woolrich's source novel, giving the story a female protagonist (Carol) who is neither a victim nor a femme fatale – though she poses as a vamp to get close to Elisha Cook Jr's jazz drummer.


Like the Swede in The Killers (see our review of the Arrow Academy Blu-ray release of that film), based on Hemingway's incredible influential short story of the same title (first published in 1927), Henderson is resigned to his fate. He accepts it and is willing to allow himself to be executed for a crime he didn't commit. 'He [Henderson] hasn't anyone else to fight for him', Carol tells Burgess, 'He won't appeal. He has no money, no friends. I know Scott's innocent'. His only possibility for salvation comes from Carol, who believes absolutely in Henderson's innocence and is willing to descend into the Stygian depths of the city in order to save her boss (and the object of her hitherto unrequited affections). Her attempt to clear the name of her employer leads Carol to a tour of the city's seedy underbelly. As Phil Hardy has noted, in one sequence Carol 'follows a possible witness from her world to his, through gloomy, narrow streets that bring to mind a classical Greek rather than criminal underworld' (Hardy, 1997: 19). In another sequence, Carol masquerades as a prostitute and 'goes to a late-night jazz session which climaxes in an orgiastic drum solo, highlighted by expressionist lighting and dramatic camera angles, which visually confirms the power of sex' (ibid.). Hardy suggests that this 'show[s] […] clearly how Freudian notions of a divided self, with upper and lower worlds competing for control, had imposed itself as a world-view' (ibid.).

In his book Somewhere in the Night: Film Noir and the American City, Nicholas Christopher refers to Phantom Lady as 'one of the most expressionistic of all films noirs' (Christopher, 1997: 203). Christopher points to the film's depiction of its killer, Jack Marlow, as atypical of the era, with his references to psychological theories and his exploration of the relationship between his art and murder, linking art and deviance and talking about his hands 'as if they operate independent of his mind and body' (ibid.). As Christopher suggests, such villains were not typical of Hollywood films of the 1930s and early 1940s (though would become increasingly associated with film noir as it moved into the 1950s), though the German 'street films' of the kind that Siodmak made before emigrating to the US 'are full of such murderers' (ibid.). Lutz Koepnick has described Marlow as a 'fascist modernist in thin disguise', suggesting that with Phantom Lady Siodmak 'moved Goebbels's nexus of art and politics to the center of a taut Hollywood thriller' (Koepnick, 2002: 173).


As Christopher also highlights, one of the key narrative premises of Phantom Lady – principally, the idea of a female employee seeking to clear the name of her male boss – crops up in a number of subsequent films noir, including The Dark Corner (Henry Hathaway, 1946). Carol is no femme fatale though she masquerades as one in order to ensnare Cliff, the drummer in Monteiro's show. Chewing gum and adopting a blowsy attitude, Carol allows Cliff to lead her to an after-hours jazz session. He drums furiously, exerting himself as Siodmak intercuts low-angle shots of Carol goading him on with close-ups of the drums between Cliff's thighs and his sweating face/gritted teeth. The sexual metaphor couldn't be more overt.

The 'phantom lady' herself is also not much of a femme fatale, as she is absent for much of the film's running time and when Carol catches up with her, we discover she is a pitiable victim of her own mental disorders. (When Henderson and Ann visit Monteiro's performance in the film's opening sequence, some foreshadowing takes place when Henderson sees Monteiro's angered look at his companion's hat, which is identical to Monteiro's own, and Henderson tells Ann, 'Look at her face. She [Monteiro] could murder you'.) If Phantom Lady possesses a femme fatale at all, it must be Henderson's wife. Though we never see her, she is depicted as a deeply unsympathetic character: a harridan, she is unfaithful to her husband. 'For a long time things hadn't been right between us', Henderson tells Burgess at the scene of his wife's murder, adding later that 'She told me she had no intention of going out with me. Just sat there and laughed'. 'Nothing makes a man sorer than that', Burgess notes. Henderson tells Burgess that he asked his wife for a divorce but 'She said she wouldn't be my wife or give a divorce'. 'Making a patsy of you', Burgess observes. 'Don't say that', Henderson responds, clearly hurt, 'We'd been happy once. It's just that she was too spoiled and too beautiful'. Her death frees Henderson to enter into a union with Carol, his employee who Henderson has not previously seen in a romantic light – and, in fact, only realises her potential as a romantic partner after Carol has successfully solved his wife's murder.


When Henderson returns home after his night out with the titular 'phantom lady', he finds his apartment swimming with men. These men, we discover later, are police detectives, led by Inspector Burgess. However, we might assume from their silent, menacing presence and specific aspects of their behaviour (Burgess strikes a match on an interior doorframe, using this to light his cigar) that they are hoodlums. Played by Thomas Gomez with an extremely gruff, coarse manner, Inspector Burgess is initially unsympathetic but eventually allies himself with Carol, aiding her in her investigation. When, part-way through the picture, Carol insists that she believes Henderson to be innocent, Burgess notes that he agrees: 'I won't say I did my job poorly', he adds, 'The evidence shoved him right into the chair. But since the trial, I've been doing a lot of thinking [….] Only a fool or an innocent man would have stuck to that alibi'.

The revelation of the killer's identity takes place fairly early in the narrative, and even before this a casual viewer may very well be able to guess the identity of Henderson's wife's murderer. Phantom Lady is clearly not a 'whodunit': the key enigma within the film lies in the motive for the murder. The narrative may very well have influenced the 'whydunit' structure of the later, long-running television series Columbo (1968-2003), with Burgess' discussion of the mental aberrations of the killer almost goading Jack into confessing – much like Columbo's handling of his suspects. Carol almost achieves this too, talking around the killer's motivation with Jack, who attempts to offer a rationale for the murderer's actions. When Carol suggests the killer is 'clever' for showing a knack for getting ahead of the curve and avoiding capture, Jack says, 'Yes, there's genius behind such audacity'. 'No', Carol responds, 'Only madness'. 'Madness is a frightening word', Jack says. 'What else can you call it, to go on killing?', Carol asks. 'Perhaps he hates to kill', Jack responds enigmatically, 'Perhaps he feels only horror'. Shortly afterwards, Jack converses with Burgess and notes that 'the murderer must be normal enough. He's just clever, that's all'. 'Yes, all of them are', Burgess observes, 'Diabolically clever'. 'Who?', Jack asks. 'Paranoiacs', Burgess responds. Jack says, 'That's simply your opinion. A psychiatrist might disagree'. 'No, I've met paranoiacs before', Burgess tells him, 'They all have incredible egos, abnormal cunning, a contempt for life [….] We used to talk about the "criminal type". Criminal type, my eye. It's not how a man looks; it's how his mind works that makes him a killer [….] Some day, we'll have sense enough to train the mind as much as we train the body from birth. Then they won't need men like me, and that will be all right to. What sort of job is this, anyway?'


Video
Presented in 1080p using the AVC codec, Phantom Lady fills a little under 19Gb of space on the Blu-ray disc. The film is uncut, running 86:55 mins. The presentation is based on unspecified 'original film elements'.

Shot on 35mm monochrome stock, Phantom Lady is here presented in a film-like presentation which retains the picture's intended aspect ratio of 1.37:1.

There are intermittent instances of damage, including some very noticeable scratches and flecks and specks present in low-light scenes. (This has the appearance of film that has been underexposed and the resultant 'thin-ness' of the emulsions on the negative makes it prone to scratching, or for scratches to show themselves more overtly.) For examples, see the first three full-sized screengrabs at the bottom of this review.

These instances of damage, which are all organic and film-like, aside, the presentation has a crisp, vibrant level of detail. Diffused light, resulting in a 'soft' appearance, is used in close-ups of some of the film's female stars, which would seem to be intentional. Contrast levels are very pleasing, with richly defined midtones tapering off softly into the toe. Highlights are even and balanced, with good gradation from light to dark.

The presentation is very pleasing and film-like, though there is more damage here than in some of the other contemporaneous studio pictures that Arrow have released on Blu-ray over the past few years (including their very recent releases of Joseph H Lewis' My Name is Julia Ross and So Dark the Night, reviewed by us here). The damage is organic, however, and the transfer is devoid of any harmful digital tinker-pokery. The encode to disc is unproblematic and carries the film whilst retaining the structure of 35mm material.




Some full-sized screengrabs are included at the bottom of this review. Please click to enlarge them.


Audio


Audio is presented via a LPCM 2.0 mono track. This is rich and deep and demonstrates good range. Dialogue is audible throughout. Optional English subtitles for the Hard of Hearing are included. These are easy to read an accurate in transcribing the film's dialogue.

Extras



The disc includes:
- 'Dark and Deadly: 50 Years of Film Noir' (52:18). Made by Paul Joyce for Channel 4's Cinefile series and broadcast in 1995, and initially preceding a short season of films noir on Channel 4, this superb documentary examines the origins and evolution of film noir as a form/style. I had an off-air VHS recording of this for many years and used to use it frequently in teaching Film Studies to A Level and undergraduate students. It covers everything one could want to know in a 'primer' on film noir, from the growth of noir during the post-war years (and the possible reasons for this), the aesthetic of film noir to the development of neo-noir during the 1980s and 1990s. Critics such as B Ruby Rich are interviewed alongside filmmakers from the classic era (Robert Wise, cinematographer John Alton, Edward Dmytryk) and aficionados of noir/filmmakers associated with the neo-noir trend (such as John Dahl, James Foley and Dennis Hopper). It's an incredible resource, and any fan of film noir will be immensely pleased to see it appear on disc. (In fact, it's worth the price of admission to this Blu-ray release of Phantom Lady alone.)

- 'Phantom Lady by the Lux Radio Theater'. This 1944 radio dramatisation of the story is just under an hour long and features Ella Raines reprising her role as Carol.

- Gallery (30 images).



Overall



Phantom Lady is an excellent film noir. The picture represents a changing paradigm in film noir in terms of the depiction of gender roles: like Lucille Ball's Kathleen Stewart in the later The Dark Corner, Phantom Lady's Carol adopts the role of amateur sleuth in order to save her employer from unjust imprisonment/execution. The picture features some memorable sequences: Elisha Cook Jr's small role as Cliff, the manic drummer, and Carol's journey with him into the city's underbelly is particularly impactful. Phantom Lady's depiction of the killer is also notable for the connection it draws between art, decadence and madness. In this, it's difficult not to see Phantom Lady as an extension of Siodmak's work in Germany: certainly, this theme feels very 'modern' for a Hollywood picture of the 1940s – though it would become increasingly de rigueur throughout the films noir of the late 1940s and 1950s.

Arrow's HD presentation of Phantom Lady is very good. Though exhibiting some noticeable damage (which, it has to be said, is all organic and film-sourced), the presentation has a strong level of detail and pleasing contrast levels. It's a film-like presentation that is accompanied on the disc by some very good contextual material: the inclusion of the superb and fondly-remembered Cinefile episode devoted to film noir is particularly welcome.

References:
Christopher, Nicholas, 1997: Somewhere in the Night: Film Noir and the American City. New York: Simon & Schuster

Hardy, Phil, 1997: 'Introduction'. In: Hardy, Phil (ed), 1997: The BFI Companion to Crime. London: British Film Institute: 11-24

Koepnick, Lutz, 2002: The Dark Mirror: German Cinema Between Hitler and Hollywood. University of California Press


Please click to enlarge: