Dawson Watch (The): Season 3 (TV)
R0 - United Kingdom - Simply Media
Review written by and copyright: Rick Curzon (19th March 2019).
The Show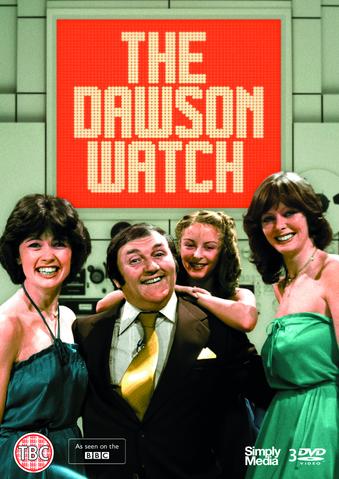 Leslie "Les" Dawson is a legendary English comedian best-known for his deadpan style, curmudgeonly persona and snide jokes about his mother-in-law. This BBC series sees Les tackle a different subject in each episode, with his unique comic approach. It ran for 19 episodes between 1979 and 1980.

Unlike his variety shows, The Dawson Watch was a weekly investigation into the nation at large, addressing subjects ranging from Education, Housing, Transport and Health to the Environment, Law, The Family, Crime and The Media.

Les focused on one subject in each episode, opening with a monologue before moving onto a variety of short sketches interspersed with his sharp observations as a stand-up comedy routine.

Cissie Braithwaite and Ada Shufflebotham are regulars, always on hand to give their take on the theme in question. Sketches featuring the two elderly women (Roy Barraclough and Les Dawson suitably attired as housewives) see them with arms folded, occasionally adjusting their bosoms with an unsubtle hoist of their forearms. And as we've come to know and love, they speak some words aloud but mouth those pertaining to women's bodily functions and sex.
It's a testament to the talents of Les Dawson and Roy Barraclough that their female alter-egos are instantly recognisable – and are as comical as ever – more than 30 years on from their first appearance on television.

Video


Typical of the era this series was produced mainly on PAL 625 line broadcast standard video tape for all interior sequences and 16mm film for the opening and closing credits and all location work.

Anyone familiar with DVD releases of vintage UK television from this era will know the story: soft, fluid 40 fields per second videotape usually shot under fairly bright lighting and somewhat dingy, gritty film sequences which have flaws baked into the transfers because the negatives would have been discarded soon after the final takes had been edited into the master broadcast tapes and therefore are only as good as film to tape transfers of the era. Serviceable, but were the original elements to still exist then massive improvements should be possible; see Network's The Sweeney (Series one) and all five sets of The Professionals on Blu-ray for how amazing 16mm film of this era can look when given top notch treatment. Under the circumstances tape sequences come off better than the film.

The masters have had little or no restoration applied but they are in very good shape generally with only the very odd dropout or shimmer. Encoding is also reasonable; I didn't notice anything too untoward bar the odd bit of brief macro blocking in darker scenes. Colours are standard for the elements with modest colours and decent black levels; florid colour was not standard for videotape productions at this time, with a more naturalistic palette being the norm - some outrageous late '70s fashions aside of course.

1.33:1 / PAL / 559:48

Audio


English Dolby Digital 2.0 Mono
Subtitles: English HoH

Nothing remarkable but it gets the job done; nice clear dialogue, and robust for what it is: a vintage mono soundtrack sent to the front left and right speakers. I didn't detect any distortions or dropouts or sibilant issues. Music sounds clear and never overshadows dialogue.

Extras


Nothing which is very disappointing because I'm sure some BBC contextual material involving Dawson could've been located.

Overall


Bog standard, bare bones discs featuring unrestored transfers of off the shelf BBC masters which are generally in decent condition. Picture is as to be expected and is generally decent. A shame that a full restoration ala the Doctor Who releases hasn't been done but this is a largely forgotten comedy sketch show that displays very dated attitudes. Recommended for fans and for the curious; it's mostly very funny although one's jaw may hit the floor like a bucket of nails at times.
| | | | | |
| --- | --- | --- | --- | --- |
| The Show: B | Video: B- | Audio: B+ | Extras: F | Overall: C+ |

---
DVD Compare is a participant in the Amazon Services LLC Associates Program and the Amazon Europe S.a.r.l. Associates Programme, an affiliate advertising program designed to provide a means for sites to earn advertising fees by advertising and linking to amazon.co.uk, amazon.com, amazon.ca, amazon.fr, and amazon.de.