Devil Hunter (The) AKA El canibal AKA The Cannibal AKA Sexo canÝbal AKA Mandingo Manhunter AKA The M [Blu-ray]
Blu-ray ALL - United Kingdom - 88 Films
Review written by and copyright: Rick Curzon (19th March 2019).
The Film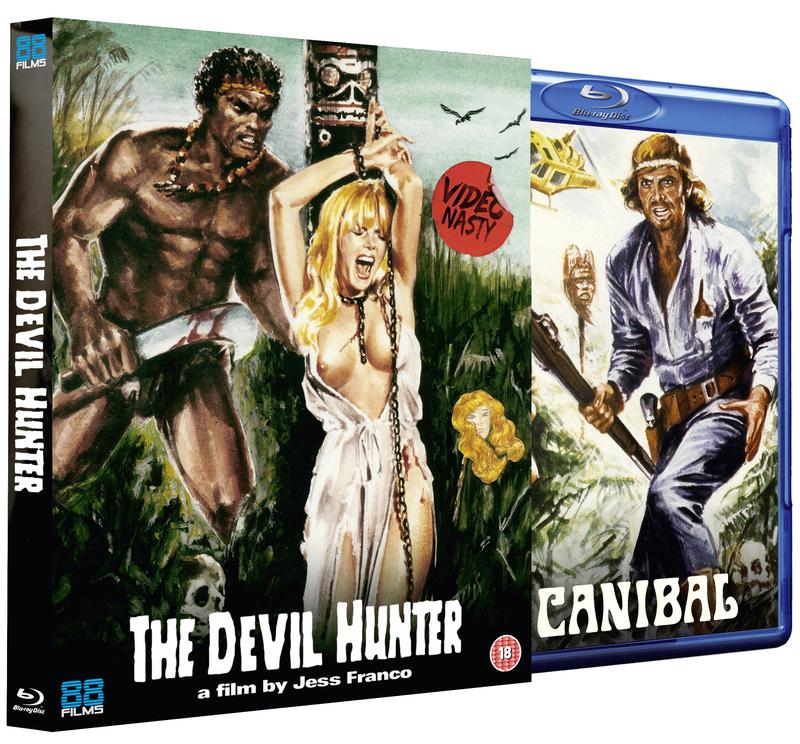 Much-missed by fans of quick-jack cinema, the late Jess Franco had a career in fear that veered between arty outings such as VAMPYRO LESBOS (1971) and the cheap and cheerful projects that includes the official 'video nasty' DEVIL HUNTER (1980).

Featuring a leading man turn from the Italian horror legend Al Cliver (ZOMBIE FLESH-EATERS / THE BEYOND), DEVIL HUNTER is part Indiana Jones, part CANNIBAL HOLOCAUST (1980) and all outrageous insanity as Franco throws-in babes, bare-boobs and blood and native-battles in an attempt to keep audiences glued to the screen. For fans of cheese and sleaze, it does not get any better than DEVIL HUNTER - finally available for Franco enthusiasts and video nasty lovers to reappraise in HD!

Video


An adventurer for hire (Al Cliver AKA Pier Luigi Conti) and his sidekick (Antonio Mayans) try to rescue a young woman (Ursula Buchfellner) kidnapped and held for ransom in the jungle. Along the way they encounter a totally nude dude (Bertand Altmann), looney cannibal with ping-pong eyes (I shit you not!) who likes to eat the hearts out of young female sacrificial victims (don't worry, the gore is mostly like red paint with the odd bit of animal guts gleaned from a local butcher.

A typically cheeztastic Jess Franco director-for-hire project; see also Bloody Moon (1981). Compared to Cannibal Terror (1980) which I also watched recently this is Citizen Kane (1941); it's competently done and looks good having nice locations and cinematography.

However, it's far from a good film with a very slack pace, atrocious English dubbing and daffy acting; although big Al manages to do his best Clint Eastwood impersonation and take it seriously. A guilty pleasure with lots of naked and semi naked people (men and women) running about pretending to be natives; very politically incorrect, unintentionally hilarious, sleazy junk food. Best bit: Where Al Cliver climbs what's supposed to be a sheer rock face, but is obviously virtually horizontal with the camera tilted accordingly!

Considering this is a cheapo Jess Franco flick I was expecting it to look good on a 50/50 basis because many of his films don't seem to have the OCNs in existence so the HD versions of films like Two Female Spies (1979) just aren't up to much. However, The Devil Hunter or - to use it's proper Spanish title, El Canibal - The Cannibal this is a stunning transfer and a much better made, slicker production than Cannibal Terror (1980) which I reviewed recently, also from 88 Films.

Make no mistake, this is still an ultra low budget Eurohorror, but it's generally well directed and well shot with lovely location work that makes the most of the natural production value given the rushed schedule. Especially when compared to the utter hackwork that is Cannibal Terror.

The colour palette is naturalistic but rich with a generally warm bias favouring reds, browns and greens. By and large black levels are are satisfyingly dark with good shadow detail; I could see no unintended crush. However, on some interior location shots like a scene at approximately 28 minutes in a hotel foyer the black levels are kore a very dark grey, but luckily this isn't often.

Contrast is also supportive with no blown out highlights, streaking or clipping. Grain is ever present and generally very fine although occasionally it gets courser due to lower light levels. The encoding is grand resolving the grain very nicely with no clumping, digital splats or holes.

This is by any standards a fine transfer of a problematic low budget film that thankfully the copyright holders have looked after. I wish every film ever made still had the OCN in existence and could look as good as this as a result.

1080/24p / MPEG-4 AVC / 1.66:1 / 102:13

Audio


English LPCM 2.0 Mono
Subtitles: English HoH

Audio is about as good as can be expected for such a flat, poorly dubbed mix. It's garish and also,painfully obvious that the film wasn't actually shot in English. Which then beggars the question as to why 88 Films didn't get the Spanish or French tracks which are available elsewhere; the US Blu-ray from Severin offers the Spanish track and the older Severin DVDs (UK and USA) had the French language option.

Dialogue is very much the main focus and is very clear throughout, music also fairs reasonably well although there is some mild distortion. That said, this is probably the way the track has always sounded.

Subtitles are fine and are essential for the hearing impaired.

Extras


"Franco-Philes: Musings on Madrid's B-Movie Maverick" featurette (47:59)

An excellent distillation of the late Jess Franco's film career and what it was like working with and or for him. There are too many contributors to list but those who've been collecting Eurocult DVDs and Blu-rays will recognise most if not all of them. Dr. Julian Petley is most interesting in discussing the potential moral ambiguities displayed in Franco's women in prison films.

Reversible sleeve with choice of artworks
Limited Edition O-Card slipcase [First Print Run Only]

Neither of these were provided for review but they are obviously going to be up the usual high standards of 88 Films other releases.

Overall


A very good transfer is mildly marred by the odd scene with inconsistent black levels but is otherwise topnotch. The sound options are disappointing with only the English dub available which is silly, garish but about as good as can be. The only real extras a doozy however. Generally highly recommended.
| | | | | |
| --- | --- | --- | --- | --- |
| The Film: D | Video: A | Audio: B- | Extras: B- | Overall: B |

---
DVD Compare is a participant in the Amazon Services LLC Associates Program and the Amazon Europe S.a.r.l. Associates Programme, an affiliate advertising program designed to provide a means for sites to earn advertising fees by advertising and linking to amazon.co.uk, amazon.com, amazon.ca, amazon.fr, and amazon.de.