Swamp Thing (Blu-ray) [Blu-ray]
Blu-ray B - United Kingdom - 88 Films
Review written by and copyright: Rick Curzon (22nd March 2019).
The Film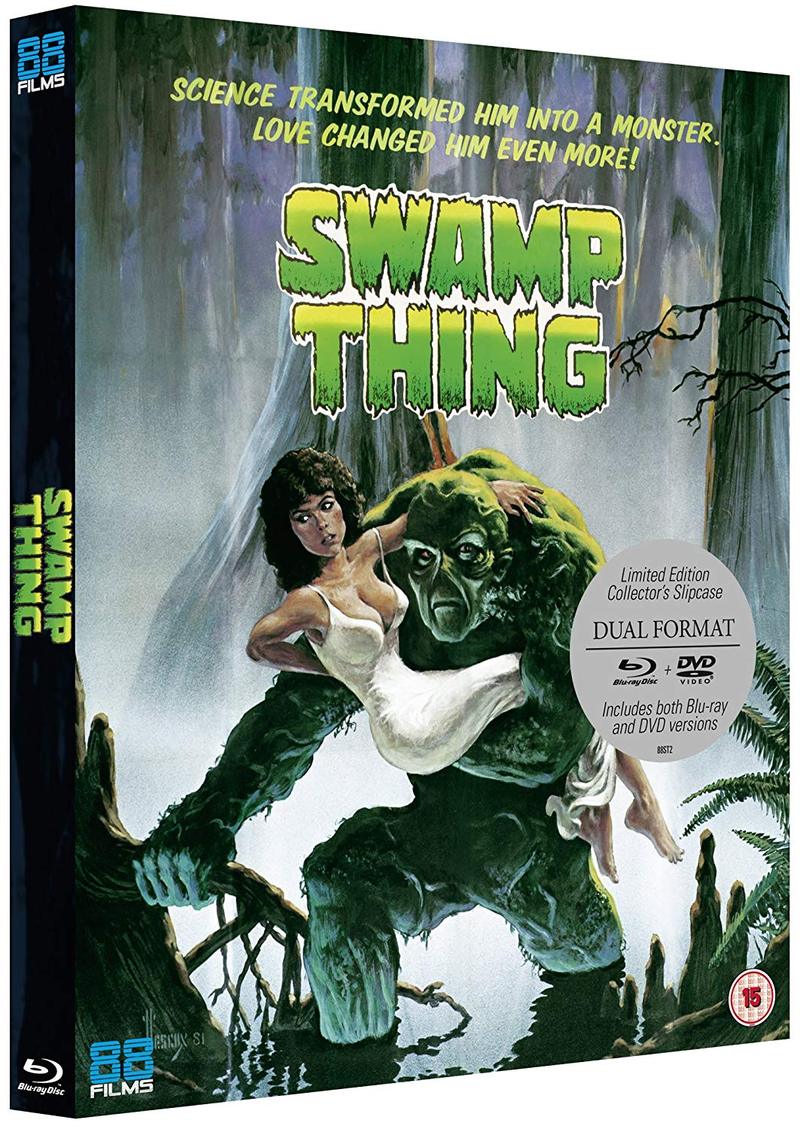 Long before superhero movies were packing out multiplex cinemas, Freddy Krueger creator Wes Craven followed-up the success of Richard Donner's SUPERMAN (1978) with this fondly remembered DC adaptation that brings a comic book favourite to livid and lunatic life!

Following the success of THE HILLS HAVE EYES (1977), SWAMP THING was also evidence of its director trying to adapt his style to less rough 'n' ready thrills and spills - and the result is an adventure thriller that highlights not just a mutant-monster with good intentions, but such sights as the timeless terror-star Adrienne Barbeau (THE FOG), future Twin Peaks star Ray Wise and David Hess (THE LAST HOUSE ON THE LEFT) in one of his best-remembered villainous turns.

Released in 1982 to an appreciative cult following, SWAMP THING remains one of Craven's most mesmerising achievements - with a faithful DC-comic outlay and plenty of action-packed special effects that hold their ground even today. 88 Films is delighted to present SWAMP THING in a very special edition Blu-ray release that packs a pristine punch and highlights this creature feature classic in all of its bayou-tinged brilliance!

Video


One of my favourite '80s monster mashes that I saw on HBO for the first time. Siskel & Ebert were great champions of this film which just made me want to see it even more!

What's nit to love: Louis Jourdan is perfect as suave, urbane mad scientist Arcane; David Hess makes another great thug called Ferret - after his brilliant turn in Last House on the Left (1972) - and Nicolas Worth is equally good as his sidekick Bruno. Ray Wise is smarmy in the brief role as Dr. Alex Holland who fairly quickly turns into the imposing Swamp Thing (Dick Durrock).

Writer-director Wes Craven can't quite remove his hard edge from this and there are some strong bits of violence, a little gore and some moments of gratuitous Adrienne Barbeau nudity. Barbeau does very well in the role of a tough government security agent and is a fine audience identification figure even if she suffers the odd sexist indignity typical of the era.

Harry Manfredini - Friday the 13th (1980) - contributes one of his distinctively creepy scores and Craven beefs the production values up from his meagre $2.5 million budget with plentiful lush location work, well-staged action and gimmicky comic book scene changes. The climax features Swamp Thing duking it out with the Arcane monster which is a cross between the Creature from the Black Lagoon, a crocodile and a werewolf.

Being a big fan, I have the German mediabook (uncut, no extras bar the book) and the US BD (nice extras, but cut). The transfer here mirrors both of those although more specifically the German edition for obvious reasons as 88 Films have sourced the definitive, uncut international edit of the film.

This is a richly coloured, beautifully shot little film with a rich, warm colour palette that favours comic book colours throughout. Although not as visually overwhelming as the likes of Flash Gordon (1980) or Dick Tracy (1990) as it has a more naturalistic look with plenty of gel lighting and colour washes. Flesh tones are rich and natural.

Black levels are also satisfyingly deep with no signs of unintended crush and plenty of shadow detail where it counts. Contrast is also simpatico allowing plenty of detail to shine through although this does have an inherently soft look typical of the era and budget, especially during optical wipes and scene transitions which are gimmicky and designed to remind the viewer of a comic book. There are no blown out highlights.

Grain is consistent and ever present becoming courser during murkier moments at night and in some of the doomy swamp exteriors. I noticed no digital artefacts or encoding woes; this is probably the best encoded of the three editions that I have which is not to see that the German or US discs fall terrible short on that front. To casual viewers there will appear to be no differences at all.

Well done all round 88 Films; a spiffing transfer, well encoded and a high bitrate.

The DVD edition is also a newly mastered disc and falls short of the highs on the BD for obvious reasons. Mild compression artefacts do occasionally show up during darker moments but apart from that, no complaints.

1080/24p / MPEG-4 AVC / 1.85:1 / 92:51
PAL / 1.85:1 / 89:03

Audio


A solid, robust mono track typical of the period benefits greatly from the lossless treatment, especially when compared to the lossy mono of the DVD. Plenty of base and no distortion with dialogue always allowed to shine through amongst the music and sound effects.

Subtitles are well done and essential for those who're hard of hearing.

Extras


Audio commentary with writer / director Wes Craven and moderator Sean Clark

The man behind "Horror's Hallowed Ground" is a fine moderator here; a fan, he knows his stuff when it comes to horror and Craven's work. Craven is typically eloquent and thoughtful throughout as he recounts his memories of making this troubled production. The only extra ported over from the US disc.

"Swamp Screen: Designing DC's Main Monster" featurette (20:32)

Informative piece with production designer Robb Wilson King discussing how he made the creature, the troubled production, the limited release and his disappointment as a result. He also goes into some detail about the sequel.

"From Krug to Comics: How the Mainstream Shaped a Radical Genre Voice" featurette (17:34)

Kim Newman on his memories of having to catch up with Swamp Thing on VHS in the UK (it went straight to video) and where the film sits in Craven's canon; it's importance in relation to superhero cinema and how despite being a failure at the time, it spawned a mini franchise with a theatrically released sequel and a TV series that ran for 72 episodes.

Original Trailer (1:31)

Typical promo piece from the early '80s and the only extra ported over to the DVD copy.

16-page liner notes booklet of photos and lobby cards

Attractive collection of photos and promotional material; nothing more.

Reversible sleeve with choice of artworks
Fold out poster of the original theatrical art
Slipcase featuring the original theatrical art

What it says on the tin; nice for those who treasure such things.

Packaging


Standard 2-disc keepcase.

Overall


88 Films have done a fine job in bringing this cult classic to Blu-ray (and anamorphic widescreen DVD - prior discs were letterboxed) in a fine transfer that matches the quality of the very good German mediabook (which also had the uncut version) and slightly pips the US Shout! Factory Disc in terms of quality; 88 Films have a superior encode. Shout's disc remains essential for true fans due to having the cut US some additional extras not ported over here (why?). If there was only one disc worth getting though it's the 88 Films' release; great transfer; it has the essential Craven-Clark commentary (also on the US disc) and the Kim Newman interview which is easily the best of the featurettes available across the Blu-ray releases.

| | | | | |
| --- | --- | --- | --- | --- |
| The Film: B+ | Video: A+ | Audio: A+ | Extras: B+ | Overall: A |

---
DVD Compare is a participant in the Amazon Services LLC Associates Program and the Amazon Europe S.a.r.l. Associates Programme, an affiliate advertising program designed to provide a means for sites to earn advertising fees by advertising and linking to amazon.co.uk, amazon.com, amazon.ca, amazon.fr, and amazon.de.