The Film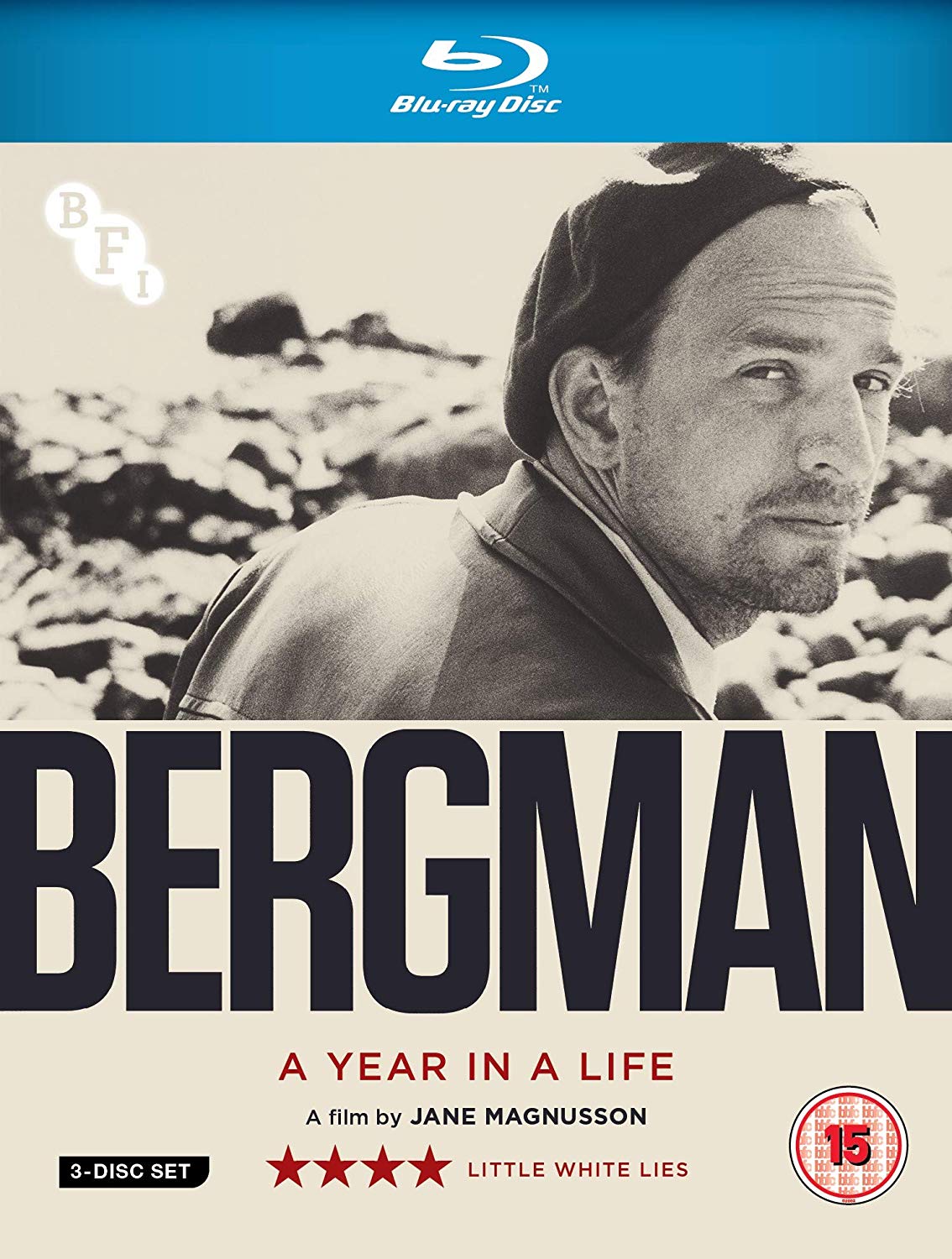 "Bergman: A Year in a Life" (Bergman - ett år, ett liv) (2018)

If any listing the top five most influential filmmakers of all time doesn't include Ingmar Bergman, there is obviously something wrong. With a career spanning more than six decades as a director and writer for cinema, television, radio, and stage, the Swedish master's impact among countless people in various mediums is undeniable, and even more than a decade after his death in 2007 at the age of 89. He is a national symbol and legendary figure in his home country where his face currently graces the 200 Kroner note, after the government redesigned their monetary bills in 2015 to reflect the most influential Swedes of the twentieth century. His work continues to be studied and analyzed by fans of international cinema, crossing borders and generations. While there are many works that share common traits and artists that have a "Bermanesque" touch, no one can emulate or copy Bergman, as there is much more to his works than just what is on the surface, but something much deeper underneath.

His films often contemplate death ("The Seventh Seal", "Wild Strawberries"), sensuality ("Summer with Monika", "The Touch"), mental paranoia ("Persona", "Through a Glass Darkly"), religious oppression ("The Silence", "Winter Light"), and difficulties in family relationships ("Scenes from a Marriage", "Autumn Sonata") - all factors that came from Bergman's personal life. Bergman may not have been the first filmmaker to make works based on his personal demons, but he was certainly one of the greatest, and anyone studying his films need both expertise in cinema as well as psychiatry to wrap their heads around the subjects. His films are not exactly for "entertainment" or "fun" but go into deep psyche and often disturbing places of the soul. But Bergman was not always the critical darling of international cinema from the start of his career. He struggled getting his foot in the door in the late 1940s, writing scripts that would be directed by others or directing studio fare that were not to his liking. It was only after the success of some of his 1950s productions such as "Summer with Monika" which attracted large audiences in Sweden as well as abroad that gave him enough power as a filmmaker to explore much more than the standard works audiences expected. The biggest turning point in his career was 1957. It was in this one year that Bergman's groundbreaking films "The Seventh Seal" and "Wild Strawberries" were released theatrically. In addition he was shooting "Brink of Life" which would open theatrically the following year. He also directed "Mr Sleeman", a television film as well as adapting a five hour stage version of "Peer Gynt". Somehow he was able to fit all these into his schedule while also battling stomach issues in which he was hospitalized for some time. He had his hands full and was only 38 years old. But did he have time for family? Already a father of six by three different women, Bergman's ability to seduce and abandon was legendary. As his work always came first, his reputation as a terrible father and husband became just as legendary as his artistic productions.

"Bergman: A Year in a Life" puts most of the focus on the groundbreaking year of 1957, which was his most productive and most personal as he was able to freely create for the first time, films written by him without restrictions in production. The amount of personality within the two productions are without a question the start of the "Bergmanesque" experience, with the images of "Death" in both films - one as the grim reaper and one as an elderly man within his own nightmares, both films feature fears and desires which were always on Bergman's mind, especially with the hospitalization. While the documentary's main focus lies on these two productions, to understand Bergman fully there is a lot more offered than reflections on that one year. Through a series of interviews with people that worked with him on productions to historians, his whole like is reflected. From his early days as a child with a strictly religious father, his years in Nazi Germany as an exchange student, his struggles in his early career are all told through interviews, photos, and film clips. In addition there is quite a lot reflected back on his career after 1957 all the way up to his later years where he lived a mostly secluded life basically alone on the island of Fårö. The fawning over his genius is not one sided. Of the many interviews conducted there are quite a lot of negative aspects presented. From Bergman's controlling attitudes, his temper, some even calling him mentally unstable. But none of them can deny the man's vision and his work that was produced over the years.

For the documentary, director Jane Magnusson interviewed more than twenty participants from Liv Ullmann, Gunnel Lindblom, Elliott Gould, Barbra Streisand, and Dick Cavett, while also using archival interview footage of Bergman's brother Dag Bergman, Bibi Andersson and with Bergman himself. The two hour theatrical version is edited fairly well though there are some reservations for jumping around in non-linear fashion intercutting older and newer interviews if the subject matter was at hand. It may be slightly disjointed but overall it works fine in telling the narrative. Conspicuously there are some people missing from the interviews. Whether they were family or other collaborators, Magnusson stated that family such as his children were not interviewed for the film, nor were the people who only had negative memories and stories about him. Overall the amount of content showcased surrounding the one year in his busy life is fully brought forward.

In addition to the theatrical version, Magnusson also created an extended television version entitled "Bergman: A Life in Four Acts" broadcast in four one-hour parts over Christmastime 2018 in Sweden, For this version the first part concentrated on the year 1957. The second part was about his childhood and his early film work. The third part was his life in acclaimed stardom following success from the late 50s onward. The fourth part is his later career post German exile in the late 70s and his controlling power on return to Sweden. The television version features the same contributors quite a lot of added material, extending interviews and digging deeper into the archives. It also goes much more in depth and structured a bit better than the theatrical version overall. While a shorter cut may be easier to digest, the four part version plays wonderfully and places the breaks at good positions. It's easy to digest for audiences not familiar with Bergman and is also fascinating for Bergman fans. "Bergman: A Life in a Year" and "Bergman: A Life in Four Acts" are excellent viewings capturing the brilliance and the madness of one of cinema's greats, while not shying away from the negative aspects.

Note this is a region B Blu-ray set

Video


The BFI presents both versions of the film in the 1.78:1 aspect ratio, in 1080i 50hz AVC MPEG-4. Being at 50hz the film runs at the 25fps rate, so clips from films run at a slightly faster pace, keeping with the European standard, and keeping with the runtimes of the Swedish broadcast version. With a variety of sources including newly shot HD interviews, vintage television clips and other archival footage, the quality varies from shot to shot. The newly shot HD interviews look very good with color depth, a clear image, and a well balanced tone. Film clips are all from remastered sources looking as good as they can, and since most of Bergman's works have been well preserved, there are no issues with the clips, with crisp black and white as well as the beautiful color films. Films that were shot in 1.37:1 or 1.66:1 have been preserved with black bars on the sides, though some vintage interview or behind the scenes clips have been cropped to fit the 1.78:1 aspect ratio. Overall, excellent transfers for both versions.

The versions are divided as follows, with the theatrical version on DISC ONE and the television version divided onto DISCS TWO & THREE:

DISC ONE
* The Film - Theatrical Version (117:02)

DISC TWO
* The Film - "Bergman: A Life in Four Acts" extended TV version, Acts 1&2 (with Play All) (116:56)
- Act 1: 1957 Bergman's Crazy Year (59:13)
- Act 2: Bergman Begins (57:42)

DISC THREE
* The Film - "Bergman: A Life in Four Acts" extended TV version, Acts 3&4 (with Play All) (118:19)
- Act 3: Bergmania (59:06)
- Act 4: The Power and the Glory (59:13)


Note the screenshots are taken from the standard definition DVD


Audio


English/Swedish/German DTS-HD Master Audio 5.1
The 5.1 track is lossless on both versions. While those are the three languages listed there are a few additional languages such as French and Mandarin spoken by interview subjects, though only a few portions in comparison to English, Swedish, and German. For the theatrical version, the narration is in English. For the extended version, the narration is in Swedish. The rest of the film is identical on both version with no dubbing involved. The 5.1 track uses the surround tracks for music and effects and they are sparingly used but quite effectively. For all dialogue and film clips they are offered from the center speaker. There are no audio dropouts or sync issues, leaving a clean soundscape.

There are optional English (for non-English portions) and English HoH subtitles for the main feature. Both are white in font and well timed, with the HoH subtitles also identifying the speaker if off screen. They are well timed and free of errors, but there were a few times that the HoH subtitles did not caption every word, missing one or two when subjects were speaking fast or repeating their own words.

In addition all captions such as film names and others are in English, rather then in Swedish.

Extras


All the extras are offered on DISC ONE of the package.

Ingmar Bergman Guardian Interview (1982) (62:24)
In this on stage interview with Bergman at the National Film Theatre which was conducted on September 7 1982, critic and historian Peter Cowie and Bergman discuss about Alf Sjöberg, the Swedish filmmaker who died two years prior. Bergman discusses about the Royal Dramatic Theatre, the early years of Swedish cinema, Sjöberg's most celebrated film "Miss Julie" and more. This is preserved as audio-only, and this extra is played as an alternate audio track to the film for the first 62 minutes. There seems to have been more to the interview as it ends slightly abruptly.
in English LPCM 2.0 with no subtitles

"Bergman: A Year in a Life" Q&A (16:40)
In this Q&A from Jan 25, 2019, director Jane Magnusson is joined by critic Geoff Andrew on stage following a screening. She discusses the structure of the film, gathering the footage and editing, some of the controversial moments of Bergman's life including Nazism, and more.
in 1080i 50hz AVC MPEG-4, in 1.78:1, in English LPCM 2.0 with no subtitles

"Vox Lipoma" (Fettknölen) 2018 short (10:43)
In this animated short directed by Magnusson and written by comic artist Liv Strömquist, it's a focus on Bergman's Lipoma, the fatty tissue that started to grow on his face in the early 60s and can be seen in various photos and interviews. While it was surgically removed, this comical short shows Bergman having issues with it not because of how it looked, but that it had a life of its own and spoke to him...! There are some great hilarious moments parodying some of the most famous scenes in "The Seventh Seal", "Persona", and "Summer with Monika", and note it is a fictional and comical take.
in 1080i 50hz AVC MPEG-4, in 1.78:1, in Swedish DTS-HD Master Audio 5.1 with optional English subtitles

UK Theatrical Trailer (1:30)
The effective trailer is presented here. It has also been embedded below.
in 1080i 50hz AVC MPEG-4, in 1.78:1, in English/Swedish LPCM 2.0 with burned-in English subtitles

Booklet
A 20 page booklet is included. First there is an essay by Jane Magnusson entitled "Bergman and Me" in which she recalls Bergman and also gives an interesting story about a phone call with him. Next is Geoff Andrew's essay "On Films and Failings: The Enigma of Ingmar Bergman" which discusses about the film and about Bergman's career. There are also full cast credits, special features information, transfer info, acknowledgements, and stills included.



Overall


"Bergman: A Year in a Life" is one of many Ingmar Bergman retrospective documentaries made in a very crowded year of Bergman Centenary specials, and is one of the best concentrating on a central point of one groundbreaking year while also giving insight to where he came from and where he was heading. The BFI Blu-ray set includes both the theatrical plus the extended cut (the extended being a Blu-ray exclusive) with a good amount of extras, making this highly recommended.
| | | | | |
| --- | --- | --- | --- | --- |
| The Film: A | Video: A | Audio: A | Extras: B | Overall: A- |