Take a Girl Like You (Blu-ray) [Blu-ray]
Blu-ray ALL - United Kingdom - Powerhouse Films
Review written by and copyright: Rick Curzon (1st April 2019).
The Film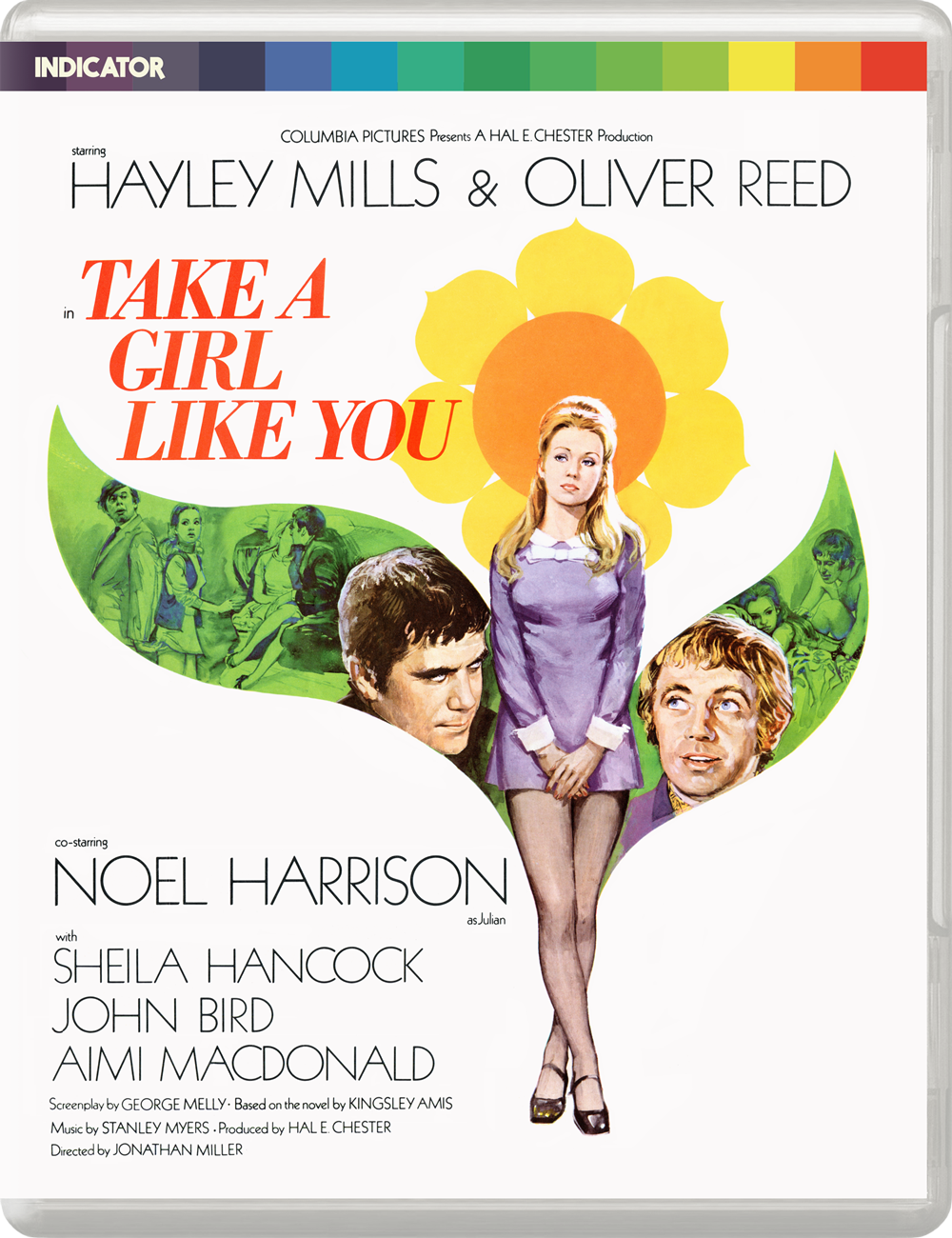 Jonathan Miller's film of Kingsley Amis' comic novel (adapted for the screen by George Melly), casts Hayley Mills (Whistle Down the Wind, Twisted Nerve) as a naïve young girl who moves from the North of England to teach in a London school and finds herself fending off the advances of a number of lusty suitors, including Oliver Reed, John Bird and Noel Harrison.

As much a document of its time as a satire on the sexual mores (and confusions) of the period, Miller's still remarkably fresh debut feature is buoyed by its terrific cast and a typically excellent Stanley Myers score.

Video


Jenny Bunn (Hayley Mills) a working class girl moves to London from the North (Mills is very unconvincing) to become a teacher. She rents a room off a lecherous Labour councillor (John Bird) and his long suffering wife (Sheila Hancock).

There she meets lad about town Patrick Standish (Oliver Reed) who instantly falls in love with her, but does he want to give up his hedonistic ways? Complicating things a wealthy bon vivant Julian Ormerod (Noel Harrison); Patrick's pal and rival for Bunn's affections.

Jonathan Miller's adaptation of the 1960 Kingsley Amis novel is agreeable but very much a product of it's time with fine performances. However, the characters are all a bit unlikeable and self absorbed. Not majorly so, but enough to prevent me from really getting into the film and giving a damn about what happens.

It has some funny moments and is never boring but it's unlikely to be on my list to rush back to. A dated relic of the period.

The image is typical of a UK-lensed production done on a relatively low budget. Locations are colourful, grainy and with a certain gritty edge; studio work is slick with much finer grain. Colours are very rich and well defined playing slightly to the psychedelic times it was made in.

The grain field very fine and ever present and is at it's coarsest in darker interiors but is also noticeable in some exterior shots usually involving overcast skies. Black levels are rich and deep with no signs of crush but complement the richness of the colour palette.

Contrast is good and doesn't allow for blown out whites or eclipsing detail. There are no signs of digital artefacts and I could see - typical of Sony masters, at least in my experience - no signs of print damage beyond the odd density change usually during fades or process shots The encoding is superb; up to the usual high standards established by Powerhouse's other Indicator releases.

This is about as good as we can hope for short of a 4K UMD disc, and sadly that's highly unlikely. We have a ginormous bitrate on a BD50 so plenty of room for the transfer to go for the rafters!

1080/24p / MPEG-4 AVC / 1.85:1 / 98:17

Audio


English LPCM 1.0
Subtitles: English HoH

An excellent, robust mono track. It's typically flat and lacking range but bass is healthy; especially in regards to the swinging '60s score. Dialogue is always clear and I could detect no more distortion that a little hiss now and again in quieter moments. Subtitles are welcome.

Extras


Isolated music & effects track in LPCM 1.0

The bouncy Stanley Myers score isolated ... what it says on the tin!

"A New Era Revisited: Hayley Mills on Take a Girl Like You" featurette (13:58)

Agreeable discussion from Mills' perspective, commenting on her costars (Reed picked up the front of her Mini), the dated qualities of the film and how it stacks up against the #MeeToo# movement. She focuses on her character being the prey to predatory males; a situation typical of the time. Apparently it was a fun film to make and she's proud of it these days.

"The Now and Then Interview with Jonathan Miller: Conducted by Bernard Braden on 18 October 1967" interview (41:48)

Another stellar vintage screen talk. Miller is a fascinating individual, a polymath known for acting, comedy, theatre, television and film ... and he's a medical Doctor! I saw him a number of years ago at The Bradford Science and Media Museum talking about his scary TV production Whistle and I'll Come to You (BBC 1968). This talk was the perfect accompaniment to the talk I was at as this deals with his career up to 1967.

"Make a Film Like You: Production Manager Denis Johnson Jr and Assistant Director Joe Marks on Take a Girl Like You" featurette (7:38)

Some nice anecdotes about making the film although initially the focus is on former actor turned producer Hal E. Chester (Night of the Demon 1957). Chester's is odd ways come under scrutiny - he could be mean with money - and speculation on his possible mafia background. Johnson and Marks also discuss then neophyte director Miller and how he made his mark on the production. Reed was sober through the production and was popular on set. Mills, Hancock and Harrison were also well liked. Ami MacDonald as a quintessential '60s dolly was apparently very forward!

Image gallery: Original Promotional Material (20 images)

Decent if brief HD gallery.

Theatrical Trailer 1 (2:42)
Theatrical Trailer 2 (2:25)

A couple of vintage trailers typical of the era and very dated in the aspects of the film it emphasises.

32-page liner note booklet with a new essay by Melanie Williams, Kingsley Amis on Take a Girl Like You, an overview of contemporary critical responses, and film credits

Another cracking collection of contextual material; I found this more interesting that the film itself. Indispensable.

Overall


A superb master gets like treatment from Powerhouse Films; the encode is also of the highest quality. Extras are very enjoyable offering a boost in appreciation although I did find the film itself unsatisfying.
| | | | | |
| --- | --- | --- | --- | --- |
| The Film: C+ | Video: A+ | Audio: A+ | Extras: A | Overall: A- |

---
DVD Compare is a participant in the Amazon Services LLC Associates Program and the Amazon Europe S.a.r.l. Associates Programme, an affiliate advertising program designed to provide a means for sites to earn advertising fees by advertising and linking to amazon.co.uk, amazon.com, amazon.ca, amazon.fr, and amazon.de.