The Film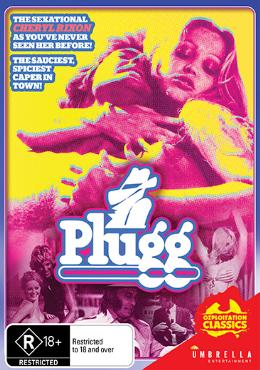 "Plugg" (1975)

The Pussycat Escort Agency is being investigated by the local government, led by Mayor Claude Marshall-Enright (played by Edgar Metcalfe) who enlists private detective Horatio Plugg (played by Peter Thompson) to gather information on their questionable activities. Also on the case is Inspector Closer (played by Norman Yemm just behind to follow-up on the fairly inept detective. From slapstick antics to heavy amounts of T&A, "Plugg" is a film with more skin than there is plot.

First and foremost, "Plugg" is easily in the exploitation category with its amount of nudity involved to entice audiences, though it does not fall into the category of the well praised or well known for various reasons. True it is fairly obscure, seen by few in its theatrical run in 1975 and in later years, but the film does not necessarily hit the right marks at all. The main character of Plugg is one of the ugliest and disgusting characters in a sex film, where his introduction of making breakfast in his underwear is one that might be comical but sets up instead discomfort of the character's mannerisms and lack of basic hygiene. The super thick sideburns and overweight status also do not help visually with his figure. On the better side, model Cheryl Nixon makes her acting debut in the production, with a slew of beauties alongside. Unfortunately the amount of nudity to entice viewers is fairly low. Topless nudity is there, but compared to other sex films of the period with full frontal nudity included, what is seen in "Plugg" is extremely tame. In addition the amount of scenes with nudity is on the fewer side, as the audience probably sees detective Plugg in his undies or nothing at all more than the sexy ladies.

But what is a sex comedy without its comedy? "Plugg" attempts slapstick comedy, but the laughs unfortunately fall flat almost entirely not offering any chuckles or smiles in its runtime. Inspired more by Looney Tunes in its antics such as people being thrown through doors and only leaving a silhouette cutout in the frame, the gags are inspired but never feel inspiring. In addition there doesn't seem to be any consistency with the sight gags and wordplay gags, leaving mostly a bitter taste and eye rolling. Granted the film was made before I was born and maybe audiences at the time found them hysterical. But I personally have seen Warner or Hanna Barbera cartoons which were made decades prior with similar styled gags that were hilarious. The timing, the execution, the performances all work, and it is not a question of kids show gags being in an adult film being out of place, but the writer/director Terry Bourke failing at the execution by basically copying and not creating.

"Plugg" was released on October 30, 1975 in Australia and quickly faded into obscurity. Theatrically the release was minimal and scattered, with no records of the theatrical gross, though it was reported the film cost $100,000 to make. Reviews were fairly negative calling it amateurish and unfunny, and even years later, it still holds quite true. Umbrella Entertainment has rescued the film from obscurity by releasing it on DVD as part of their "Ozploitation Classics" line, but unfortunately the transfer is just as bad as the film...

Note this is a region 0 PAL DVD.

Video


Umbrella Entertainment presents the film in the 1.20:1 aspect ratio without anamorphic enhancement in the PAL format. The transfer here comes from a VHS source, which was made from a battered print with specs, dust, cuts, and other damage embedded into the image. Reel change cigarette burns are also visible which suggests this was from a theatrical print. It seems to be an unmatted transfer, making quite a bit of headroom in certain shots, but there are also some shots where it seems the sides are also cut off. Colors look washed out and dark, with little depth seen and looking blurry at times. Analog tape error can also be seen thoughout at the very bottom of the frame. There is very little for positives to be said about the transfer and regardless of the film's quality, it's unfortunate that Umbrella didn't or couldn't restore the film from the original film materials, or at least make a straight transfer from the original film. Though to be fair, Umbrella Entertainment does state on the DVD inlay that the transfer is from a weak source so it should come as no surprise.

The film's runtime is 86:10.


Audio


English Dolby Digital 2.0 mono
The original mono track is offered as a basic Dolby Digital 2.0 track. As with the image, the sound is also mastered from the tape source and it has its issues. There is a constant hum and crackle, and at one point halfway through a constant popping static sound continues every second or so for a while. Dialogue on the more positive side sounds fair if a bit flat, and the playful music never overtakes the dialogue portions.

There are no subtitles for the feature.

Extras


Trailer (3:33)
The trailer is here, looking to come from a better source than the film itself, though only slightly. There is no menu on the disc, and the way to access the trailer fastforward to the end of the film and the trailer will automatically play.
in non-anamorphic 1.33:1, in English Dolby Digital 2.0 mono with no subtitles

The trailer has also been embedded below, courtesy of Umbrella Entertainment.



Overall


"Plugg" is a sexploitation misfire on many labels. Not being funny enough, not being sexy enough, and not having a coherent plot to move the story along. Umbrella Entertainment has given the obscure film a life on DVD, but sadly the transfer is from a very weak and dated source making it a very difficult watch.
| | | | | |
| --- | --- | --- | --- | --- |
| The Film: D- | Video: D | Audio: D+ | Extras: D | Overall: D |