The Film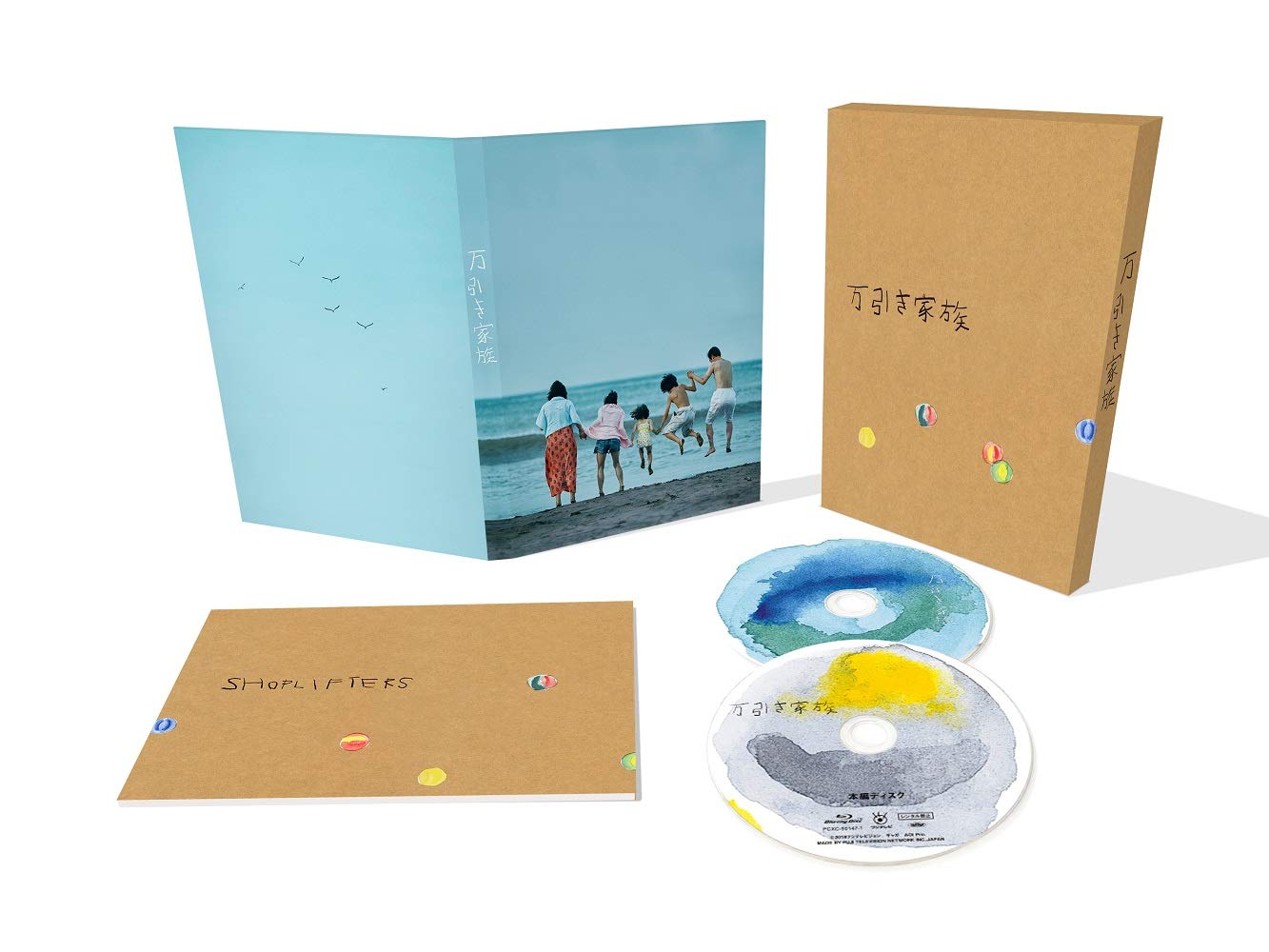 "Shoplifters" 「万引き家族」 (2018)

Osamu (played by Lily Franky), Nobuyo (played by Sakura Ando), Hatsue (played by Kirin Kiki), Aki (played by Mayu Matsuoka), and Shota (played by Kairi Jo) live in a small decrepit house in Tokyo on the edge of poverty. While Osamu, Nobuyo, and Aki have paying jobs, to make ends meet they shoplift food and other household products when they can. Hatsue is elderly and has a little income with pension, but she is like everyone else does what she can and steals when the time comes. For the then year old Shota who doesn't attend school, he also works along everyone else honing his skills for shoplifting. With everyone working together and timing out the process, their lives are set even if living on the edge. What is also unusual about them is that they are not a family by blood, but live their lives as a family would.

One night Osamu and Shota encounter a young six year old girl (played by Miyu Sasaki) left alone in the cold with no food or other necessities. They decide to take her home and feed her out of common human courtesy but when they discover bruises on her body and how she was abused, they decide it would be better if she would stay with them indefinitely. The growing family also encounters some difficulties. Osamu injures his foot putting him out of work. Nobuyo's workplace at the laundromat is looking to downsize their staff. The aging Hatsue is having health issues. And when the young girl they rescued turns up as a lost child on the news, their livelihood together begins to break down.

Filmmaker Hirokazu Koreeda has explored the complexities of family relationships over the course of many features. "Nobody Knows" dealt with abandoned siblings. "Still Walking" showed a family's reunion following the death of the oldest son. "Our Little Sister" had three siblings dealing with knowledge of an illegitimate sibling and uniting the family. It was during the making of 2013's "Like Father, Like Son" that Koreeda thought of exploring the idea of non-blood related family more in depth. In "Like Father, Like Son" which featured a switched at birth scenario which asked the question if "family" was about blood relation or about the environment one grows up in. To create a family that was not at all of blood relations, Koreeda looked at life through poverty and desperation, a place throughout history and various cultures where the lower classes were able to bridge community and relations that were much deeper from the soul and not from the pocketbooks. While shoplifting crime is not a large issue in Japan, the poverty level, homelessness, and mental disorder are issues that are not frequently dealt with or discussed in Japanese culture as much as it should. Social issues are always a major point in Koreeda's films and "Shoplifters" is no different by exposing the poverty level and the lower class as the main light.

With a cast of characters from differing generations together, Koreeda introduces the family as a straight up family. There is no explanation of who is who with the characters and the truth of their non-relations comes slowly but surely. Due to this the audience first sees how they interact - their banter while eating dinner together, sharing of girl secrets, man to man talks, etc. and sees how close they are, and at many times are closer than actual families are. But the group that call themselves a family are not all smiles and laughs. The most tragic comes with the little girl who says her name is Yuri as it's seen that she comes from a home filled with domestic violence, and she frequently says things like "Will you not hit me?" after making mistakes. For the family not returning Yuri to her real family, it does raise the point that it's considered kidnapping for taking the child, but also questions whether she would be better off without her birth parents. Not only with Yuri but all the other characters have come from differing backgrounds and ended up together in the mix, and as their reveals are major spoilers, they will not be mentioned here though each have deep issues that raise many discussions about love and family.

The shooting commenced in August of 2017 with the scene of the family taking a trip to the beach in summer, which actually takes place more than halfway into the film. Interestingly the scene was used to make the actors more comfortable with each other and would create a camaraderie throughout the production, though watching the final film it seems like the characters were fully fledged and fitting quite well together. Most of the shooting was done a few months later in December 2017 through January 2018 in winter, where some of the spring and summer scenes were also shot, with actors wearing short sleeves during the period making things quite uncomfortable for the performers. Though to note this was a tactic that even Akira Kurosawa used, with the reason being the actors had to act that it was hot when it really wasn't, and that made for better realism. While watching "Shoplifters" it would be difficult to tell that most of the film was shot in the coldest season. The post production process was extremely fast, with principal photography completed at the end of January 2018, and the first preview screening happening in April 2018, followed by the first festival screening at the Cannes Film Festival in May 2018.

The film became the first Japanese film to win the coveted Palme d'Or prize at Cannes since "The Eel" in 1997, and became a massive hit Japan when it was theatrically released in June 2018. One of the biggest films of the year, it earned nearly $40 million in Japan theatrically and more than $30 million internationally. The film was nominated for and won multiple awards around the world, including Best Foreign Language Film nominations from the Oscars and Golden Globes, winning Best Picture and Best Score at the Asian Film Awards, winning eight of the thirteen nominated prizes at the Japanese Academy Awards, and winning all the prizes it was nominated for at the Mainichi Film Awards, the Nikkan Sports Film Awards, and the Tokyo Sports Film Awards, among many others internationally. In a controversial move, after its win at the Cannes Film Festival, Japanese Prime Minister Shinzo Abe did not personally call Koreeda to congratulate him on the award win, and gave no support for its Academy and Golden Globe nominations - which are almost always a given to be had. As the film does not shed a positive light on the Japanese social economy and basically gives light to criminals, the themes certainly go against the political policies and the image of Abe's Japan. Koreeda has made a series of films that are considered masterpieces, rivaling him with filmmakers Yasujiro Ozu and Mikio Naruse as masters of Japanese family dramas, and "Shoplifters" shows that he is still at the top of the heap creating beautiful, emotional, and hard hitting dramas filled with both laughter and tears.

Note this is a region ALL Blu-ray and region 2 NTSC DVD set

Video


Pony Canyon presents the film in the 1.85:1 aspect ratio in 1080p AVC MPEG-4. Shot on 35mm film, the transfer is quite exceptional capturing the seasonal changes with a great color palate, giving emphasis on dark tones. Visually the image is crisp and clear with excellent depth, and there are no issues of scratches or specs or other errors in the transfer. Basically it looks as perfect as it should.

The film's runtime is 120:12.

Audio


Japanese DTS-HD Master Audio 5.1
Japanese DTS-HD Master Audio 2.0 stereo
Japanese DTS Headphone:X 2.0 stereo
Japanese Audio Descriptive DTS-HD Master Audio 2.0 stereo
All the audio tracks for the film are presented in lossless form. The 5.1 soundscape is a subtle one with the surrounds used for ambient effects and the excellent minimal and playful score by the legendary Haruomi Hosono, and dialogue being used for the center channel. Dialogue, music, and effects are very well balanced and there are no errors to speak of. There is also a basic 2.0 track for non-home theater setups, a headphone track that recreates the surround soundscape through the stereo track, and an audio descriptive track for the blind, also in stereo.

There are optional Japanese HoH for the feature in a white font.

Extras


The commentary and trailers are on the Blu-ray while the rest of the extras are on a separate DVD.

DISC ONE (Blu-ray)

Audio commentary by actor Lily Franky, actress Sakura Ando, and director Hirokazu Koreeda
A commentary by the director and the actors is here, dominated mostly by Franky. Rather than sharing some in depth discussions, it ends up mostly being fairly jokey while pointing out what is happening on screen. There are a few behind the scenes discussions talked about such as their love scene and the coldness they had to experience while shooting in winter, but many of these topics are talked about elsewhere on the bonus disc.
in Japanese DTS-HD Master Audio 2.0 with no subtitles

Teaser Trailer (0:35)
A great teaser that gives just enough information on the subject matter.
in 1080i 60hz AVC MPEG-4, in 1.85:1, in Japanese DTS-HD Master Audio 2.0 with no subtitles

Theatrical Trailer (1:41)
A few spoilers as they include near-ending scenes, though still very effective.
in 1080p AVC MPEG-4, in 1.85:1, in Japanese DTS-HD Master Audio 2.0 with no subtitles

TV Spot (0:17)
Advertising the Palme d'Or win.
in 1080i 60hz AVC MPEG-4, in 1.85:1, in Japanese DTS-HD Master Audio 2.0 with no subtitles


DISC TWO (DVD)

"The Shoplifters Becoming a Family - Making Of" featurette (29:59)
In this TV promotional special broadcast before the theatrical release, it chronicles the production in chronological order. From the rehearsal process and read throughs, dialogue changes and script rewrites through the production, how Koreeda dealt with the children, and how the cast became more of a family day by day are captured.
in 480i, in anamorphic 1.78:1, in Japanese Dolby Digital 2.0 with no subtitles

"The Shoplifters at Night" featurettes (with Play All) (28:57)
- "First Night - Food" (5:47)
- "Second Night - Puberty" (5:47)
- "Third Night - Family Trip" (5:46)
- "Fourth Night - Grandmother" (5:47)
- "Fifth Night - Music" (5:47)
In this multi-part extra, Franky, Ando, and Matsuoka have a chat about various topics at a local restaurant that are related to the film but more about their personal lives. The topics - food, sexuality, family trips, grandmothers, music all stem from the film itself, but the actors discuss about personal likes and dislikes, past experiences including embarrassing stories making this a much more relaxed roundtable discussion.
in 480i, in anamorphic 1.78:1, in Japanese Dolby Digital 2.0 with no subtitles

Events
- Premiere Screening Event (18:06)
- Three Generations Press Event (17:56)
- Premiere Stage Greeting (18:25)
- Father's Day Event (16:04)
in 480i, in anamorphic 1.78:1, in Japanese Dolby Digital 2.0 with no subtitles

"Cannes Film Festival" featurette (7:05)
This featurette is a behind the scenes look at the cast and crew representing the film at the Cannes Film Festival. From the red carpet, the 9 minute standing ovation, photo sessions, press conferences, and of course the moment the film was chosen for the Palme d'Or in a digest form.
in 480i, in anamorphic 1.78:1, in Japanese Dolby Digital 2.0 with no subtitles

"Clapperboard Numbers" featurette (6:33)
A series of shots featuring the cast and crew with the clapperboards, with the music of Haruomi Hosono from the soundtrack.
in 480i, in anamorphic 1.78:1, in Japanese Dolby Digital 2.0 with no subtitles


Booklet
A 24 page booklet is included in the set. In it there is an introduction, a short story synopsis, staff profiles, awards listings, credits, stills from the set and at various ceremonies, and a message from Hirokazu Koreeda.


The international trailer has been embedded below, which is the Japanese trailer with added English text.


There is also a single-disc Blu-ray edition available, which omits the DVD bonus disc and booklet.

In an unusual move, the Japanese Blu-ray release comes slightly after the first international release, which was from the UK by Thunderbird Releasing. Unfortunately the UK release had no extras at all. The US rights were picked up by Magnolia Pictures, and they have also released the film on home video already. Unfortunately again, it was released on DVD only and without extras. There will be a French release by Le Pacte in April which will have two short interviews with the director, and a German release was announced for May with the bonus features being unconfirmed at the moment.

Packaging


The discs are housed in a two panel Digipak case. This along with the booklet is housed in a hard cardboard slipbox.

Overall


"Shoplifters" is both loving and cruel at the same time, playing with the audience's emotions while also questioning social issues and what family means. The Pony Canyon Special Edition is a very good package but the lack of English options may be a difficult sell for non-Japanese speakers.
| | | | | |
| --- | --- | --- | --- | --- |
| The Film: A | Video: A+ | Audio: A+ | Extras: B- | Overall: B+ |