Candyman: Farewell to the Flesh AKA Candyman II AKA Candyman II: Farewell to Flesh (Blu-ray) [Blu-ray]
Blu-ray B - United Kingdom - 88 Films
Review written by and copyright: Rick Curzon (7th April 2019).
The Film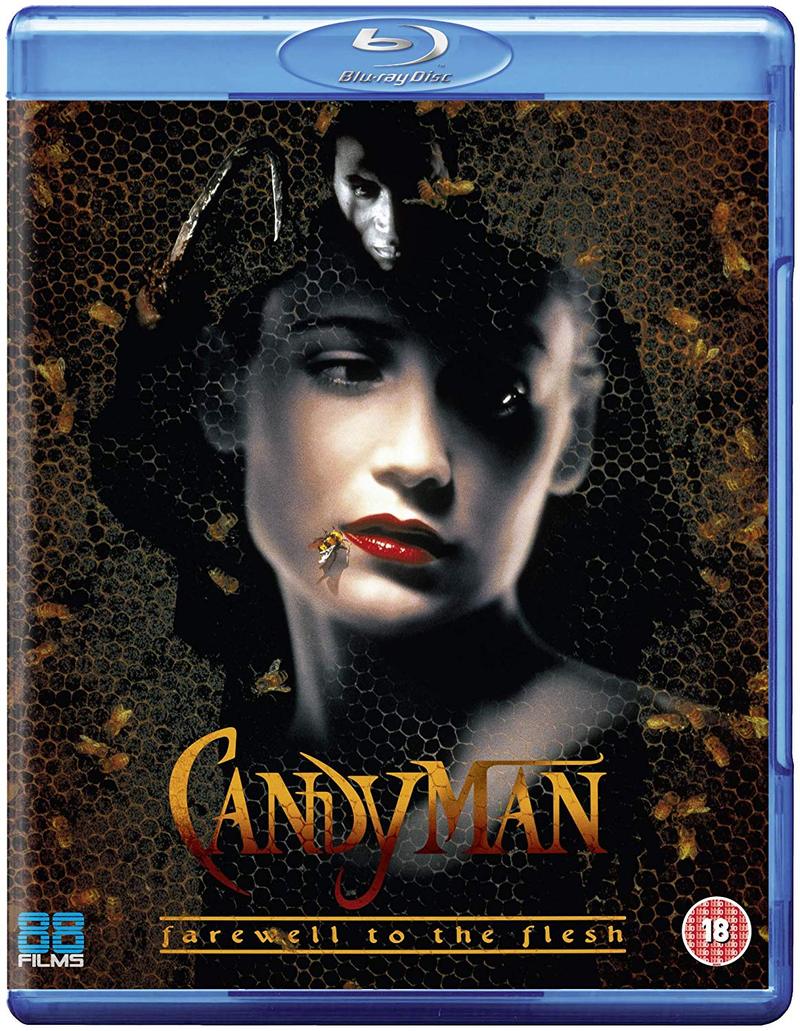 88 Films returns a true terror titan to UK BluRay in this buzzin' edition of CANDYMAN: FAREWELL TO THE FLESH!! The sequel to Clive Barker's original 1993 shocker, this 1995 follow-up brings the ever-threatening Tony Todd, and his hook-handed bogeyman, back to the big screen but this time in New Orleans.

As before, our antagonist is a mix of nightmarish skin-slicer and seductive-voiced stalker - but one thing is for sure: not many characters will be leaving this sanguine-splashed sequel with their insides still intact!

Also featuring Kelly Rowan (ASSASSINS) and directed by the Oscar winning Bill Condon (CHICAGO), FAREWELL TO THE FLESH is one of the highest achievements in nineties horror sequel-dom!

Video


A decent if unremarkable sequel that manages to capture some of the atmosphere of the original; the great benefit here is the superb score by Phillip Glass. It utilises New Orleans as an effective backdrop and the performances are all of a decent calibre. Tony Todd relishes taking his Candyman role in different directions and adding a soupçon of depth. However, in the end this is just a rehash and it lacks the sheer impact of the original.

I saw the first film on the big screen, had no knowledge the short story (The Forbidden by Clive Barker) and it managed to creep me out. This second film I caught up with on VHS and I enjoyed it but it just hasn't the staying power. A solid view, nothing more.

88 Films have essentially ported over the special edition from the US disc by Shout! Factory and use the same very string master provided by MGM.

Image quality is stunning because this is a beautifully shot film with a strong, vivid colour palette and thankfully it's also beautifully encoded throughout. The grain field is fine and plentiful never becoming course and I could see no signs of any digital tinkering. The master used is a trifle soft but I believe that was part of the intention in the overall look when shot; the handling of the New Orleans locations and flashback scenes show a certain dreamy quality.

This has a very rich colour palette - like The Rage: Carrie 2, another decent if inferior sequel also released by 88 Films - that a few years latter would fall out of favour as digital colour correction would give film makers greater control over the look of their films and so horror film makers generally adopted a bleached out desaturated, grim look for their genre work.

Black levels and contrast are as good as can be given that this is probably an older master and 88 Films have made the absolute most they can out of it.

1080/24p / MPEG-4 AVC / 1.85:1 / 95:05

Audio


English DTS-HD Master Audio 5.1
English DTS-HD Master Audio 2.0 stereo
Subtitles: English HoH

Simply put, a knockout. The '90s was the time where soundtracks really started to develop real sonic depth and power. Although they obviously don't quite hold up to the latest tracks from 2018, there is real oomph here and the surround channels are well utilised although this film also uses silence and less active sound environments very well by way of counterpoint. LFE is healthy although not overwhelming. Dialogue is always clear and centred. An impeccable handling of the original soundtrack with 5.1 and 2.0 stereo options with the former having greater depth and warmth when compared side by side.

Subtitles are essential and very welcome. I firmly believe that ALL video labels should be acquiring subtitle tracks for the hearing impaired. As a 51 year old man I'm increasingly aware of my own ageing - hearing isn't quite as good as it was - and friends who suffer from hearing loss need to be catered for. Happily, 88 Films have a great track record on this score.

Extras


Audio Commentary by director Bill Condon

A decent commentary that dates from the 2001 DVD release. Covers all the bases required although obviously done when the film was much newer and fresher in his mind.

"Candyman Legacy" interview with actor Tony Todd (25:55)

Todd is eloquent and honest about his career and the Candyman films and where they sit within it. An excellent featurette from Shout! Factory and well up to their usual standard.

"Down Memory Lane" interview with actress Veronica Cartwright (10:38)

Cartwright always has a twinkle in her eye and seems to favour genre fare having started out with The Birds (1963) and gone on to the likes of Alien (1979) and The
Witches of Eastwick (1987). She's intelligent and chatty; another fine extra.

Theatrical Trailer (1:54)

Very decent '90s trailer; lots of quick cuts and highlights.

Comes with a reversible Sleeve with choice of artworks.
An O-Card slipcase and Collectors' Booklet by Film Journalists Dave Wain and Matty Budrewicz

Neither of these were provided for review.



Overall


An enjoyable if undeniably inferior sequel to one of the finest horror films of the '90s. Farewell to the Flesh always reminds of Halloween II (1981) in that it's a n effective film but not a patch on the classic original. The transfer, both picture and sound, are as good as can be considering an older master has been used, but it is a typically excellent master. Extras are very good and ported over from the US disc.

Another winner from 88 Films.
| | | | | |
| --- | --- | --- | --- | --- |
| The Film: B- | Video: A | Audio: A+ | Extras: A | Overall: A |

---
DVD Compare is a participant in the Amazon Services LLC Associates Program and the Amazon Europe S.a.r.l. Associates Programme, an affiliate advertising program designed to provide a means for sites to earn advertising fees by advertising and linking to amazon.co.uk, amazon.com, amazon.ca, amazon.fr, and amazon.de.