Severed Head (A) (Blu-ray) [Blu-ray]
Blu-ray ALL - United Kingdom - Powerhouse Films
Review written by and copyright: Rick Curzon (7th April 2019).
The Film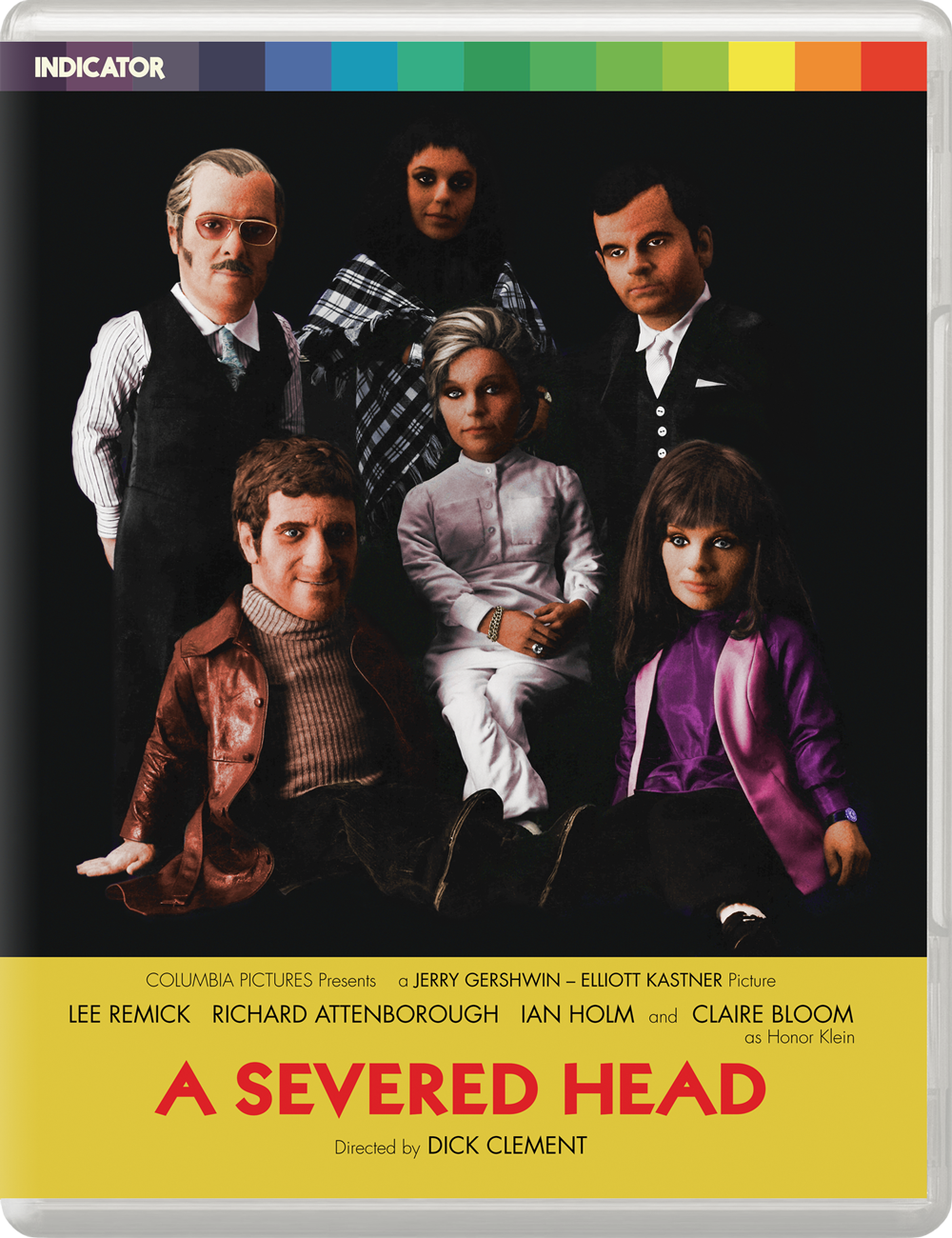 Dick Clement followed the success of his first feature Otley with this wry adaptation of Iris Murdoch's celebrated 1961 satirical novel, a harbinger of the sexual liberation that was to blossom in the mid-60s.

A Severed Head chronicles the sexual and amoral escapades of a group of middle-class, middle-aged London couples, portrayed by a wonderful cast which includes Ian Holm (Alien, The Lord of the Rings), Lee Remick (Days of Wine and Roses, The Omen), Claire Bloom (The Haunting, The King's Speech) and Richard Attenborough (10 Rillington Place, Young Winston). Absurdist and delightfully funny, A Severed Head is a dark satire staged with wit and intelligence.

Video


An insufferable group of middle class prats and their dubious morals and infidelities as they all have affairs. Some try to be so very jolly hockey sticks decent about it (Richard Attenborough, Lee Remick) and others (Ian Holm, Jennie Linden) seem crushed ... and hypocritical, particularly Holm. Claire Bloom is very judgemental but proves to be very twisted, ditto Attenborough; Clive Revill and Ann Firbank just seem to be having fun.

Agreeable if maddening adaptation of Iris Murdoch's 1961 book that predates the free love generation by several years but this film version released afterwards strikes me as being an examination of middle class folks trying to adapt to it in their own way. Interesting, occasionally funny but I just couldn't relate to any of them and as such found it uninvolving and by the end somewhat baffling despite excellent performances, fine direction and good production values.

This isn't a dynamic looking film; it has a straightforward, naturalistic, stagy look. Consequently the image is very true to it's source with a fairly robust if then fashionable use of colour; not striking but solid and somewhat naturalistic.

Black levels are excellent and I couldn't see any signs of crush and contrast is fairly low key which suits the largely interior based drama. The OCN has been looked after and I saw no traces of damage or wear. This has the usual maxed out bitrate and topnotch encode; no gaps in the grain and no signs of posterisation, mosquito noise or other unwanted artefacts. No signs of DNR or edge enhancement; A Severed Head gets a fine Indicator Series Blu-ray release.


1080/24p / MPEG-4 AVC / 1.85:1 / 98:24

Audio


English LPCM 1.0
Subtitles: English HoH

Straightforward mono track typical of a prestige drama film of the period. Dialogue is the main focus and Stanley Myers score is supportive and never interferes. There is a natural flatness typical of mono tracks but it serves the film very well. Subtitles are essential for the hearing impaired and those provided seem comprehensive.

Extras


Audio commentary with director Dick Clement and film historian Sam Dunn

Solid commentary covers all the bases. Clement is a natural raconteur and has plenty of amusing stories and trivia about the production. Dunn does a fine job keeping Clement on track.

"Guise and Dolls: Saskia de Boer on the Title Sequence for A Severed Head" featurette (7:29)

The poster features some creepy dolls made to be striking resemblances to the cast and this fascinating piece features the artist who created them. De Boer had been known for doing these caricatures and she explains how that led to the gig on A Severed Head.

"Slightly Saucy: Production Manager Timothy Burrill on A Severed Head" featurette (6:32)

Burrill discusses Winkast the production company and the making of the film from his perspective. We here that he was only involved with the physical production and his impressions of the cast.

"What Happened Just Then?: Rob Deering on A Severed Head" featurette (18:43)

An interesting analysis of the book and the film, it's title and and the themes therin. I find Deering's point that the book heralds from the beginning of the decade and the film from the end and despite being a very faithful adaptation. The intervening evens of the decade suffuse through the drama changing it somewhat.

Theatrical trailer (2:25)

Typical trailer of the period.

A Severed Head Image gallery: Original Promotional Materials (12 images)

Decent HD gallery; brief but worthwhile.

32-page liner notes booklet with a new essay by Pamela Hutchinson, archival interviews with the cast, an account of the film's transition from page to stage to cinema screen, an overview of contemporary critical responses, and film credits

Excellent Indicator series limited edition booklet. As usual it adds a great deal of context to the appreciation of the film.

Overall


Although I'm happy to have seen this film, it didn't bowl me over and the characters were hard to relate to. However, the transfer is typically first class from Powerhouse Films and the extras add a great deal of appreciation for those so inclined.
| | | | | |
| --- | --- | --- | --- | --- |
| The Film: C+ | Video: A | Audio: B+ | Extras: A | Overall: A |

---
DVD Compare is a participant in the Amazon Services LLC Associates Program and the Amazon Europe S.a.r.l. Associates Programme, an affiliate advertising program designed to provide a means for sites to earn advertising fees by advertising and linking to amazon.co.uk, amazon.com, amazon.ca, amazon.fr, and amazon.de.