Prospect (Blu-ray) [Blu-ray]
Blu-ray B - United Kingdom - Signature Entertainment
Review written by and copyright: Rick Curzon (9th April 2019).
The Film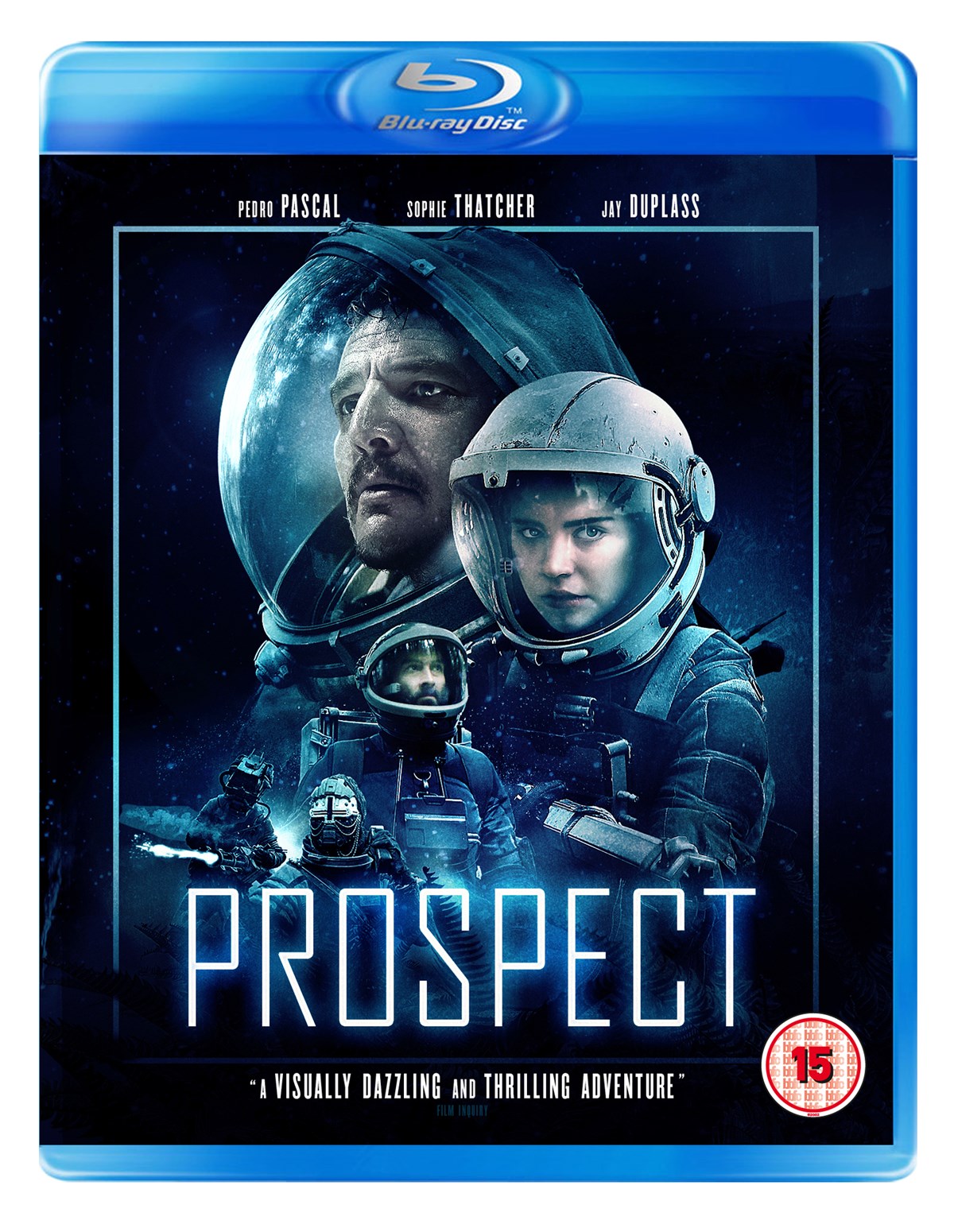 Heralded as the best indie sci-fi since Moon, Prospect is smart, entertaining and a treat for the eyes. Rivalling Ridley Scott and Christopher Nolan's work, it will leave you breathless with its other-worldly splendour anchored by an emotional story.

A teenage girl and her father travel to a remote alien moon, aiming to strike it rich. They've secured a contract to harvest elusive gems hidden in the depths of the moon's toxic forest. But there are others roving the wilderness and the job quickly devolves into a fight to survive. Forced to contend not only with the forest's other ruthless inhabitants, but with her own father's judgement, the girl must carve her own path to escape.

Prospect stars Pedro Pascal (Games of Thrones and lead in the upcoming Star Wars TV series The Mandalorian), Sophie Thatcher and Jay Duplass.

Video


Signature Entertainment bring this celebrated low budget sci-fi western to the UK in both standard definition DVD and high definition Blu-ray.

At some unspecified point in the future a man (Duplass) and his teenage daughter (Thatcher) get a contract to mine jewels on a hostile planetoid covered with a toxic forest. They also have to deal with other prospectors and other unsavoury elements along the way.

Low budget, independent scifi flick gets much of it's basic premise from westerns; it parallels the Gold Rush of the late 19th / early 20th century. The leads are good and Pascal turns in an excellent performance as a rival prospector; Andre Royo and Sheila Vand are exceptionally creepy as the villains of the piece.

Very much an atmospheric character-driven adventure sporting an arthouse edge with bags of melancholy, creepy atmosphere provide by the forest. SPFX are minimal but excellent and the score by Daniel L. K. Caldwell supports the lowkey nature of the film. Very well written and directed by Zeek Earl and Chris Caldwell.

Shot digitally using Red Dragon 6K and Red Dragon Epic-W Helium 8K cameras this has an inherently soft image on Blu-ray albeit it very clean and stable; there's obviously no damage or visual defects from the production process that I could see.

It's a dark film for much of it's length with plenty of night scenes. Black levels aren't very deep being more dark gray, or at least when viewed on my display as it's calibrated correctly. I found that if I reduced the brightness 2-3 notches things improved and the image became more robust with black levels becoming richer.

Contrast is lowkey and supportive coming off best in the brighter daylight scenes. Detail is satisfying throughout on all focal plains, although a BD50 might have improved things a tad. Encoding is decent leaving a nice even grain field with no clumping, digital splats or holes in the grain.

The colour palette is largely dominated by darker colours, greens during the daylight with a feint yellowish cast; digital colour correction is fairly obvious and the image could've benefitted from a more florid grade.

Overall the image is decent, well encoded but doesn't kick out like I'd prefer.

The DVD version is identical as the overall look is obviously taken from the same master bar the fact the encoding isn't as robust having some minor compression artefacts and detail obviously suffers. However, it gets the job done.

As the price as of writing is £7 for the DVD and £10 (on Amazon UK) only DVD-locked punters will opt for the standard definition disc.


1080/24p / MPEG-4 AVC / 1.85:1 / 100:06

Audio


English DTS-HD Master Audio 5.1
English LPCM 2.0
Subtitles: None

A robust generally excellent soundtrack with a fair amount of depth across the soundscape. It's predominantly front-centric but the surround do het a workout during the action scenes and more subtly via the ambient sounds of the forest. The subwoofer kicked it at appropriate moments and although no one is going to mistake this for an Oscar-winning sound design it does it's modest job well.

Dialogue is always clear and the score never intrudes. Sadly, there are no subtitles here so hearing impaired fans are shortchanged. In this day and age I'd expect subs at least for the deaf to be included. Two flavours of sound are included - lossless 5.1 and LPCM 2.0 stereo - with the 5.1 winning hands down; much mored detailed.

The lossy Dolby Digital tracks suffer from less depth and more distortion but it'll only be obvious to the technofreaks and hardcore collectors.

Extras


Startup Trailer:
Arctic (2:19)
Videoman (1:24))

Virtually nothing sadly.

Packaging


Standard keepcase.

Overall


A solid release from Signature Entertainment with fine HD and SD picture although neither iteration is going to win format awards. No extras specific to the film but the price is cheap so those who like quirky sci-fi should definitely indulge.
| | | | | |
| --- | --- | --- | --- | --- |
| The Film: B | Video: B+ | Audio: A | Extras: E | Overall: B |

---
DVD Compare is a participant in the Amazon Services LLC Associates Program and the Amazon Europe S.a.r.l. Associates Programme, an affiliate advertising program designed to provide a means for sites to earn advertising fees by advertising and linking to amazon.co.uk, amazon.com, amazon.ca, amazon.fr, and amazon.de.