The Film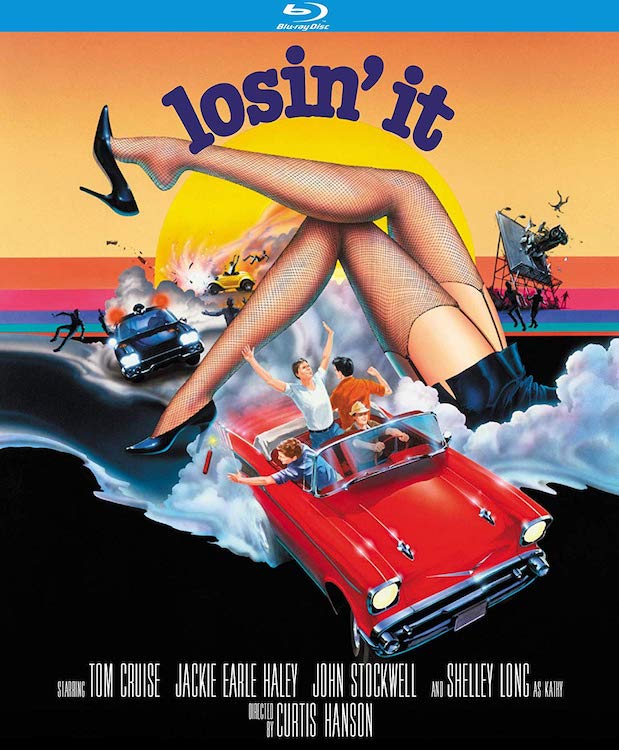 The only notable aspects of the low-budget teen sex romp comedy "Losin' It" (1983) are the cast and crew; not so much the story. The late, great writer and director Curtis Hanson assembled a cast of now-accomplished actors, including the likes of Tom Cruise, Jackie Earle Haley, Shelley Long, and John Stockwell. The film was made on the cheap, intended to cash in on the success of "Porky's" (1981), and also because teen sex comedies of the '70s and '80s required little more than drugs, tits, booze, and fast cars. "Losin' It" is mildly amusing thanks to a few fish-out-of-water moments with the boys down in Mexico and a couple climactic high points but it is otherwise a routine horny teenager movie, bringing nothing new to the overstuffed table and managing to overstay its welcome at a bloated 100 minutes.

Dave (Jackie Earle Haley) is one of many desperate, horny high school teens bemoaning his lack of sexual activity – only Dave has a plan to satisfy those urges: Tijuana. He rounds up his good buddies Woody (Tom Cruise) and Spider (John Stockwell) – also, unbeknownst to Dave, his own little brother, Wendell (John P. Navin, Jr.), who stows away in the car – and they head south of the border for a weekend of debauchery and virgin-card shredding. On the way the guys pick up Kathy (Shelley Long), a jilted wife who wants to get away from her lugheaded husband, hoping for a quickie divorce Mexican style. Shockingly, Dave's personal plans go off with only a little hitch… it's everything that comes after the trashy Tijuana hooker sex that nobody is expecting.

With a title like "Losin' It" viewers rightly expect to see a few high school horn dogs run the gauntlet in Mexico, hoping to secure a victory and leave with their V-cards no longer valid. But as soon as the boys land in Mexico it takes about a New York minute for whoever wants to "pay to play" to do so. So, this is not a film about losing one's virginity. What it is about is the culture shock of a few white bread California boys heading down to Tijuana and treating it like the Mexican equivalent of Bourbon Street… which is fairly accurate. Dave thinks the guys can get away with literally anything there, which in his mind not only includes getting laid but also buying a stockpile of Spanish Fly so he can drug girls' drinks and they'll (presumably) be super horny and want to screw him. Basically Dave is trying to pull a Bill Cosby on any girl he can and it is a story point that only could have come from this era.

The other thing is Dave is highly annoying. He's a screeching, outrageous, vexing, whiny cad who loves Frank Sinatra and couldn't get laid if he were the last man on earth. Did none of Old Blue Eyes' sage love advice rub off on him? Haley is a great actor, and his commitment to this grating part is obvious, but much of the film spends time with him and Wendell and it isn't better for it. Spider winds up on his own strange trip, eventually landing him in a Mexican prison. Woody is the quiet, respectable type and his evening is mostly confined to walking the streets with a stressed-out Kathy. Splitting up the gang does allow the picture to feel bigger, giving it more breathing room and allowing us to explore "Tijuana" (which is actually Calexico, CA), but none of the participants' nighttime shenanigans are wild enough to meet the higher bar set by similar films.

Video


Kino Lorber boasts a "new 2K scan" on this release and the results are good, even great at times. The 1.85:1 HD 1080p 24/fps AVC MPEG-4 compressed image has been nicely cleaned up, removing instances of dirt and debris from the frame. Film grain is moderate and lively, lending cinematic flair to the visuals. Colors are well saturated and accurate, highlighting the disparity between neon signs & bright lights and the squalid, dirty streets of Tijuana. The night sky looks a touch hazy, giving blacks an appearance closer to hazy gray. Shadow detail is marginal. This picture wasn't shot to impress and while that much is clear the image presented here is likely in line with the intended look.

Audio


An English DTS-HD Master Audio 2.0 mono track shows its age with some badly muffled audio, weak sound effects, and source music that doesn't pack much of a punch. Placement and direction are weak or nonexistent, with every sound coming through as though they're all fighting for the same channel. Aside from a horrid audio anomaly early on the majority of the track does nothing more than delivering serviceable audio. Subtitles are available in English for the hearing impaired.

Extras


The only extras here are Theatrical trailers (SD/HD) – lots of 'em:

The film's original theatrical trailer runs for 1 minute and 26 seconds.

There are bonus trailers for:

- "Up the Creek" runs for 3 minutes and 16 seconds.
- "Moving Violations" runs for 1 minute and 28 seconds.
- "Porky's II: The Next Day" runs for 2 minutes and 26 seconds.
- "Porky's Revenge" runs for 1 minute and 27 seconds.
- "Miracle Beach" runs for 2 minutes and 1 second.
- "Summer Lovers" runs for 2 minutes and 8 seconds.

Packaging


The single BD-25 comes housed in a standard Blu-ray keep case.

Overall


There are so many teen comedies from this era that spending time on a weak feature like "Losin' It" is only worthwhile if you're tuning in to see a few of your favorite actors starting their careers.
| | | | | |
| --- | --- | --- | --- | --- |
| The Film: C- | Video: B | Audio: B- | Extras: D | Overall: C |