The Film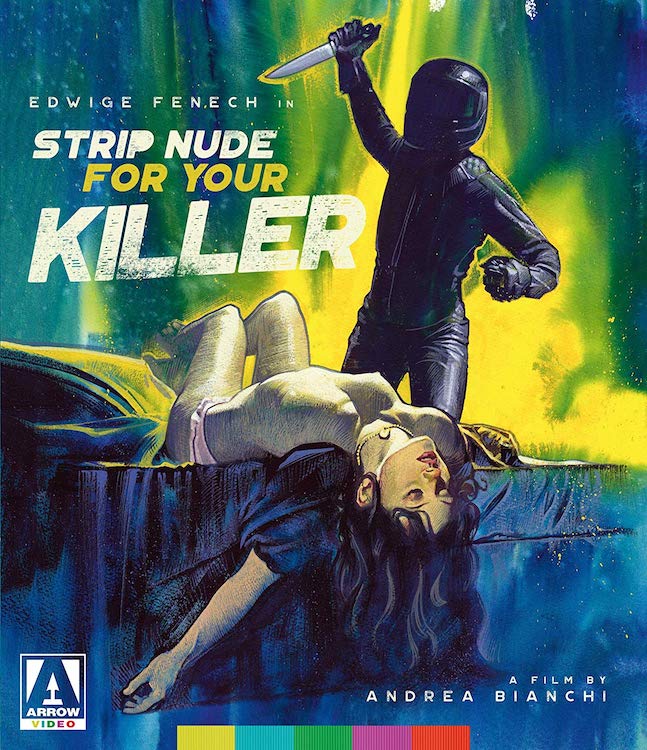 Other than that rather catchy title is there anything else notable about this release, you may ask. Well, sure there is, this is a notable giallo thriller which had a major influence on the slasher film genre, and it has an exceptional soundtrack from Berto Pisano for those interested, and it stars that hottie Edwige Fenech in some nasty bedroom action as well. In fact, the title is not uttered by anyone in the film, but nonetheless there is plenty of skin on show. Well, as they say, sex sells and this trope is certainly applicable to this film.

We open with a rather repulsive failed illegal abortion attempt on a woman that dies in the stirrups from a cardiac arrest. This is the opening scene, by the way. We have had zero introduction to the people on the screen, and within minutes, not only one, but two people are dead. The doctor gets the harebrained idea to deliver the corpse to the womanís apartment and then dump her unceremoniously in the bathtub, in the hopes that the authorities wonít piece together the slim plot line. Upon heading home to his apartment, he is brutally attacked by an unidentified killer who is disguised in riding leathers and a motorcycle helmet. The attacker uses a razor sharp switchblade and mutilates the body by removing the victimís heart; well, you can say that the preceding crime was heartless as well, but that is neither here nor there. We cut to our protagonist, Carlo (Nino Castelnuovo), a swinging stud on the prowl, snapping photos of a bikini clad woman that happens to walk by the hotel swimming pool. Carlo is the typical 70ís European male, meaning that he operates quickly and efficiently, feeding the naÔve woman a line of patter about a promising career ahead of her as a model. The woman, Patrizia (Solvi Stubing) is easily seduced and undressed in a sauna and Carlo puts another notch in his camera strap. Hey, it was the 70ís, and this was standard fare back then, so no complaints about treating woman as sex objects. As we will see, the killer is an equal opportunity executioner and makes no discrimination about slaughtering both genders equally. Besides this is a giallo film after all and the body count is rather impressive by the filmís conclusion.

The next day Patrizia shows up at the aptly named Albatross modelling agency and is ready for her close up, so to speak. The staff of the modelling agency is a whoís who of shifty eyed, stiffs; they all have the vapid personality of a psycho killer and all seemed ready to kill anyone that happens to cross their paths as they make the scramble up the haute couture corporate ladder. Among the list of victims to be included are the following paper thin personalities: we have the Casanova on the loose photographer Carlo; fellow co-worker and sometimes love interest Magda (Edwige Fenech) who sports adorable short locks; Mario (Claudio Pellegrini) a photographers assistant and seemingly of the limp wrist variety; thereís Maurizio (Franco Diogene) an obese mamaís boy that is married to the agencyís owner; Gisella (Lia Amanda), a closeted lesbian that owns the joint; Lucia (Femi Benussi), a model and lady in waiting: Doris (Erna Schurer), a model that chubby Maurizio has the hots for. This suitably selected crew of shady characters is all: A) either the perpetrator or B). the next victim. Letís keep score of how many fail to see the end of the film, and in what manner they meet their demise.

To keep this slim plot focused, we first need to have a semi-romantic relationship develop between photographer Carlo and would be sleuth Magda; if perhaps they pool their talents together, they may find out who is killing off their co-workers. Except that Magda needs to sleep with Carlo and cinematographer Franco Delli Colliís camera gaze is all seeing and extremely voyeuristic as Magda drops to her knees while in front of Carlo; sort of the relationship that Alfred Hitchcock hinted at between Jimmy Stewart and Grace Kelly in "Rear Window" (1954), but much more explicit. In fact if there is anything that can be said about this film, it is that everything is tainted by a sexual charge throughout. All of the characters are sexually active prior to meeting their grisly dispatch, be it in an attempted rape scene, a lesbian relationship, or any kind of aberrant sexuality. It would not be too long before the American director Sean S. Cunningham would reuse this theme in his slasher prototype "Friday the 13th" (1980) leading to a slew of copycat films. But even that was a copy of a film that had already been done as Mario Bava had set up the premise in his splatter film, "Bay of Blood" (1971). In Bianchiís film, sex equals death.

One of the more tasteless scenes is where agency owner Maurizio is attempting somehow to make model Doris sleep with him. Doris refuses so portly Maurizio at first tries to rape her but his equipment fails to launch and she is spared the humiliation of that incident, but then he evens tries to pay her off with a fistful of cash, but Doris refuses the fat man. She takes her leave of his love pad and we are then subjected to seeing Maurizio clutching a blow up doll; before that obscene image can play itself out, the leather clad killer breaks in and stabs the large fellow to death. The body count continues to rise! If by now you havenít figured out who the killer is, I wonít spoil it by revealing the secret. So after we see a parade of female figures parading before the camera in their birthday suits, including our pixie Nancy Drew Magda, she ends up tossing her transparent nightie right at the camera. Is this a moment of not so subtle commentary by the director on the giallo genre or is he merely acknowledging the male audience members as fellow voyeurs? Your guess is as good as mine. The sleaze factor is turned on high throughout the film until the stunning climax where the killerís identity and more importantly, the reasons for the bloodbath, are revealed at last. In the meantime you have the typical stumbling inept detectives, plenty of J&B Scotch poured, some garish bloodletting carnage, and more nudity, both male and female, than you can shake a stick at. Definitely one of the more lascivious selections in Italian film history, but Arrow Films really has done an admirable job cleaning up the print and it looks great. Definitely not for all audiences, but you will know if this is up your alley and if it is I encourage to order it immediately and Strip Nude for Your Killer! Lastly for those keeping score the body count is 9! Joe Bob Briggs would be proud!

Video


Arrow has included a brand new 2K restoration from the original camera negative in high definition, 2.35:1 widescreen 1080p 24/fps AVC MPEG-4 format makes this a great upgrade from previous editions. Cinematographer Franco Delli Colli received a credit for helping develop the inane plot, but his camera work is better with its rapturous all-consuming eye.

Audio


Two audio tracks are included in English LPCM 1.0 mono as well as original Italian LPCM 1.0 mono. Original lossless mono with an ultra-jazzy score by Berto Pisano; play it loud and proud. The audio tracks are very good with some surprising depth for the center speaker. Play it in Italian with the English subtitles because the dubbing is the usual voices and they are a tad distracting. Speaking of which the optional subtitles are in English (for Italian) and English for the hearing impaired (for English).

Extras


Arrow has included a new audio commentary by Horrorpediaís Adrian J. Smith and David Flint that plays alongside the film.

Supplements include "Sex and Death with a Smile" featurette with plenty of T&A focusing on the talents of Edwige Fenech: (23:02).

"A Good Man for Murders" a newly edited interview featurette with actor Nino Castelnuovo (14:32).

"The Bloody Salamander" a new interview featurette with actress Erna Schurer while she smokes a pipe: (18:30).

"The Art of Helping" a newly recorded interview featurette with Assistant Director Daniele Sangiorgi, a brief retrospective looks at his career: (44:18).

"Jack of all Trades" is a newly recorded interview featurette with actor and production manager Tino Polenghi: a man that has done it all: (21:50).

Italian or English credits and tinted or untinted opening sequence selectable via main menu and encoded with seamless branching is also available.

The original Italian theatrical trailer (3:42) is included.

There's also the original English theatrical trailer (3:42).

Image gallery (2:45) features lots of stills and film posters.

Packaging


Comes packaged in a blu-ray case with a reversible artwork by Graham Humphries.

Overall


Arrow always delivers the goods for collectors and this disc is no different. A beautiful print and a jazzy soundtrack with a familiar plot but because Edwige Fenech is in it ala natural I must give it a A rating.
| | | | | |
| --- | --- | --- | --- | --- |
| The Film: A | Video: A | Audio: A | Extras: A | Overall: A |