The Film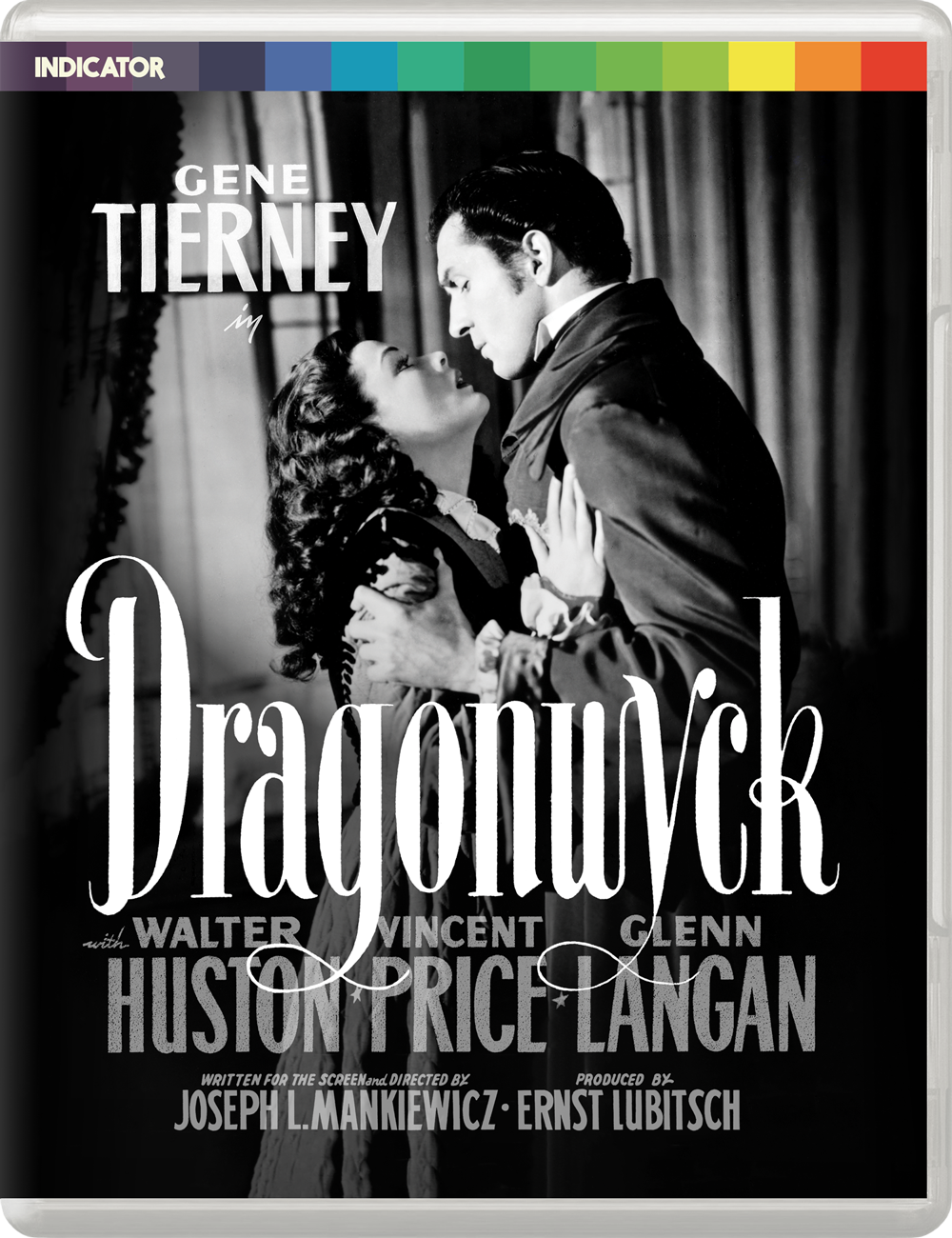 The directorial debut of the great Joseph L Mankiewicz (All About Eve; Suddenly, Last Summer), Dragonwyck is a glorious melding of Gothic chills and baroque melodrama. A beautiful Connecticut farm girl (Gene Tierney) finds herself embroiled in a conspiracy of madness, murder and intrigue after she agrees to become governess and nurse to the family of her distant cousin (Vincent Price).

Echoing Hitchcock's Rebecca (1940), and reuniting stars Tierney and Price for the third time in as many years (having previously starred together in Otto Preminger's Laura, 1944, and John M Stahl's Leave Her to Heaven, 1945), Dragonwyck is a magnificently creepy chiller with a career-defining performance by Price, luminous cinematography by the legendary Arthur C Miller, and a wonderful Alfred Newman score.

Video


Overheated gothic piece is a stunning looking film and has plenty of great melodrama but has a drippy leading lady. Still, a good slab of Hollywood studio cheese and Price barnstorms from beginning to end.

Powerhouse Films have brought this fine film to the UK market for the first time since the 2005 Optimum DVD.

You can toggle between the two versions via the pop up menu during viewing and there unsurprisingly differences between them but not in the way you'd expect. When I watched the film I toggled between the two masters which was fascinating as the differences are interesting in that the newer 4K is actually softer with seemingly a more layered level of contrast. The older master to have more fine detail and grain however this could be down to some mild edge enhancement. There is also a shade more black crush in the older master and evidence of print damage likes speckles and blips etc. Encoding is typically superb on both masters with Fidelity in Motion getting them performing on their best behaviour.

Overall the newer master is brighter with much finer grain and I believe that this is down to the greater resolution of the newer 2017 master. The older one was almost certainly created for the 2005 Fox DVD set and was done with standard definition in mind; and was most likely the master used for the 2008 R1 US Fox Horror Classics, Volume 2 DVD set. I could detect no colour bias creeping in and no sign of digital artefacts like moir, mosquito noise or DNR.

In any case both are fine masters and it's nice to have the choice.

The other point of interest I noticed was that both masters seem to run precisely the same to the second which is unusual. I asked encoder David MacKenzie why this was so and he kindly took time out from his busy schedule to email back:


"Thereís actually no big secret here - the two versions do run slightly apart. By the end of the film, if you switch, youíll see that thereís a few seconds between them. Iím not sure at exactly what point the difference creeps in, but Iím guessing thereís an optical shot or fade to black somewhere thatís longer on one version vs the other.

On BD, unlike DVD, you can have multiple angles out of mux. In other words, the angles arenít interleaved together in the same video stream as they are in DVD, but are totally independent AV files on the disc. That also means that unlike on DVD, they donít have to share an audio track. So when switching anglers from one version of the film to the next, the video, audio, and subtitles can all be totally separate. It also means thereís no picture quality loss with Blu-ray multiangle (when done in this way). The two versions simply sit together on the disc and when the viewer uses the Angle button, the player jumps into the adjacent file at the same time code.

Had the discrepancy been higher, weíd probably have been able to find where the timing differences were and possibly remove them to keep things in perfect sync. But as it is, the timing between the two is good enough that aligning the starting times and letting them run was enough."


Absolutely fascinating to read, thanks David!

The older US Twilight Time Blu-ray used the 2017 master and their encoding isn't quite as robust according to reports but I can't comment on that personally.

1080/24p / MPEG-4 AVC / 1.37:1 / 102:50 (4K Restoration and HD Remaster)

Audio


English LPCM 1.0
Subtitles: English HoH

A typical mono track of the period with limited range but short of an expensive rebuild in stereo this'll be the best we're likely to get. Dialogue takes centre chair and is always clear and legible. The score never interferes. Depth and range are obviously limited. Subtitles for the hearing impaired are included as per usual with Powerhouse Films.


Extras


Audio Commentary with Film Historian Steve Haberman and Documentary Filmmaker Constantine Nasr

A fine commentary from two old pros at the format; both historians and journalists and in the case of Haberman a screenwriter (Dracula Dead and Loving it).

Isolated Music and Effects Track LPCM 1.0

What it says on the tin

"The John Player Lecture with Vincent Price: Conducted at the National Film Theatre, London on 9 November 1969" plays as an alternate audio track over the film (75:44)

Price was a great raconteur and he's on fine form in this wonderful, vintage screen talk done around the time he was making his UK-based AIP films like Matthew Hopkins: Witchfinder General (1968), Scream and Scream Again (1969), The Oblong Box (1969) and Cry of the Banshee (1970). He deals with his career from it's earliest days in the theatre and focuses primarily on his Hollywood years in fare like Wilson, Laura (both 1944) and Dragonwyck which is touched on briefly.

"A House of Secrets: Exploring Dragonwyck" 2008 featurette (16:13)

Vintage piece is a great distillation of the films history; made for the 2008 IS DVD.

"Lux Radio Theater: Dragonwyck" radio programme from 7 October 1946 (59:49)
"The Screen Guild Theater: Dragonwyck" radio programme from 20 January 1947 (24:51)

Two vintage radio adaptations in LPCM 2.0 mono.

Theatrical trailer (2:16)

Hyperbole filled trailer typical of the period.

Dragonwyck Image Gallery: Original Promotional Material (101 images)

Fairly extensive HD still gallery with a nice range of photos and promo material.

36-page liner notes booklet with a new essay by Neil Sinyard, an overview of contemporary critical responses, and film credits

These booklets are worth the price of the disc by themselves; filled with great contextual material that aid immeasurably one's appreciation of the film.

Overall


Another winner from Powerhouse with a topnotch encode of two different but equally quality masters. Picture and sound are as good as can be given these off the shelf masters. Extras are full and aid appreciation; especially the Vincent Price talk and the booklet.
| | | | | |
| --- | --- | --- | --- | --- |
| The Film: B+ | Video: A+ | Audio: A | Extras: A+ | Overall: A+ |