The Film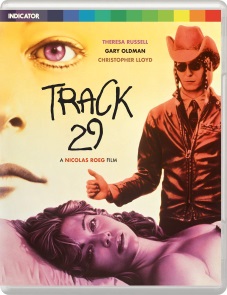 The explosive combination of director Nicolas Roeg (Performance, Don't Look Now, The Man Who Fell to Earth) and writer Dennis Potter (Pennies from Heaven, The Singing Detective) created one of British cinema's most unique and disquieting works – the hugely underrated Track 29.

Freely adapted from Potter's BBC TV play Schmoedipus, this unsettling film stars Theresa Russell (Bad Timing, Black Widow) as an unhappy, possibly unstable, housewife who welcomes a young man (Gary Oldman – Prick Up Your Ears, Darkest Hour) into her home when he claims to be her long-lost son...

Ambitious, ambiguous and surreal, Track 29 is a kinky psychological send-up of American mores – a view from the dis-united states of consciousness. The glorious supporting cast includes Christopher Lloyd (Back to the Future), Sandra Bernhard (The King of Comedy) and Colleen Camp (The Swinging Cheerleaders).

Video


Linda Henry, a woman in her late thirties (Theresa Russell) is trapped in a loveless marriage to local doctor Henry (Christopher Lloyd) who's obsessed with toy trains; he's also having an affair with nurse Stein (Sandra Bernhard).

When she was 15, Linda got pregnant and was forced to give up her baby. Then one day a strange young man, Martin (Gary Oldman) turns up claiming to be her son. Even though a trucker (Leon Rippy, who by a coincidence may possibly have been the man she got pregnant with) and others see him initially, later on he seems to be a figment of Linda's imagination as she goes through a Repulsion (1965) like breakdown.

I feel it's got an overwhelming sense of the sins of the past affecting the present: Linda feels great guilt for having to have given up her baby, and her current marriage is partially failing because she want's a child and Henry isn't interested. There's also this sense of time displacing with flashbacks, visions and daydreams playing a role in this.

Ultimately this a melding of Dennis Potter's play Schmoedipus (1974) and director Nicholas Roeg with surrealism and trauma to spare. Potter freely adapted his play relocating it to the USA, probably for commercial reasons. Both seem to have got together over their joint interest in exploring memory and how time can affect this. This is one nutty film and it's barking from start to finish. No surprise that it divided critics (those who saw it) and was ignored by the public.

By the end it seems to want to be a psychological horror story but I'm not entirely sure; another viewing is in order when I feel in the right frame of mine methinks.

A very '80s production. In the course of perusing many films from the forties through the nineties For these technical reviews I've become more familiar with the looks of each decade and the types of film stocks used ... at least visually. As stocks became cheaper and faster this lent the images a distinctive grainy look which I love. Being an MTV era film Track 29 looks fabulous in HD with a wonderful film like image.

There is a softness, a heaviness to the image which is attractive and the topnotch encode by Fidelity in Motion does the trick ensuring the picture never develops that flat video-like appearance that, for instance, Universal masters sometimes have. Colours are rich and vibrant with a s shift in saturation occasionally that seems intentional; everyday scenes are a tad more muted and natural, visionary moments that may be in the mind of the protagonist seem more vivid and bright (the fairground flashback for instance)

Black levels are more than satisfactory with no signs of unintended crush that I could see. This seems to have been taken from negative source and there was no damage evident. Contrast is nicely layered allowing details to shine through and no blown out highlights like we used to get in the days of standard definition. No digital tools seem to have been used either and fine detail is present along all focal planes.

A grand transfer taken from an excellent master that represents the source well. The encode handles it all with aplomb.

1080/24p / MPEG-4 AVC / 1.85:1 / 90:14

Audio


English LPCM 2.0 Stereo
Subtitles: English HoH

A very strong and robust stereo track that has great depth for what it is; an old Dolby Stereo 2.0 soundtrack. It serves the film very well with Stanley Myers's score coming through with great force; the opening credits being a textbook example of silence broken by loud music and how effective it can be. Dialogue is always easy to hear and never trampled on unintentionally by the score. The LFE was adequate for this kind of drama occasionally kicking in. Subtitles are essential and seem gery well done to me.

Extras


Audio commentary with filmmaker and historian Jim Hemphill

Another fine commentary from Hemphill a film maker and historian that discusses the many layers of Roeg's film as well as his career.

Isolated music & effects track (LPCM 2.0 stereo)

Stanley Myers' score gets a track all to itself with the sound effects in lossless LPSM.

"The NFT Interview with Nicolas Roeg: Conducted at The National Film Theatre, London on 19 September 1994" plays as an alternate audio track over the film (67:22)

Roeg is promoting his then new production of Heart of Darkness (1993) so initially that's the focus; it was something that had been gestating for some time prior. The conversation quickly moves on to his approach to film making and his other works. These screen talks are invaluable; it's amazing that it's taken so long for them to become available to the film buff.

"Postcards from Cape Fear: Actor Colleen Camp on Track 29" featurette (17:09)

Camp is enthusiastic about Track 29 feeling that it's one of those cult films where success eludes it but years later gets rediscovered. She also discusses her approach to roles.

"On the Right Track: Editor Tony Lawson on Track 29" featurette (10:00)

Lawson initially discusses how he feels Track 29 was right up Roeg's alley but quickly moves onto the practical aspects of shooting in North Carolina using Dino De Laurentiss' studio. It was apparently a pleasant, ten week shoot with no issues are far as Lawson was concerned. Interesting to hear his thoughts on the reasons why De Laurentiss chose Wilmington NC as a base for his studio.

"An Air of Mystery: Costume Designer Shuna Harwood on Track 29" featurette (5:55)

Brilliantly incomprehensible is how Harwood describes Roeg. She has an amusing anecdote regarding Roeg's approach to shooting and editing. She started working in his films with Bad Timing (1980). Track 29 was a pleasant, relaxing shoot and she describes costuming Oldman, Russell and Bernhard using local costumes and bits of her own stuff including Oldman's school tie in the film (it was Harwood's son's).

"Buzz and Gossip: Sound Mixer David Stephenson on Track 29" featurette (14:54)

Stephenson had met Roeg on the set of Casino Royale (1967) and from there he goes into how he got the gig on Track 29. He was working on Bob Clark's From the Hip (1986) when he got another gig in the US and the visa was arranged but it fell through so it was used for Track 29. Track 29 was the first Independent film to use De Laurentiss' studio. Stephenson recalls the electric buzz caused by the initial set up of the transformers for the toy trains, how it was a family affair with Roeg and wife Russell but was a very enjoyable experience and working with Oldman with whom he'd worked on Remembrance (1982).

Theatrical trailer (1:41)

Full-frame, upscale of the trailer which focuses of quick cuts, music and occasional soundbites. It doesn't really give a clear picture of the story but the surrealism comes through loud and clear.

Track 29 Image gallery: Original Promotional Material (19 images)

Brief but solid HD still gallery.

36-page liner notes booklet with new writing by Danny Leigh, Dennis Potter and Theresa Russell, an overview of contemporary critical responses, and film credits

Another superb booklet with a fascinating essay by Leigh discussing the origins and path to the screen of Track 29. Potter's and Russell's pieces are also invaluable for understanding this film.

Overall


Another bizarre forgotten film gets the Indicator treatment with stunning picture and sound quality; at least as good as can be expected given the fine off the shelf masters. Extras are a peach and given the obscurity of the film very welcome. In fact I'd argue that they're absolutely essential in the understanding and appreciation of the film.

A top notch package and a possible contender for a disc of the year.
| | | | | |
| --- | --- | --- | --- | --- |
| The Film: B | Video: A+ | Audio: A+ | Extras: A+ | Overall: A+ |