The Reckless Moment [Blu-ray]
Blu-ray ALL - United Kingdom - Powerhouse Films
Review written by and copyright: Rick Curzon (29th April 2019).
The Film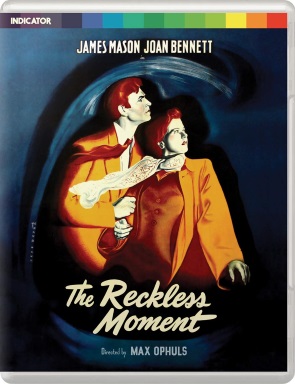 The legendary Max Ophuls (Letter from an Unknown Woman, La Ronde) directs this tense and stylish 1949 film noir melodrama. Joan Bennett (Scarlet Street, Suspiria) stars as a suburban housewife who covers up a murder to protect her teenage daughter, only to find herself blackmailed by an immoral small-time crook, played by James Mason (North by Northwest, The Deadly Affair).

Video


A stunning late '40s noir melodrama with first class production values and performances. It manages to flip the noir cliche of the dangerous woman by having that femme fatale be a man; an homme fatale. Engrossing with very likeable and sympathetic leads; it's also short and sweet never outstaying it's welcome. It also looks a peach on this new BD.

Powerhouse Films have afforded this short film a very high bitrate which ensures the master can breath and the image has a typically inky B&W. Black levels are satisfying throughout with no crush issues that I could see, certainly none that were unintended. Shadow detail is strong. Detail in general is very good although there is the odd scene where it seems to falter.

Contrast is subtle and appropriate in a way we didnít use to see on standard definition formats; the DVD transfers reportedly had some distortion but I couldn't see any here. Round objects are the telltale sign of such problems but everything looked dimensionally correct to my eyes.

Taken from another high quality Sony master there's no sign of any digital manipulation and Fidelity in Motion's encode is very strong; no digital splats, clumping or gaps to be seen. The grain field is consistent and not overwhelming. The transfer has a nice film like appearance throughout.

This is about as good as can be expected given the age and era of the film; OCNs aren't a given from this era (Citizen Kane survives as lesser materials only fir instance). However, this is by no means damning with feint praise in any way. This is a top notch HD rendering of a classic and short of a new 4K UHD BD with HDR, we aren't going to get anything better.

1080/24p / MPEG-4 AVC / 1.37:1 / 82:03

Audio


English LPCM 1.0
Subtitles: English HoH

A solid mono track of the period; it lacks depth or range but that's expected. It's presented restored with no pops, clicks or distortions. Dialogue is most important in The Reckless Moment and it comes through clearly; the score never interferes. Subtitles are essential here and it's a mark of a good label that they always include them.

As good as we're going to get, so top marks.

Extras


Isolated Music and Effects Track LPCM 1.0

What it says in the tin; the score isolated with sound effects.

"Making an American Movie: Lutz Bacher on Max Ophuls and The Reckless Moment" 2010 documentary (44:04)

In depth piece that begins by discussing Ophuls' career, particularly the years his American productions that surrounded the production of The Reckless Moment. The man body discusses the production of the film from early stages through the end.

"Maternal Overdrive: Todd Haynes on Max Ophuls' The Reckless Moment" 2005 featurette (22:58)

Excellent, passionate discussion of the film; Haynes is obviously a fan and doesn't stop for a second. He dissects the story, the film making and the themes in very personal detail even owning up to how he's paid homage in his films by mirroring shots from The Reckless Moment.

"James Mason as Homme Fatal" 2018 featurette (26:23)
"Focus on James Mason: Audience Discussion" 2018 featurette (39:21)
"James Mason: Watching the Violence Unfold" 2018 featurette (32:34)

Three excellent featurettes which collect preserve the "Focus on James Mason" event held at Birkbeck, University of London on May 26th 2018. This is wonderful because it's the first time that I'm aware of that an event of this kind has allowed the recorded version to be included on a home video release in it's entirety.

The first is an introduction to the screening of Reckless Moment which discusses the role of the dangerous, seductive male in '40s film noir and particular Mason in that regard.

The second part is the audience discussion that followed the film.

The final part is a presentation / monograph by academic Sarah Thomas which also covers the Mason films The Deadly Affair (1966) and The Flower in His Mouth (1975); Thomas has also written a book on Mason. A according to University of Liverpool website:


Sarah Thomas is Lecturer in Media and Film in the School of Arts. She was previously Lecturer in Film Studies at Aberystwyth University, and completed her PhD in Film Studies from the University of Warwick. Sarah's areas of research expertise centre on stardom / celebrity, Hollywood and transnational cinema, screen performance, cult media, and digital media / Virtual Reality.



The Reckless Moment Image gallery: Original Promotional Material (29 images)

Pretty standard for the Indicator series; a decent HD gallery.

36-page liner notes booklet with a new essay by Samm Deighan, an overview of contemporary critical responses, and film credits

Another excellent contextual essay from Deighan kicks off yet another indispensable booklet from Powerhouse Films

Overall


A knockout release, pure and simple. A classic film presented on it's best behaviour in terms of it's picture and sound, or at least as good as we can expect given the era it was made in and the '40s. Sony's master is as probably good as can be even if it's older; only a bang up to date 4K UHD Blu-ray release with HDR would better it. The extras are absolutely out of this world and essential, making this a must purchase for buffs; a candidate for one of the discs of the year.
| | | | | |
| --- | --- | --- | --- | --- |
| The Film: A | Video: A+ | Audio: A+ | Extras: A+ | Overall: A+ |

---
DVD Compare is a participant in the Amazon Services LLC Associates Program and the Amazon Europe S.a.r.l. Associates Programme, an affiliate advertising program designed to provide a means for sites to earn advertising fees by advertising and linking to amazon.co.uk, amazon.com, amazon.ca, amazon.fr, and amazon.de.