The Film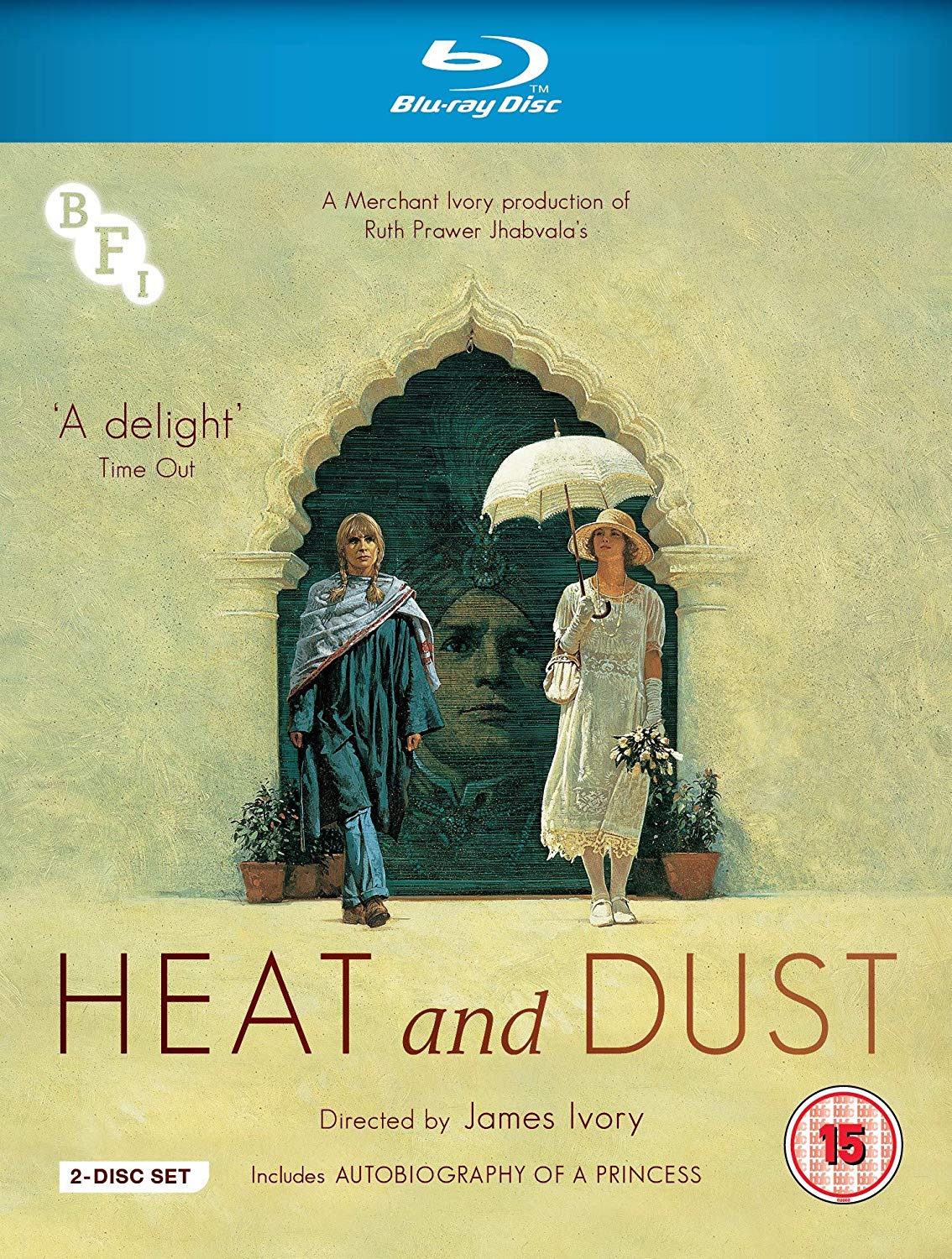 "Heat and Dust" (1983)

Anne (played by Julie Christie) is a BBC journalist that discovers old letters written by her great aunt Olivia (played by Greta Scacchi) that fascinates her and takes her on a search for more information by traveling to India. Olivia Rivers moved to India from England in the 1920s due to her husband Douglas' (played by Christopher Cazenove) job. While the newlyweds were very much in love, she was bored by the English colonial lifestyle and dissuaded by how the English looked down toward the local people and customs - something she became fascinated by. From the music to the culture, she started to immerse herself with the country, but a relationship with the Nawab (played by Shashi Kapoor turns into something unexpected and forbidden. Decades later with Anne, while exploring the land that her great-aunt lived, her journey to discover the past also becomes a journey of discovering herself with emotional consequences.

Essentially two stories in two different periods with many parallels in between, "Heat and Dust" is not only a story of self-discovery and empowerment, but one that explores love, womanhood, and motherhood. Based on Ruth Prawer Jhabvala's award winning 1975 novel of the same name and adapted by her for the screen, the film version does not stray at all from the original source and keeps with the dual timeline structure set sixty years apart, which a lot has happened in India as well as for women. India gained independence from the United Kingdom in 1947. The 26th Amendment to the Constitution of India relinquished power from royals stripping their classes and equaling them as standard citizens, doing away with class structure. Equal pay for equal work for both men and women was also established. In the 1920s an English married woman was not seen as "free", strictly abiding by her husband and the carer of the household, as well as by society. The character of Olivia was a typical newlywed housewife of the upper class, especially in India where the whites were of a higher class than the country's people under colonialism. But Olivia in fact a curious type that sees the world she is in with questions rather than one accepting convention. India intrigues her. From the landscape, the music, the culture that is very foreign in comparison to where she grew up her whole life, and little by little she starts to become distant from her roots and brought towards the mystique. She becomes a freethinker but there are still rules to abide by and she is never in position to make her set advances. The Nawab with his charm and his riches is able to reach into Olivia's heart's desires and inevitably cause major harm to her reputation as well as her husband's. But what is interesting is that none of the relations in the story is malicious. Things come naturally and not power struggle or for revenge.

In comparison to the story of Anne who discovers the story of her great aunt through letters written to her grandmother decades ago, the one considered a black sheep of the family becomes a personal search for the truth. She interviews Harry (played by Nickolas Grace) who worked for the Nawab and knew Olivia since she moved to India. Through his information and stories she looks to piece together the story of the great aunt she never knew. For a single woman in her late 30s traveling in India is more of a common happening in the modern era as seen with Anne, but she still experiences a bit of sexism such as the advances of the American who is there for spiritual self discovery, Chid (played by Charles McCaughan) though she is strong enough to stand up for herself and push away and also laugh off his advances. Things might seem much freer for Anne in comparison to Olivia's time for women. But even as a feminist and an independent thinker, sexual desires and finding herself leads to a much different path than what she was expecting, just as her great aunt experienced decades earlier.

Merchant Ivory's production of "Heat and Dust" was a lavish one set in palaces and beautiful landscapes, with places borrowed for the Nawab's residence in the 1920s section. With the royals of India losing power and privilege in the 1970s, taxes and redistribution of wealth took a toll on their rich and extravagant lives. With the enormous palaces and land that could not be kept, some were abandoned while others were made into tourist attractions or hotels. The palace used for the film was relatively untouched with rich artifacts and items placed as is, so there was no need for sound stages or recreation of the period. Things were not exactly smooth as planned with production though, as with many Merchant Ivory productions, their financial resources were limited and strings had to be pulled in many directions to keep the production going, At one point a strike almost started when crew members learned that they hadn't been paid accordingly since Merchant Ivory was basically bankrupt and in debt while in production. Producer Ismail Merchant somehow kept things afloat until the end, but there were a few close moments when production could have been completely delayed. Director James Ivory who is able to bring characters to life for the screen with an almost natural ease with their limited resources shines as usual here, bridging the story of two women in wondrously differing times.

"Heat and Dust" was especially important for Merchant Ivory productions, as it marked the twentieth anniversary of Merchant, Ivory, and Jhabvala uniting together for their first feature "The Householder". It was their biggest production in scale and the gamble paid off, becoming their most financially successful film at that point, and one of their most critically acclaimed, nominated for the Palme d'Or at the Cannes Film Festival, and winning four out of eight BAFTAs that year, with Best Screenplay, Best Cinematography, Best Costume Design, and Best Director. The film paved the way for Merchant Ivory's most successful period, with "Remains of the Day" and "Maurice" on the way. Compared to other India based epics such as "Gandhi" and "A Passage to India" the film may not have the same reputation, but is still another wonderful entry in the Merchant Ivory filmography.

Note this is a region B Blu-ray set

Video


The BFI presents "Heat and Dust" in the original theatrical aspect ratio of 1.66:1 in 1080p AVC MPEG-4. The 4K restoration from the original camera negative held at the George Eastman Museum Archive was done by Cohen Media Group in part of their Merchant Ivory restoration project. The final grading of the digital restoration was approved by James Ivory. The film opens with the Cohen Media logo. An especially colorful film that certainly has differing qualities compared to the 1920s scenes with its shimmering look and a more vibrant look in the modern 1980s scenes, the restored image is quite wonderful. Detail is very clear and the image is very clean with no major instances of damage or debris with film grain left intact for a truly filmic look. A very strong transfer from Cohen Media and the BFI.

The film's runtime is 129:53.

Audio


English DTS-HD Master Audio 5.1
English LPCM 2.0 stereo
There are two audio tracks available, a lossless 5.1 mix and an uncompressed stereo mix and both are very good. The 5.1 audio track restoration was completed at Audio Mechanics from the original 35mm magnetic track, also held at the George Eastman Museum. The track uses its surround tracks for the music and effects mostly for atmospheric use, with the subtle score by Richard Robbins played well, though rear channels are not used very much overall. Dialogue is almost always from the center channel and there are no issues with fidelity, and note that the track is labeled "English" though there are some moments in Hindi and Urdu that are left untranslated on purpose. The track is very well balanced with music, effects, and dialogue throughout. The stereo track is also fairly balanced though obviously lacks the separation of channels as found on the 5.1 track.

There are optional English HoH subtitles for the main feature in a white font, captioning the English portions. The Hindi and Urdu portions are not subtitled intentionally.

Extras


DISC ONE

The Guardian Interview: Ismail Merchant, James Ivory, and Ruth Prawer Jhabvala (100:32)
In this interview moderated by John Pym at the National Film Theatre, Merchant, Ivory, and Jhabyala discuss in length about their career right when "Howards End" was coming around. They discuss about their early days together as well as information on the shooting of "Autobiography of a Princess", "Jane Austen in Manhattan", projects that fell apart, difficulties in financing for their projects, the E.M. Forster films, and more. This is an audio only extra, which plays as an alternate audio track over the film. Once the Q&A ends, the audio reverts back to the film's soundtrack.
in English Dolby Digital 2.0 with no subtitles

"Greta Scacchi and Nickolas Grace Remember Heat and Dust" 2017 interview (41:55)
In this 2017 interview conducted by professor Claire Monk, Scacchi and Grace remember the film by going through the casting process, working with the Merchant Ivory team, the treatment of actors by Ivory, the film almost being shut down due to lack of funding during production, the reception and their personal reactions, and more.
in 1080p AVC MPEG-4, in 1.78:1, in English Dolby Digital 2.0 with no subtitles

"Heat and Dust" Original Theatrical Trailer (1:36)
"An epic of the heart" says the great original trailer which is quite faded in color.
in 1080p AVC MPEG-4, in 1.66:1, in English LPCM 2.0 with no subtitles

"Heat and Dust" 2017 Restoration Trailer (1:58)
A beautifully restored new trailer that showcases the vivid colors, though focusing a little heavy on the 1920s side of the story. The trailer has also been embedded below.
in 1080p AVC MPEG-4, in 1.66:1, in English LPCM 2.0 with burned-in English subtitles for non-English portions


DISC TWO

"Autobiography of a Princess" (58:19)
In 1975, Merchant Ivory released an hour long television film "Autobiography of a Princess" starring Madhur Jaffrey as the princess and James Mason as her friend and former worker at her palace. Living in exile in England, the two watch silent footage of her family in the days when the royals ruled the lands and reminisce of the times. Intercut in between are interviews with actual former royals who recount their former lives and how things have changed over the years, and mostly for the worse for them. Initially the Merchant Ivory team helped preserve a private collection of silent home movie footage of Indian royals from the 1920s and 1930s which in turn led to making a documentary about how the life of royals changed after the 26th amendment. The project was put on hold due to lack of finance (as usual) and no clear way of materializing the material. Eventually a wraparound script featuring an exiled princess and an Englishman was written by Jhabvala and presented as a short feature. Volkswagen of all companies provided much of the funding as well as the royalties from Harper books for the publishing rights for "Heat and Dust". The film was screened at some festivals and was broadcast on PBS in America. The film was restored by Cohen Media Group and transferred to 2K from the original 16mm picture negative, 16mm colour reversal intermediate picture negative, and 16mm magnetic track, all held at the archive of the George Eastman Museum. The digital restoration and final grade was approved by James Ivory. The scenes with Jaffrey and Mason look quite good with bold colors and showcasing the 16mm roots. The vintage silent footage have noticeable wear and tear as expected, but the interview sections are also quite poor with cuts and scratched as well as instability most likely due to the source material.
in 1080p AVC MPEG-4, in 1.33:1, in English LPCM 1.0 with optional English HoH subtitles

"Merchant Ivory's Royal India" interview with James Ivory and Chris Terrio (33:18)
In this 2017 interview conducted by screenwriter Chris Terrio, bandaged-on-the-forehead Ivory talks about the genesis of "Autobiography of a Princess" and how it came to be, the connection between the film and with "Heat and Dust", favorite moments from the films and their reception.in 1080p AVC MPEG-4, in 1.78:1, in English Dolby Digital 2.0 with no subtitles

Q&A with Madhur Jaffrey (21:44)
In this 2017 Q&A at Quad Cinema in New York, Jaffrey talks about her relationship with Merchant Ivory and being central to introducing the two men in the 1960s, her roles in both "Autobiography of a Princess" and "Heat and Dust", working with Mason, and more. There are sound issues with the first two minutes of the Q&A but the mics are plugged in to sound much better.
in 1080p AVC MPEG-4, in 1.78:1, in English Dolby Digital 2.0 with no subtitles

"Indian Durbar" 1940 travelogue short (10:48)
In this Technicolor vintage travelogue directed by John Hanau and shot by Jack Cardiff, it showcases the mystical east with a parade and ceremony of a maharajah. There are some specs and cuts in the image with some faded colors, and the audio is a little on the hissy side.
in 1080p AVC MPEG-4, in 1.33:1, in English LPCM 1.0 with no subtitles

"Our Greatest Ambassador" 1921/1922 short (33:12)
In this silent footage that follows The Prince of Wales with his visit to India and its neighboring countries, there are moments of traditional ceremonies, footage from the riverside, elephant trekking, temples, tiger hunting, a visit to the Taj Mahal and more. There is accompanied music by Chris Zabriskie for the footage.
in 1080p AVC MPEG-4, in 1.33:1, Music LPCM 2.0 with no subtitles

"Delhi - Jubilee Review 1935; Jaiour: Jotwara" amateur film (12:44)
Shot in 1935 by Colonel George Craster of the Indian Army in Delhi and Jaipur, it includes a maharajah ceremony as well as some other local gatherings.
in 1080p AVC MPEG-4, in 1.33:1, Music LPCM 2.0 with no subtitles

Stills Gallery (7:55)
Lobby cards, behind the scenes stills in both color and black and white, for both films.
in 1080p AVC MPEG-4

"Autobiography of a Princess" 2017 Trailer (1:06)
The restored reissue trailer is presented here.
in 1080p AVC MPEG-4, in 1.33:1, in English LPCM 1.0 with no subtitles

Booklet
A 30 page booklet is included in the first pressing. Firstly there is "Notes on Heat and Dust and Autobiography of a Princess" written by James Ivory as he gives insights into the making of both productions and their connection. Next is "Heat and Dust" by John Pym who gives a nice overview with many spoilers of the production. There are also contemporary reviews of both films from Sight and Sound magazine from 1975 and 1983. Last there are stills, credits, transfer information, and acknowledgements.





The film was released on Blu-ray by Cohen Media Group in the United States in 2017, prior to this BFI release for the UK. "Autobiography of a Princess", interviews with Greta Scacchi and Nickolas Grace and with Ivory, and the trailers are the same, though it also adds some extras that are not on the UK Blu-ray. These include the extras produced by The Criterion Collection for their DVD edition, which are an audio commentary by Ismail Merchant, Greta Scacchi and Nickolas Grace, an introduction to "Autobiography of a Princess", and an interview featurette with Ismail Merchant, James Ivory, Ruth Prawer Jhabvala, and Richard Robbins. These were unfortunately unavailable for the UK release, but the exclusive extras on the UK BFI release are very lengthy and pleasing.

Overall


"Heat and Dust" is a wonderful drama of womanhood and empowerment in two different periods, showcasing the vast beauty of the human soul with consequences along with the grand vistas of India in one of Merchant Ivory's finest. The BFI Blu-ray set features a great amount of extras with a solid transfer in both audio and video, making it very recommended.
| | | | | |
| --- | --- | --- | --- | --- |
| The Film: A- | Video: A | Audio: A | Extras: A | Overall: A |