The Film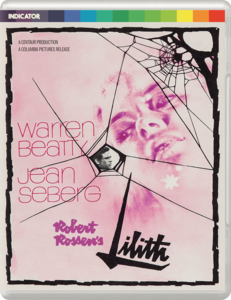 The final film by the great, yet underrated Robert Rossen (All the King's Men, The Hustler) is a compelling tale of love, madness, and forbidden desire. Warren Beatty (Mickey One, The Fortune) stars as a young war veteran who takes a job as on orderly in a local asylum and falls under the spell of beautiful schizophrenic, Lilith (Jean Seberg – A Bout de souffle, Bonjour Tristesse).

Boasting a superb supporting cast that includes Peter Fonda, Jessica Walter, Gene Hackman and Kim Hunter, Rossen's delicate and powerful film is one of the most under-appreciated American films of the 1960s.

Video


Vincent Bruce (Warren Beatty) having just left the army trains to become an occupational therapist at a mental institution. One of his patients, Lilith Arthur (Jean Seberg) who's suffering from schizophrenia, is beguiling enough that he falls for her.

An intelligent, well made film with fine performances but it struck me as a little heavy-handed; it's raining a lot of the time, seemingly to represent melancholy. I also found the romance subplot unconvincing despite all the talk that Seberg's character is seductive. As written and played she comes off as more annoying that alluring and Beatty a fool. Which I suppose is one of the points it's trying to make.

Still, it's great to look at and enjoyable enough even if it's approach is more melodrama than drama. It'd make a great triple-bill with Spellbound (1945) (inferior) and Psyche 59 (1964) (superior).

Lilith looks splendid having been shot by Eugen Schüfftan with well lit interiors and dazzling location work. Schüfftan was the man responsible for the Schüfftan technique pioneered in Fritz Lang's Metropolis (1927); a SPFX process best explained in this quote from Wikipedia:



Schüfftan placed a plate of glass at a 45-degree angle between the camera and the miniature buildings. He used the camera's viewfinder to trace an outline of the area into which the actors would later be inserted onto the glass. This outline was transferred onto a mirror and all the reflective surface that fell outside the outline was removed, leaving transparent glass. When the mirror was placed in the same position as the original plate of glass, the reflective part blocked a portion of the miniature building behind it and also reflected the stage behind the camera. The actors were placed several meters away from the mirror so that when they were reflected in the mirror, they would appear at the right size.

In the same movie, Schüfftan used a variation of this process so that the miniature set (or drawing) was shown on the reflective part of the mirror and the actors were filmed through the transparent part.



Lilith itself doesn't seem to have such special effect shots but when mentioning Schüfftan it needs saying because he really was a pioneer.

Anyway, back to the image ...

There is plenty of grain to be seen but it's very fine and even, handled very well by the encoding wizardry of Fidelity in Motion with no signs of clumping, holes in the grain or dreaded digital splats. Obviously, any scenes of optical work like opening and closing credits and scene transitions typically show a drop in quality with sharpness and detail suffering.

Shot non-anamorphic 1.85:1 the film has a splendid greyscale look with a generally sharp image untouched by any digital artefacts or damage. Being a prestige production, and celebrated director Rosen's last film, I suspect it had everything money could buy including the best film stocks and a generous production schedule. As a side note this was reportedly a troubled production but it certainly doesn't show in the end result, at least not technically.

A lovely disc of a forgotten film from Powerhouse Films; fast becoming one of the very best home video labels going, indeed of all time.

1080/24p / MPEG-4 AVC / 1.85:1 / 113:56

Audio


English LPCM 1.0
Subtitles: English HoH

Solid mono track that gets the job done; there's not much depth but dialogue is always clear. About as good as we can expect given the source. It's clean and clear of any distortions or defects. Subtitles are essential and present. Top notch work.

Extras


"The Guardian Interview with Warren Beatty: Conducted by Christopher Cook at the National Film Theatre, London on 6 July 1990" plays as an alternate audio track over the film (86:30)

These screen talks are always excellent value for money. This one is a wide-ranging discussion of Beatty's career. Originally to accompany the release of Beatty's Dick Tracy (1990 - a crying shame Powerhouse can't release that) which seems to have had it's UK premiere with this screen talk as accompaniment. Beatty was and still is a wily old Hollywood bird and has made his fair share of classics and howlers. Lilith is certainly in the upper echelon of his films.

"The Suffering Screen" featurette (24:45)

An excellent visual essay by Amy Simmons, a Brighton-based critic and journalist who has written various monographs on film. Here she analyses the depiction of female madness on the big screen.

"The Many Faces of Jean Seberg: Pamela Hutchinson on Jean Seberg" featurette (7:53)

A very fine analysis of the late actress's career by writer, critic and blogger Hutchinson.

Theatrical trailer (2:30)

Trailer typical of the period emphasising the serious nature of the drama.

Lilith Image gallery: Original Promotional Material (22 images)

Pretty standard HD image gallery.

36-page liner notes booklet with a new essay by lecturer and broadcaster Richard Combs, an overview of contemporary critical responses, archival articles, and film credits

Combs gives us a valuable discussion of the films themes and an analysis of the source novel to which the film is very faithful. The cast of faces is also gone into in some detail. Otherwise the usual excellent selection of contextual material.

Overall


A film that's largely forgotten has been brought back into play in the UK; the modus operandi of Powerhouse Films! We have topnotch image and sound, given the age and sources which are in excellent shape have been well managed by Sony. Extras are also essential in the appreciation of the film. What more is there to say: Another winner from Powerhouse and an essential purchase for those who're interested in the film or the careers of those involved.
| | | | | |
| --- | --- | --- | --- | --- |
| The Film: B- | Video: A+ | Audio: A | Extras: A | Overall: A |