The Film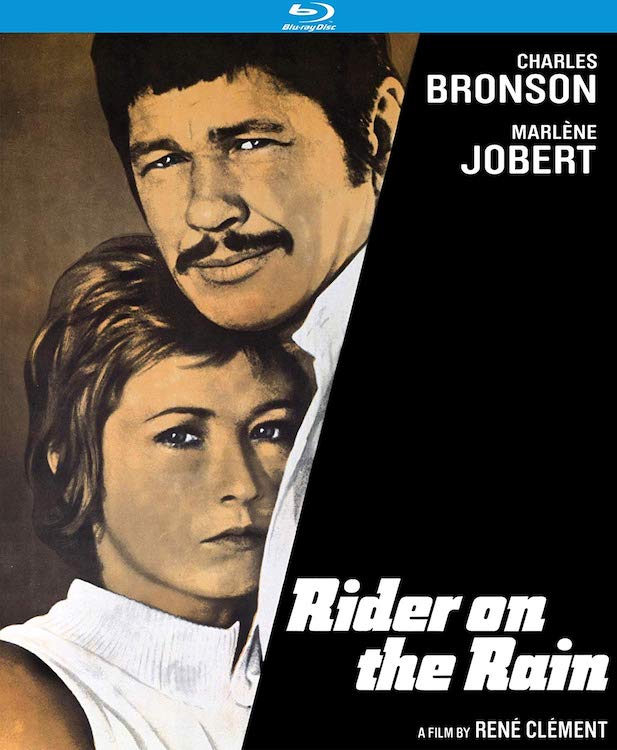 The film begins with a quote from author Lewis Carroll's "Alice in Wonderland" and that means that we should be on guard for surprises, but also that the heroine of the film, Melancolie "Mellie" Mau (Marlène Jobert) is a stand in for Alice, and she is in store for an adventure that will be equally as disarming.

Directed by René Clément with an assured hand and a definite sense of style, this film harkens back to classic Alfred Hitchcock. The film is set in the seaside town of Cap des Pins in France and it is the off season so it appears that the town is empty. It is raining and the local bus comes through; an odd looking stranger (Marc Mazza) is dropped off and he walks into town carrying a small red flight bag. Mellie sees the man and remarks to her sarcastic mother, Juliette (Annie Cordy) that "he must have ridden in on the rain." The Doors fans take note: this film provided the inspiration to Jim Morrison for the song "Riders on the Storm." Mellie is often alone because her possessive husband Tony (Gabriele Tinti) is a flight navigator and is away for several days at a time. Mellie heads to town to stop at her friend Nicole's (Jill Ireland) clothing shop to pick up a new dress for tomorrow's wedding. While trying it on, she notices that she is being intently watched by the bus riding stranger through the shop window. Once home she discovers that Tony won't be home until the next day. Director René Clément really increases the tension dramatically showing us a disturbing scene where the stranger, with his face obscured by a stocking over his face, now attacks and rapes Mellie while she is preparing to take a bath. She comes to later and phones the police, but refuses to report the incident. Sitting alone in her house, Mellie hears a strange noise and realizes to her horror, that the stranger is still in the house and he is not finished with terrorizing her. Arming herself with a shotgun, she yells at the intruder, allowing him to leave her house, but the man has obviously has underestimated his victim and Mellie gives the man both barrels. He is located in the cellar and she approaches the fallen man, he comes to and grabs her new dress, removing a button in the process. Completely calm, Mellie transports the body to a nearby cliffside and pushes it into the sea.

Director René Clément directs the above scene with complete assurance and because of the violence involved and the body disposal; you can definitely see the Hitchcockian association. It seems that Mellie has nothing on Norman Bates as she skillfully lies her way through a police road block all the while with a corpse in the back of her station wagon. Mellie's appearance is very much a product of the 60's, with her pixie cut short hair, her modish white rain jacket and matching white ankle boots, she is the picture of innocence, but do not make the mistake that the stranger made. As we shall see, Mellie is a formidable opponent. It is not until 30 minutes into the film that her nemesis Col. Harry Dobbs (Charles Bronson) makes an appearance at the wedding and it appears that he knows everything that Mellie had done. Dobbs is a smiling American Colonel that is looking for the stranger but he doesn't know everything that happened to Mellie, but he does an admirable job playing amateur detective engaging in head games with Mellie who doesn't want to reveal her secrets. In an interesting aside, my wife did not like this film at all, and she felt that there was a definite gender basis going on. All the reviews that I read were written by men, and I was curious as to how a leading female critic, like say Pauline Kael, felt about the film.

The rest of the film really boils down to the cat and mouse games between Dobbs and Mellie as we learn that the stranger, named MacGuffin, had $60,000 in US dollars with him in his red flight bag and that is what Dobbs is after. That and the truth. Mellie does her own breaking and entering to Dobb's hotel room and discovers his identity and that he is on a secret mission. He returns and tells her that another woman has been arrested for the murder. This woman works at a restaurant in Paris and Mellie is upset to learn that an innocent person is being prosecuted for the crime that she committed. Mellie jumps on a jet and seeks the woman's sister out, who works in a brothel, and while there three criminals rough her up. Just in the nick of time, here comes Bronson (sorry, I couldn't resist) and he saves her from these goons. Dobbs takes her home and then reveals that the body that was found on the beach wasn't the rapist, but another man. Yes, the other woman had killed him and buried his body on the beach, but what about Mellie's attacker? MacGuffin was the man that Dobbs was pursuing and he was an escaped US military prisoner who was guilty of raping three other women. Are you confused? You should be because this entire riddle is unraveled in an awkward set of circumstances. Bronson as Dobbs is a mythical figure with his chiseled stone face and confusing manner. One minute he's calling Mellie "love love" and the next he is interrogating her, forcing her to drink scotch until she is inebriated. Mellie finally reveals where she dumped the body and it is discovered by some frogmen. Dobbs can finally close the case but he doesn't reveal to the local authorities that Mellie was involved in the man's murder. Dobbs places the lost button from her dress in her hand and it is the final clue to the mystery.

The film is cunning in its use of the heroine's POV as all information for the first 90 minute is through her eyes and senses. This enables the audience to completely be in line with her character's feelings: a small child lost in a very adult world. Again, like Alice in the quote at the film's beginning, she is falling down a very deep hole, but this time when she arrives out the other side, she is all grown up.

Bronson's performance is interesting. After years of seeing him as an embittered man of action, in this film he is a pursuer, instead of the pursued. His performances are nuanced and thoughtful and his exchanges with Jobert display a real depth that American films preferred to overlook. It isn't until his rather small, but moving performance in Sean Penn's film "The Indian Runner" (1991) as Mr. Roberts that we see this side of him revealed. Overall, this is a very interesting film that gives US audiences a chance to experience the European Bronson.

In 1970, the film was awarded the Special David of the David di Donatello Awards. In 1971, it won the Golden Globe for Best Foreign Language Films and was nominated for the Best Motion Picture of the Edgar Allen Poe Awards, and also the Golden Laurel. The film was shot in both English and French languages with Bronson learning his lines in phonetic French so his own voice would be used for the soundtrack. The film was a huge smash in Europe and was the third most popular film of 1970.

This presentation includes two versions of the film, the English Version which runs for 114 minutes 12 seconds, and a longer French Version which runs for 118 minutes 10 seconds.

Video


The English version is framed at 1.78:1 widescreen and the French version is framed at 1.85:1 widescreen, both transfers are in HD 1080p 24/fps using AVC MPEG-4 compression. The palette is very subdued with much of the film taking in place in interiors. When the charters are outdoors, it is cloudy and somewhat overcast. The flesh tones are very good and even Bronson looks good. The film doesn't engage in overly complicated shots focusing mostly on the two character's faces and expressions.

Audio


The English Version includes a soundtrack in English DTS-HD Master Audio 2.0 mono and the French Version features a soundtrack in French DTS-HD Master Audio 2.0 mono. The score by Francis Lai is first rate and helps establish the mood of the film right from the start. "Rider on the Rain" is the main theme with lyrics written by screenwriter Sébastien Japrisot and sung by Séverine. Optional subtitles are included on English only on the French Version.

Extras


One may listen to an audio commentary by three critics, Howard S. Berger, Steve Mitchell, and Nathaniel Thompson as they attempt to outdo each other and ridicule the other man's French pronunciation as they discuss the finer parts of the film's history.

The disc includes the original radio spot (0:59).

There are theatrical trailers for:

- "US" theatrical trailer (3:52).
- "US" teaser trailer (1:14).

There'a also a collection of bonus trailers for:

- "Cold Sweat" (2:35)
- "Mr. Majestyk" (1:32)
- "Heartbreak Pass" (3:06)
- "The White Buffalo" (1:50)

There is also a reversible cover featuring original cover art and a more typical Bronson action cover from the press kit.

Packaging


Comes packaged in a standard Blu-ray case.

Overall


Despite its overly ambitious thriller premise, this really is a film about the two main characters and their interactions. Bronson and Jobert really are the glue that holds this film together.
| | | | | |
| --- | --- | --- | --- | --- |
| The Film: A | Video: A | Audio: A | Extras: B+ | Overall: A- |