The Film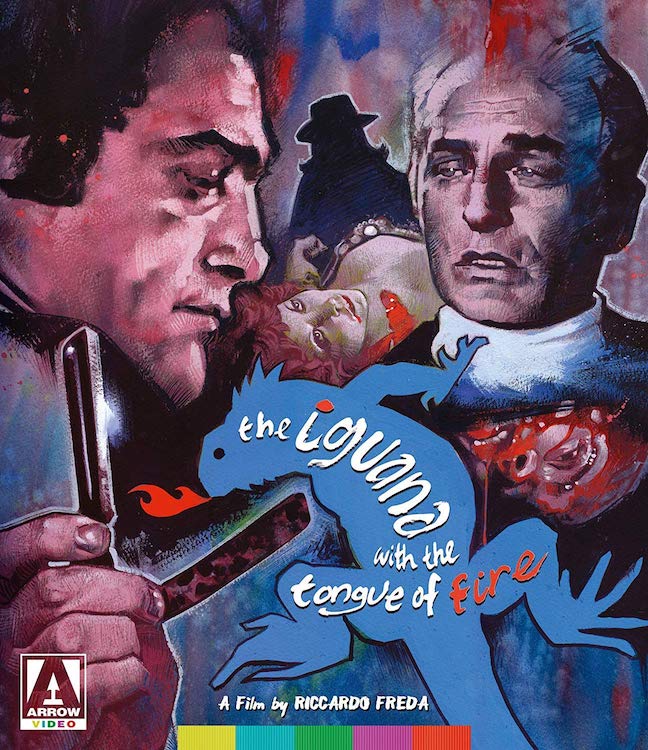 "The Iguana with the Tongue of Fire" is a great title, but a not so great giallo. Cashing in on the Dario Argento inspired trend of naming your thrillers with an animal hybrid trend of the 70ís, we have yet another not so much a classic film, but more so a puzzling piece of Italian inspired chicanery with plenty of suspicious characters, violent death scenes, a world weary ex-cop, and it all takes place in Dublin, of all places.

Donít come looking for anything resembling a sensible plot line from this one, instead just ease into it like a hot bath, and simply absorb the film as it unwinds before your eyes. We begin with the rather bizarre murder of a young woman as she sits at home by a sunglasses wearing black gloved intruder; he first tosses acid into her face and then eagerly slits her throat with a straight razor. The special effects are notoriously hokey and laughable, but Director Riccardo Freda (credited here as Willy Pareto) must like the red stuff because the camera gets in good and close for these shots. Forget that we have no clue who the victim is or why she needed to die such a violent death, this is merely the directorís way of jump starting the film and we are off to the races.

The next scene is in front of a large country estate and several members of what turns out to be Swiss Ambassador's Sobiesky (Anton Diffring) family members as they are about to get into a limo, but first meddling son Bernard must open the carís trunk so that we can see the bloody naked corpse wrapped in plastic. How it got there is just another one of those nagging questions that you must dispatch from your mind and go with the flow. Obviously we are to think that the chauffer is a suspect because he has a pair of ominous dark glasses on the front seat and the soundtrack plays some dark tune while the camera lingers on them. I warned you that red herrings abound and so do plenty of misleading characters such as this and we are just beginning. Since the ambassador has diplomatic immunity, the police cannot question him, the cops turn to ex-inspector John Norton (Luigi Pistilli) who is a regular citizen with a shady past. It is revealed that Norton was kicked off the force because a suspect that he was interrogating committed suicide with Nortonís sidearm. A flashback is shown several times with the death scene in slow motion (the crimson sprays all over the wallpaper)! Otherwise Norton lives at home with his hearing aid wearing elderly mother and his teenage daughter. Soon after yet another woman is found murdered, again with ties to the ambassador; his mistress, a nightclub singer (Dominique Boschero) is found slashed to death after she abruptly left her dressing room. Norton ends up picking up the ambassadorís haughty daughter Helen (Dagmar Lassander) and quickly ends up in bed with her. With this type of access to the daughter, Norton also has an opportunity to chat with the girlís mother (Valentina Cortese) who is a drunkard and a dope smoker as well. There is a delightful scene between the ambassador and his sodden wife that includes such tasty dialogue as the man bellowing ďYou b*tch! You f**king b*tch! ... B*tch! B*tch! B*TCH!Ē This film demonstrates an interesting study in family dynamics as the director cuts back and forth from Norton and his crime reading mother and the problems of the Sobiesky clan. There are many red herrings thrown in to confuse the viewer and a few characters appear on screen with no backstory, only to meet their end in a particularly nasty manner. The best way to enjoy this film is to simply not think too hard or deeply and just let it unwind in its own odd manner. And think, this is the only giallo, that I can recall, that was filmed in Dublin! Turn on the English dubbed version if you want to hear some really badly done Irish accents otherwise watch it in Italian with the English subtitles visible.

Arrow has restored this film, you may wonder why all the bother with this bewildering film, again, just be gracious to Arrow for the care taken. The film does looks incredible with plenty of opportunity to gaze at the prime locales utilized, including a breathtaking shot of Norton and Helen as they walk along the Cliffs of Moher in Dublin. The cinematography by Silvano Ippoliti is very nice as well, be it handheld shots or with a zoom lens, you get the sense that he was trying to rise above the mundane script and at least make the film visually interesting. The soundtrack by Stelvio Cipriani is a definite plus and helps the film smoothly move along. The film credit lists a book that the film was supposedly based on entitled "A Room Without a Door" by Richard Mann, but that turns out to be another dead end as the book is non-existent. Director Riccardo Freda was said to have been unhappy with the final product and substituted another name instead, Willy Pareto. Freda is mostly remembered for being the director for the stylish Italian gothic film, "The Horrible Dr. Hitchcock" (1962) and the Klaus Kinski film "Double Face" (1969); both films are much better than the one being reviewed. Part of the reason for my being so snarky was in the special effects department; the red stuff doesnít just leak out, it shoots crimson geysers of blood, but the blood looks like a bright shade of paint. Considering the effects that Mario Bava and Dario Argento were using, this film comes across as an amateurish effort with a meandering plot that is overpopulated with disposable characters. Not that sleaze fans wonít be chuckling at the filmís final maddening act of brutality as the killer, finally identified (who is also wearing a womanís wig and clothes) attacks Nortonís almost blind mother by repeatedly banging her head off the bedrail while his topless teenage daughter wanders around temporarily blinded by the killer. By this time my head was spinning when the killerís identity is revealed making me feel like I was watching a particularly bad episode of "Scooby Doo, Where Are You! " (1969-1970). The body count though is pretty high: 7, making this an enjoyable albeit confusing romp. The ending is very downbeat as the scene shows the ambassador being shipped off to another country without any punishment being implemented.

Video


Thank goodness that Arrow has seen fit to bring us this winner of a film because they have done their usual dazzling job on presenting the film in its best possible light. The film is presented with an AVC MPEG-4 encoded 1080p transfer in a robust 1.85:1 widescreen created from the original 35mm camera negative was scanned in 2k resolution. The result is a very good effort in making this film available for collectors and home viewers and gives the film a new life.

Audio


You have your choice of either English DTS-HD Master Audio 1.0 mono or Italian DTS-HD Master Audio 1.0 mono. The English dubbing is absurd with more than its fair share of horribly done Irish accents included. Play it on for easy laughs. Optional subtitles are included in English and English for the hearing impaired.

Extras


Arrow Video always makes good on giving the consumer their moneyís worth and this is no exception. The disc includes an audio commentary track featuring giallo loving fools Adrian J. Smith and David Flint.

"Of Chameleons and Iguanas" featurette (21:55), is a new video appreciation by Cultural Critic & Academic Richard Dyer.

"Considering Cipriani" featurette (25:58), is a new appreciation of the composer Stelvio Cipriani and his score for "The Iguana with the Tongue of Fire" soundtrack by enthusiast and DJ Lonely Jon.

"The Cutting Game" featurette (20:58), is a new interview with the assistant editor on the film Bruno Micheli.

"The Red Queen of Hearts" featurette (20:38), is a career overview of the actress Dagmar Lassander.

The disc includes the original Italian theatrical trailer (2:54), as well as the International theatrical trailer (2:54).

Two Image galleries are included for:

- Stills, lobby cards, posters, press and home video sleeves.
- Cinesex fotoromanzo photo novel.

There is a collector's booklet featuring new writing on the film by Andreas Ehrenreich.

The package included a reversible cover art featuring the original artwork and newly commissioned artwork by Graham Humphreys.

Packaging


Comes in a transparent Blu-ray keep case.

Overall


I am giving this one high marks for the talented cast and the use of scenic locales; the overall picture is impressive and arrow gets high marks for the restoration efforts.
| | | | | |
| --- | --- | --- | --- | --- |
| The Film: B- | Video: A | Audio: A | Extras: A | Overall: A- |