The Film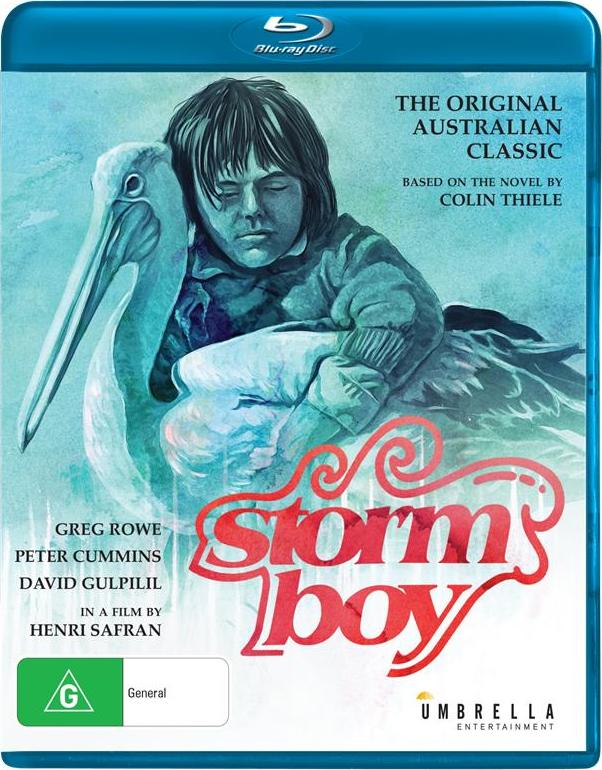 "Storm Boy" (1976)

Tom Kingley (played by Peter Cummins) lives with his 10 year old son Mike (played by Greg Rowe) on the rural coast of South Australia, cut off from society. "Hide-away" Tom, as he is called, makes his living as a fisherman while also teaching his son the trade. Mike has no one else to talk to or interact with as he does not go to school, but suddenly finds a friend with an aboriginal man in the area who calls himself "Fingerbone" Bill (played by David Gulpilil). But one day when Mike encounters some hunters shoot down a pelican which leaves her three baby birds alone, he decides to take it upon himself to raise them. The father is hesitant but eventually accepts as long as Mike assumes complete responsibility. While becoming a surrogate parent for the pelicans, Mike is also growing, including questioning his own life and purpose.

Novelist Colin Thiele wrote more than a hundred books during his lifetime, with many concentrating on children's views and rural life. "Storm Boy" was first published in 1964 when he was 44, and became a highly regarded book for children as it dealt with growing up, conflict between parent and child, the importance of education, as well as life and death. In 1976, the South Australian Film Corporation produced their third feature film, which was an adaptation of the book, following the highly acclaimed "Sunday Too Far Away" and "Picnic at Hanging Rock", both in 1975. Considering that the film would focus on a young ten year old boy and his emotional journey, it's quite amazing that this was the first acting role for Greg Rowe. The journey that he takes is an ever changing one. At the start of the film, the character of Mike has very basic knowledge of the world. Living like a hermit where listening to the radio is prohibited by his father and no having a formal education, the illiterate boy is almost alien like as he does not have what many in modern society take for granted. It's with the encounters with Fingerbone Bill and the orphaned baby pelicans that bring a purpose to Mike, or as Fingerbone calls him, "Storm Boy". Through his time raising the birds he is constantly learning about nature and taking care of and training them. Of the three, one pelican decides to stay behind after becoming fully grown and that is Mr. Percival, which Mike named. But it's not all fun and games. Social workers are concerned that Mike is not receiving elementary education. The birds feeding on fish also means less for Tom. Danger lurks around, whether it is a poisonous snake or rowdy drunkard teens in dune buggies causing a ruckus. In addition, Mike is questioning other things. Why does his father choose to live as a recluse? Why isn't he in school with other children? What really happened to his mother? Rowe makes quite an impression with his screen debut, giving a sense of wonder and emotional depth to the character of Mike. Many of his scenes are alone or just with the pelicans but he is still able to give a very touching and vibrant performance.

In addition, the characters played by Cummins and Gulpilil are both differing father figures to the young boy. Cummins plays the character of Tom very strictly. One that seems to be heartless but in actuality is one suffering from a broken heart. He might be somewhat distant from his son and from society, but he certainly believes in doing the right thing. Gulpilil's character of Fingerbone on the other hand is one that sees a bright light starting to shine within Mike. One that is starting the realize the world is much bigger, much more complex, and much more wondrous. He gladly teaches Mike how to read, how to help with the pelicans, and is like an older brother he never had. Cummins is great and Gulpilil is as always a strong entity on screen. Directed by Henri Safran and lensed by cinematographer Geoff Burton, the visuals are truly great with the South Australian landscape bordering on the Southern Ocean and the sand dunes are very well captured but the central core that holds the film together is the "Storm Boy" Mike and Mr. Percival the pelican. Truly heartwarming and also heartbreaking, "Storm Boy" can stand alongside films such as "Old Yeller" or "Kes" as symbolic films of children and their companion pets. And like any other movie dealing with animals, the pelicans proved to be unpredictable and troublesome, with randomly flying off during takes and sometimes attacking people. On September 2, 2009, the pelican that played Mr. Percival died at the age of 33 at the Adelaide Zoo.

"Storm Boy" was a massive financial and critical success, grossing more than $2.6 million theatrical while the production budget was $320,000. It won three AFI awards including Best Picture, Best Director, and Best Actor for David Gulpilil, and was fairly widely distributed outside its native country. In 1977, Colin Thiele was he was made a Companion of the Order of Australia for his services to literature and education, and since then the film, like the book has become a staple in Australian classrooms for generations. It took sometime for an official theatrical remake, and in 2019 the "Storm Boy" remake hit cinemas starring Jai Courtney, Geoffrey Rush, and Trevor Jamieson, and in a cameo appearance, David Gulpilil as Fingerbone's father. The game "Storm Boy" based on the story for PC/PS4/Xbox One/Switch was also released in conjunction with the film. Only time will tell if the updated film will match the love the original version received.


"Blue Fin" (1978)

Bill Pascoe (played by Hardy Kruger) is a tuna fisherman with a small crew, who sometimes takes his 12 year old son Steve (played by Greg Rowe) on the boating trips. Bill can be especially tough as a captain, and that can extend to his treatment of his son who is nicknamed "Snook", as well as towards shipmate Sam (played by John Jarratt), who is dating the captain's older daughter Ruth (played by Liddy Clark). Quite a few issues happen, from men going overboard in heavy weather and the crew not being able to fish as much as expected. The high seas adventure can also prove to be quite deadly...

Following the massive success of "Storm Boy", the South Australian Film Corporation looked to produce another adaptation of a Colin Thiele story. Much of the crew reunited for "Blue Fin", based on the 1969 book, which has some similar qualities to "Storm Boy", but altogether a different tale. The boy is again played by Rowe, this time being about two years older and his voice cracking. The father is a strict fisherman, yet not working alone but with a crew. The differences also come with the family dynamic, with the Pascoe family having a mother and older sister figures, and not having an animal tale, instead relying on Snook's relations with his school peers and his family. Although there is one minor scene of Rowe playing with some pelicans at the beach which is a definite homage to "Storm Boy". Much of the crew also returned, with screenwriter Sonia Borg, cinematographer Geoff Burton, composer Michael Carlos among others sharing behind the scenes roles.

While "Storm Boy" focused on the growth of the boy, "Blue Fin" has multiple characters with multiple struggles. Bill and his troubles as a captain keeping his crew together and his pride being hurt by the lower number of catches, the dissolving relationship between Bill and Sam reflecting Bill's relationship with his daughter, the issues with many of the townsfolk, and much more. A bigger ensemble cast and a wider scope, the film's focus on the father-son relationship suffers a little as it cannot concentrate on their relationship as much as it did in "Storm Boy". The tone can get a bit inconsistent with scenes such as the kids playing a prank with the giant tuna at the town hall in comparison with the funeral scene later on. There was trouble on production in the editing process, as it was done at a state when the film seemed incomplete after the six week shoot ended. The film's director Carl Schultz was already on another project so filmmaker Bruce Beresford was called in for additional photography to bridge the gaps. Kruger was unfortunately absent and had to be replaced with body doubles at times, but the film was somehow brought to completion in a full state.

"Blue Fin" was not a hit on its release. The $750,000 film just barely grossed $700,000 theatrically and was not a contender for the awards season. Although fun and adventurous with an almost impossibly miraculous ending, the inconsistent tone of the film just cannot be brought to the higher standard that "Storm Boy" did.

Note this is a region ALL Blu-ray.

Video


Umbrella Entertainment presents "Storm Boy" in the original theatrical 1.85:1 aspect ratio in 1080p AVC MPEG-4. A 4K restoration was undertaken by Umbrella, scanned from the original interpositive. The image is very good but as a 4K restoration goes it does seem a little underwhelming. The stylized colors are on the darker side, there are minor damage marks remaining, and detail is not the strongest in certain scenes. On the positive side almost all damage has been removed leaving a clean image while maintaining film grain for a natural look. It looks fair and pleasing, but not a revelation at any rate.

"Storm Boy" has a runtime of 88:36.

"Blue Fin" is in the 1.78:1 aspect ratio in 720p AVC MPEG-4. For this film Umbrella Entertainment did not remaster the film but went with an older standard definition master and upscaled it to 720p. The widescreen image is actually not too bad, coming from a film source that was transferred to standard definition most likely in the digital age. There are no analogue issues such as tracking errors, but the film was not remastered so there are quite a lot of damage marks from scratches, debris, and stains as well as a constant damage on the very right side of the frame. Colors are drab and detail is lost on darker elements. It's still absolutely watchable and looks very good considering the standard definition source. The Blu-ray could have easily used a new transfer to make use of the high definition image, but possibly to rush the disc out during the time of the remake of "Storm Boy", it may have not been possible.

"Blue Fin" has a runtime of 90:21.

Update: A representative from Umbrella Entertainment states that the disc was not a "rushed out" job to capitalise on the 2019 remake film, and the reason for not remastering "Blue Fin" was that the market demand was not there. Instead "Blue Fin" and its supplements were basic ports from the previous DVD edition from standard definition. Thanks to Umbrella Entertainment for the information.

Audio


"Storm Boy"

English DTS-HD Master Audio 2.0 mono
The original mono track is lossless and sounds fairly good. The remastered track is well balanced with the music, effects, and dialogue, with one never overpowering another. Dialogue scenes are clear and easy to understand, and composer Michael Carlos' score comes in very effectively. There are some limitations due to the source material with a few scenes sounding flatter or echoey, but overall a pleasing experience.


"Blue Fin"

English LPCM 2.0 mono
The original mono audio may be uncompressed but it does feature some of the issues that the picture quality does. It can be a bit hissy and flat with some scenes, but overall it is a fair track with the dialogue being clear and easy to hear.


There are optional English HoH subtitles in a white font for both films.

Extras


Both films and extras are housed on one disc, with "Blue Fin" being a bonus film in the bonus features section.

"Story Makers: Colin Thiele" TV special (25:40)
In this 1988 TV special, it features interviews with author on his writing and his process, which are mostly asked by school children who are able to talk to the man himself. He shares details of his writing style and his inspiration, and reveals that "Storm Boy" only took a few weeks to write.
in 1080p AVC MPEG-4, in 1.33:1, in English Dolby Digital 2.0 with no subtitles

"Wild Reel: Hardy Kruger and Greg Rowe" (9:33)
Some raw takes of Kruger and Rowe promoting "Blue Fin" are presented here, with the two describing the story and some of the hardships they went through. It's unclear if there ever was a featurette edited as it is not included on the disc. This was entirely shot on film, but these raw takes come from an analogue video source which has a few analogue errors in the image.
in 720p AVC MPEG-4, in 1.33:1, in English Dolby Digital 2.0 with no subtitles

"Hardy Kruger Profile" TV special (24:39)
In this vintage TV special, it showcases the acting career of Kruger as well as being a lengthy promo for "Blue Fin" as he is interviewed on set and also talks quite a bit about the production and coming to Australia for the production. There are also some clips of his older films including "Flight of the Phoenix" and "The Wild Geese".
in 720p AVC MPEG-4, in 1.33:1, in English Dolby Digital 2.0 with no subtitles

"Storm Boy" Theatrical Trailer (3:56)
The remastered original narrated trailer which also comes from a remastered source with almost no damage to the image. There is a bit of screen wobble, but looks great overall.
in 1080p AVC MPEG-4, in 1.85:1, in English Dolby Digital 2.0 with no subtitles

"Storm Boy" VHS Trailer (0:25)
The VHS trailer featuring the some of the same narration as the original trailer, but obviously with limitations from the dated analogue source.
in 1080i 60hz AVC MPEG-4, in 1.33:1, in English Dolby Digital 2.0 with no subtitles

Theatrical Trailer (2:55)
Coming from a video source, the vintage narrated trailer shows off the laughs, the action, and the adventure.
in 720p AVC MPEG-4, in 1.33:1, in English Dolby Digital 2.0 with no subtitles


The set features some nice extras, especially the vintage interviews with Thiele and Hardy. It's unfortunate that some new extras weren't produced, such as interviews with David Gulpilil, or even former child actor Greg Rowe. Rowe has not acted since becoming an adult, though he did give an interview for the 40th anniversary of "Storm Boy" which a audio excerpt can be heard here on Soundcloud,

The trailer for "Storm Boy" is embedded below.


The trailer for "Blue Fin" is embedded below.


Packaging


The cover is reversible, with the opposite side having the same artwork minus the Australian rating logo.

Overall


"Storm Boy" is an absolute classic of Australian storytelling and the 1976 film adaptation does not disappoint. "Blue Fin" has its moments but just doesn't click quite as well. Umbrella Entertainment's Blu-ray features a good transfer for "Storm Boy" but a lackluster dated one for "Blue Fin" with a good selection of extras, being recommended. Note that the film, video, and audio ratings reflect that of ""Storm Boy" and the extras rating reflectss "Blue Fin" being a supplementary film along with the other extras.
| | | | | |
| --- | --- | --- | --- | --- |
| The Film: A | Video: B+ | Audio: A- | Extras: B- | Overall: B+ |