The Film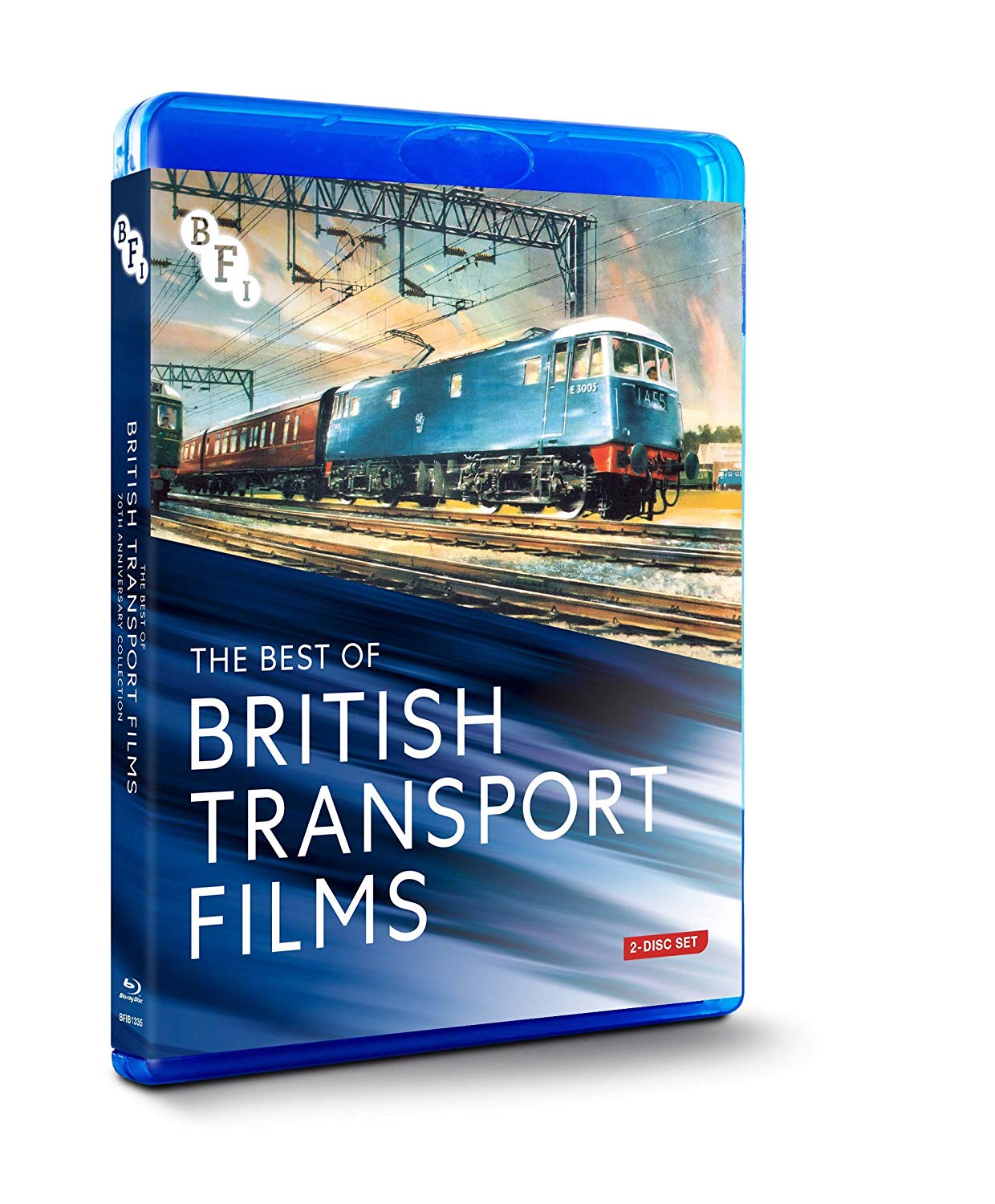 The Best of British Transport Films

From the earliest days of cinema, filmmakers have been fascinated by trains. From the early silent landmark "The Great Train Robbery" (1903), Buster Keaton's expensive and dangerous "The General" (1926), to the post-apocalyptic "Snowpiercer" (2013), generations have been fascinated by trains on film in various genres and situations. Documentaries prove just as wide, with filmmakers as well as amateur trainspotters around the world frequently taking photos and film of running trains for just as long. A milestone in technology as well as in expansion of transport and travel, the steam engine train may be the most important advancement of the 19th century. More than 200 years have passed since the first steam engine locomotive took its maiden journey in the United Kingdom on February 21, 1804, rail transport is still a main form of transportation by millions in the country and even more globally. Of course over the two centuries many additional advancements have been made, from the electric train system implementation, high speed railways, Maglev technology, to driverless automated railways, trains continue to be improved with new technology as well as with safety and cleanliness. (Well, maybe that does not apply to the New York subway system...)

In the UK, the railway system has been nationalized since 1947, following the 1947 Transportation Act. From January 1, 1948, the British Transport Commission was established, which under their umbrella had not only the railways, but also buses, roads, ports, docks, and more. This also included the establishment of British Transport Films, a division that would make PR travelogue films, training films, educational films, and more. Headed by documentary filmmaker Edgar Anstey who made countless news pieces during WWII. The small operation at the start grew over the years with a dedicated staff of filmmakers and film technicians, with many of them able to exercise creativity in their works. Anstey made sure to make good quality productions for BTF, which would be shown for internal use within the BTC, but also for the public in cinemas prior to main features, schools, or various events. There were various types of films made by BTF that set themselves apart from the standard industrial or educational films. Some shorts had narratives, with characters and dialogue. Whether they were people reenacting the day to day activities on the job in "This Is York" (1953), or actors playing characters reminiscing about a far off location by train in "A Letter for Wales" (1950), not every film was under the banner of the documentary genre. That even extends to Sterling Holloway performing as a bumbling conductor in the training film "The Third Sam" (1962). The productions were shot on various film stocks including 16mm and 35mm, and visually were impressive pieces, especially the ones shot in distant locations, from the Scottish Highlands to the coastal areas in Wales. The crowded stations in central London are seen, as well as high speed trains from helicopter shots or from adjacent trains. Speed, comfort, safety are all seen, as well as care for customers, the hard work of the various staff making the transport systems run, the various people and industries that rely on trains and other forms of transport, and also showcasing the various areas of the UK that could be traveled to by transport.

During the 25 years that Anstey was at the head of BTF, they won various awards including an Academy Award for "Wild Wings". In 1974, he retired and was replaced by John W. Sheperd, who served as the head until its closure in 1982. Over 700 films were made by BTF from 1946 to 1982, and quite a few of them have been released on video and DVD over the years. The BFI as the main rightsholder has curated a selection of short films from the BTF for the first time on Blu-ray with the two disc "The Best of British Transport Films", which is comprised of the following films:


DISC ONE

The Shorts (with Play All) (187:50)
- "Farmer Moving South" (16:56)
- "Train Time" (29:41)
- "This Is York" (20:52)
- "Elizabethan Express" (20:16)
- "Snowdrift at Bleath Gill" (9:56)
- "Any Man's Kingdom" (20:59)
- "Fully Fitted Freight" (20:13)
- "Every Valley" (19:36)
- "A Future on Rail" (8:41)
- "Between the Tides" (20:36)


DISC TWO

The Shorts (189:58)
- "A Letter for Wales" (21:55)
- "They Take the High Road" (24:22)
- "Blue Pullman" (23:34)
- "Terminus" (34:49)
- "The Third Sam" (9:17)
- "Rail" (13:16)
- "Railways for Ever!" (6:54)
- "The Scene from Melbury House" (14:51)
- "Wires Over the Border" (18:10)
- "Locomotion" (15:51)
- "Overture One-Two-Five" (6:53)


21 short films are presented in the collection and there are some wonderful gems to be seen. There are straight documentaries such as "Farmer Moving South" (1952) chronicling a farmer moving his entire farm via train and the difficulties faced in the cold winter move. "Snowdrift at Bleath Gill" (1955) showcases the snowplows that help the railways in winter. "Between the Tides" is a look at the marine life on the rocky coast, which was nominated for an Academy Award. Some of the films that showcase travel include "Elizabethan Express" (1954) in which the 393 mile journey between Kings Cross Station in London to Waverly Station in Edinburgh looks comforting and relaxing, complete with a buffet car and beautiful scenery on its high speed run. "Blue Pullman" (1960) is a look at a luxury liner shot in Technicolor. "Future on Rail" (1957) discusses and shows all the modern conveniences that have been placed in trains over the recent years. With films like "This Is York" (1953) and "Terminus" (1961) there is a fine line between fiction and non-fiction, as both are looks into the daily routines of station staff and their tasks, there are many obviously staged elements such as the lost boy or the homeless woman in "Terminus", but they are excellent shorts with a narrative structure showcasing the difficulties and complications in daily operations. "The Scene from Melbury House" is an odd but worthy inclusion as there really is not much "traveling" in the short, but is comprised of footage shot from the top of the headquarters building overlooking much of London. Whether it's people walking down the street, a police car in pursuit, or a sunbathing babes on a rooftop, it's an observational film of a bygone era as much as all the other films are, as a time capsule of the period. Speaking of time capsules, the 1975 film "Locomotion" is also included on this set, which was made to celebrate the 150th anniversary of the Stockton and Darlington Railway. Rather than a narrated history, the short is comprised of more than 400 stills and film footage since the 19th century through to the 20th, of trains, railway workers, passengers, landscapes, and much more, all with a then-innovative electronic score. There are still many others that could be discussed in this set, along with the hundreds of others that were not included. Sure, not every film from the BTF could be considered a masterpiece, and some can even be called a bore (even as stated by Anstey himself), but there is a great sense of nostalgia and wonder that continues to this day. They were not created to compete with anyone else and stand tall as their own works. While there are great transit systems with PR departments around the world creating shorts and commercials, none were quite like the British Transport Films, and most likely there will never be another one like it.

Note this is a region ALL Blu-ray set

Video


The BFI presents all 21 films in their original 1.37:1 aspect ratio in 1080p AVC MPEG-4. For the BTF's 70th anniversary in 2018, many of the films were restored and remastered. "Rail" was given a 4K restoration transfer from the original 35mm element and is one of the boldest looking color films in the set (although the booklet mistakenly states "Black and White"), with fine detail in the multiple tracking shots. Damage is basically non-existent in the restored transfer. All other films were remastered in 2K from the original 16mm or 35mm elements. The black and white transfers are quite strong, with a fine amount of grain still visible while much of the dust, specs, and other damage removed, though from time to time some shots could have visible damage in the frame. "The Third Sam" has some minor light fluctuations, and "A Letter for Wales" has a bit of a greenish tint in the black and white portions. The color films can be hit or miss, with some looking absolutely splendid in color reproduction such as in "They Take the High Road", but some looking contrast boosted in "A Letter for Wales". "Every Valley" even has some tramline marks visible - obviously not intentional. Even with extensive remastering efforts in color correction and damage restoration, there are some flaws that are still visible, but the BFI should still be highly commended for their efforts.

Audio


English LPCM 1.0
All films were mixed in mono and each film includes an uncompressed mono audio track. Again each film will have their own highs and lows, though on the positive side the soundtracks were also remastered to remove any noise damage such as hisses and pops. For almost all shorts the dialogue was post synchronized for the narration and they sound fairly clear. Music can sometimes have fidelity issues with high tones, but overall comes in fine through the center speaker. Overall there should be no major issue with the audio tracks. Note that some of the films are without dialogue, such as with "Rail" or "Locomotion" but have been labeled on the discs and in our database as "English" tracks.

There are no subtitles offered for the films which is a slight disappointment.

Extras


DISC ONE

"Expo 67: An Introduction by Edgar Anstey" featurette (3:17)
At the Montreal Expo in 1967, BTF showcased a selection of films for the event, which also included a pre-filmed introduction by Edgar Anstey introducing their works.
in 1080p AVC MPEG-4, in 1.33:1, in English LPCM 1.0 with no subtitles

25th Anniversary Audio Introduction "BFT at 25" (17:24)
With Anstey stepping down for retirement and a quarter century anniversary in the same year, a retrospective was held for BTF and Anstey gave introductions to some of the screenings. In this introduction, he pays tribute to the filmmakers who made the films possible, including a few that passed away. This is an audio only extra, which plays over "Farmer Moving South" as an alternate audio track for the first 17 minutes. Afterwards, it reverts back to the film's audio track.
in English Dolby Digital 2.0 with no subtitles

25th Anniversary Audio Introduction "New Beginnings" (7:38)
This is from the final day of the screenings, as Anstey speaks about what is to come. Again, this is an audio only extra, which plays over "Elizabethan Express" as an alternate audio track for the first 7 minutes. Afterwards, it reverts back to the film's audio track.
in English Dolby Digital 2.0 with no subtitles


DISC TWO

25th Anniversary Audio Introduction "The Development of Railways" (9:17)
In this introduction, Anstey talks about how the development and advancement of the rails also evolved the film unit over the years. Unfortunately in this audio recording, there is some music that come sin about 5 minutes into the speech sounding like an error on the tape source, then disappearing about three minutes later. It certainly becomes hard to hear what Anstey has to say but I assume the BFI could not do much to remove the music. This audio extra plays as an alternate audio track to "The Third Sam"
in English Dolby Digital 2.0 with no subtitles

25th Anniversary Audio Introduction "BTF and the Environment" (9:09)
In this introduction, Anstey discusses the importance of the environmental films that BTF produced, showcasing the lands more than the machines. This plays as an alternate audio track over "The Scene from Melbury House" for the first 9 minutes.
in English Dolby Digital 2.0 with no subtitles


Booklet
A 28 page booklet is included for the first pressing. First there is an essay by BFI curator Steven Foxon on the background about BTF. In addition, Foxon has written short essays and synopses of each film included on this set. There are also extras information, transfer information, and acknowledgements to round things out.


The BFI made a trailer for the set which was not inclded in the actual set. It has been embedded below:



While the booklet has a good amount of information, it could have been more helpful if there were some modern extras placed on the Blu-rays. Whether a short documentary on the history of BTF or about Anstey, or even screen specific commentaries on at least a few of the shorts.

Overall


"The Best of British Transport Films" are time capsules of times and places in the UK that show uniqueness in their creative executions while also being informative and entertaining. The BFI has done an excellent job of restoring these 21 short films for the 70th anniversary and comes very recommended.

Note the scores below reflect the entire set.
| | | | | |
| --- | --- | --- | --- | --- |
| The Film: A- | Video: B+ | Audio: B+ | Extras: C+ | Overall: B |