The Film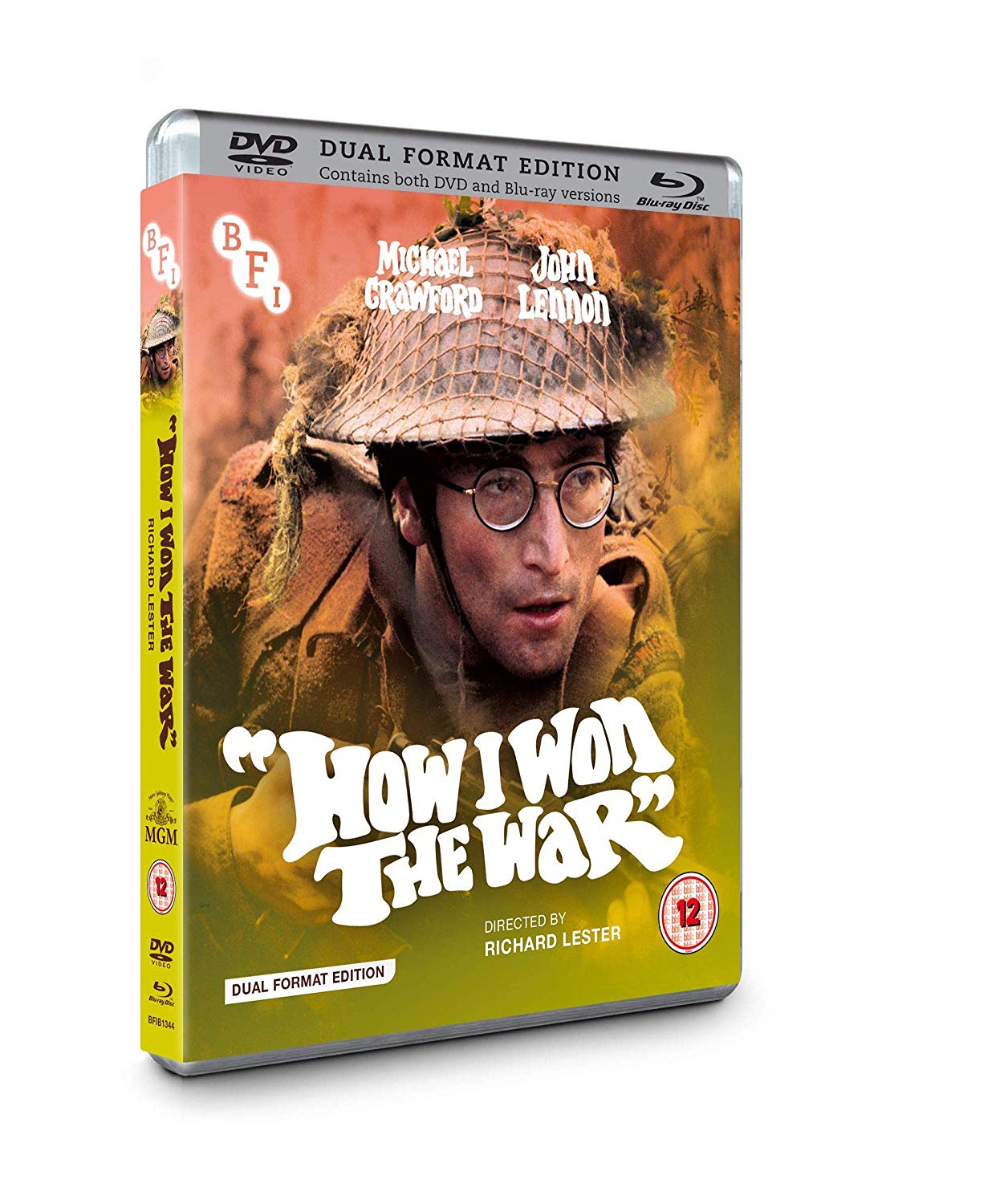 "How I Won the War" (1967)

British Army Officer Lieutenant Earnest Goodbody (played by Michael Crawford has a seemingly impossible task on the battlefields of Europe during WWII. He must command a group of soldiers that barely qualify as soldiers, with Musketeer Gripweed (played by John Lennon), Musketeer Juniper (played by Jack MacGowran), Musketeer Clapper (played by Roy Kinnear) and Sergeant Transom (played by Lee Montague) bumbling their way through, all fairly inept at combat and survival. The supposedly important task that Goodbody is set to accomplish is to make a cricket field across enemy lines so the higher officers can enjoy a match when the time comes.

Based on the play by "Patrick Ryan, "How I Won the War" is obviously not the most serious of war films but one that is a wacky and bizarre farce on war, and the absurdities of glamorizing it. Directed by UK based American director Richard Lester who was known for his works that crossed comedy and art with the Beatles films "A Hard Day's Night" (1964) and "Help!" (1965) plus the award winning "The Knack...and How to Get It! (1965), the adaptation of "How I Won the War" featured familiar faces on screen with Crawford as well as John Lennon in his first non-Beatle role, but the comical style would prove to be something very different from what was seen before. The mix of genres and styles were very unusual. There is slapstick comedy throughout. Characters frequently break the fourth wall and talk directly to the camera. The narrative jumps to flashbacks as well as flashforwards, with instances in flashbacks referring to the future. There is violence and gore. Dead characters are seen as neon colored ghosts. No stone seems to be left unturned in the film version, with the only big thing missing is one that the audience expects the most - no musical segment, considering Lennon appearing as a major supporting character.

"How I Won the War" is a massively uneven piece of work, even if it is heavily ambitious, Doing something completely unexpected from one to the next might echo Monty Python sketches, though their television series would come just a few years later and influence generations of viewers worldwide. "How I Won the War" is almost a precursor to the upcoming British comedy invasion, but lacks the laughs and the polish of the later groups and works. To say, there are some wonderful moments in the film in its comical nature, from the "Lawrence of Arabia" parody scenes or the training scenes, and some of the bloody and violent war scenes are actually done with shock rather than comedy. Lester has an eye for the unusual, and in many instances work well. But the balancing act in the nearly two hour production can be hard to follow. Is it criticizing war enough? Is it paying respects to the men lost in battle? Is there a significant purpose to showing the regiment presented rather than the war in whole?

"How I Won the War" was shot in Spain in late 1966 but released almost a year later in October 1967 in the UK and in the US while Lester was working on his next film. Critical reaction was fairly negative with the inconsistent tone and the comedy not hitting its marks. Over the years there has been better reactions from some, though it has not reached the cult status that Lester's other films have had, even with Lennon in a role. Marketing with Lennon's face (as continued even in the video age) is fairly misleading as Crawford is the lead and Lennon is one of the many supporting. It does bring in some laughs, but there are sadly quite a bit of misfires along the way.

Note this is a region B Blu-ray and region 2 PAL DVD set

Video


The BFI presents the film in the original 1.66:1 aspect ratio in 1080p AVC MPEG-4. The high definition transfer comes from MGM. The transfer is fairly good, but it hasn't been given a full restoration. There are issues of specs and dust throughout and some minor wobble with the framing. Colors are fairly on the good side with the bright colors of the "dead", and the browns and greens of the landscapes well presented, though mostly on a muted scale. It is a fairly balanced transfer and better than previous DVD and home video editions (though identical to the US Blu-ray released by Kino Lorber in 2016).

The film's runtime is 110:36.

Audio


English LPCM 2.0 mono
The original mono track is presented uncompressed, and like the image also has a few issues. On the plus side it is free of pops and cracks and dialogue is easy to hear. But there are issues with the loudness and fidelity, with certain sounds such as hard "S" or "T" sounds being distorted, and scenes of gunfire and other loud noises coming slightly too loud. Overall it is not too distracting from viewing but could have been a smoother experience.

There are optional English HoH subtitles for the main feature in a white font.

Extras


This is a dual format Blu-ray+DVD set with the film and extras on the Blu-ray repeated in standard definition PAL on the DVD copy.


DISC ONE (Blu-ray)

Audio commentary by Neil Sinyard
In this new audio commentary, Sinyard talks about Lester's most personal and zaniest production, talking about the casting of the film, the references and differences to the original source material, and much more.
in English Dolby Digital 2.0 with no subtitles

"Animated Genesis" 1952 animated short (22:10)
In this short by Joan Foldes and Peter Foldes using cutout animation, depicts creation and destruction along with giant spiders, enslaved humans, and the power and consequences of atomic energy in an abstract and colorful form. The transfer is from a quite dusty and wobbly source with flickering colors and scratchy sound.
in 1080p AVC MPEG-4, in 1.33:1, in English LPCM 2.0 with no subtitles

"A Short Vision" 1956 animated short (6:34)
In this 1956 short by Joan Foldes and Peter Foldes, the terror of nuclear annihilation is presented much more head on with some fairly shocking images, considering that it was broadcast in 1956 on The Ed Sullivan Show.
in 1080p AVC MPEG-4, in 1.33:1, in English LPCM 2.0 with no subtitles

"Head Rag Hop" 1970 short (3:12)
Romeo Nelson's doo wop song is animated to a kaleidoscopic series of still images, directed by Peter Turner
in 1080p AVC MPEG-4, in 1.33:1, in English LPCM 2.0 with no subtitles

"Plod" 1971 short (20:37)
Starring Liverpool band The Scaffold, the short film was based on their stage production "P.C. Plod". Shot in Liverpool using the Vidtronics system combining film and video the comedy musical was for a long time thought lost, with former band member Mike McGear McCartney (brother of Paul) searching for a print. It was finally found in the BFI archives and presented here on video for the first time. The print itself has issues with scratches and faded colors, but is entirely on the watchable side and the music and dialogue sound very good.
in 1080p AVC MPEG-4, in 1.33:1, in English LPCM 2.0 with no subtitles

Trailers from Hell: Allan Arkush on "THE KNACK..and how to get it" (with optional original audio or commentary) (3:55)
The trailer for Lester's Palme d'Or winning film "THE KNACK..and how to get it" comes with an introduction and optional commentary by Allan Arkush who has fond memories seeing the film when he was a kid.
in 1080p AVC MPEG-4, in 1.78:1, in English LPCM 2.0 with no subtitles

Trailers from Hell: John Landis on "The Bed Sitting Room" (with optional original audio or commentary) (3:42)
The trailer for Lester's post-apocalyptic comedy "The Bed Sitting Room" comes with an introduction and optional commentary by John Landis who compares the film to Monty Python sketches and how absurd it may be, is still relevant in the post-Fukushima age.
in 1080p AVC MPEG-4, in 1.78:1/1.85:1, in English LPCM 2.0 with no subtitles

Richard Lester in Conversation with Steven Soderbergh (1999, audio only) (88:25)
In this audio recording of Lester moderated by Steven Soderbergh at the National Film Theatre, the pair discuss his lengthy career as a director, starting from early American television, moving to the United Kingdom, various topics regarding individual films including "How I Won the War" and much more. There are some interesting moments talked about including an awkward meeting with Harry Saltzman and the difficulties with hundreds of screaming girls during "A Hard Day's Night", as well as his admiration for François Truffaut and Jacques Tati.
in English Dolby Digital 2.0 with no subtitles

Image Gallery (4:00)
Stills from the set in color and black and white.


DISC TWO (DVD Cooy)


Booklet
A 20 page booklet is included with the first pressing. First is the essay "This Film Is Not Your Friend" by writer Neil Sinyard who repeats a few things mentioned in the commentary, but is able to give quite a lot of additional information in the written essay as well. Next is a short biography of John Lennon in 1966 prior to the making of the film and where he stood with The Beatles, written by BFI librarian Ian O'Sullivan. Full credits for the film and information on the extras are also presented, including information on the making of and search for "Plod" by Mike McGear McCartney that is essential reading. Last there are transfer information and acknowledgements.


The film was as mentioned, released on Blu-ray in the US by Kino Lorber, which only had the trailer as an extra, which is curiously missing from the UK BFI release.

Overall


"How I Won the War" is a bizarre farce of a war parody film that has some laughs but the inconsistent tone can be off putting for many. The BFI Blu-ray has fair video and audio but excels in the quality and amount of extras on the discs.
| | | | | |
| --- | --- | --- | --- | --- |
| The Film: C+ | Video: B- | Audio: B- | Extras: A- | Overall: B |