The Film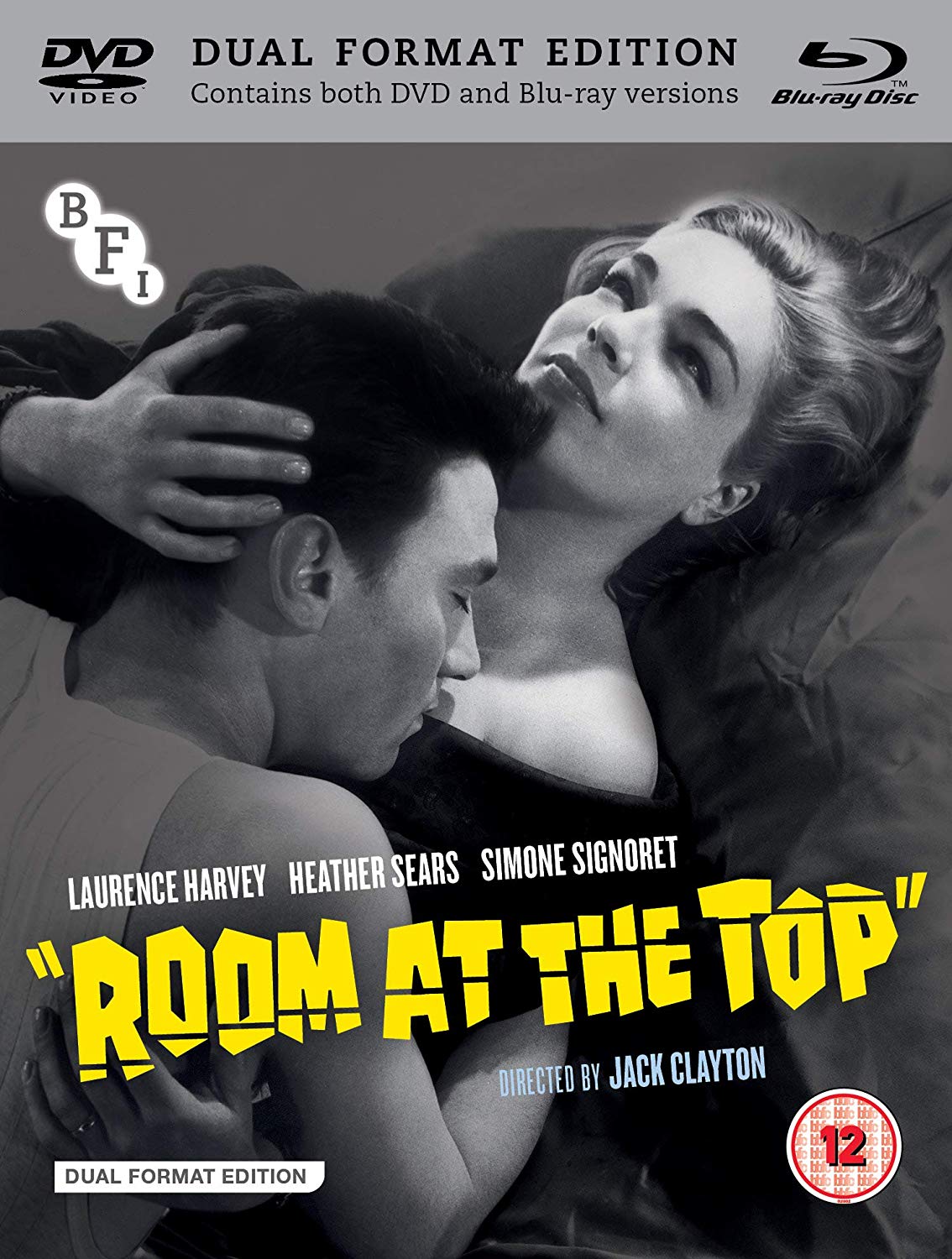 "Room at the Top" (1959)

Joe Lampton (played by Laurence Harvey) arrives in Warnley for a new life and a new job. Quite the upper class area in comparison to his upbringing in the working class town of Dufdon, Joe falls for the young local actress Susan (played by Heather Sears) even though she is in a relationship with Jack (played by John Westbrook). Her father (played by Donald Wolfit) is a wealthy businessman who has power in the area and is not particularly happy about Joe's actions, and he as well as Jack do what they can to put a kibosh on Joe's forward moves. But Joe's libido is also looking elsewhere, starting a physical relationship with Alice (played by Simone Signoret) who is ten years older than him and also a married woman. While they feel comfortable and happy with each other, he still feels a need to pursue Susan, which strains the already dangerous relationship between him and Alice.

Based on the 1957 novel of the same name by John Braine, the story featured immoral activities with lust and adultery while also showcasing wonderfully rich characters in emotional and social turmoil. It was a success and a film adaptation would be made two years later, though the controversial nature of the book would make things difficult for the more restrictive rules of cinema. Producers James Woolf and John Woolf obtained the rights for a film adaptation, and enlisted veteran assistant director Jack Clayton as the director after the positive reaction to his acclaimed 1955 short film "The Bespoke Overcoat". 1959 was the year that British cinema saw a new movement with the British New Wave and the Kitchen Sink Realism dramas, where a modern look at youth, sexuality, and social concerns came to life on screen. While in France their New Wave movement also dealt with many of the same issues, their constant reinvention of the cinematic language did somewhat overshadow the British movement which included films such as "Room at the Top" and "Look Back in Anger", both from 1959. While "Look Back in Anger" was given a PG certificate by the BBFC, "Room at the Top" was given an X certificate, which in some ways looked negative, but in actuality turned to be a positive point for the film's marketing and reception.

While it was mostly reserved for horror films such as the ones coming from Hammer Film Productions, the X certificate was made for adult content. As for adult dramas, most would not take the risk of having the X as it would limit the audience and cause more controversy than it would in sales, but "Room at the Top" took the risk of pushing the limits. It may seem tame in comparison to the content seen in the twenty first century, the frankness in talking about and implying sexual behavior, the use of words such as "bitch" in speech, and the depiction of adultery were not seen in standard dramas. Not to say it was completely uncensored. There were many aspects of the book including language and some additional immoral behaviors that were removed from the adaptation to film, and a coda was also added to the end.

The character of Joe is not at all a complex one and clicked with audiences. He is not the most likable person as he is forceful with women, aggressive in his daily dealings, and quite selfish. But at the same time he is relatable, as a man that is working his way out of a lower lifestyle and is earnest and hardworking. The charm of the badboy that Laurence Harvey gives the character is in many ways close to his own life. He was in a relationship with Hermione Baddeley who had a small role in the film and was more than two decades older than him, and was frequently on his own at various nightclubs around town engaged in immoral behavior. In the film, Joe is trying to escape his past. He's moved to the city to find a better life, goals to move up to a higher social status, yet what he finds is much more. He becomes sickened by the upper class that he longs to be in and starts feeling more pride in where he came from. At the same time his heart is conflicted by the two women in his life. Alice is one that gives him comfort. They can talk about everything without boundaries and he is even forward with his feelings toward Susan. Their relationship cannot truly last as her marriage is still ongoing and her controlling husband is not willing to let her go. Joe's pursuit of Susan has many roadblocks along the way, but he sees that by getting her, it will mean a rise in status as well as satisfaction for him sexually by attaining the unattainable. The conflict of being led by his heart or led by his dick is obviously a dilemma that many if not all men face in their lives.

Released theatrically on January 22, 1959 in the UK, the film was a massive critical and commercial hit with the X rating not hindering audiences at all, but instead drawing in larger adult crowds, becoming one of the highest grossing films of the year. It followed with an American release in March and a screening in Cannes in May, winning major awards worldwide. It won three out of seven BAFTAs including Best British Film, two out of six Academy Awards including Best Actress for Simone Signoret, and a Best Actress at the Cannes Film Festival. Though he didn't win any directing awards for the film. it cemented Jack Clayton's career as a director whose later films such as "The Innocents" and "The Pumpkin Eater" became classics still talked about more than half a century later. As for the story of Joe Lampton, John Braine followed up the story with the sequel novel "Life at the Top" which was made into a film in 1965, also starring Laurence Harvey, but Susan's role replaced with Jean Simmons who was one of the original choices for Susan in "Room at the Top". Another follow-up was made in 1970 as a TV series with "Man at the Top" starring Kenneth Haigh and Zena Walker in the Joe and Susan roles and a feature film version of "Man at the Top" in 1973.

Note this is a region B Blu-ray + region 2 PAL DVD set

Video


The BFI presents the film in the original 1.66:1 aspect ratio in 1080p AVC MPEG-4. The HD transfer was provided by Park Circus. One could mistake this for a 2K transfer if not noted, as it looks very good. The crisp black and white image is sharp with very little damage able to be seen, and the film grain is kept intact throughout without signs of digital manipulation. Detail is great and the framing is wonderful for a truly filmlike experience. An excellent remaster and excellent transfer by the BFI.

The film's runtime is 117:18.

Audio


English LPCM 2.0 mono
The original mono track is uncompressed and like the video, sounds excellent for the most part. Music and effects are well balanced with the dialogue track, which always sounds clear and easy to understand. Although there were some minor issues here an there, such as a popping sound when Joe sees Susan at the library, it is minor and does not happen often.

There are optional English HoH subtitles for the main feature in a white font.

Extras


This is a dual format Blu-ray+DVD set with the film and extras on the Blu-ray repeated in standard definition PAL on the DVD copy.


DISC ONE (Blu-ray)

Audio commentary by Neil Sinyard
In this commentary track, critic Neil Sinyard gives insights into the characters, the response from audiences at the time, the X certificate, comparisons to Clayton's other films, and more. There is a bit too much information on what is happening onscreen rather than depth, but there is still a lot of great information in this track. This commentary track was previously released on the 2009 DVD edition from Network.
in English LPCM 2.0 with no subtitles

Audio commentary by Dr. Josephine Botting
In this new audio commentary, Botting gives a lot of background information on the making of the film, plus trivia and biographies of much of the cast and crew with extensive filmographies and other notes.
in English LPCM 2.0 with no subtitles

"The Visit" 1959 short (34:43)
Directed by Jack Gold, this subtle and quiet family drama features a woman living with her aging parents as she looks on her drab and seemingly mundane and empty life. It's a start contrast against "Room at the Top" but still a fascinating and quiet work.
in 1080p AVC MPEG-4, in 1.66:1, in English LPCM 1.0 with no subtitles

The West Riding in Archive Film (with Play All) (40:41)
- "Bradford Town Hall Square" 1886 short (1:51)
- "Bailey's Royal Buxton Punch and Judy Show in Halifax" 1901 short (2:41)
- "Tram Ride into Halifax" 1902 short (3:33)
- "Halifax Day by Day" 1910 short (2:07)
- "We of the West Riding" 1945 short (22:02)
- "This Town" 1969 short (8:23)
Collected here are archival shorts ranging from silent amateur films showing the city life in West Riding to travelogue and instructional films. "We of the West Riding" is notably directed by Ken Annakin, showcasing the people and their lives in West Riding through narration, and "This Town" features a promising but unfulfilled look at a possible restructuring and reconstruction of Halifax. The last two films are in English while the first four shorts are silent with music accompaniment.
in 1080p AVC MPEG-4, in 1.33:1, in LPCM 2.0 with no subtitles

"Room at the Top" Image Gallery (4:45)
An automated slideshow featuring behind the scenes black and white photos from the production.
in 1080p AVC MPEG-4

Jack Clayton Scrapbook Gallery (1:54)
Another automated slideshow of clippings from newspapers taken from Clayton's personal scrapbook, preserved at the BFI.
in 1080p AVC MPEG-4

Audience Response Card Gallery (1:00)
A series of test screening cards with audience responses including some negative ones.
in 1080p AVC MPEG-4

Original trailer (2:53)
The original trailer emphasizing the shocking adult content is not in the best condition, with many scratches and marks, and being a bit blurry.
in 1080p AVC MPEG-4, in 1.66:1, in LPCM 2.0 with no subtitles


DISC TWO (DVD)

Audio commentary by Neil Sinyard
Audio commentary by Dr. Josephine Botting
"The Visit" 1959 short (33:16)
The West Riding in Archive Film (with Play All)
- "Bradford Town Hall Square" 1886 short (1:48)
- "Bailey's Royal Buxton Punch and Judy Show in Halifax" 1901 short (2:36)
- "Tram Ride into Halifax" 1902 short (3:25)
- "Halifax Day by Day" 1910 short (2:03)
- "We of the West Riding" 1945 short (21:11)
- "This Town" 1969 short (8:06)
"Room at the Top" Image Gallery (4:46)
Jack Clayton Scrapbook Gallery (1:55)
Audience Response Card Gallery (0:37)
Original trailer (2:47)
The film and extras repeated in standard definition PAL.


Booklet
A 24 page booklet is included with the first pressing. First is the essay "Real People" by critic John Oliver which gives an overview of the film and its production. Next are short biographies of actors Laurence Harvey, Simone Signoret, and Donald Wolfit written by Kieran McCormack. There are also full film credits, special features credits and information, notes on the presentation, acknowledgements, and stills.


Packaging all the previously released DVD extras and including a slew of newly created extras, this is at the moment the definitive edition of the film, and currently the only Blu-ray release worldwide.

Overall


"Room at the Top" may not shock audiences now as it did in 1959, but is still an excellent and provoking look at class, sexual desires, and ambition with great performances by the leads. The BFI release features an excellent transfer in video and good audio with a wide range of extras being highly recommended.
| | | | | |
| --- | --- | --- | --- | --- |
| The Film: A | Video: A | Audio: B | Extras: A | Overall: A- |