Rodin
R0 - Australia - Umbrella Entertainment
Review written by and copyright: Eric Cotenas (3rd June 2019).
The Film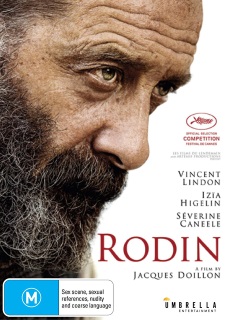 In 1880, forty-year-old Auguste Rodin (Vincent Lindon, La Moustache) was commissioned to build The Gates of Hell, a sculpture containing 180 figures intended to be delivered in 1885. By 1884, he had all of the figures sketched out, but found that they had a life of their own in their execution. He had also taken on a pupil in Camille Claudel (Izļa Higelin, Summertime) who put a positive spin on the criticisms about his work. In addition to (or because of) impressing Rodin with her own talent, she became his model and then his lover, but their relationship was tainted by his reluctance to marry her and leave his housekeeper Rose (Séverine Caneele, L'Humanité) - mother of his unacknowledged child Auguste (Anthony Bajon) who nevertheless signed his own drawings as a Rodin - and Claudel's inability to escape the shadow of her master in starting her own career (with her nude models being banned from exhibition by the Beaux Arts who allowed Rodin's "The Kiss"). During this period, Rodin is also seen dissatisfied with his bust of Victor Hugo (Bernard Verley, Chloe in the Afternoon), the completion of which was determined by its commissioner rather than Rodin himself, and undertaking a statue of the late Honore de Balzac, realizing parts of the body from other models - including a pregnant woman for the torso - but laboring over his attempt to invest in the man the sort of "life" that was criticized as inhabiting his other sculptures in excess in contrast to the classical models. While Rodin himself was not the protagonist of the better-known (and generally better) Camille Claudel, Gerard Depardieu's egomaniac turn in the Bruno Nuytten film is generally preferable to what one can only have come to expect from director Jacques Doillon – father of actress Lou Doillon with Jane Birkin – with his biopic Rodin. Like the typical Doillon male protagonist, the middle-aged Rodin makes long-winded monologues about his art as if no one else were in the room. The women in his life are extensions of his psyche affirming his views – or turning into psycho bitches when they do not in the case of Claudel who receives nothing but endless encouragement from Rodin but goes crazy because of her failure to escape his shadow, with even her sister sympathizing with Rodin – while the notable male figures in his life, including his artistic rivals, tell him that he is ahead of his time. So fascinated is Doillon with his self-important protagonist with everyone else as window dressing – particularly the nude models running around his studio – that the film moves as slowly as Rodin's real-life progress on The Gates of Hell. The actors, particularly lead Lindon, and the subject deserves better than another of Doillon's meandering meditations on male artists and their muses.

Video


Although the Umbrella Region 0 NTSC DVD - mislabeled Region 4 - has no extras or even menu screens, Umbrella have given the two hour film a respectable high bitrate encode that represents the film's contrasty use of light and shadow and textures of costumes and skin (plenty of it bare) suitably in standard definition.

Audio


The Dolby Digital 5.1 track is front-oriented and dialogue-heavy but it utilizes the surrounds for atmosphere even during the many interior studio sequences. The English subtitles are encoded into the image.

Extras


There are no menus or extras.

Overall


The subject of Rodin and its cast deserve better than another one of director Jacques Doillon's meandering meditations on male artists and their muses.


---
DVD Compare is a participant in the Amazon Services LLC Associates Program and the Amazon Europe S.a.r.l. Associates Programme, an affiliate advertising program designed to provide a means for sites to earn advertising fees by advertising and linking to amazon.co.uk, amazon.com, amazon.ca, amazon.fr, and amazon.de.