Under Fire [Blu-ray]
Blu-ray B - United Kingdom - Eureka
Review written by and copyright: Eric Cotenas (5th June 2019).
The Film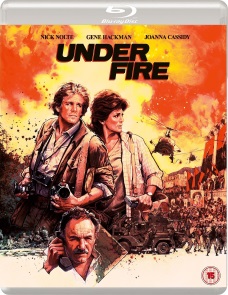 Oscar (Best Music, Original Score): Jerry Goldsmith (nominated) - Academy Awards, 1984
Golden Globe (Best Performance by an Actor in a Supporting Role in a Motion Picture): Gene Hackman (nominated) and Best Original Score - Motion Picture: Jerry Goldsmith (nominated) - Golden Globes, 1984
BAFTA Film Award (Best Editing): John Bloom and Mark Conte (nominated) - BAFTA Awards, 1985

During the last weeks of the Nicaraguan Revolution in which rebel Sandanistas are seeking to overthrow president Anastasio Somoza Debayle (Hill Street Blues' René Enríquez ) in which the fighting is moving from the countryside towards the capital, rumors of his execution squads and the popular support of revolutionary leader Rafael (The In-Laws' Jorge Zepeda) have not only thrown U.S. support of the dictatorship into flux but have also attracted the international press. Photographer Russell Price (Affliction's Nick Nolte) abandons the Chad-Libyan conflict for Nicaragua accompanied by reporter Claire Stryder (Blade Runner's Joanna Cassidy) and her ex-lover Alex Grazier (The French Connection's Gene Hackman) in spite of the offer of a high-paying TV anchor job. They are courted by the president himself, his mistress Miss Panama (Blood In Blood Out's Jenny Gago), and New York publicist Hub Kittle (The Thing's Richard Masur) who has been hired by the president now that five hundred-thousand dollars in U.S. aid is up in the air. Upon learning about Rafael and seeing the president's army deployed to brutally jail anyone suspected of knowing the revolutionary, Price resolves to find Rafael and interview him. Romantically entangled with Price and trying to break things off definitively with Alex, Claire accompanies him to follow thin leads and some intelligence supplied by French "businessman"/spy Marcel Jazy (Z's Jean-Louis Trintignant) who has both the president's ear – having been "hired" to discover the identity of his mistress' rumored lover – as well as connections in Washington D.C. and the Pentagon. Their journey away from the capital into villages where the Sandanistas and the army are fighting for control includes a series of tests to determine whether they are really just observers or spies for the president, and Price first finds himself nearly compromised when he recognizes soldier of fortune buddy Oates (Knightriders' Ed Harris) fighting with the president's army and discovering the president's translator Isela (Born in East L.A.'s Alma Martinez) among the Sandanistas who take him and Claire to meet Rafael and spread the word that rumors of his death perpetrated to sway the U.S. back behind the Somoza have been greatly exaggerated; however, the ploy may shift the balance of the revolution in ways Price and Claire did not intend. Loosely based on a real international incident in which the murder of an ABC reporter caught on film by his cameraman lead to the Carter administration withdrawing their support of the Somoza regime, Under Fire is less of a critique of the United States' shifting support of dictatorships and revolutionary regimes swayed as much by business interests as international attention as an examination of various profit-driven private players from Trintignant's spy and Masur's publicist to Harris' mercenary who neither knows nor cares what side he is on to the reporters who flock to newsworthy assignments like jet-setters and must remain objective observers as they are confronted with sympathetic causes. Also interesting is the way in which information is controlled and manipulated from the president's public relations and press announcements – prefigured during the Chad sequence of the film when a swooping jet drops not bombs but fliers promising a cushy American lifestyle to defecting pilots – to the seeming existence of Rafael only as an image on banners that has the viewer questioning whether he exists at all (not unlike the revolutionary hero Roger in Jean Genet's play "The Balcony" whose existence is debated and dismissed until he appears in the flesh in the final act) or if the man behind the image is just a charismatic symbol introduced as he is lying supine and foreshortened by the camera angle in a parody of Mantegna's "The Lamentation of Christ" (with Jazy under threat suggesting that his French looks might be just as sympathetic on the international stage as those of Rafael to the Nicaraguans). As much an action film as a drama – with its romantic elements humanizing the "mercenary" protagonists rather than overshadowing the narrative – Under Fire is helmed with restraint by director Roger Spottiswoode (Terror Train) while the gritty cinematography of John Alcott (Barry Lyndon) is in keeping with his use of low-key lighting and natural light source. The Oscar-nominated score of Jerry Goldsmith (Basic Instinct) is evocative but its heavy reliance on Andean instrumentation feels uninspired.

Video


Released theatrically by Orion Pictures and on home video and cropped laserdisc (twice for the latter) by Vestron Video – along with a later widescreen, Dolby Surround laserdisc from Image Entertainment – Under Fire came to DVD from MGM in 2001 with an anamorphic transfer and to limited edition Blu-ray from Twilight Time. Eureka's 1080p24 MPEG-4 AVC 1.85:1 widescreen Blu-ray utilizes the same MGM master which is not a newer scan but generally looks excellent with inconsistences in crispness stemming from Alcott's photography in the case of some of the verité action scenes while close-ups are well-detailed in terms of both facial features and clothing textures along with the stone, brickwork, and splintered wood of the locations.

Audio


The sole audio option is an LPCM 2.0 stereo rendering of the film's Dolby Stereo track which is mixed with restraint with atmosphere in the surrounds, directional effects that occasionally include some jolting gunfire and explosions (most of the pyrotechnics are recessed in the mix as they are in the frame). Dialogue is clear and scoring is vivid. Optional English HoH subtitles are provided.

Extras


While Eureka unfortunately drops Twilight Time's isolated music and effects track, they have ported over the two commentary tracks. On the first audio commentary by director Roger Spottiswoode, assistant editor Paul Seydor, and photo-journalist Matthew Naythons, moderated by film historian Nick Redman, Spottiswoode discusses the original script by Clayton Frohman (Defiance) focusing on the killing of the reporter caught on camera with the revisions of Ron Shelton (Bull Durham) incorporating the director's own interest in photography and the manipulation of images. He also reveals that he was inspired to cast Nolte after meeting him during the development of 48 HRS. (a film he penned that was ultimately directed by Walter Hill), while Naythons leant Nolte his own cameras to learn to use on the Hill film in preparation for Under Fire. On the audio commentary by music mixer-producer Bruce Botnick and music editor Kenny Hall moderated by film historians Jeff Bond, Julie Kirgo, and Nick Redman, Botnick and Hall discuss their working relationships with Goldsmith, the composer's movement into electronics in the early eighties, and the short time Goldsmtih had to come up with the score due to the film's release schedule. Bond and Redman prompt the contributors while Kirgo provides contextual discussion of the film's backstory (including the U.S. flip-flopping in their support of the dictator and the rebels). Also ported over is the disappointingly short "Joanna Cassidy Remembers Under Fire" (3:06) interview and the film's theatrical trailer (2:57). Not provided for review was the limited edition collector's booklet featuring new writing by author Scott Harrison included with the first two-thousand copies.

Overall




---
DVD Compare is a participant in the Amazon Services LLC Associates Program and the Amazon Europe S.a.r.l. Associates Programme, an affiliate advertising program designed to provide a means for sites to earn advertising fees by advertising and linking to amazon.co.uk, amazon.com, amazon.ca, amazon.fr, and amazon.de.