The Film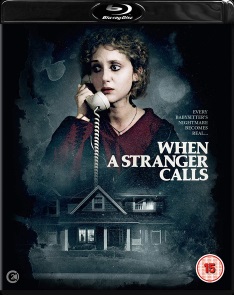 When a Stranger Calls (1979): Student Jill Johnson (The Mafu Cage's Carol Kane) seems to be in for a simple babysitting job for the Mandrakises (The Accused's Carmen Argenziano and Amityville II: The Possession's Rutanya Alda) since the kids are already asleep upstairs; that is, until she starts receiving a series of disturbing calls from a man who only asks her: "Have you checked the children?" Suitably unnerved when the caller tells her that he wants to be covered in her blood, Jill calls the police who put a trace on the phone. It should be no surprise to fans of Black Christmas or readers of "Scary Stories to Tell in the Dark" that the call is coming from inside the house, but the police arrive just in time to save Jill. The children, however, have been dead for hours, and the killer – a British merchant seaman named Curt Duncan (The Fiend's Tony Beckley) – made no attempt to evade capture. This suspenseful scenario, however, is only the first act of Fred Walton's When a Stranger Calls which resumes seven years later when Duncan escapes incarceration in a mental institution and the case's original detective John Clifford (Dog Day Afternoon's Charles Durning) is hired by still-haunted Mandrakis to find Duncan. While Clifford consults Duncan's doctor (Picnic at Hanging Rock's Rachel Roberts) and seeks resources from his old partner (Super Fly's Ron O'Neal), Duncan wanders the city as a homeless vagrant. He attempts to form a connection with lonely alcoholic Tracy (The Dead Zone' Colleen Dewhurst) who feels sorry for him – especially after he is beaten up by a fellow barfly when he believes Duncan is harassing her. As Clifford latches onto Duncan's trail, it becomes apparent that he has no intention of bringing him back alive. Meanwhile, Jill – now a wife and mother herself – starts receiving the calls again.

Coming in between John Carpenter's Halloween and Sean S. Cunningham's Friday the 13th, When a Stranger Calls comes across at first like a slasher film; however, that is only because the first act so strictly adheres to The Sitter, Walton's 1977 short subject that was used as an afterthought as a means of raising funding for a feature. The middle part of the film, detailing Duncan's wanderings and Clifford's manhunt, is less predictable but also kind of shoddily structured. While it seems like just a manner of marking time before the story comes full circle with another extended stalking sequence, this muddled middle features some fine characterizations from Beckley, Dewhurst, and Durning as well as some understated work from O'Neal; and yet, it is no surprise that the poor 2006 remake draws out the first act as its entirety. Kane's brittle performance during the first and third acts finds an analog in the string score of Dana Koproff (Death Valley) and the shadowed cinematography of Don Peterman (Flashdance), but the film ultimately does not hold up, as if Walton and co-writer Steve Feke (Mac and Me) felt they could not diverge from The Sitter as their first act after using it to shop the feature. Adam-12's Sergeant MacDonald William Boyett has a vocal cameo here as the desk sergeant Jill calls during the first part of the film while future Halloween II Michael Myers-incarnate Dick Warlock has an uncredited role as a bartender.

Walton's made-for-TV sequel When a Stranger Calls Back (1993) opens somewhat familiarly as high school student Julia (The Stepfather's Jill Schoelen) arrives to babysit the son and daughter of Dr. and Mrs. Schifrin (Timecop's Kevin McNulty and Unforgettable's Cheryl Wilson) when they go out for the evening. The children are already in bed, so Jill settles in for a quiet night disrupted first by a phone call with no voice on the other end and then a knock at the door from a man who claims his car broke down. She refuses to let him in and takes down his information through the door in order to call the auto club only to discover that the phone has gone dead. Embarrassed and but still cautious, she lies about calling the auto club to send him away, but soon discovers evidence that someone else may be in the house. The man on the other side of the door also warns her that there is someone with her, but she does not know if that makes him any more trustworthy. When Julia discovers that the children are missing from their beds, she barely survives her own encounter with the killer who is never caught and the children never found. Six years later, Julia is a college student living on her own and still very cautious. When she discovers an item of one of the missing children's clothing in her own closet, she rushes to the police. They dismiss her as a "hysterical coed," but university women's services supervisor Jill Johnson (Kane) had endured a similar experience in her youth and either believes Julia outright or at least can identify with her post-traumatic behavior. Learning that this was just the latest incident of several subtle hints that someone has been in Julia's apartment a number of times and rearranged items so that she would notice, Jill takes steps to help Julia get her life back from her tormentor. While Julia starts volunteering at women's services and taking self-defense classes, Jill calls in retired detective John Clifford (Durning) to look into Julia's story. While Clifford comes to some surprising conclusions the police on the original case missed (or dimissed), he remains worried that Julia's may either be imagining the recent attacks but also that Jill's proactive approach to Julia's self-defense may be exacerbating her fragile mental state. When Julia tries to commit suicide and winds up in the hospital in a coma, Clifford continues to investigate out of consideration for Jill who has unknowingly made herself the killer's next target. After a reasonably suspenseful if slightly ungainly restaging of the When a Stranger Calls' first act, When a Stranger Calls Back starts to seem like it is a Lifetime Network take on the story; however, its middle section is more suspenseful and more tightly-plotted with as many unsettling touches as utter absurdities before Kane faces off against an assailant hiding in plain sight in the most ridiculous disguise. With Schoelen taking over the role of the stalked, Kane's Jill has a bit more to do, taking on some of Clifford's toughness while his scenes pad out the running time (which here runs to a strip club visit with some cable-friendly toplessness). While it is not necessarily a good film, it is in some ways an improvement over the original for viewers who only recall the first and last thirds of that film. Koproff returns as composer, but his work is as undistinguished here as the intermittently attractive photography of David Geddes (The Messengers).

Video


Released theatrically and on home video in the United States by Columbia Pictures and in the United Kingdom by Barber Dann Films theatrically and then Guild Home Video, the film had its first DVD release in the UK in 2000 from MIA but it was the same fullscreen master that the company released on tape in 1991. In the United States, the film was issued on anamorphic widescreen DVD from Columbia/Tri-Star and then reissued by Sony. The first Blu-ray release came from Mill Creek (who also released the film on DVD in a Remake Rewind Double Feature with the 2006 version) in a barebones double feature with Happy Birthday to Me. The image was soft and grainy but actually quite faithful to the look of the film as born out by Second Sight's 1080p24 MPEG-4 AVC 1.85:1 widescreen Blu-ray in which the heavy grain of many of the first act's dark interiors is exactly that rather than compression artefacts as the same sequence's insert shots are rock solid. The rest of the film's dark sequences have pronounced grain in the darkest areas as well as the optical zooms that are used in both the opening and closing sequences, but the encode is likely as good as the film can look with the current master since it was encoded by David McKenzie. When a Stranger Calls Back premiered in the United States on the Showtime network and then went to video from MCA/Universal and was reissued later on VHS and DVD by Goodtimes Home Video who got some choice Universal titles from their late nineties deal before Image Entertainment (the film went straight to video in the UK from CIC). Like the Goodtimes release, DVDs from Australia and Germany – the artwork of which was made up to similar to the 2006 remake of the first film – featured fullscreen transfers, and Second Sight's 1080p24 MPEG-4 AVC 1.33:1 pillarboxed fullscreen transfer suggests that Universal has decided to stick with the original aspect ratio rather than adapting it for 16:9 televisions. The image looks slicker than the first film in accordance with television technical standards and advances in film stock, so it is not so much the technical presentation of the film on disc as the nineties TV movie look (the credits may or may not have been digitally recreated for the new master).

Audio


When a Stranger Calls' mono mix is presented here in a clean LPCM 1.0 offering in which dialogue and score are cleanly rendered, highlighting the sparseness of the sound effects track (seemingly mostly production audio and some supportive atmospheric effects apart from some suspenseful noises and whispers). When a Stranger Calls Back has a stereo mix that has been cleanly rendered in LPCM 2.0. The dialogue is kept in the center, however, the "thrown" voices still manage to prove diverting. Optional English SDH subtitles are included for both films.

Extras


Extras start off with the 1977 short film "The Sitter" (21:22) which reveals just how closely the first act of the feature stuck to it while being much better acted. Lead actress Lucia Stralser does a passable job but her every reading of the same lines pales next to those of Kane; although that is true of pretty much all of the performances which are more refined in the feature. The scoring is similarly clunkier while the photography gets the job done despite being lensed by Godard collaborator Willy Kurant (Masculin, Fιminin). "Directing a Stranger" (16:35) is an interview with director Walton in which he recalls getting the short theatrical screening to quality for an Academy Award short subject, with shopping it for a feature as an afterthought. He discusses Durning's practice of making eye contact to test his co-stars – evidently not realizing Roberts was an accomplished performer – and Beckley's concern that he was not delivering after sharing a scene with Kane but getting the encouragement he needed from Dewherst rather than the handholding Walton feels he should have given him as director. He reveals that he pitched the sequel because he needed money but became excited to make it once it was greenlighted, while also expressing a reluctance to revisit some of his other film (although I would argue that April Fool's Day is the better of his genre films).

"Carol Kane on When a Stranger Calls" (17:25) is an interview with the actress who recalls receiving the script from grade school friend turned producer Doug Chapin (Pandemonium), working with Durning and Beckley whose own insecurity she felt was appropriate to the character she describes as a "demented baby." "Rutanya Alda on When a Stranger Calls" (5:18) is a shorter interview with the actress who was also recommended for an audition by Chapin and expresses her surprise that the film seemed to resonate right away with audiences compared to some of her other genre roles which found audiences years later. In "Scoring a Stranger" (7:47), composer Kaproff describes how his family's friendship with composers Elmer Bernstein, Jerry Goldsmith, and John Barry allowed him opportunities to get into film as an arranger and compose some of his own cues before briefly discussing the main feature and his choice to use primarily strings given the "interior" nature of the story.

NOTE:
This standard edition does not include the CD soundtrack – presumably identical to the 17-track Kritzerland CD release – or the 40-page perfect bound booklet with new essay by Kevin Lyons, or reversible poster with new and original artwork.

Overall


Although it lacks the CD soundtrack and booklet of the limited edition, the standard edition of When a Stranger Calls/When a Stranger Calls Back is still well-equipped in terms of video extras.