All About Lily Chou-Chou [Blu-ray]
Blu-ray ALL - America - Film Movement
Review written by and copyright: Eric Cotenas (10th June 2019).
The Film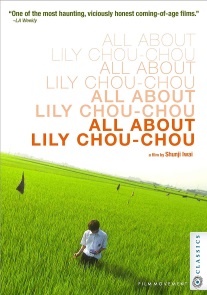 Yuichi Hasumi (Blade of the Immortal's Hayato Ichihara) is a fourteen-year-old teenage boy whose only escape from the harshness of the real world is singer Lily Chou Chou whose music her fans believes comes directly from "the Ether" another plane of existence to which they strive (in the narration, Hasumi makes a comparison of her to The Beatles while also noting that Lily was born on the exact day and time that John Lennon was murdered). By day, he endures the regimented bullying by the upperclassmen at school as a first year student but also by his former best friend Shusuke Hoshino (Battle Royale II: Revenge's Shϋgo Oshinari) by night he is "philia" the site manager of the message board "Lilyphilia" where the only requirement is that "you have to love Lily" and he is considered a Zen-like source of knowledge about the Ether. When he is caught shoplifting Lily's latest CD and his compassionate teacher Osanai vouches for him – in place of his pregnant mother (Chiyo Abe) who has remarried a well-meaning but weak-mannered man who already has a young son (and is so eager to blend the family that he asks both his own son and then Yuichi to change the suffixes of their name to signify elder and younger sons) – she seeks to nurture his interest in music which puts him back in the company of unrequited school crush Kono (Shallowtail Butterfly's Ayumi Itτ) who is also being bullied by a girl gang lead by Sumika Kanzaki (Love Ghost's Kazusa Matsuda) who is jealous of Kono's popularity with the boys and her musical ability. Hoshino is blackmailing schoolmate Shiori (Harmful Insect's Yϋ Aoi) into prostitution with incriminating videos and has assigned Hasumi – who he has already sexually debased in front of his cohorts under the belief that Hasumi must have ratted out their racket of stealing CDs and reselling them to the school after getting caught – to escort the girl between clients. The degree of Hasumi's disengagement with real life leaves him passive to Shiori's suffering and complicit in a brutal attack on Kono ordered by Kanzaki and authorized by Hasumi. Hasumi's only human connection is fellow board member "bluecat" who shares his philosophy of Lily's music. When they arrange to meet at Lily's local performance, however, Hasumi will be devastated and driven to violent desperation when both of his worlds come crashing down.

An unexpected hit for director Shunji Iwai (Hana and Alice) who had a hit with Love Letter but whose prolific output was slowed down when he moved away from studio and television network backing, All About Lily Chou Chou had begun life as an "internet novel" with the director creating the message board and acting as a handful of its posters displaying a variety of attitudes about the fictional singer (inspired by actress Faye Wong [Chungking Express] with songs performed by Salyu) and interacting with other posters – the director has since used the internet as a forum to give budding screenwriters feedback from more experienced writers through a subsection of his website – but the film required him to look beyond this virtual world to the lives of the people behind it. The film establishes right away that Hasumi is "philia" but the viewer for the most part is unaware that bluecat's real world identity is even a mystery rather than just a virtual soul Hasumi has connected with who may or may not be someone he knows. We also see right away that Hasumi is a victim of bullying and coercion, but the film takes a lengthy flashback detour to the start of his class' first year when "class whimp" Hoshino draws the ire of the cool kids as the class president of the previous grade when picked to address the school on behalf of the incoming students and Hasumi is invited by Hoshino's young widowed mother (Cat's Eye's Izumi Inamori) for a sleepover as "payment" for befriending her son. We see the formation of a group of friends initially as a strength-in-numbers to torment from the upperclassmen outside of Kendo Club where they must endure it – where Hoshino's manhood is challenged both by his superiors and Kanzaki who wants to join the male-dominated club – and their initial forays into moral and criminal gray areas culminating in a group trip to Okinawa with money stolen from another gang where two brushes with death for Hoshino leads to a striking change in his personality upon his return to school. It is at this point that the darker turns of the narrative unfold and the amoral reactions to various acts of violence and depravity are more shocking than the acts themselves. The film's depiction of the cycle of bullying – with hints that one character's move towards individualism in the aftermath of the climax could just as easily turn towards the same kind of tyrannical behavior both in response to the bullying of others as well as the promotion to upperclassman – is insightful without excusing those who undergo the change or asking the viewer to look too deeply at those who are presented in a negative manner at the film's outset. The film's adult characters are ineffectual to do anything when it comes to the school bullying and can only comment with remote disinterest on the television news reports of youth violence (the film was shot during period in which Japanese politicians were stirring up concern over juvenile delinquency to deflect other areas of concern). More interesting, however, is the prescient depiction of social media adoration of celebrity with those striving to elevate their idols into profundity drawing followers and detractors, especially when it comes to the irrational reactions when their assertion that said current pop star "created" their music from nothing is countered not only with mention of the contributions of other collaborators but of classical influences; in this case, Lily's song "Arabesque" in its quotation of Debussy and her own liner notes acknowledgement of the influence of Erik Satie (whose "Gymnopedie" is heard as often as Debussy's "Arabesque" throughout the film as counterpoint to the film's pop music). The film seems overlong in physical length, but the director's use of digital video – the film was shot by regular collaborator Noboru Shinoda (Love Hotel) utilizing high definition video along with the usage of grainy and oversaturated standard definition DV for the Okinawa sequence as well as the film's rape scene which never confirms but disturbingly leads the viewer to assume that the assault was recorded by one of its perpetrators – and the freedom of movement that comes with it invigorates the film in a manner that harkens back to the Japanese New Wave aesthetic of the sixties, particularly the subset of youth-oriented films that were usually positive or redemptive when it came to morally-compromised leads. A relatively obscure film internationally, All About Lily Chou Chou is a dark but hopeful youth film worthy of wider appreciation.

Video


While All About Lily Chou Chou was rather obscure internationally in spite of its domestic Japanese popularity, the film has thankfully been widely available with an anamorphic American DVD Home Vision and a non-anamorphic, NTSC-to-PAL-converted UK disc from Optimum Releasing. Film Movement's 1080p24 MPEG-4 AVC 1.78:1 widescreen Blu-ray does what it can with the circa 2000 high definition video. It is not as well-detailed as a later 1080p-lensed project but the definition of the image is perhaps meaningful to the film's overall texture than that of the likes of the theatrically-released HD-lensed 2001 film Session -9 (indeed an early night-vision shot of the kids riding their bicycles down a road is framed within an artificial halo of light). The colors are much better delineated than the DVD, the blacks are not as compressed, and the highlights during the low-lit interior scenes are allowed to bloom here without clipping. The standard definition DV inserts intentionally look worse with jagged interlaced edges, smeary saturation, and extremely grainy night shots.

Audio


The film's original mix is presented on the disc in both lossless DTS-HD Master Audio 5.1 and lossy Dolby Digital 5.1 – rather than the 2.0 stereo track that is credited on the back cover – which is generally front-oriented with music and occasional effects making use of the surround channels (the domestic DVD only had the 2.0 downmix). Optional English subtitles are free of errors and transcribe the rapidly type message board posts superimposed over the image as well.

Extras


While the Home Vision DVD featured a fifty-five minute making-of documentary, Film Movement's longer making-of (86:11) that comprehensively covers the film from its beginnings as an "internet novel" – which debuted on April 1st purporting to be a real fan site with mention of the film's climactic murder as if it were a real event that happened at a concert venue – with a look at the website and the message board where regular people could post messages as well as interviews with some of the people who posted on the website, many of whom realized that they were participating in a fiction and deriving a "strange sense of synchronicity" or for some a "perverse thrill" from it, and how they were inspired by the posts of others towards their own creative endeavors. The featurette moves onto the production of the film with interviews with the cast and crew (including some who pursued their own turns as directors) and behind the scenes of the shoot in the form of a dated video diary. Given the length of the film and the making-of, there is no trailer for the film or trailers for other Film Movement releases, just their standard promo Film Movement trailer (1:26). The disc is housed with a booklet featuring a new essay by Stephen Cremin with prologue by Shunji Iwai which gives some social context to Japan during the time of the film's conception and production with the background concern about juvenile crime.

Overall


A relatively obscure film internationally, All About Lily Chou Chou is a dark but hopeful youth film worthy of wider appreciation.

---
DVD Compare is a participant in the Amazon Services LLC Associates Program and the Amazon Europe S.a.r.l. Associates Programme, an affiliate advertising program designed to provide a means for sites to earn advertising fees by advertising and linking to amazon.co.uk, amazon.com, amazon.ca, amazon.fr, and amazon.de.