The Film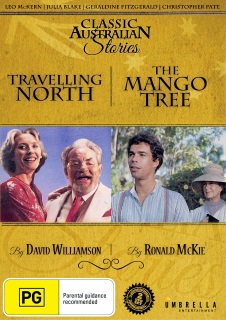 Travelling North: Forced into retirement, civil engineer Frank (Rumpole of the Bailey's Leo McKern) decides to move up north to Queensland with his girlfriend Frances (The Getting of Wisdom's Julia Blake). Although her grown and married daughters Helen (Michele Fawdon) and Sophie (Ned Kelly's Diane Craig) have concerns about their mother moving so far away and that Frank is looking for someone to care for him in his old age, those concerns are colored by long-standing resentments about her absences when they were younger and an unspoken obligation to help them take care of their children what with the lack of involvement their own husbands (Caddie's Drew Forsythe and Heatwave's John Gregg). Unbeknownst to Frances, Frank has been experiencing chest pains that he has not divulged. No sooner do they settle in than they are assailed by the company of neighbor Freddie (The Killing Fields' Graham Kennedy) whose patriotism rankles Frank as much as his unabashed affection for Frances. As Frank's chest pains become more intense, he seeks the help of local doctor Saul (Mother & Son's Henri Szeps) only to badger him into prescribing treatment that he finds agreeable. As his deteriorating body fails to keep up with his active mind, Frank becomes more distant from Frances who feels tugged between her love for him and her daughters whose relationships are falling apart. As Frank continues to keep Frances at arm's length with regard to the details of his health and his true feelings, he may find himself all alone when he needs her and wants her the most.

Based on the play by David Williamson, Travelling North can be summed up in Frank's realization that "While I've loved mankind in general, I've been thoughtless to some of those I've been involved with in particular," which ultimately applies not only to Frances but to Freddie and Saul who at first seem like caricatures to convey Frank's bitter nature to the audience but assume depth in caring about and for him later in the film beyond professional obligation or their respect/sympathy for Frances (who also comes to the realization with her children that babysitting their children is not compensation for her apparent failings as their mother when they were children). The finale feels rather limp despite the best efforts of McKern and Blake. Director Carl Schultz had previously helmed the award-winning Careful, He Might Hear You (based on the autobiographical novel by Sumner Locke Elliott), and his next assignment would be the American box-office biblical apocalypse bomb The Seventh Sign.

The Mango Tree: Jamie Carr (Wet & Wild Summer!'s Christopher Pate) is a young man living in the Queenland city of Bundaberg towards the end of the First World War. His yearning to follow in his father's footsteps and join up is stifled by his grandmother (Wuthering Heights' Geraldine Fitzgerald) who still mourns pilot son whose plane was shot down. Grandma Carr is generous and well-respected - taking in chronic drunk "The Professor" (The Red Shoes' Robert Helpmann) when he gets pneumonia and loaning money to a widow with a reputation as a loose woman - but also formidable and not above using her influence when she sees a wrong (as when the schoolmaster expels her grandson for intervening in a teacher's violent attack on a classmate). Jamie has enjoyed a measure of the same regard in which his grandmother is held but he finds his own faith in God, man, and country is not so unwavering on his own journey to manhood, which includes the decision of whether to turn tail or stand up when the local fire 'n brimstone-preaching Jones (Wolf Creek's Gerard Kennedy) snaps and commits an atrocity that shocks the entire town, the sudden loss of loved ones that come with a typhoid epidemic, and how to deal with the hurt that comes with first love when he becomes attracted to his French teacher (Travelling North's Diane Craig). All through this, Grandma Carr proves an unexpected source of wisdom and comfort who prepared Jamie to take the next step in his life and venture out into the world. Based on the novel by Ronald McKie as scripted and produced by actor Michael Pate (The Maze) and starring his son, The Mango Tree was the feature debut of director Kevin Dobson Squizzy Taylor. The adaptation of the novel cannot help but feel episodic as told from the perspective of a mostly passive lead who only by increments learns to stand up for himself and his beliefs, but the depiction of the underbelly of the small town idyll during the war years is tied together more so by the sense of home that is championed by the characters of Grandma Carr and The Professor in a land occupied by people who still think of Britain as their homeland however they have ended up in Australia by choice or the banishment of their ancestors.

Video


Travelling North: The dual-layer disc in Umbrella's Classic Australian Stories two-disc set is identical the 2004 single-disc edition. The anamorphic transfer is dated but gets the job done, with warm skin tones a deliberate cinematographic effect but also exacerbated by a slight yellow-leaning tinge of the SD transfer.

The Mango Tree: The second DVD in Umbrella's "Classic Australian Stories" double feature is identical to the 2009 single-disc, and that is unfortunate because both utilize the same panned-and-scanned transfer of a Panavision film, and the old tape master has at least one noticeable glitch and one audio dropout. While we have been robbed of the full compositions of Brian Probyn (The Satanic Rites of Dracula), it is a testament to the film's performances that the actors pull the viewer's focus rather than what is missing from the frame (apart from a couple obvious group shots meant to take full advantage of the width of the frame). Although not a masterpiece of Australian cinema, it is certainly deserving of a better presentation.

Audio


Travelling North: The Dolby Digital 2.0 rendering of the Dolby Stereo mix favors the spread of music and ambient effects over directional ones. There are no subtitles or captions.

The Mango Tree: No complaints about the Dolby Digital 2.0 rendering of the original mono mix.

Extras


Travelling North: Extras include the retrospective featurette "From Stage to Screen: Travelling North" (18:47) with playwright Williamson & actors Blake and Szeps. Williamson discusses the origins of the play and Frank Wilson (THE CLUB) being replaced by McKern for the film, Blake recalls auditioning with McKern on video while she and Szeps discuss the ways McKern was like the character but with more humor. The aforementioned Original Cast Screen Tests with actors Leo McKern & Julia Blake (6:47) is also included along with "Compulsive Playwright" (26:27), an interview with writer David Williamson episode of the television program "Voices on the Page" about Williamson's career, and the film's theatrical trailer (2:44) and other Umbrella Trailers.

The Mango Tree: Apart from trailers, the sole extra is an interview with actor Christopher Pate (16:20) who reveals that his father had wanted to adapt source author Ronald McKie's The Heroes for several years (the book became a miniseries in 1989) before settling on The Mango Tree. He admits that he was too old for his role but was also a bit hurt not only by the criticism but also the reception to the film. He also notes that twenty-four year old director Dobson might have been overwhelmed by the scale of the production, that family friend Fitzgerald stepped in when Katherine Hepburn fell ill, and that he still has doubts about whether the film should have been shot in anamorphic format. The disc also includes bonus trailers.

Overall


The "Classic Australian Stories" double feature repackaging of Travelling North and The Mango Tree does not really come together thematically but it offers reassessment of two deserving films, one regrettably not persented in good condition.