Dr. Knock
R0 - Australia - Umbrella Entertainment
Review written by and copyright: Eric Cotenas (13th June 2019).
The Film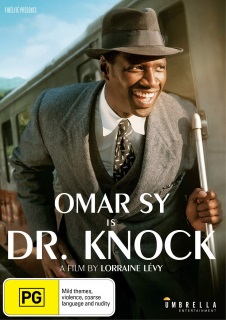 Small village are rarely bastions of progressive thought; and, as such, their inhabitants can be just as susceptible to flash and flattery as they are resistent to change they see as imposed from outside. Five years before he took over the Saint-Maurice practice of Dr. Parpalaid (Micmacs' Nicolas Marié), Knock (The Intouchables' Omar Sy) was a swindler who escaped loan shark Lansky (Just a Gigolo's Pascal Elbé) by hopping aboard a ship bound for India and serving as unqualified medical officer before resolving to enroll in medical school. Upon arriving in Saint-Maurice, he learns from the good doctor that the reasonably well-off populace has little need for his services and there is little that herb tea and rest will not cure. Devious Knock picks up on the dissatisfaction with the practice among the locals and subtly encourages it, telling the town pharmacist (A Very Long Engagement's Michel Vuillermoz) and his wife (Welcome's Audrey Dana), whose business has directly suffered as a result of Parpalaid approach to medicine, that all people are "more or less" sick and promises them an increase in prescriptions as he diagnoses what they perceive as their own ailments or plays up their ailments as symptoms during free consultations that prove profitable for himself. While the village curate (OSS 117: Lost in Rio's Alex Lutz) remains skeptical about Knock's abilities, he makes the postman (The Visitors: Bastille Day's Christian Hecq) feel important, gives imperious landowner La Cuq (Mélo's Sabine Azéma) a complex about her aches and pains, and courts the charity of wealhty Madame Remy (Le Grande Bouffe's Andréa Ferréol). Just as his business is booming, he finds his medical knowledge tested when lovely farm girl Adele's (The Returned's Ana Girardot) cough turns out to be tuberculosis and the curate finds an ally in one of Knock's old enemies. The source play by Jules Romains' "Knock ou Le triomphe de la médecine" - adapted over twenty times for film and television since the silent era - was a satirical critique about modern medicine in which the protagonist was not a conman but took unscrupulous steps after feeling like he had been cheated by the doctor who sold him his practice, while this attractively-lensed film adaptation cannot decide whether it wants to be a comedy or a drama. The satire is blunted by overfamiliarity with the depiction of provincial villages, hypocrisy, and class strife, but the film is not without its pleasantries like the disarming performance of Sy and some understated turns by members of the Comédie Française in sharp contrast to the barnstorming of some of the other cast members; the blame for which must fall on director Lorraine Lévy (The Other Son) who also adapted the play but seems to possess little affinity for comedy.

Video


Although Umbrella have given Dr. Knock a dual-layer encoding, the disc is without a menu or any extras. The progressive, NTSC, anamorphic widescreen image seems a fair SD representation of an HD master.

Audio


The sole audio option is a French Dolby Digital 5.1 track with English subtitles hard-coded into the image.

Extras


There are no extras or menu screens.

Overall

---
DVD Compare is a participant in the Amazon Services LLC Associates Program and the Amazon Europe S.a.r.l. Associates Programme, an affiliate advertising program designed to provide a means for sites to earn advertising fees by advertising and linking to amazon.co.uk, amazon.com, amazon.ca, amazon.fr, and amazon.de.