The Film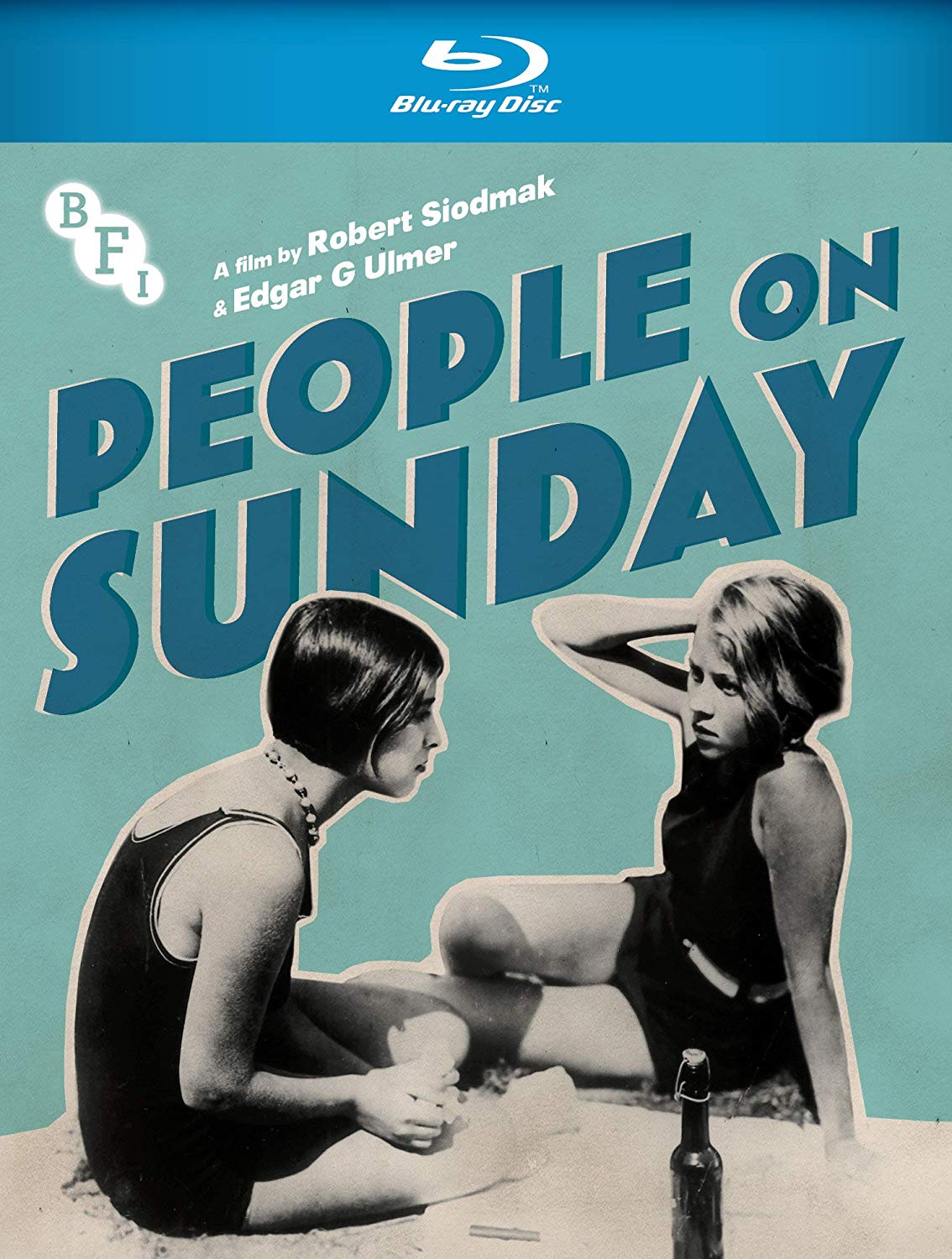 "People on Sunday" ("Menschen am Sonntag") (1929)

On a Saturday morning in Berlin, Wolfgang (played by Wolfgang von Waltershausen) makes a move on Christl (played by Christl Ehlers), a young woman waiting in the streets for someone. Their chat leads to a short date, culminating with the two of them promising to meet again on Sunday. He makes plans with his friend Erwin (played by Erwin Splettstößer) for a double date, but his girlfriend Annie (played by Annie Schreyer) is uninterested. On Sunday, Wolfgand, Erwin, Christl and her friend Brigitte (played by Brigitte Borchert) all take a short trip to Wannsee and enjoy being youthful and having fun on the relaxing day.

The plot itself seems incredibly simple. a group of young people out on a Sunday having fun. There are scenes of swimming, listening to music, conversing, laughing, and even a minor love triangle brewing. But "People on Sunday" was in fact a revolutionary piece of work. German cinema in the 1920s was all about spectacle. From big budget lavish setpieces with larger than life screen actors, the extraordinary films such as "Faust" (1926), "Metropolis" (1927), and "Pandora's Box" (1929) were major blockbusters all over the world and still highly regarded as the best films in the silent generation. But suddenly came a film with no actors, no stars, made by filmmakers that were not well established, and focused on the here and now. There were no sets as everything was done in existing locations. From the city of Berlin to the beaches and the forests, there was nothing that audiences hadn't seen before. But reality itself was something not commonly seen on cinema screens besides documentary films and this made "People on Sunday" stand out tall. A film made by youths and capturing the essence of youth, it clicked with German cinemagoers becoming extremely popular in its initial theatrical run. Audiences closely identified with the characters. An arguing couple. Hitting on a girl and asking for a second date. Falling in love. Making mistakes. Awkward sexual tension. They were extremely relatable and felt organic rather than theatrical and spectacular.

Although the film was made by a group of basically no-name filmmakers, the careers the men had afterwards were astonishing. The film was directed by Robert Siodmak and Edgar G. Ulmer. Siodmak made an excellent selection of horror films for Universal in Hollywood with works such as "Son of Dracula" and "Cobra Woman" as well as classic films noir such as "The Killers". Ulmer also had a similar story after his move to Hollywood, creating classics such as "The Black Cat" and "Detour". Co-writer and younger brother of Robert, Curt Siodmak made a name for himself as a screenwriter, penning classics in Hollywood such as "The Wolf Man", "I Walked with a Zombie", and "Son of Dracula". Co-writer Billy Wilder became one of the most successful filmmakers in Hollywood with dozens of classics in his resume, including "Double Indemnity", "The Seven Year Itch", and "The Apartment" to name a few. Cinematographer Eugen Schüfftan actually had quite a different style of films on his resume before working on "People on Sunday", lensing "Die Nibelungen" and "Metropolis" for director Fritz Lang as well as the epic "Napoleon. He would work mostly in France during the war period on productions directed by Max Ophüls, René Clair, and Georges Franju among others, and in 1961 he won the Academy Award for cinematography on "The Hustler". For many of the inexperienced cast and crew, the film really was a labor of love and something unexpected. Shot over weekend periods without a complete script but instead relying on the environment and whatever was available, creating a narrative structure came organically rather than in a forced and orderly fashion. But probably only about half of the film regards the main characters and their interactions. Quite a lot of footage is of documentary footage of Berlin of the period.

From cars, trams, people walking, people interacting, street corners, shops, monuments or anything else, the film certainly feels alive due to the hustle and bustle seen with the documentary footage of Berlin in the late 1920s shot for the film. A time before Nazi-ism took over the country, before bombing and destruction of WWII, the time capsule piece has similar qualities to "Berlin, Symphony of a Great City" made two years prior. While that film was a showcase of the city itself, "People on Sunday" is at the center a narrative film with excursions into documentary footage, yet it balances itself quite well, by not letting one skew the other. Judging from the talent involved, it is interesting to see what these later established filmmakers did in their earliest days and how much it differed to their later styles, though it is certain that the culmination of these amazing filmmakers together were able to make something stand out an magical, and their inspiration was all around them at all times as seen in the frames. As for the actors who were unknowns and plucked off the streets, their fates were not in the same direction as the filmmakers. Erwin Splettstößer who was in real life a taxi driver like his film character was killed in an accident in 1931, a year after the film was screened. Wolfgang von Waltershausen was able to get two small film parts but nothing else on screen. He died in 1973. Christl Ehlers moved to the United States where she had her own vitamin business. She was unfortunately killed in a plane crash in 1960. Brigitte Borchert stated she never wanted to be an actress and kept that stance and married illustrator Wilhelm M. Busch in 1936. She died in 2011 at the age of 100. As for Annie Schreyer, there seems to be no information on her life following the film.

The film was a hit in Germany when it opened on February 4th 1930 and played throughout Europe to high regard. But with war, film elements not being kept in good condition, the film has unfortunately become a part of the casualties of incomplete German silent films. The original version of the film ran 2,014 meters. The negative is lost, and the film had to be reconstructed using edited European versions that varied in shorter runtimes and with alternate language intertitles. The most recent restoration of the film completed in 1998 is at 1,839 meters, so nearly 200 meters of material has been lost over the years. The restored version was given new life in various festival screenings as well as DVD and Blu-ray releases around the world, though one may hope additional footage could be found to make the film even more complete. There is possibility, but for the moment, the slightly shortened restored version is an exceptional piece that should be seen by enthusiasts of silent cinema.

Note this is a region B Blu-ray

Video


The BFI presents the film in the original 1.37:1 aspect ratio in 1080p AVC MPEG-4. The film was restored by the EYE Film Institute in the Netherlands in 1997 and 1998. With the original negative lost, the restoration was based on a Dutch release print which was 400 meters shorter than the German version. With additonal footage found in various archives, the film was lengthened to 1,839 meters, though still missing about 200 meters worth of original material. The original German intertitles were recreated from surviving information and inserted for the restoration. This would be considered the restored version. In 2010 the restored version was digitized and in 2014 it was remastered in 2K at ARRI in Berlin under the supervision of Deutsche Cinematek. The film speed is at the preferred 22fps converted progressively to 24fps without speedup. There isn't a jerkiness to the transfer and is handled quite well. The image looks very good considering the convoluted history and incomplete nature, with a crisp black and white image that is fairly stable with very little telecine wobble. With the differing source materials used for the reconstruction, there are inconsistencies from shot to shot. Some scenes have more blown out whites than others, while others have a better grey scale, some scenes have much more damage than others, for example. No scene in particular is absolutely clean, as the image is filled with dust, scratches, and other forms of damage throughout, though much has been digitally fixed. The restored image may be imperfect but is certainly in a very watchable state.

The restored film's runtime is 74:32.

Audio


Music LPCM 2.0 stereo (score by Elena Kats-Chernin)
Music LPCM 2.0 stereo (score by múm)
The film has two audio options. There is a piano based score by Australian composer Elena Kats-Chernin performed by the Czech Film Orchestra and a minimalistic electronic score by the Icelandic group múm. The Kats-Chernin piece is a quietly bittersweet piece that well reflects the tone of the film quite well. The music cues of when the records being played are instead treated to the audio of the records themselves rather than the orchestra's accompaniment. The second score by múm is a live recording from February 2018 that takes a very different approach. The group has scored a few silent films in their history in studio as well as live performances at screenings. The minimal electronic score certainly sounds good and can be listened to on its own without a doubt, but the tempo and the nature doesn't fit quite as well as the piano based organic score. There are some fast paced segments that are uptempo as well as piano led slow moving and quiet moments, with differing scenes. It's still a great addition to the release and having two options is an excellent choice. múm have also released the score separately as an EP entitled "Menschen am Sonntag - Live in Berlin" in 2018, in a condensed form running about 36 minutes.

There are optional English subtitles for the German intertitles in a white font. As stated before, the German intertitles had to be recreated as the originals are lost. They are stylized and fitting with the German films of the era and the English subtitles are clear and easy to read.

Extras


Audio commentary by Adrian Martin
In this newly recorded commentary, Martin contextualizes the film's place in German cinema history, the success it had during its theatrical run, notes on the production, biographies of the main stars as well as the filmmakers. The runtime of the film is fairly short and so is the commentary, but it is chock full of information.
in English Dolby Digital 2.0 with no subtitles

"Weekend am Wannsee" 2000 documentary (31:10)
In this documentary there are interviews with film restorer Martin Korber on the reconstruction of the film and its history as well as interviews from Kurt Siodmak and Brigitte Borchert, the only two people who worked on the film at the time. Borchert talks about being an unknown and cast in the film as well as how the broken record scene was actually improvised as the record was accidentally broken.
in 1080p AVC MPEG-4, in 1.33:1, in German Dolby Digital 2.0 with optional English subtitles

"Eine Fahrt dursch Berlin" 1910 travelogue (5:47)
"A Trip Through Berlin" as it is translated, this sepia tinted short features cars, trams, horse carriages. monuments and daily life on the streets of Berlin before the wars.
in 1080p AVC MPEG-4, in 1.33:1, Music Dolby Digital 2.0 with optional English subtitles for German Intertitles

"Beside the Seaside" 1935 documentary (21:42)
In this narrated short by the Strand Film Company, it is a look at Brits flocking to the beach in summertime, seeing families, vendors, and even on stage comedy being performed for the patrons. Although the comedians doing their act in blackface is not exactly something of comfort seen from a modern perspective.
in 1080p AVC MPEG-4, in 1.33:1, in English LPCM 2.0 with no subtitles

"This Year - London" 1953 documentary (25:06)
In this short from British Transport Films, the camera takes a journey by rail, by bus, and by boat. There seem to be some missing frames and sound 7:30 in and about 18 minutes in, possibly during reel changes.
in 1080p AVC MPEG-4, in 1.33:1, in English Dolby Digital 2.0 with no subtitles

Booklet
A 32 page booklet is included. First is the essay "Catching the Light" by writer Amanda DeMarco which breaks down the film and its place in history as well as its historical and geographical context. Next is the essay "People on Sunday" by Sarah Wood is about the making of the film. Following that is a text interview with Brigitte Borchert from 1931 translated into English, in which she talks about how she received the part yet was not interested in continuing to be an actress, making "People on Sunday" the only film she had ever been in. This is followed by "Sunday Memories", which are notes that were written by Borchert for the 1992 VHS tape of the film. There are also credits, a contemporary review, notes on the music scores, special features information, transfer info, acknowledgements, and stills.

The film has been released on Blu-ray in the United States by Criterion and by Al!ve in Germany. The Criterion release and the German release also have the documentary, but the Criterion also includes the 1931 short "Ins Blaue hinein", and an exclusive score by the Mont Alto Orches­tra as well as the Elena Kats-Chernin score found on the BFI release.

Overall


"People on Sunday" is very simple in narrative and structure, yet it's an incredibly important piece of filmmaking considering the time it was made, how it was made, who it was made by, and the innovations. The BFI Blu-ray presents the restored version with a great transfer and a worthy selection of extras.
| | | | | |
| --- | --- | --- | --- | --- |
| The Film: A | Video: B | Audio: A | Extras: A | Overall: A- |