You Will Be Mine
R1 - America - Film Movement
Review written by and copyright: Eric Cotenas (16th June 2019).
The Film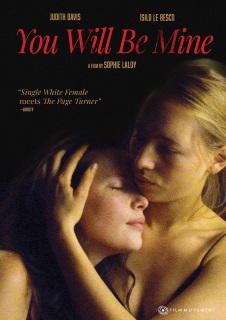 Country mouse Marie (Le Week-End's Judith Davis) moves to Lyon to study at the music academy as a concert pianist. She moves in with childhood friend Emma (My King's Isild Le Besco), the daughter of a famous artist, sharing her absent mother's labyrinthine apartment. While Emma has blossomed into a chic, worldly but icy beauty, she proves to be more studious as a medical student than Marie who is dedicated to her goals as an artist but also wants to have some fun. She tries to emulate Emma in style but soon finds their closeness confining as Emma shuns Marie's music school friends and becomes anxious and angry when Marie stays out late. A big fish in a small pond back home, Marie is not making the strides she believes she should be under the tutilege of Mademoiselle Lainé (Eyes Without a Face's Edith Scob), blaming Marie who embarasses her in front of her friends by criticizing the judges when Marie does not win a spot on a radio concert. It is not long before Emma makes her desires for Marie known, which the other girl does not return. Her family believes that she is being an ungrateful brat and see Marie as generous for allowing her to live in the city without a two hour commute. Feeling powerless, Marie latches onto Emma's weaknesses, using them to manipulate her emotions and flaunt her relationship with classmate Sami (Cosmos' Johan Libéreau), but Emma proves just as manipulative and it is just a matter of time before one or the other snaps.

Promoted as "Single White Female meets The Page Turner," You Will Be Mine does indeed share some of the same tone as the latter film but has more in common with another Single White Female precursor in Claude Chabrol's Les Biches; however, You Will Be Mine shows no interest in going anywhere as far as narrative progression or character arcs. The British title Highly Strung might be even more appropriate as it is not so much a thriller as a study of brittle young artistic personalities and explores the ambiguities of how they feed off of each other. Emma certainly is manipulative but also pitiable while Marie seems to momentarily return Emma's interests only insofar as how it might energize her performance. Even boyfriend Sami is uncomfortable with the dynamic between the two girls, thinking Marie either cruel to exploit Emma's clinginess or more interested than she claims with her reluctance to tell anyone about her supposed concerns about her roommate's possessive behavior. Ultimately, however, the film kinds of putters out with a climax and resolution that plays like a limper version of The Piano Teacher and leaves us knowing little more about the characters than we did at the start.

Video


Film Movement's barebones, dual-layer DVD presents the progressive, anamorphic film at a high bitrate which makes the best of an older SD master of a film with plenty of low-light sequences and natural lighting.

Audio


The sole audio option is a Dolby Digital 2.0 stereo track that has clear dialogue and channel separation for the music and some directional effects, but the lack of a 5.1 track – reportedly present on the British and French DVD editions – and the large burnt-in subtitles are a little annoying and atypical of Film Movement's product in general.

Extras


There are no extras apart from two start-up trailers.

Overall


Promoted as "Single White Female meets The Page Turner," You Will Be Mine shows no interest in going anywhere as far as narrative progression or character arcs.


---
DVD Compare is a participant in the Amazon Services LLC Associates Program and the Amazon Europe S.a.r.l. Associates Programme, an affiliate advertising program designed to provide a means for sites to earn advertising fees by advertising and linking to amazon.co.uk, amazon.com, amazon.ca, amazon.fr, and amazon.de.