The Film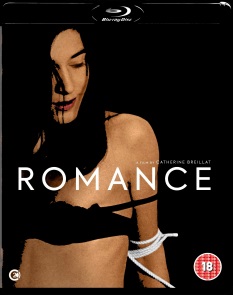 Schoolteacher Marie (The Soul Keeper's Caroline Ducey) believes that her boyfriend Paul (Michel Vaillant's Sagamore Stévenin) has fallen out of love with her because he claims he can no longer have sex with her – a defect he claims is common to all of his relationships after the first few months – but she suspects he no longer wants to make love to her. Restless and sexually frustrated, she goes out one night expressly to look for a man who just wants to screw, and believes she has found him in Paolo (Amorestremo's Rocco Siffredi) who is attentive to her wants and desires, including her insistence that they do not kiss. She meets him a few more times but stops when he wants to know more about her and she fears that she could fall for him. She then experiments with bondage and sadomasochism with her school headmaster Robert (A Girl Cut in Two's François Berléand), an aesthete with an Oriental fetish who claims to have slept with over ten thousand women specifically because he knows how to listen to them. Although she is initially reluctant to be tied up and blindfolded, she finds that this form of intercourse may be the very thing she desires out of a purely sexual relationship while remaining emotionally true to Paul. When a failed attempt at lovemaking between Marie and Paul (aborted by him) nevertheless leads to her pregnancy, Marie is no longer able to cling to the belief that Paul really loves her.

Belonging to that turn-of-the-century, pre-New French Extremity mostly-French trend of filmmaking that incorporated hardcore sex into dramatic scenarios – among them the French Baise Moi, Pola X, and The Pornographer, the French/British Intimacy and 9 Songs, the Italian The Maneater, and the American Ken Park and Brown Bunny – Romance – (marked in some territories as Romance X or even Romance XXX) is an "anti-pornographic" provocation from actress-turned-novelist-and-director Catherine Breillat (A Real Young Girl) whose filmography thus far had already explored female sexuality in a manner quite apart from her male contemporaries, positing her female protagonists as exploring and developing their identities through their sexuality in a manner usually reserved for male protagonists in film where women are more representative than concrete. Indeed, what male filmmaker could conceive of or would dare to make a film in which a woman wants to be a "slab of meat" in her sexual encounters. Breillat's heroine is humiliated not by her sexual encounters – even one with a stranger (Reza Habouhossein) that becomes a rape – but by her boyfriend's posture of moral superiority with regard to sexuality, suggesting that her sexual desire is an aberration and treating her during pregnancy as if she as a mother would be sullied by sexual intercourse; so much so that she finds more intimacy being "a case study for pimply interns" than in the aborted act with her husband that resulted in her pregnancy ("He pulled a Virgin Mary stunt on me"). One of her fantasies springing from one of her many pelvic exams of a bordello in which only the lower half of women's bodies are displayed for use by men becomes "proof that a hard-on doesn't mean they love us" and that "being a woman has a fatal flaw: if she gets you hard, you want to bone her; wanting to bone her is to despise her"). Even the reason for wanting a child differs between Marie and Paul; the former as the ultimate expression of their love and physical intimacy, and the latter seemingly to focus her energies as a woman in another direction. Although her relationship with Robert appears more equal, he seems as frustrated by her lack of appreciation for the erotic as philosophy and art as she is by his verbosity about his status as a "sexual Don Juan" (even playing a recording by a noted sexologist to Marie as statistical proof). While actress Ducey is body doubled in a couple shots, it is porn star Siffredi who is reduced to his endowment – as much by intent here as his acting abilities as demonstrated by his principal role in Breillat's later Anatomy of Hell – Stévenin to his face, and Berléand to his voice. The economy of Breillat's abilities as a filmmaker is to suggest with a minimum of screen time that Paul's sister is similarly cold but that her own boyfriend seems unfazed by it because he is not as committed as Marie. The plain but elegant photography of arthouse favorite Giorgos Arvanitis (Dorothy Mills) is suited to the sterile nature of most of the settings, emphasizing the symbolism of the color scheme of whites, beiges, and greys (colors shared in the wardrobe of Marie and Paul at first) to Marie's red dress and how her underlying black lingerie foreshadows the final scene. Breillat's subsequent Anatomy of Hell – based on her own novel but drawing on both Marguerite Duras novels "The Malady of Death" and "Blue Eyes, Black Hair" with the genders of the protagonists reversed – also featured body-doubled hardcore content as a woman wants a man to watch her where she is "unwatchable."

Video


Released subtitled theatrically in the United States by Trimark and Blue Light in the UK, the Trimark tape and non-anamorphic DVD were uncut while the Blue Light tape and non-anamorphic DVD were cut by one second. The cut was waved for Second Sight's 2014 DVD. Second Sight's 1080p24 MPEG-4 AVC 1.66:1 pilarboxed widescreen Blu-ray is a nice upgrade over the Trimark DVD, the nearly twenty year old master of which looks more like digital video compared to the high definition image in which contrasts, colors, and textures are better resolved while film grain is also more prominent, with the film looking overall more like an "art film" than a polished pieces of nineties erotica.

Audio


An early Dolby Digital title, Romance's original audio mix was matrixed stereo in which separations were mainly confined to the scoring and source music, and the DVDs featured Dolby Digital 2.0 tracks (the American DVD also including an English dub that was thankfully not the track used for theatrical screening and VHS release). The default audio track on the Blu-ray is an LPCM 2.0 stereo while a rechanneled DTS-HD Master Audio 5.1 option is also included that features a bit more depth but do not expect much in terms of surround content (indeed, a number of early Dolby Digital 5.1 French films were rather conservative in their mixing). Optional English subtitles have been provided.

Extras


While the previous DVD editions were barebones, Second Sight has commissioned three video interviews for their Blu-ray. In "Hard for Art's Sake" (19:50), director Breillat reveals that she was actually trying to interest producer Jean-François Lepetit (Death and the Maiden) in her adaptation of Barbey d'Aurevilly "An Old Mistress" – which she was not able to realize until 2007 as The Last Mistress – and that he was more interested in the scenario she wrote for Romance and encouraged her to develop it instead. Breillat discusses the casting of the film, including her conception of Marie as a blonde until she saw Ducey, casting Siffredi (the original choice was a trained actor who would not be able to get it up for the hardcore scenes), and Berléand's reaction to the sole sexual thing required of him by the script. She also discusses the filming of the sex scenes, the incompetence of her female producer which required her to be more organized until Lepetit took over, and the film's reception. "The Loneliness of a Young Relay Runner" (18:47) is an interview with actress Ducey who recalls her initial desire to be a dancer and getting into acting and her few roles to Romance. Of the film, she discusses her willingness to do the erotic scenes, feeling removed from the scenes with her double, and that Breillat was not always supportive as a director, manipulating her performance by sometimes withholding her intentions and their disagreement over aspects of characterization. She also feels that Breillat was exorcising herself through the making of the film and also makes reference to Breillat throwing her out of a press conference while also expressing a willingness to work with her again (she did have a small role in The Last Mistress). "Getting the Picture" (17:35) is an interview with producer Lepetit who also covers their meeting and the film she originally wanted to pitch to him. He also discusses the casting of Siffredi and concerns over the content that lead him to wait to show the film to distributors complete as a "take it or leave it" deal rather than showing them rushes earlier where they might try to dictate changes to the content for deals. He also reveals that the film's press manager recommended not screening the film for critics so he went behind the man's back and wrote to hundreds of major critics who then bombarded the man with requests for seating at a press screening of which he was unaware.

Overall


Belonging to a turn-of-the-century trend of filmmaking that attempted to merge hardcore sex and mainstream dramatics, Catherine Breillat's Romance is an "anti-pornographic" provocation.