A Case for a Rookie Hangman [Blu-ray]
Blu-ray ALL - United Kingdom - Second Run
Review written by and copyright: Eric Cotenas (1st July 2019).
The Film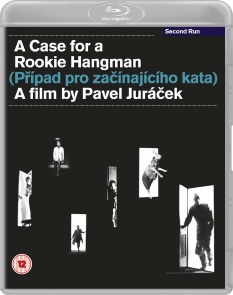 While stopping roadside for a brief break, Lemuel Gulliver (All My Compatriots's Lubomír Kostelka) loses control of his car, crashing it down a hillside and discovering that he has run over a hare dressed in a suit and trousers carrying a pocket watch. He takes the watch and walks along the seaside and comes across an old mansion in which he encounters dead school friends – including his beloved Markéta (If a Thousand Clarinets's Klára Jerneková) who drowned and the neighbor Mrs. Miller whose nude bathing first engaged his young libido – and is literally assaulted by further youthful memories until he is apprehended by strangers who refuse to speak to him and gag him when he tries to speak. The next day he is brought to Professor Beiel (Veronika's Radovan Lukavský) who classifies all of his belongings in order of suspiciousness in what first seems like a trial but is then revealed to be a class in interrogation techniques in which he seems no less under threat. His captors refuse to believe that his name is Gulliver, and that plenty of people – from the governor to the anarchists – in the Republic of Balibarni would like him to be Oscar, the hare owner of the pocket watch and thus acquainted with Prince Munodi (...and the Fifth Horseman Is Fear's Miroslav Machácek) of Laputia the flying kingdom that floats above Balibarni, and want to hasten his trip to Laputia from which no one ever returns.

Liberally adapted from two volumes of Jonathan Swift's "Gulliver's Travels" with apologies to the author should he turn in his grave on account of the film, A Case for a Rookie Hangman is the second and last feature-length directorial effort of Pavel Jurácek – otherwise one of the key figures in the Czech New Wave, having adapted Jindrich Polák's Ikarie XB-1, co-scripted Vera Chytilová's Daisies and Karel Zeman's A Jester's Tale, and scripted Late August at the Hotel Ozone for Jan Schmidt (who had previously co-directed with Jurácek the short feature Josef Kilián) – developed during "Prague Spring" and managed to be shot and released in its more repressive aftermath whereupon it was "banned forever" with Jurácek was unable to jumpstart his career abroad and dying relatively young just months before the Velvet Revolution. After an opening suggestive of Lewis Carroll, the film sends Gulliver first to a reunion with phantoms of his past and then into a land in which he cannot help but transgress rules constantly until he is always on his guard and reduced to apologizing with the excuse "I'm a foreigner." His escort to Laputia which at first seems like an expulsion when he learns he is not expected to return leads to an opulent on the surface but somewhat shabby kingdom where the subjects and the prince himself seem eccentric but less threatening in their snobbishness – Gulliver is free to espouse on the oddities of Balibarni like their dedication to science that is so extreme as to be backwards including the elimination of speaking on Mondays to conserve air and the talk of doing away with electricity because science should be dumbed down to the point where it is understandable by all of the people – that ultimately betrays a lack of concern with the land over which they rule with the Prince dismissing an official communiqué given to Gulliver by the governor to present to him. The Prince drinks away his boredom and we learn that the King is not a guest at the Carlton in Monte Carlo but working there as a porter. The Markéta substitute who has intoxicated Gulliver throughout his journey Dominika (Lemonade Joe's Milena Zahrynowska), in ultimately revealing to Gulliver the lies of his subconscious about his past, drives him to reveal upon return to Balibarni that the people of that land have also been living a lie, and that their rules reflect their own hang-ups and not those of their revered Prince who thinks nothing of them. This is met with outright violence not only by the Governor who tries to shoot Gulliver but also the creatives who now have nothing to think against; plunging Balibarni into chaos while seeming to cleanse himself as he walks down the road either to freedom or to take on the adventures of the next book in the Swift tale. The critique of authoritarianism in the land of Balibarni and the land of Laputia in which ministerial positions are simply filled by cronies who do nothing was probably more obvious and offensive after the Soviet crackdown due to Jurácek's naturalistic approach in which the surreal is kept at a minimum in favor of the satirical.

Video


Derived from a 2015 4K restoration of the film previously released on Blu-ray in the Czech Republic, Second Run's 1080p24 MPEG-4 AVC 1.37:1 pillarboxed fullscreen transfer is in keeping with Czech monochrome films of the sixties with a blacks a shade lighter than the video mattes and the brightest of white tinged with gray. Fine detail makes itself known in the woodwork of Balibarni and Laputia as well as the lines in the face of our protagonist in close-ups that may deliberately betray the self-image of being a youthful thirty-five as the film goes on. As stated in the preface "the goal of the digital restoration was to be able to present the film in such a way, so that it could be seen and heard as an audience would have experienced it at the time of its creation in 1970" and reel change marks remain but are not distracting.

Audio


The Czech DTS-HD Master Audio 2.0 mono track is subject to the norms of the film, being very clean but sounding a little flat compared to the mono tracks of the film's Japanese or even French contemporaries. Optional English subtitles are provided.

Extras


The Projection Booth podcast with Mike White, Kat Ellinger, Kevin Heffernan and Peter Hames from September 2017 is provided as an alternate audio track option for the feature minus the commercials that brought it up to two-and-a-half hours in length in its original form. Among the subjects of discussion are the career of Jurácek in his small filmography as director and his writing collaborations with Schmidt, Zeman, and Chytilová, Swift's source novel and the particular books adapted here, other adaptations of the novel, and various themes of other Czech New Wave films carried over here (Ellinger also likens the film to the later Polish The Hourglass Sanatorium in which the protagonist's journey to visit his estranged father in a strange sanatorium is actually a journey into his own subconscious). The film's theatrical trailer (1:13) is also included.

Extras also include a new 4K restoration of 1963 short feature Josef Kilián [Postava k podpírání] (38:32 minus 0:58 restoration text) by Juracek and Schmidt – previously been available from an older digital PAL master from Second Run on a DVD double feature with Frantisek Vlácil's The White Dove – in which a mild-mannered citizen enters a Kafka-esque bureaucratic hell after he comes upon a "cat rental agency" and decides to rent one. When he goes to return the cat, he finds that the store no longer exists and no one seems to have heard of it. With late fees mounting - at least in the protagonist's mind since we have no indication that he is being billed by this apparently non-existent agency - he appeals to authorities and finds himself constantly misdirected to other officials or blamed for causing the problem by renting the cat in the first place (he cannot even explain why he wanted one in the first place). Slight yet funny, Josef Kilián's inciting incident may be absurd, but contemporary viewers may actually find the protagonist's ensuing frustrations very relatable. The disc also includes a pair of short films written by Jurácek and directed by Schmidt: Cars Without a Home [Auta bez domova]" (1959; 6:38) and "Black and White Sylva [Cernobílá Sylva]" (1961; 28:34). Also housed with the disc is a new twenty-three page booklet by Michael Brooke featuring a comprehensive chaptered essay on the career of Jurácek, his earlier directorial efforts, the feature presentation, and the director's later life and early death (as well as the rehabilitation of his career in the years after).

Overall


The second and final feature film of the late Pavel Jurácek skillfully transposes the savage satire of Jonathan Swift's "Gulliver's Travels" to an Eastern Bloc at once fantastic and familiar.

---
DVD Compare is a participant in the Amazon Services LLC Associates Program and the Amazon Europe S.a.r.l. Associates Programme, an affiliate advertising program designed to provide a means for sites to earn advertising fees by advertising and linking to amazon.co.uk, amazon.com, amazon.ca, amazon.fr, and amazon.de.