The Film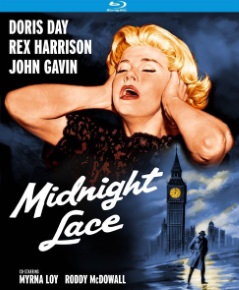 Oscar (Best Costume Design, Color): Irene (nominated) - Academy Awards, 1961
Golden Globe (Best Actress - Drama): Doris Day (nominated) - Golden Globes, 1961

Newly-married Kit Preston (Pillow Talk's Doris Day) is living with her executive husband Anthony (My Fair Lady's Rex Harrison) in London. His business has delayed their honeymoon trip to Venice and the loss of her passport has given him an excuse to push it back farther. On her way home from the American Embassy, Kit becomes disoriented in the thick-as-pea-soup London fog and is terrified when a sing-song voice calls her name and tells her he is going to murder her. Her husband tries to downplay the threat, insisting that it is a custom of British ne'er-do-wells to play pranks on the unsuspecting when the fog offers them anonymity (his own hat stolen off of his head the same day being an example). Kit accepts this explanation until she receives an obscene phone call which also ends in another death threat. She confides in her neighbor Peggy (Romeo and Juliet's Natasha Parry) who is missing her own merchant marine husband, and is comforted until she is nearly killed by a falling iron beam from the construction going on outside their apartment house whereupon she meets handsome but shell-shocked construction foreman Brian Younger (Psycho's John Gavin). She is more worried by Malcolm (The Legend of Hell House's Roddy McDowall), the wastrel son of her ailing housekeeper Nora, who alternately asks to borrow money (on his aunt's behalf, of course) and for her to appeal to her husband to get him a cushy executive job. When his secretary Daniel (Mrs. Miniver's Richard Ney) uncovers suspected misappropriation of funds in the business, Anthony has to further postpone their honeymoon which is the very thing that her visiting Aunt Bea (The Thin Man's Myrna Loy) believes will put Kit at ease; Bea sharing the opinion of the Inspector Byrnes (Witness for the Prosecution's John Williams) that Kit may either be making up or exaggerating the degree of threat from her caller for her husband's attention. When a scarred man (Dial M for Murder's Anthony Dawson) tries to force his way into her home but no one else sees him – including her rescuer Brian and his workmen who thoroughly searched the building – Kit also begins to question her own sanity and submits to psychiatric evaluation. When Anthony decides to set aside business and take her on vacation, Kit thinks she has put her troubles behind her until someone tries to push her in front of a bus and the threatening caller finally sets a date for her appointment with death.

Both a Doris Day vehicle and another attempt by producer Ross Hunter (Steel Town) to repeat the success of his grand melodramas helmed by Douglas Sirk (All That Heaven Allows) attempted subsequently with jobbing directors like Jerry Hopper (One Desire) and Michael Gordon (Portrait in Black), Midnight Lace has all the right elements with Universal production values, Technicolor photography of pro Russell Metty (Spartacus) and scoring by prolific Universal contract composer Frank Skinner (Harvey); and yet, it manages to fall flat as a thriller yet still entertain precisely due to its contrivances and the rough edges of its script by Ivan Goff (White Heat) and Ben Roberts (Man of a Thousand Faces) adapting the stage play by Janet Green (Victim). Obvious red herrings abound with slatternly tavern barmaid Dora (Hermione Baddeley's Maude) making throwaway reference to calls placed by Gavin's shell-shocked Younger on the pub's phone, McDowall having just the sort of voice suited to sing-song delivery, Herbert Marshall (Foreign Correspondent) as Anthony's business partner rattled by the investigation into the company funds and also an old flame of Loy's Aunt Bea who may not be as sincere in her concern for her heiress niece as she claims, and Rhys Williams (How Green Was My Valley) as a disgruntled company shareholder, and everyone is conveniently offscreen when Day's heroine gets her next obscene call while the possibility of collaboration between parties does not exonerate those who are present at those moments. The attempts to divert the viewer are such that the last act becomes quite unwieldy, and the attempt by Day to move past her cutesy image piles on the dramatics to the point that it becomes more dreary than suspenseful. On the other hand, the film seems to have been more influential than the likes of Sorry Wrong Number and Gaslight in influencing subsequent female in peril thrillers from seventies and eighties TV movies of the week to the pre-Dario Argento cycle of jet set gialli and the later The Forbidden Photos of a Lady Above Suspicion which seems directly patterned after Midnight Lace and makes better use of its skulking character as part of the climactic twist (on the commentary track, film historian Kat Ellinger notes that the film was a favorite of screenwriter Ernesto Gastaldi). Although he had already had a credited role in the Day vehicle Pillow Talk, Hayden Rorke (I Dream of Jeannie) has a uncredited role here as Kit's doctor.

Video


Released theatrically by Universal-International and on panned-and-scanned VHS by MCA/Universal, Midnight Lace was released on DVD three times: first as a standalone disc as part of the Turner Classic Movies line, then as part of Doris Day: The Essential Collection (with Pillow Talke, Love Come Back, Send Me No Flowers, The Thrill of It All!, and The Man Who Knew Too Much), and then as another standalone edition. As a Ross Hunter/Universal-International production from the late fifties and early sixties, Midnight Lace was one of the films Universal transferred at the SuperScope matted ratio of 2.00:1 which was the aspect ratio of the TCM disc while the later Universal single disc was framed at 1.85:1. The German Blu-ray from Universum Film featured a 2.00:1 transfer. With transfers in both ratios available, it is safe to day that Kino Lorber's 1080p24 MPEG-4 AVC Blu-ray's 2.00:1 and 1.78:1 viewing options are both sourced from the same aged HD masters used for the DVD releases. Both transfers look typical of the early Universal HD catalogue titles with the Technicolor photography lacking any real pop apart from some reds here and there, and sharpening and edge enhancement baked into the master. Things seem to improve in the setbound third act of the film but it may just be that the low-key gel lighting and heavy use of shadow is better at disguising the weaknesses of the transfer.

Audio


The sole feature audio option on both versions is an English DTS-HD Master Audio 2.0 mono track that fares better than the visuals with clear dialogue, a sense of distance in the disembodied voice terrorizing Day, and Skinner's score pleasingly rendered. Optional English SDH subtitles are also provided for both versions.

Extras


Apart from the theatrical trailer (2:42) and bonus trailers, the disc's only extra is a new audio commentary by film historian Kat Ellinger present on both viewing options. She notes the modern tendency to dismiss the film as a "standard thriller" but provides the context in which it was promoted and received as part of the resurgence of "women's pictures" in the postwar era – its pre-WWII antecedents including the likes of Rebecca and Dragonwyck – as well as the direction of Day's career after her theatrical heyday – the film was co-produced by her husband Martin Melcher (Please Don't Eat The Daisies), and notes that it was an A-class production of the period with location shot in England but mostly filmed on a Universal backlot. As mentioned above, she also discusses the film's influence on the giallo genre.

Overall


Both a Doris Day vehicle and another attempt by producer Ross Hunter to repeat the success of his grand Douglas Sirk melodramas, Midnight Lace falla flat as a thriller yet still entertain precisely due to its contrivances and rough edges.