The Film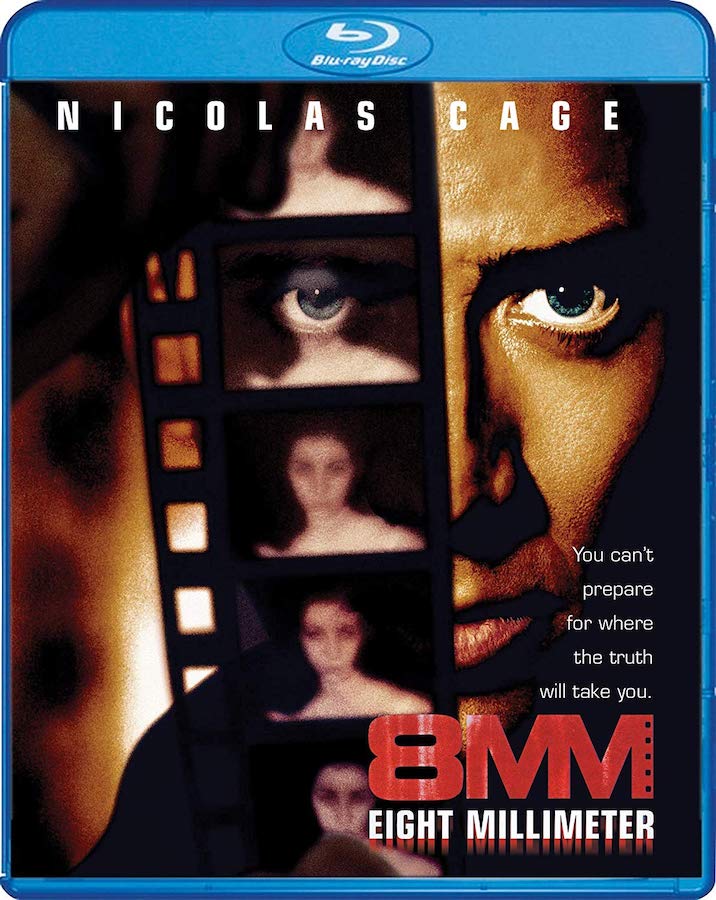 It isn't often Big Studio films are shocking in their subject matter and unbridled depravity – especially these days – so when a picture is made that feels like it was scraped out of the gutter behind a seedy dive bar it tends to get people talking. "Basic Instinct" (1992) is a good example, though a better one is the less-well-received "8mm" (1999), starring a then-hot Nicolas Cage. Written by Andrew Kevin Walker, he of "Se7en" (1995) fame, the script was bounced around town before finally settling on Sony's doorstep – and even then, the studio neutered the project down from a nearly-guaranteed NC-17 to a more theatrically digestible R-rating. Understandable; even in this "sanitized" version the film covers ground rarely even mentioned in Hollywood films, let alone seen. Daring, provocative, and overflowing with testosterone "8mm" is an underrated film that is unnerving right to the end.

Tom Welles (Nicolas Cage) is a private investigator hired by the wealthy widow Mrs. Christian (Myra Carter), to investigate a disturbing video tape found among her late husband's possessions: a possible snuff film. Welles is asked to keep all details confidential – no copies of the tape, no outsiders, no cops. Welles hits upon a possible lead and travels to Hollywood, where he meets Max California (Joaquin Phoenix), clerk at a local porn shop. Max knows the underground porn scene like no other, eventually helping Welles to turn up another promising lead – this time in New York. There, he and Max meet Dino Velvet (Peter Stormare) and right away it's clear this is a man who plays dirty and means business. Dino and his men – Eddie Poole (James Gandolfini) and Machine (Chris Bauer) – like violence; it informs every facet of their lives. Tom Welles is a man capable of violence, too, though he is initially reluctant. The tape is real, these men are sick, and Tom and his new confidant Max now find themselves in a meat locker of hurt.

Walker's script provides some visceral jolts and expected-but-smart twists I don't want to give away but this movie is so much better than its reputation. Any person using that most horrid of "recommendations", Rotten Tomatoes, might see the paltry 22% score and assume this is a terrible film. It is not, but the people portrayed therein (by capable actors) are very terrible. Director Joel Schumacher has assembled an embarrassingly good cast here. Cage is restrained but, man, once that guy goes off the hook he wrecks these scoundrels like they never expected. Phoenix provides a little humor and a lot of style; I liked that his character subverted expectations of what a "porn clerk" might be. Gandolfini has never been sleazier. Anthony Heald is a wonderful prick. And Stormare is such a perfect fit for Dino Velvet you'd think they wrote the part for him.

This is a grimy street movie that in many ways plays like a contemporary counterpart to "Hardcore" (1979), George C. Scott's picture about a father who infiltrates the seedy underbelly of the L.A. porno scene looking for his lost daughter. In fact, these two would make one helluva double feature. Walker's script is saturated with sex & violence, even in neutered form, and Schumacher's direction doesn't shy away at any point, plunging his camera as deep as studio executives would allow. Nothing comes easy for any of the cast; decisions are met with swift reactions; everyone ends up a mess to some degree. Welles accepts this job for the payday and the challenge, but he isn't too keen on getting his hands dirty. When it's clear that isn't an option, he proceeds to get them positively filthy. "8mm" offers a glimpse into a world that still thrives today, somewhere subterranean and esoteric, and through the safety of a lens it is a place worth visiting.

Video


"8mm" makes its HD debut from Scream Factory, featuring a 2.35:1 1080p 24/fps image that is excellently detailed and stable and uses AVC MPEG-4 compression. The picture is clean and proficient, offering a clear upgrade over the old DVD. Black levels are deep and inky – important, since so much of this film takes place at night or in shadowed environments. The color palette is skewed toward dark hues, with very little in the way of bold primaries, and the HD image nicely captures that earthy, gritty vibe.

Audio


There are two audio options present – English DTS-HD Master Audio 2.0 stereo or 5.1 surround sound. Mychael Danna's score is full of ominous strings that set a clear mood before switching up styles when the action shifts to L.A. The dialogue is occasionally too low in the mix, providing a weak presence and allowing source music and sound effects to dominate the track. This is only an intermittent issue and for most of the picture the levels sound balanced. Subtitles are available in English.

Extras


There is an audio commentary with producer/director Joel Schumacher.

"Interview with producer/director Joel Schumacher" featurette (1080p) runs for 21 minutes and 8 seconds.

"Vintage Making-of" featurette (SD) runs for 5 minutes and 7 seconds.

A theatrical trailer (SD) runs for 2 minutes and 35 seconds.

Three TV spots (SD) run for 1 minute and 4 seconds.

A still gallery (SD) runs for 6 minutes and 39 seconds.

Packaging


The single disc comes housed in a standard Blu-ray keep case.

Overall


Films that step outside convention are often the most memorable and "8mm" is anything but a standard studio picture. The faces behind these amoral characters may be familiar but their actions will leave you seeing only the on-screen monsters capable of such depravity. Schumacher's film is visceral and uncomfortable, filled with strong performances by committed actors, and it never goes for the happy ending.
| | | | | |
| --- | --- | --- | --- | --- |
| The Film: B+ | Video: B+ | Audio: B | Extras: C | Overall: B+ |