The Film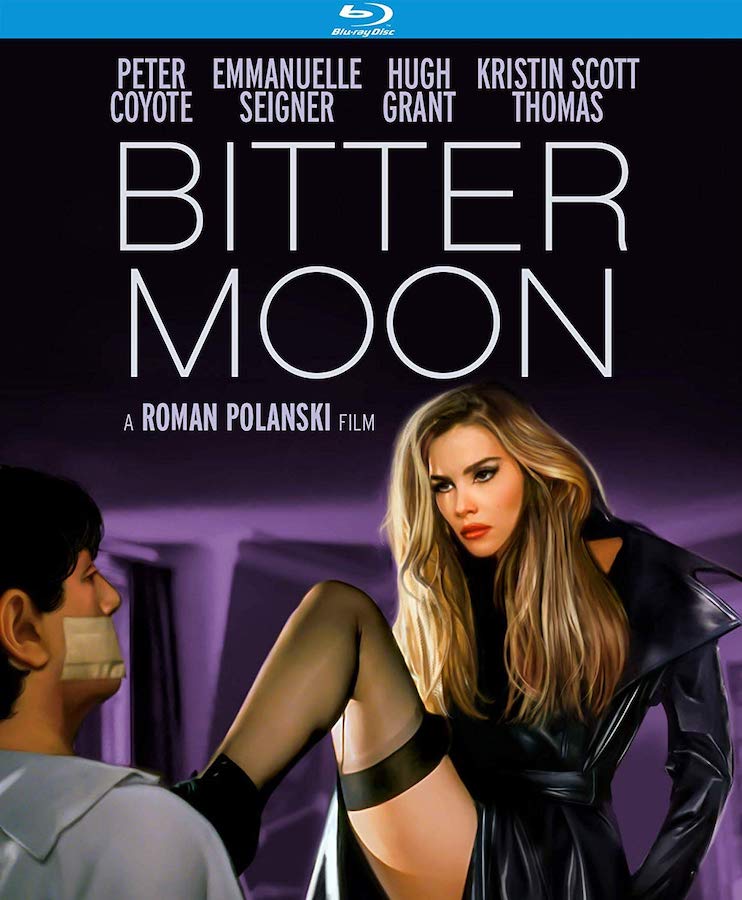 Roman Polanskiís "Bitter Moon" is a bitter pill to swallow, and all I could think while watching this gorgeous mess was that this was directed by the same guy that had directed "Repulsion" (1965), "Rosemaryís Baby" (1968), "The Tenant" (1976), and "Chinatown" (1974). Dude, wha happened? What we have is basically a closed set piece taking place on an ocean liner on its way to Istanbul populated by four doomed people: Nigel (Hugh Grant) and Fiona (Kristin Scott Thomas) are celebrating their seven year anniversary when they encounter Oscar (Peter Coyote) and his wife Mimi (Emmanuelle Seigner) on board. Fiona actually encounters Mimi in the ladies room where she had been dreadfully sea sick and not looking too good. Later that night, Nigel stops off for a nightcap at the bar and there he runs into Mimi, who looks completely different and recovered, but she is snarky to him and his bumbling English manners. She blows him off and walks away. Nigel goes out on deck and there he meets Oscar, who blatantly asks Nigel if he is attracted to his wife. Instead of steering clear of the red flags, Nigel accompanies Oscar to his cabin for a drink. By the way, Oscar is wheelchair bound and that may have had something to do with Nigelís foolish decision.

Once ensconced in the cabin, Oscar begins to tell Nigel the long story of how he met Mimi in Paris and he describes their relationship in what can only be described as purple prose. The two met by chance on a bus in Paris and Oscar is instantly smitten by Mimiís youth and sexuality. As she departs by bus, she gazes upon Oscar with the eyes of a child who was briefly given a gift, but then had it quickly snatched away. Oscar, an independently wealthy but unsuccessful writer, begins to haunt the bus route, desperately searching for the girl. Refusing to settle for anything but, Oscar happens upon Mimi who is working as a waitress. The two hit it off and spend the night talking and despite the age difference there is fireworks between them. Mimi talks of her aspersions to be a dancer, but after she quits her job to move in with Oscar, all of her drive dissipates. Passion is what the two share and at first they cannot get enough of each other, but as the relationship continues along, on a rather bumpy road, the two engage in a strange sadomasochistic tango of give and take.

Oscar, always a womanizer, is freed to gorge himself on young flesh until a tragic accident befalls him. Hit by a passing car, he is hospitalized, but it is only Mimi who comes to visit him in the hospital. Mimi, in a fit of anger, wretches Oscar from his bed thus resulting in him becoming a cripple, paralyzed from the waist down. It seems that there will be no more sexual horseplay for the eternally horny Oscar and he is cursed to a fate worse than Sisyphus. Now the tables have turned and Mimi has the upper hand. The two get married, even though their relationship is completely loveless and sexless, and the two of them just settle for a life of bitterness and loathing. The ending ,which comes as no surprise, has Oscar pulling a gun on his object of lust and killing her and then he puts the gun in his own mouth, ending his and the viewerís misery for good.

Video


Presented in widescreen 1.85:1 HD 1080p 24/fps mastered in AVC MPEG-4 compression. The overall presentation is consistent and totally acceptable, much of the film taking place in cabins aboard the boat with low lighting. The color palette is limited to plenty of dark colors and there is some visible grain throughout the film.

Audio


The single audio track is presented in English DTS-HD Master Audio 2.0 stereo, the audio is crystal clear and flawless throughout with the soundtrack supplied by Vangelis and there are some loud moments of pop music featured in certain scenes. Optional subtitles are included in English for the hearing impaired.

Extras


Audio commentary by film historian Troy Howarth accompanies the film on a separate track and who finds plenty to enjoy here.

Interview with Peter Coyote: (25:00), Coyote talks about the production and what it was like to work with Polanski.

The film's original theatrical trailer (1:55) is included as well as a collection of bonus trailers for:

- "The Gingerbread Man" (2:18).
- "Mad Dog and Glory" (2:10).
- "Heart of Midnight" (2:20).

Packaging


Packaged in a standard Blu-ray keep case.

Overall


Even die-hard fans of Polanskiís will question his choices in helming this study of love gone bad and having his real life wife Emmanuelle Seigner star as Mimi seems to be a stretch. I am not a fan of Hugh Grant by any means, but he does seem perfectly cast as the unthinking stooge caught in a web of deceit.
| | | | | |
| --- | --- | --- | --- | --- |
| The Film: C | Video: B+ | Audio: A | Extras: A | Overall: B- |