The Film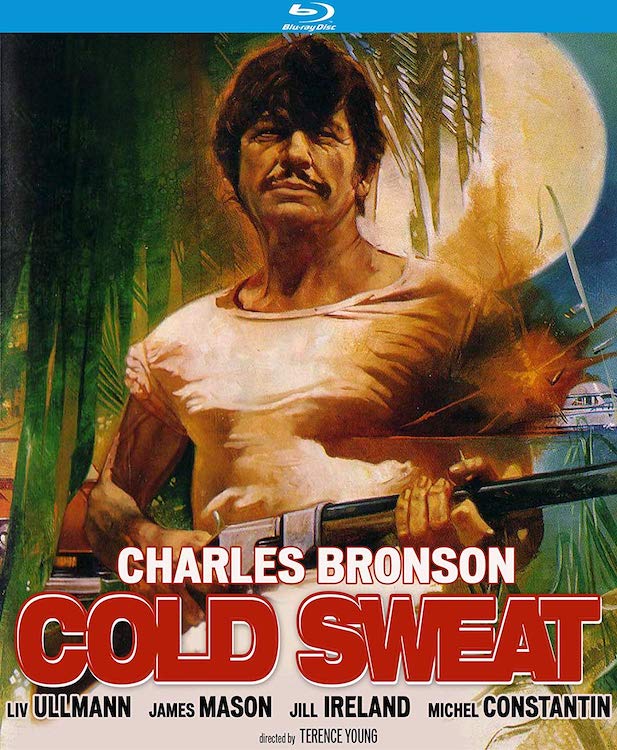 Charles Bronson achieved fame in America after "Death Wish" (1974) became a major hit at the box office and from that point on Bronson maintained that fame by making "Charles Bronson" pictures. His rep was that of a tough guy, both on screen and in real life, and his movies tended to reflect that level of machismo. But many casual fans may not know Bronson started off playing bit parts and getting third billing in a few big hits before he jumped across the pond and began his ascent to leading man status. France, in particular, offered him the opportunity to headline drama and crime films that propelled his image internationally. Many of these films were later dubbed and released in America to capitalize on Bronson's "Death Wish" fame, with posters pumping up the expected action… except the majority of these pictures did not fit that mold in the least. "Cold Sweat" (1970) is one of those films. It's an odd effort that allows Bronson to showcase some of his acting range (which was limited but effective) yet the strange script and equally odd direction make it a real head scratcher.

Joe (Charles Bronson) is a boat captain living in South France with his wife, Fabienne (Liv Ullman), and their daughter when out of the blue a supposed stranger, Vermont (Michel Constantin), pays a visit, claiming Joe isn't who he says. Confronted by the truth and a gun, Joe has no option but to come clean to his wife and admit to his past life of crime. It seems Vermont is in town for a reason: Joe's old buddy, Captain Ross (James Mason), and a couple other thugs are here to make a big score and they want Joe's help.

Following the plot of this film isn't easy and it's because among the three credited writers – Dorothea Bennett, Jo Eisinger, and Shimon Wincelberg – they can't seem to deliver a narrative through-line or a halfway sensible story. Here is one great example: Joe has absconded to Nice, France because he wanted to get out of the criminal life. Vermont finds him. Then, Captain Ross arrives and holds his family hostage. Once Joe is able to gain the upper hand he and his family stick around. Why? To help Cpt. Ross, who has since been wounded in a gun fight. Wait, what? Yes. Allegiances are ambivalent and it never seem quite clear who is and isn't friendly. So, essentially none of this film makes any sense.

Bronson has a couple of tough guy moments because, even prior to "Death Wish", it was obvious the man could clearly hold his own. But these moments are fleeting and only provide minor satisfaction to that sector of Bronson's fanbase. Otherwise, he does well enough with the shoddy material he's been given. James Mason, on the other hand… oh, boy. Mason is a great actor but I'll wire a million dollars to whoever can tell me just what in the hell kind of accent he's trying to pull off here. Bronson's frequent muse (and wife) Jill Ireland also appears but, again, it's just another odd role in a film of incongruous co-stars.

The best this film has to offer is a fairly thrilling car chase through the hills of South France. Director Terence Young was a veteran of a couple James Bond films by this point, so throwing in some nail-biting 007-esque action seems to be in line with what viewers might have expected from him. I should point out the car chase is literally all the action this film has, unless you count gunfire. Bronson fans will want to own this one because any fan of Bronson needs a complete filmography – and, again, he does shine in a couple of moments when his might is put to good use – but this is definitely on the lower end of his output and is only recommended for his most ardent fans.

Video


The 1.85:1 1080p 24/fps image uses a transfer from a clean print and mastered with AVC MPEG-4 compression, with little seen in the way of damage or debris. Colors are accurate and nicely saturated. Film grain resolves well and is cinematic in appearance. The image randomly goes soft intermittently, though more often than not it remains stable. Kino Lorber may not have done much, if anything, to remaster whatever transfer they were given but even this dated image holds up well enough to today's standards that fans should be pleased.

Audio


An English/French DTS-HD Master Audio 2.0 mono track presents dialogue cleanly and with no hissing until a bit can be detected in the third act. Sound effects have decent fidelity. There is very little scoring here, leaving the track to be almost entirely driven by dialogue. The sound mix is fairly narrow and thin. Subtitles are available in English for the hearing impaired.

Extras


There is an audio commentary with film historians Howard S. Berger, Steve Mitchell, and Nathaniel Thompson.

A "Car Chase Promo" (SD) clip runs for 4 minutes and 4 seconds.

The film's original theatrical trailer for "Cold Sweat" runs for 2 minutes and 35 seconds.

Bonus trailers (SD) are included for the following:

- "Rider on the Rain" runs for 3 minutes and 52 seconds.
- "Mr. Majestyk" runs for 1 minute and 33 seconds.
- "Breakheart Pass" runs for 3 minutes and 6 seconds.
- "The White Buffalo" runs for 1 minute and 51 seconds.

Packaging


The single disc comes housed in a standard Blu-ray keep case.

Overall


"Cold Sweat" is only recommended for fans of Bronson who can't get enough from his catalog. This title has seen release on DVD numerous times throughout the years, all of which featured sub-standard transfers. Kino Lorber has finally provided a widescreen image in HD, something worth being thankful for despite any shortcomings in the film.
| | | | | |
| --- | --- | --- | --- | --- |
| The Film: C- | Video: B+ | Audio: B- | Extras: C- | Overall: C |