Sorry Angel
R1 - America - Strand Releasing
Review written by and copyright: Eric Cotenas (11th July 2019).
The Film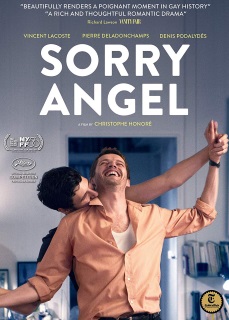 Palme d'Or: Christophe Honoré (nominated) and Queer Palm: Christophe Honoré (nominated) - Cannes Film Festival, 2018
César (Best Supporting Actor): Denis Podalydès (nominated) - César Awards, 2019

Paris, 1993: Thirty-six year old playwright Jacques Tondelli (Golden Years's Pierre Deladonchamps) shares custody of his son Loulou (Tristan Farge) with the boy's mother Isabelle (Sophie Letourneur) and lives virtually in the pocket of critic friend Mathieu (Caché's Denis Podalydès) even though they have separate apartments in the same building. HIV+, Jacques prefers to keep things casual, maintaining an on-and-off relationship with younger Jean-Marie (Quentin Thébault) whose constant trips out of Paris (sometimes as far as Amsterdam and even Argentina) have Mathieu suspecting that he is a hustler. Travelling to Rennes for the production of one of his plays, Jacques happens upon young aspiring filmmaker Arthur Prigent (Fathers and Sons' Vincent Lacoste) and they share a few days together before Jacques must return to Paris and get back to work. Meanwhile, Arthur spends the summer as one of the teachers at a summer camp with his girlfriend Nadine (Adèle Wismes) who knows that Arthur is gay but does not start to become jealous until she realizes that he is being evasive about this other man in his life. Over the space of a year or two, still-closeted Arthur begins to explore his sexuality through casual but discreet encounters which he shares over the phone and in letters with Jacques who in turn exposes him to his gay artistic antecedents like Walt Whitman, Christopher Isherwood, W.H. Auden, and Chester Kallman (along with his literary-based classification of objects of attraction). Arthur starts to feel more out of place in Rennes with Nadine and his childhood friends but is afraid to strike out on his own to Paris until he gets an invitation to spend a weekend with Jacques while his son is away at camp. The invitation, however, coincides with Jacques discovery that his weight loss and body aches are a sign of a significant change in his diagnosis.

Written and directed by Christophe Honoré (La belle personne) – whose more overtly gay films are usually more provocative like Man at Bath –
Sorry Angel is set not at the onset of the epidemic like the superior 1985 American independent Buddies, but in the early nineties period of adjustment when both older and younger generations of gay men were either celibate from fear, maneuvering relationships serious or otherwise through the frame of safe sex, or pushing back against the stigma of AIDS (as a disease and as a slur). This is reflected in the characters, with Jacques foregoing intimacy for deceptively uncomplicated casual sex – and trying to pass of his bitterness about his mortality with sardonic remarks – plainer Mathieu guiltily paying for hookers and genuinely concerned for rather than pining for Jacques, and safe sex a given for Arthur even as he picks up strangers. Arthur's optimism about not only embracing his sexual identity – so much so that he invites Mathieu to share a bed with himself and Jacques non-sexually – and a relationship with Jacques contrasts with the worry and suspicion Jacques has upon learning of Arthur's plan to attend an ACT UP AIDS activism meeting as if he regards anything that might draw potentially unwanted attention and cement the overall association of AIDS with gay people en masse. There are some deeply felt moments in the film like a scene of both Jacques and Mathieu reluctant to answer the phone to a call from their sick friend Marco (Thomas Gonzalez), but the film is listlessly overlong with Honoré reveling in the nineties through music choices – Massive Attack's "One Love" was more effectively used in Carine Adler's Under the Skin while another melancholic bit set to Cocteau Twins' "I Wear Your Ring" lingers on endlessly – and film with Jacques and Arthur meet at a screening of Jane Campion's The Piano, and telling half the story from the perspective of the unlikable Jacques (Deladonchamps was more compelling as a cruiser with a death drive in Alain Guiraudie's success de scandale Stranger by the Lake) before dismissing him offscreen for the ending and an end credits sequence set to Harry Nilsson's "One". Although Honoré has been quoted that he dislikes hearing AIDS movies referred to as a "trend," Sorry Angel with its fictionalized, possibly semi-autobiographic characters is less interesting than what has been printed about the director's simultaneous stage production Les Idoles which pays tribute to six gay authors and artists who lost their lives to AIDS during the same period of the film.

Video


Strand Releasing's HD-mastered gets a strong standard definition dual-layer, progressive, anamorphic 1.85:1 widescreen encode of a film that has an overall cool look with close-ups that convey the subtle changes in Deladonchamps appearance to make him more gaunt towards the end of the film.

Audio


The sole audio option is a French Dolby Digital 5.1 track that is generally front-oriented since it's a talky film, with some intermittent atmosphere in the surrounds which also fill when the soundtrack gives way to musical interludes. The optional English subtitles are free of errors.

Extras


There are no extras apart from the film's theatrical trailer (1:28) and trailers for other Strand titles.

Overall

---
DVD Compare is a participant in the Amazon Services LLC Associates Program and the Amazon Europe S.a.r.l. Associates Programme, an affiliate advertising program designed to provide a means for sites to earn advertising fees by advertising and linking to amazon.co.uk, amazon.com, amazon.ca, amazon.fr, and amazon.de.