The Film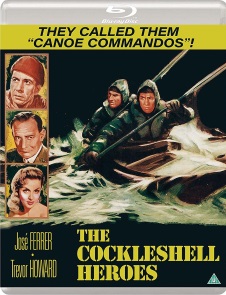 Portsmouth, 1942: German ships have been able to get through the British blockade of the port of Bordreaux to supply the German occupation. The British government has ruled out saturation bombing or any kind of air coverage, so the Royal Marines have been appointed to find a solution. Newly-promoted Major Geoffrey Stringer (Moulin Rouge's José Ferrer) had submitted a plan to paddle into the port in canoes and plant bombs on the hulls of the ships. It had been dismissed as impossible but has been resurrected out of desperation. Stringer's second-in-command Captain Hugh Thompson (Brief Encounter's Trevor Howard), a World War I veteran who seems to resent the younger man being his superior, expresses his doubts about the plan as well as Stringer's decision to choose volunteers; more so, a special kind of man: "An individualist, one who can think for himself; a man who'll do the job for its own sake, rather than because a sergeant shouts at him." Unaccustomed to leadership, Stringer devises an unorthodox test to "separate the sheep from the goats" by dropping the twenty volunteers out of a plane in the countryside wearing German uniforms and leaving it to them to make their way back to barracks without being caught. After the fiasco that finds thirteen of them arrested, shot, or having eloped along the way back, only seven remain to accompany Stringer: class clown Clarke (Doctor Dolittle's Anthony Newley), "old timer" Ruddock (Bloodbath at the House of Death's David Lodge), posh Bradley (Quatermass 2's John Van Eyssen) and Stevens (The Black Torment's Peter Arne), Booth (Carry on Sergeant's Graham Stewart), IRA volunteer Cooney (A Town Like Alice's John Fabian), and sturdy Lomas (The Guns of Navarone's Percy Herbert) but their test run up the Thames Estuary fails miserably with all eight arrested; whereupon, Thompson criticizes Stringer's approach in treating them "like schoolboys with a lenient master" for which they despise him behind his back. Stringer regroups and starts "whipping them into shape" but the order to proceed with "Operation Cockleshell" comes quickly. When one of the men is injured in the submarine on the way to the port of Bordeaux, Thompson takes the man's place on a mission fraught with the danger of discovery by the Germans or betrayal from the locals.

Based on the true story of "Operation Frankton," The Cockleshell Heroes is a breezy, oddly light-hearted war picture higher on hijinks than drama in spite of the body count that dispatches most of its heroic characters without its strived-for sense of pathos in contrast to the tearjerker/Boy's Own adventure that was the later The Wild Geese. The antics include the men's means of getting back to barracks from their landing points – Clarke taking time to drop in on his less-than-pleased bird (The Last of the Summer Wine's Dora Bryan), seven speedo-clad men racing through the barracks trying to dispose of a bomb scandalizing a group of W.V.S. women and passing through an active rifle range, a barroom brawl between the marines and the navy getting drunk the night before shipping out, and Ruddock's Thompson-approved thrashing of his wife's (The Master of Ballantrae's Beatrice Campbell) lover. While Ferrer certainly is miscast as a British officer, his direction may only be partially responsible for the tonal unevenness (see the disc's interview below). The film is best enjoyed in two halves – actually two thirds and a third – as a comedy first (in spite of Howard's best efforts) and then as an action film in which the drama of even the final shot seems to be undercut by a bit of cheekiness. Two years before his international horror stardom in Horror of Dracula (also co-starring Van Eyseen), Christopher Lee appears here as a submarine commander. While seasoned producer Irving Allen (Cromwell) was in the latter half of his career, partner Albert Broccoli had the Bond series ahead of him.

Video


Released theatrically in both the U.S. and U.K. by Columbia Pictures, The Cockleshell Heroes has been hard to see in the United States and did not have a panned-and-scanned U.K. VHS release until the nineties. The U.K. also received an anamorphic DVD release (also part of a three-disc War Triple with Anzio and Hellcats in the Navy. Eureka Classics' 1080p24 MPEG-4 AVC 2.35:1 widescreen – not 2.55:1 as stated in the press release – comes from a dated master but colors are pretty healthy without some of the fading and Technicolor registration issues. Intermittent scratches remain and the day for night shots could probably have been better timed with a newer scan. Detail is sufficient to appreciate (or guffaw at) the model work during the explosive finale.

Audio


The LPCM 2.0 mono track is free of defects with clear dialogue, undistorted scoring, and effects (the not always reliable IMDb lists the film as a 4-track stereo release but advertising only boasts Technicolor and Cinemascope so it may be an error or the track made for limited engagements may no longer survive as magnetic elements). Optional English HoH subtitles are included.

Extras


The sole extra is an informative interview with film historian Sheldon Hall (30:02) who provides background on Operation Frankton, the pairing of American producers Allen and Broccoli as the British-sounding company Warwick Film Production (actually named after the New York hotel where they hammered out their partnership) to take advantage of a British production film fund by shooting in England and pairing American and British stars (and playing off the contrasts between them as performers and characters) with distribution through Columbia Pictures, and the casting of Ferrer when Alan Ladd (who had previously appeared in the Warwick productions Paratrooper and The Black Knight) was unavailable. He puzzles out the development of the script, suggesting that it originated with Warwick and later Bond series regular Richard Maibaum (Goldfinger) and then its Britishiness polished by actor and future Seance On A Wet Afternoon director Bryan Forbes followed by further revisions by Maibaum and the another rewrite by Forbes (who had also hoped to appear in the film Hall presumes in the role of Clarke). Hall also notes the rumor that egotist Ferrer shot a lot of footage of himself and neglected the British contingent leading to the producers hiring another director to shoot additional scenes after he left the production which Hall assumes comprise Howard's extended monologue scene in which additional shots of Ferrer from behind may be a double as well as the bar brawl and scenes with Thompson's and Ruddock's visits to his wife (all taking place after Stringer has seemingly passed out drunk). His analysis of the film also includes discussion of the cliché British war film casting from Howard and other military typecast actors, among them Czech actor Karel Stepanek who played a number of German officers in British war films including Sink the Bismarck!.

Overall


For all its faults, The Cockleshell Heroes is best enjoyed in two halves – actually two thirds and a third – as a comedy first (in spite of Howard's best efforts) and then as an action film.