The Film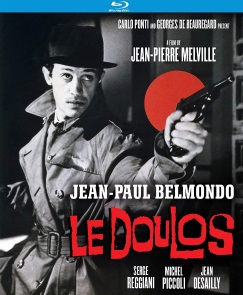 In French slang, "doulos" means "hat" or "the one who wears a hat"; however, in police and criminal underworld parlance, "doulos" means "police informant" or "finger man." Just released from prison after a six year sentence, thief Maurice Faugel (Casque d'or's Serge Reggiani) visits fence Gilbert Varnove (Shock Troops' René Lefèvre) and murders him, taking jewelry from a burglary commissioned by gangster Nuttheccio (Belle de jour's Michel Piccoli) and his associate Armand (Jacques De Leon) along with several stacks of cash, escaping just as the gangsters arrive and burying the jewels, cash, and gun in a vacant lot. News of the murder spreads quickly, with good friend Jean (Classe tous risques's Aimé De March) surmising that it must have been retribution for Varnove's silencing of Faugel's girl Arlette while he was in the slammer when he brings over associate Silien (Breathless' Jean-Paul Belmondo) to provide safecracking equipment for a job he is about to carry out at the home of a wealthy author on Nuilly Street. Silien eyes Faugel's new girl Thérèse (Two Men in Manhattan's Monique Hennessy) who tells Faugel that she distrusts the other man, so Faugel assures her that he will not reveal to Silien the location of the robbery or the identity of his partner Remy (Brotherhood of the Wolf's Philippe Nahon). Upon leaving the meeting, however, Silien places a call to Inspector Salignari (Paris nous appartient's Daniel Crohem) and then slips back to Faugel's to beat the location of the crime out of Thérèse. When they hear the police sirens, Faugel and Remy flee, but Remy is hit by a bullet and Faugel gets off a shot at Salignari before he is hit in the shoulder. Faugel flees the scene but eventually collapses in the street, waking up in the care of Jean's wife Anita (The Professional's Paulette Breil) and Dr. Lequay (Belphegor's Christian Lude). Convinced that Silien squealed on them, Faugel foregoes recuperative rest to find him. Silien, however, is picked up by Commissioner Clain (The Soft Skin's Jean Desailly) who reveals that Salignari was working alone and did not reveal the names of the Nuilly robbers to anyone else and they believe Silien informed him about the crime. Silien refuses to cooperate but they already suspect Faugel not only of Varnove's killing but also because his possible getaway car was found wrecked with Thérèse's body inside. When they threaten to set him up for drug dealing, Silien calls around to the various clubs in search of Faugel who is then picked up in one of them. Faugel denies all knowledge of the Nuilly robbery or the killing of Varnove but is jailed where he meets cellmate Kern (Joy House's Carl Studer) who is due to be released and willing to kill for money. Meanwhile, Silien has gone to old flame Fabienne (Kill, Baby... Kill!'s Fabienne Dali) at The Cotton Club looking to help her get out if she can help him prove that her keeper Nuttheccio was the one who killed Varnove, not realizing that he may be signing his own death warrant.

Based on the Série noir novel by Pierre Lesou, Le Doulos was the the first of French iconoclast director Jean-Pierre Melville's cycle of dark crime and policier pics (the earlier Bob le flambeur somewhat of a departure from Melville's more somber approach to his films regardless of genre). Indebted to American crime films of the forties, and indeed seeming to exist in an otherworldly France of American-styled nightclubs and bars where all criminals and police inspectors wear hats and trenchcoats and every woman is a stunning gun moll, the film is typically full of twists and turns. One is never sure whether Silien has set up Faugel or why, and whether he is setting up Nuttheccio or really believes that he is avenging Varnove, and what if any are his feelings for ice cold Fabienne to whom he seems to be projecting his disgust of her current lover; and, indeed, a lot of exchanges that refer to past events that at first seem like throwaway dialogue do indeed have a bearing on the current turn of events. The rules that govern both the police and the criminal underworld are a recurring theme in Melville's films, and one can even interpret the scenario as one man's contradictory attempt to prove that there is indeed "honor among thieves" even if it means betraying several others. Just as one comes to believe that the film has been too neatly wound up with some explanation and a bit of flashback, it becomes apparent that the loose ends are deliberate and have repercussions for all, putting the lie to the statement that "One must choose to lie, or die," as it does not seem to make any difference if everyone lives by that motto. Although he had made an international impression as a two-bit crook in Godard's Breathless, Belmondo had been first utilized by Melville as the chaste object of desire in Léon Morin, Priest but is here the Belmondo of his subsequent work in the genre on either side of the cop-criminal dynamic while there really is no room for anyone else to make an impression but Reggiani by the sheer force of his character's wrath. The monochrome photography of Nicolas Hayer (Le Corbeau) is drenched in noir shadows that strategically obscure faces in the same way the trenchcoats and hats make bodies indistinguishable for the viewer, while mirrors and other surface create the expressionist canted frames rather than the camera, while the combination of the jazzy scoring of Paul Misraki (Attack of the Robots) and the sliding credits opticals situate the film in the sixties in the same manner that Melville skirts the arthouse and the mainstream. Future directors Volker Schlöndorff (The Tin Drum) and Bertrand Tavernier (Death Watch) served, respectively, as assistant director and press attaché.

Video


Released theatrically by Pathé Contemporary Films, Le Doulos as The Finger Man was not to VHS until the nineties in a PAL-converted transfer by Interama and then in 2007 by Kino-on-Video who acquired the Interama library. When the film reverted to Studio Canal, a DVD followed in 2008 from Criterion from a high definition master. Kino Lorber's 1080p24 MPEG-4 AVC 1.66:1 widescreen Blu-ray is derived from the same 4K restoration that debuted from Studio Canal in the U.K. in the seven-disc Melville boxed set, the twelve-disc Anthologie Melville in France, and the nine-disc Jean-Pierre Melville - 100th Anniversary Edition in Germany. Although in the same aspect ratio as the Criterion, the new transfer reveals slivers more information on all four sides of the frame while both whites and blacks are ever so slightly grayer than the DVD which has the effect of keeping black clothing as distinct from the dark shadows as highlights on faces from clothing.

Audio


The sole feature audio track is a clean French DTS-HD Master Audio 2.0 mono track in which Misraki's score comes through with icy clarity and the gunfire can occasionally jolt the listener. Optional English subtitles are included.

Extras


Criterion's DVD edition and the UK edition from BFI featured a selected-scene audio commentary by film scholar Ginette Vincendeau, author of Jean-Pierre Melville: An American in Paris while Kino's Blu-ray adds a audio commentary by film historian Samm Deighan to the Studio Canal-ported package. She discusses recurring element of psychological tension between two characters that informs Melville's filmography (and how the post-war nihilism common to his WWII films is also evident in his crime films). She also emphasizes the hybrid quality of the film's Paris underworld and the way objects are used to obfuscate identity as well as the film's "complicated male friendships." Carried over from the Studio Canal set is "Birth of the Detective Story Melville Style" (32:46) in which French/Bulgarian writer Denitza Bantcheva and Schlöndorff discuss the origins of the film. Although Léon Morin, Priest had been a success, producer Georges de Beauregard (Cleo from 5 to 7) was having trouble putting together funding for Claude Chabrol's Bluebeard and asked Melville if he could get together another Belmondo film within two to three weeks. As it turned out, Melville had the Lesou novel "on file" since 1957 but could not find a suitable actor for the lead until he worked with Belmondo; and so, Le Doulos quickly went into production. The interview with assistant Schlöndorff "The Demon Within Him" (29:34), also included on the Kino Lorber Blu-ray of Léon Morin, Priest in which he recollects his collaborations with Melville whom he met through Tavernier at Cahiers du Cinema, discussing the filmmaker's participation in La Résistance, his feelings about working with a German assistant director, and his private life living in his own studio with his wife and mother. The disc also includes the film's theatrical trailer (2:25) as well as trailers for other Kino Lorber releases.

Overall


Kino Lorber's Blu-ray of Le Doulos allows viewers to discover or rediscover the first crime film that is both quintessentially Mellville and Belmondo.